An eco-friendly year-round day cruiser
Crystal Lake III. (September 25, 2019)
Templar Marine is on a mission to redefine the whole concept of electric boating. It started when the company's founders, Mark and Jennifer Fry, were looking for an eco-friendly year-round day cruiser with all the amenities found in modern powerboats. They were dissatisfied with the electric day boats available on the market, and so set out to design their own. The result is the new fiberglass Templar C26 Cruiser with an all-electric propulsion system from Torqeedo. But the innovative company isn't stopping there.
Templar also offers a water taxi version which has been certified commercially for up to 12 passengers by the Canadian government. Gray Line Hop-on Hop-off Sightseeing Tour in Victoria, Canada, recently placed an order for 12 boats which will be used in the harbour tour business and serve double-duty as silent, eco-friendly dinner cruisers. Next in line are a sedan version for longer-range cruising and a commercial light cargo vessel. All will be built on the same 26-ft. hull mold.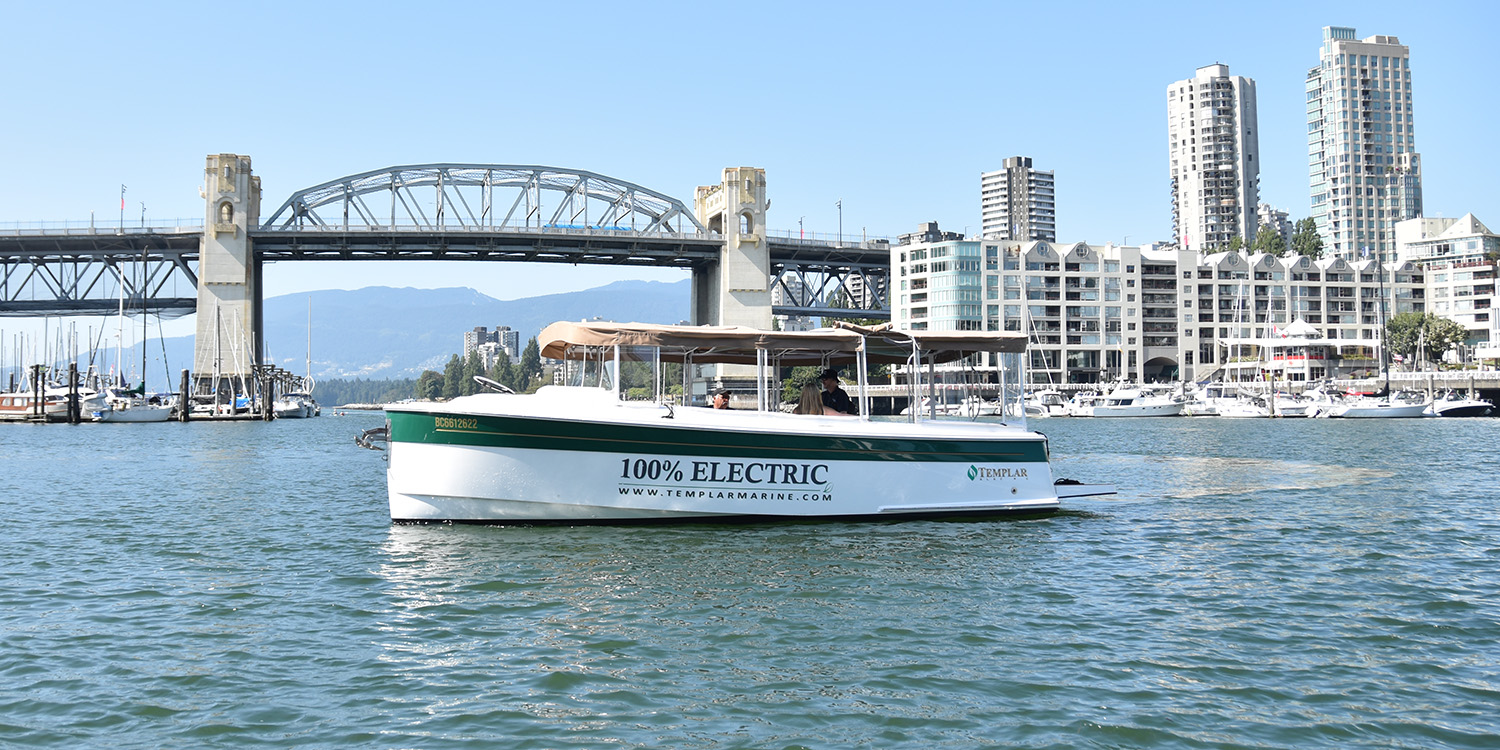 From a casual look, the Templar C26 may look similar to other electric day boats, but a closer look reveals it's loaded with creature comforts. The 26-ft. semi-displacement hull has a 9.6 foot beam yielding plenty of room for comfortably seating 15 guests to enjoy themselves on deck. Below-decks, there's a fully enclosed forward cabin with six-foot headroom, overnight accommodation in the bow, a private head with sink and vanity, refrigerator, central heating, stereo with Bluetooth and plenty of USB ports. It also has a bow thruster for maneuvering and docking, a swim platform and ladder for easy stern access.
Torqeedo designed an all-electric propulsion system for Templar, consisting of a Cruise 10.0 motor powered by a bank of six lithium-ion batteries. The base model six-battery configuration provides up to seven hours of endurance at a cruising speed of five knots, with the option to add up to 10 batteries for an increased range. The batteries can be recharged at the dock with a standard 15 or 30 amp shore power plug or an optional solar roof can assist with charging.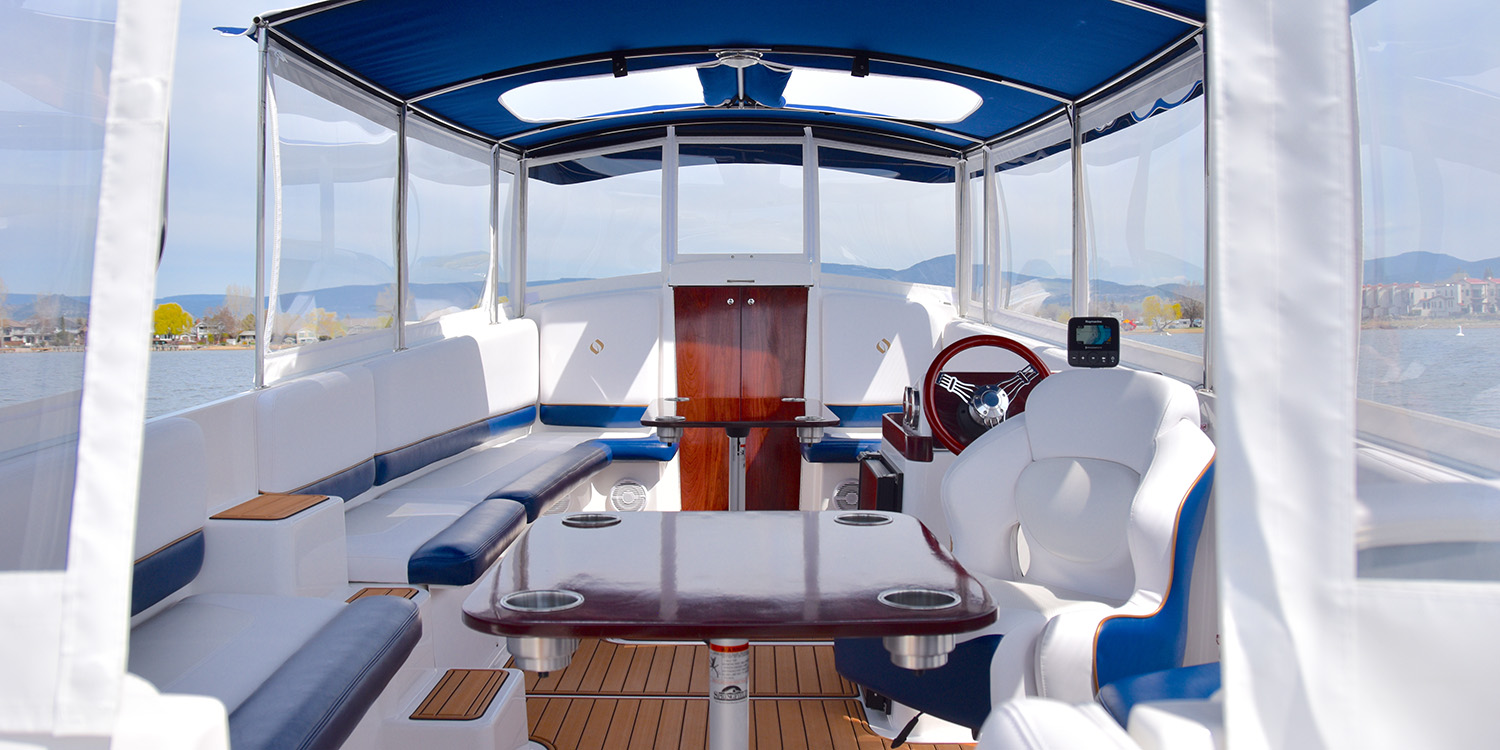 "At Templar Marine we're looking to fulfill the increasing demand from modern boaters for a plug-in all-electric boating experience with no sacrifice in comfort and enjoyment," said Mark Fry. "With the Torqeedo electric package, there's no noise and no fumes or smells on deck. It's also virtually maintenance-free with no fuel costs, giving the lowest costs of ownership. With no fuel tanks or heavy combustion engine, the lightweight, 5,000-pound boat is trailerable behind the average family's SUV."
Fry believes the Templar C26 day cruiser will be a big hit with electric boat rental fleets, giving families all the extra amenities not found in most existing electric day boats – especially a private bathroom below decks for long days on the water.
"Your dad's electric harbour cruiser just got a big upgrade," said Steve Trkla, president of Torqeedo USA. "It's good for the industry when a new player comes in and disrupts a segment with fresh ideas and innovation. Advanced battery technology enables bigger, more high-tech vessels to be powered by 100% emission-free electric. Templar's built a luxurious boating experience that customers can feel great about."
PR & Pictures
Find press releases and high-resolution pictures
at the: › Torqeedo Dropbox
Find the main catalogue 2019 here: › Catalogue 2019
Relevant Torqeedo Products
Templar Marine is on a mission
2 OCTOBER 2019 • 2 MIN READING TIME
Tech
Commercial
Press Releases