Fast, furious and electric: the new ClubSwan 36 is unveiled
5/22/19
T. Smallridge
Innovations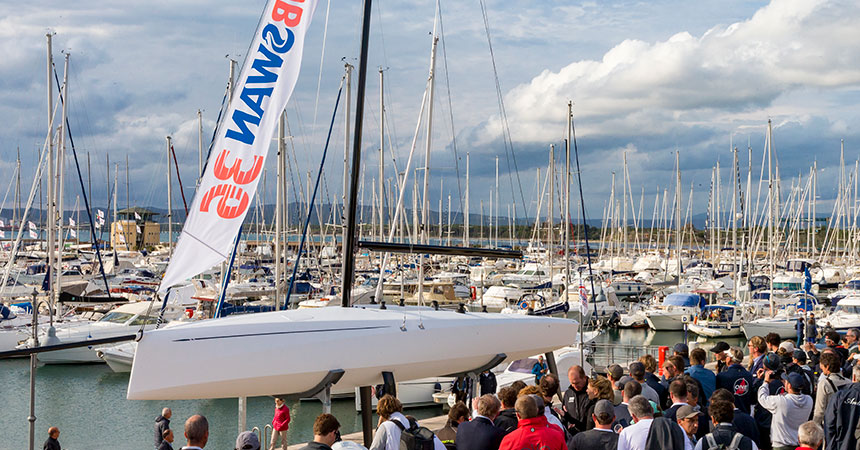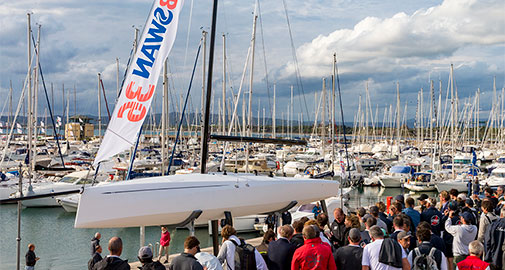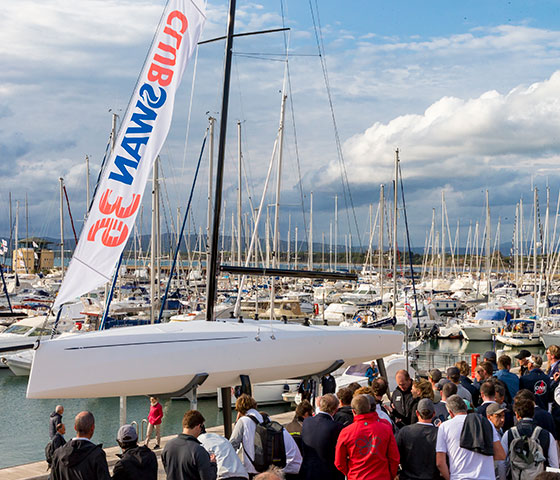 Scarlino, Italy (May 23, 2019) – Nautor's Swan celebrated the worldwide première of its latest model, the eagerly-anticipated ClubSwan 36, at a glittering affair held on the 3rd of May at the Marina di Scarlino. The ClubSwan 36 is an innovative, environmentally friendly high-performance yacht that unites the heritage and production skills of Nautor's Swan, the trusted organisation of ClubSwan and the design flair of Juan Kouyoumdjian.
"The ClubSwan 36 is not just another boat, but one step forward in our vision," said Leonardo Ferragamo, President, Nautor's Swan. The model continues the long and successful design evolution of Nautor's Swan and brings the marque full-circle. It has been 52 years since the first-ever Swan, also a 36, made its debut in 1967. The waiting crowd erupted into applause as the high-tech yacht was unveiled.
Uniting legacy, innovation and modernity with sustainable technology from partners including BMW and Torqeedo, the ClubSwan 36 is a marriage of the finest attributes of dinghy and keelboat sailing with the thrill of the C-foil. It is the first ClubSwan one-design racer offered with an emission-free electric drive and lithium batteries with technology by BMW i. "The unveiling is a dream come true," said Enrico Chieffi, Vice-President, Nautor's Swan. "The thinking was to create something that didn't already exist; exploring fields and opportunities which were not seen in the market until now."
"The cooperation between Nautor's Swan, BMW and Torqeedo reflects each company's commitment to developing innovative, sustainable products that push the performance envelope while they thrill and delight their owners. Electric propulsion helps to protect the waters we love; racing the ClubSwan 36 will be a sensational way to enjoy them," said Dr. Christoph Ballin, CEO and co-founder of Torqeedo. Following the unveiling, the ClubSwan 36 will undergo in-house testing and sea trials before going on the market where there is already significant interest. Nautor's Swan hopes to have five yachts in the water at the pinnacle event of their 2019 one-design season: The Nations Trophy.
"Such a project is a human adventure. Behind the scenes there are so many great people involved," reflected Phillippe Oulhen, ClubSwan 36 Product Line Leader. "A good boat is an assembly of its technology and equipment, of coordination, partners and suppliers, and a lot of people who come together. I have worked on a lot of similar size projects but never seen such a big team, experts from every field. The overall concept and result is a reflection on the overall quality of everybody involved." Juan Kouyoumdjian, ClubSwan 36 Lead Naval Architect, summed it up: "Anybody who wants to feel the essence of yachting should love this boat."
Mission, accomplished.
Text adapted from a press release by Nautor's Swan. Further details are available at › www.clubswan36.com
About Torqeedo
Torqeedo is the market leader for electric mobility on the water. Founded in 2005 in Starnberg, the company develops and manufactures electric and hybrid drives from 0.5 to 100 kW for commercial applications and recreational use. Torqeedo products are characterized by an uncompromising high-tech focus, maximum efficiency and complete system integration. Torqeedo is part of the DEUTZ Group, one of the world's leading independent suppliers of diesel and natural gas engines. › www.torqeedo.com
Find the main catalogue 2019 here: › Catalogue 2019
Media Contact

Tess Smallridge
Torqeedo
+49 8153 9999 060
Tess.Smallridge@torqeedo.com