At the third edition of Electric Days in Starnberg Torqeedo presented the future of electric boating.
Clean and quiet, electric boats are known as a great way to relax on the water, giving boaters a chance to breathe easily. Now, they also have the power to take your breath away. 
Torqeedo recently welcomed international guests, journalists, partners and the general public to the third edition of their signature electric boating test event known as Electric Days. Attendees were invited to experience electrically powered sail and motorboats ranging in power from 1 to 100 kW and joined Torqeedo's CEO and co-founder, Dr. Christoph Ballin, on a personally led, behind-the-scenes company tour. 14 electric and hybrid boats from 11 boat manufacturers were on display at the event held at the Munich Yacht Club. 
New generation of battery-powered boats on view
BMW provided a fleet of BMW i3 electric cars and drivers for transportation during Electric Days, allowing attendees to experience electric mobility on land as well as water. The i3 shuttles provided an opportunity to discuss the ongoing technology transfers between the automotive and marine industries with respect to e-mobility, and reduced the event's overall carbon footprint.
Lake Starnberg – the birthplace of Torqeedo
Lake Starnberg, a pristine Alpine lake a mere 25 km train ride from the center of Munich, was the birthplace of Torqeedo. Licenses to operate combustion-powered boats on Lake Starnberg are strictly limited in order to preserve and protect this important natural resource and drinking water supply, Germany's fifth-largest lake. Torqeedo has relocated to a high-tech industrial park several kilometers away but as the manufacturer's "home lake", Lake Starnberg was the ideal venue to welcome visitors from around the world who came to learn more about the innovative company and its products. 
Renowned luxury yacht builder Frauscher Boats let attendees have a sneak-peek at the Frauscher 740 Mirage Air, which will be the first boat powered by Torqeedo's brand-new Deep Blue 100i. This 2,400 rpm, 100 kW inboard electric drive system boasting two 40 kWh lithium batteries featuring technology by BMW is specifically designed to suit the requirements of fast planing motorboats.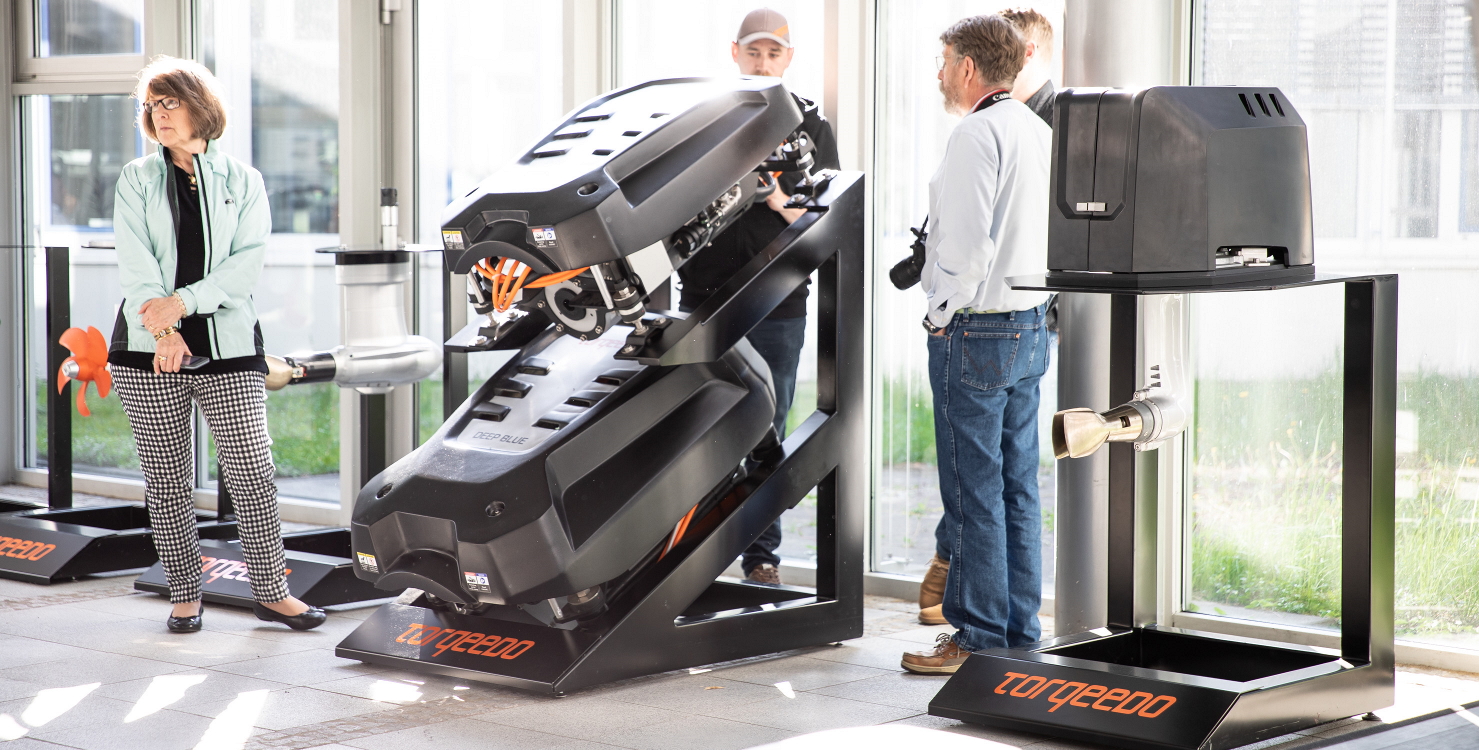 Impressive range of products
Rounding out the powerboat offerings, two electric speedboats by Designboot, the Tender 06 and the Tender 08, proved crowd favorites with their lightning-quick acceleration, as was the 7EVEN by Bootswerft Glas. At Electric Days a generous Frauscher owner welcomed guests onboard his 650 Alassio with Deep Blue 50i, serving as a compelling first-hand resource and client reference for those attendees considering electric boating for the first time. 
Attendees also toured Torqeedo's Nimbus 365, the test platform for the company's high-tech Deep Blue Hybrid system that offers clean propulsion and complete onboard energy management. Deep Blue Hybrid collects renewable energy from the wind and sun, stores it in high-capacity lithium batteries, and makes it available for propulsion or for hotel loads like air con, water making and cooking. This drastically reduces generator runtime and its associated noise, smell and vibration, making the owner's life onboard more luxurious, peaceful and relaxing.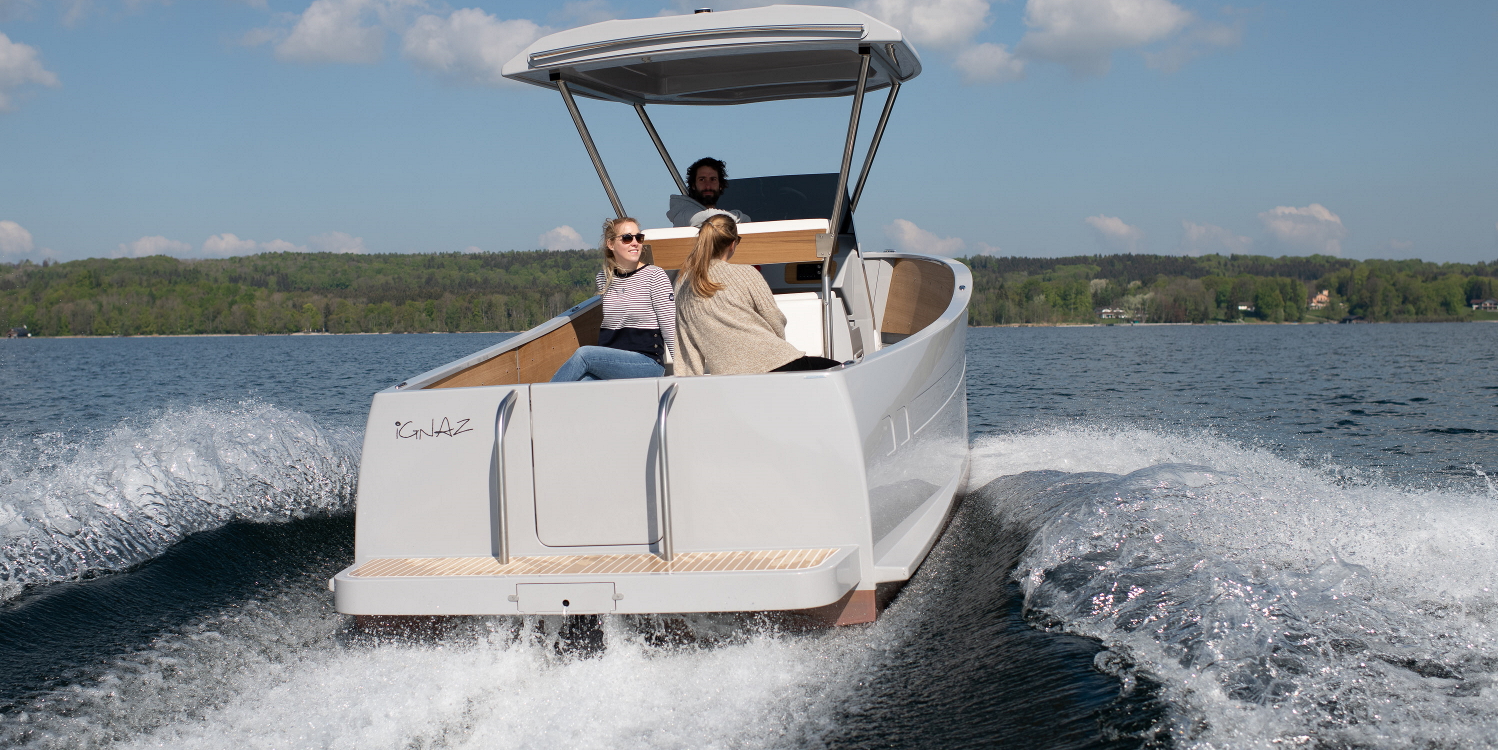 From rowing clubs to harbor work
Practical alternatives for commercial clients who want to reduce their carbon footprint and protect sensitive areas were also demonstrated, including a VSR RIB with Cruise 10.0 custom-tailored for use as a coach boat for sailing clubs and a heavy-duty, Deep Blue outboard-powered ZenPro 580 RIB for harbor and marina support built by the electric workboat experts at Naviwatt. 
Sailboats included the new Bente 24 from a crowd-sourced and crowd-funded startup brand that aims to bring sailing into the future with revolutionary design and functionality. The Domani S30, recently nominated as European Yacht of the Year, motored cleanly away from the docks powered by a Cruise fixed pod motor and lithium batteries, as did the traditionalists' favorite, the 45ER Nationaler Kreuzer by Bootswerft Glas. 
The Rand Picnic Boat with Cruise 10, a popular rental boat for use in urban waters around the world, proved its credentials as an enjoyable, easy-to-drive platform for spending time with family and friends on the water. Litore One, a small catamaran with four built-in sunbeds and a wine chiller, and the 5-meter Lario 580 offered two perfect places to unwind. Both small boats are silently powered by a Travel 1103.
With the full range of e-mobility options from Torqeedo on display, Electric Days reinforced the fact that battery-powered boats are more than just the future. They are already a reality, and transforming the marine industry today with more power, more energy, more silence, and more convenience.
Pictures
Find high-resolution pictures at the: › Torqeedo Dropbox
Find the main catalogue 2019 here: › Catalogue 2019
Related Torqeedo Products
Electric Days – electric years
6 MAY 2019 • 4 MIN READING TIME