"Our long-term goal: climate-neutral mobility."
When Dr Christoph Ballin started Torqeedo 15 years ago, the term "electric mobility" didn't exist. Now the German high-tech company has just delivered its 100.000th motor and is powering tenders, yachts and ferries around the globe, all-electric. Here he talks about the turning point for electric mobility on the water – and the game-changing technology that will take us further.
The 100.000th Torqeedo electric motor has just shipped. What does that mean for you and your team?
The round number is a symbolic milestone. It shows that electric mobility on the water is no longer a niche; more and more people are choosing electric. Fifteen years ago, when we sold our first electric motor, it replaced an internal combustion engine and reduced CO2 emissions. Now, we've achieved this 100.000 times over. Climate protection has always been at the heart of our mission.
How far had electric mobility advanced when you founded Torqeedo 15 years ago?
The term "electric mobility" didn't even exist. But by 2005, you could see signs that electric mobility would play a decisive role in our future. The world's population was on the rise, and a rapidly expanding middle class created new demand for mobility and leisure products. At the same time, there was an urgent need to reduce carbon emissions and limit climate change. These global trends made it evident to us, even back then, that there was an opportunity to build something new. That is how we became the market leader for climate-friendly mobility.
How did you come up with the idea to manufacture electric boat motors?
I moved to live near Lake Starnberg, which is one of Europe's many lakes with strict conservation regulations, which we at Torqeedo call "green lakes." On these lakes, licenses for combustion-powered boats are difficult, or even impossible, to obtain. I looked around for an alternative, but the products on the market were technologically obsolete and offered dismal performance. My co-founder and I thought we could build something better. That's how the idea for the Travel motor, a small electric outboard with an integrated battery, was born. It is still our bestseller today.
How did people react to the first Travel motor?
I will never forget when we first showed our products at the Boot Düsseldorf, the world's largest indoor boat show. Before the launch, it was difficult to estimate how interested people would be - our products were fundamentally new. Ten minutes after the show opened, people flocked around our booth, and it remained crowded for the entire show. From then on, we knew that we could really make a difference.
Were Torqeedo motors developed specifically for protected waters?
No. Building a product which allowed customers to boat on a "green lake" was never our goal. We want to build systems that are so efficient, easy to use, and fun to drive that users naturally choose them over combustion engines. That's the benchmark for an impressive product - one that people are happy and proud to own – and it is critical for achieving the industrial-scale volumes which are necessary for protecting the climate. So, we don't focus on regulated waters, nor do we focus on the largest market segments. We focus on the applications where electric mobility makes sense today – building systems for sailors, motorboats, dinghies, kayak anglers, and passenger vessels and lifeboat operators. Meanwhile, we keep a very close eye on application areas where climate-friendly drives will compete, and win, in the future.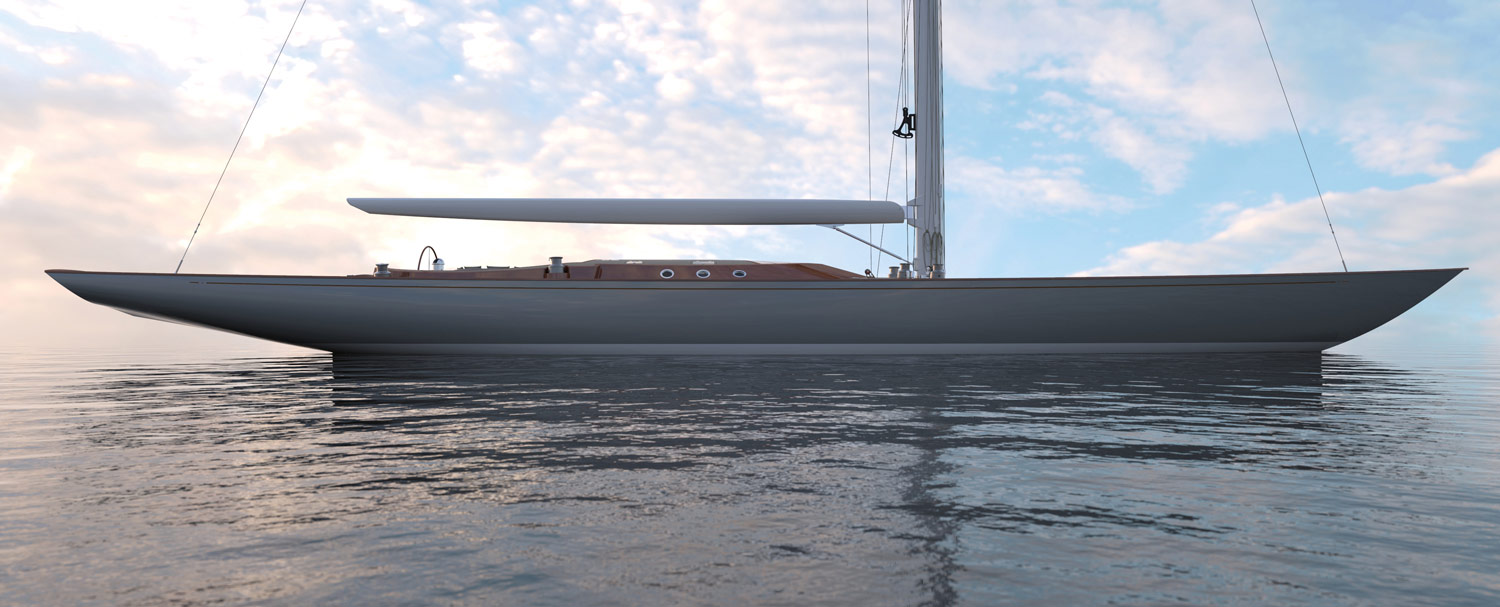 The Spirit 111 is one of the world's largest and most modern sailing yachts with electric propulsion system: the Torqeedo Deep Blue Hybrid 100kW. Photo credit: Spirit Yachts
If somebody had told you in 2005 that Torqeedo would be powering superyachts and electric ferries by 2020, what would you have replied?
To be honest, we didn't have passenger ferries and large yachts on the agenda in 2005. But, even in our first business plan, we assumed that we would achieve six-digit global sales figures. And because many of our colleagues are speed lovers, we always knew that one day we would add more powerful propulsion systems for planing speedboats to the company's product lines. Developing the high-powered Deep Blue systems in 2013 was an important milestone which enabled us to serve customers who own not only planing speedboats but larger yachts, workboats or passenger ferries. Since high-performance electric drives that are used every day make a more significant contribution to protecting air quality and the climate, commercial applications were an important new market for the company.
Are marine electric drives really better for the climate?
The short answer is: yes, definitely. For a more detailed answer, you have to consider two factors: how much CO2 is emitted during production, and the emissions from operation. As a general rule, if electric drives are lighter than a comparable combustion engine, or if the boat is used frequently enough to take advantage of electric's lower operating emissions, they are always more climate-friendly. If weights are comparable, emissions during production are roughly equal, and electric drives have much lower operating emissions. If the electric drive system is much heavier, the increased production emissions are more than offset by the lower operating emissions in boats which are frequently used.
But, I believe that there's another, even more important, factor: we will only be able to transition to climate-neutral mobility if we generate and distribute energy in a climate-neutral way. That is the big challenge. Anyone familiar with large-scale change processes knows that we won't succeed with one Herculean act. We won't wake up one day to a world with 100 per cent climate-friendly mobility and energy generation.
Instead, change is more gradual: currently, around one per cent of boats have climate-friendly propulsion systems. Soon, there will be four per cent. Then eight, and so on. At the same time, climate-friendly methods of generating and distributing energy are already competing, and winning, all around the world. Every solar or wind farm we build is a step in the right direction. Every electric vehicle we put on the road, or on the water, helps us create the necessary change.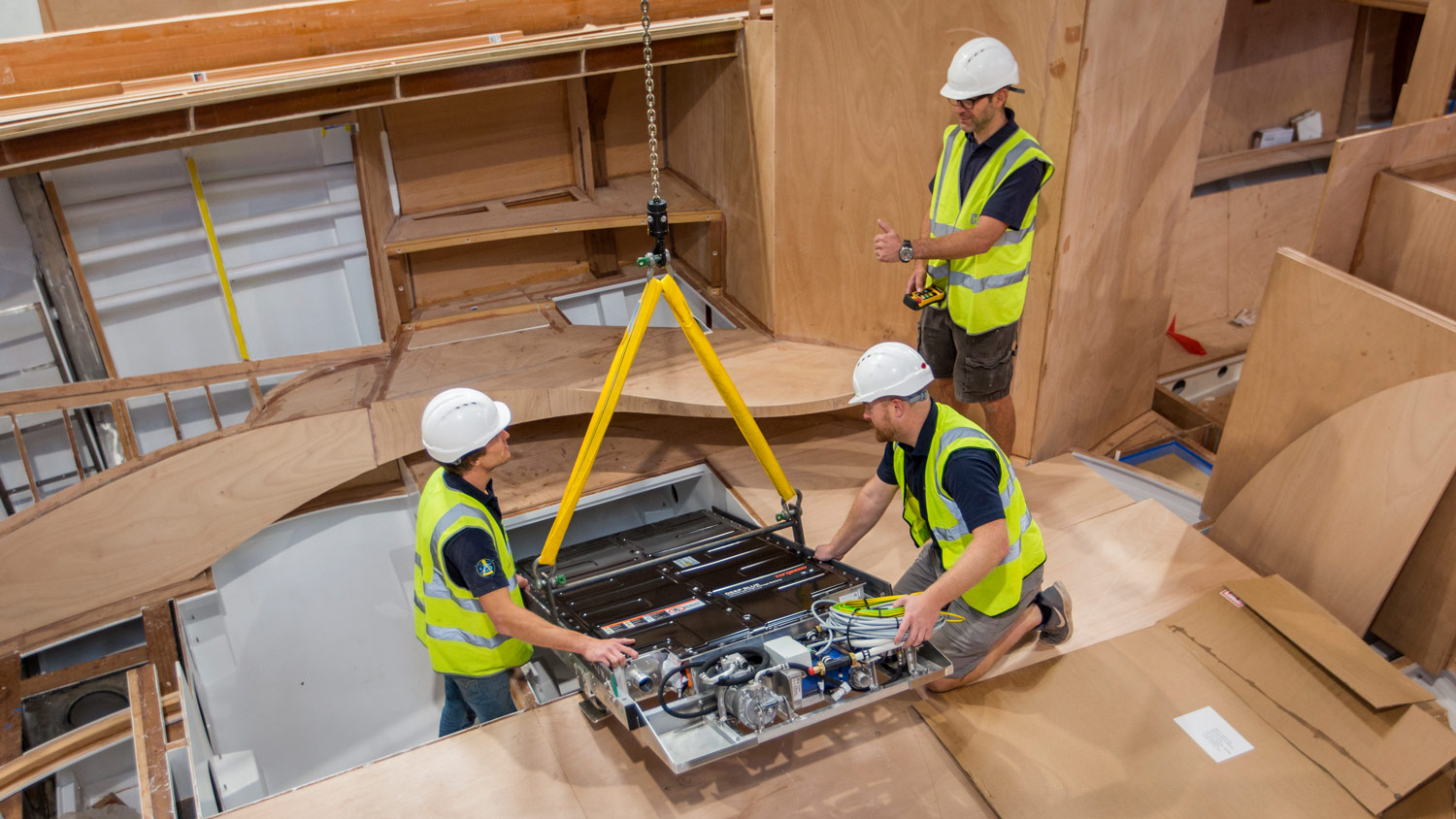 Deep Blue Hybrid offers full hybrid integration for larger yachts. Photo credit: Mike Bowden
Which technological innovations could speed the transition to climate-friendly electric drives?
We are currently working on many innovations in battery technology, engine technology, electronics and software. These contribute to the overall adoption rate of electric mobility in our, and other, market segments. But, innovations in boatbuilding like carbon-fibre and modern composites, which are making boats lighter and more robust, and highly efficient hull designs also play a significant role. Hydrofoils, as known from recent America's Cup races, are the most revolutionary development for electric drives in the marine market. These are underwater wings, some of which are electronically controlled, that lift the boat's hull out of the water and reduce drag by around eighty per cent. With foiling technology, you can double your range at high speeds – which certainly helps sell electric mobility! The first electric foiling speedboats are now commercially available in limited quantities.
You talk about "drive systems", not motors – why focus on systems?
Electric drive systems are much more than just a motor. They include batteries, charging technology, user interface, inverters and converters to supply hotel loads if necessary, and so on. We want to make it as easy as possible for boat builders and users to switch to electric mobility by offering ready to use, plug-and-play systems. When building an electric boat, someone needs to not only make sure that the individual components do their jobs, but also ensure their reliable and safe interaction. This requires significant development work, which might not be worthwhile for a single shipyard to undertake. That's why we take on the task.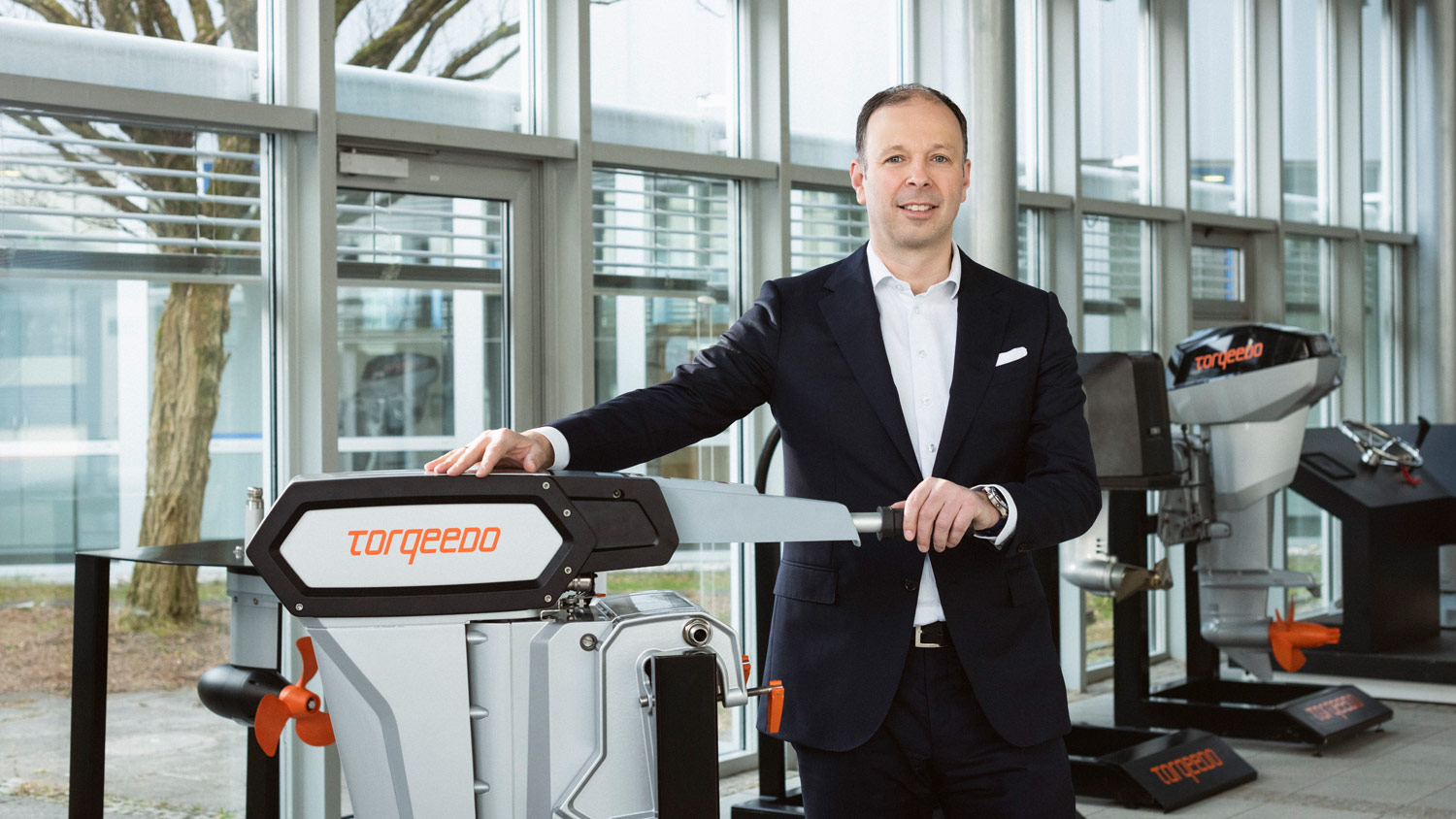 Dr Christoph Ballin with a 10.0 Cruise Tiller: The 100.000th electric motor produced by Torqeedo, which will be delivered to Spirit Yachts.
Who's getting the 100.000th Torqeedo motor?
Our colleagues from Spirit Yachts in England. The 34m Spirit 111 is equipped with our Deep Blue Hybrid 100 kW system and is one of the world's largest and most modern purely electric-powered sailing yachts. The 100.000th Torqeedo motor – a Cruise 10.0 Tiller – will power the Spirit 111's tender. It is a perfect pairing: modern oceangoing yachts like the Spirit 111 will become CO2-neutral thanks to electric mobility. They generate their own energy by allowing the propeller to spin while sailing – a process called hydrogeneration. Solar photovoltaics also help to provide for the yacht's energy needs. The diesel generators are available for emergencies but are reduced to a backup role.
"Silence, plenty of energy, freedom and independence - anyone who loves spending time on the water will recognize the sheer beauty of this idea."
Dr Christoph Ballin, Co-founder and CEO of Torqeedo
How will electric mobility change in the next 15 years?
We are confident that adoption will increase as our societies and economies move in a more climate-neutral direction. The number of sailing yachts, motorboats and smaller passenger vessels which are powered by electricity will continue to grow. Projects we're working on now, like new advancements in battery technology and the possible integration of hydrogen fuel cells, will ensure that electric mobility is competitive in even more applications in the future. We might see the first widespread use of fuel cells on boats, not cars, since current infrastructure barriers appear easier to overcome on inland waterways than on roads.
One of the most significant challenges of the next few decades will be finding climate-neutral ways to maintain our mobility. We are working on it every day.
Also read the press release announcing our 100.000th motor › Torqeedo Dropbox
Infobox
Dr Christoph Ballin founded Torqeedo in 2005 and continues to lead the way today as the company's CEO. Since then, Christoph has played a vital role in planning all Torqeedo products and expanding the market for electric mobility.

Christoph studied business administration at the Otto-Friedrich University of Bamberg, where he also gained a PhD and began his career as a consultant with McKinsey & Company. Before founding Torqeedo, he worked as CEO of Gardena Deutschland GmbH.

Relevant Torqeedo Products
1 APRIL 2020 • 7 MIN READING TIME