Peter Weil knew just what he wanted. A large, comfortable cruising motor yacht running on solar energy.
Only one problem. No powerboat builders offered such an option. So, he ordered a brand new Aquila 44 power cat with the idea of replacing the twin diesel engines with a solar-electric propulsion system.
In many ways, the 44-ft power catamaran perfectly met his criteria for long-range cruising. Its twin hulls and 21 ft beam offer exceptional stability in all sea states and the boat is easily handled by one person without a crew. Its spacious interior has three private staterooms, a main deck salon with large 360-degree windows and an enclosed flybridge.
In short, the Aquila 44 had everything he wanted – except solar power.
By happy coincidence, he was introduced to Marc Hawxhurst, president of a company called Nova Luxe. Hawxhurst shared the same vision of converting large power catamarans to electric propulsion. The two met in Bermuda on Mother's Day in 2018 and signed a contract for Nova Luxe to repower the Aquila 44 with a fully integrated Torqeedo Deep Blue Hybrid system and an array of highly efficient solar panels.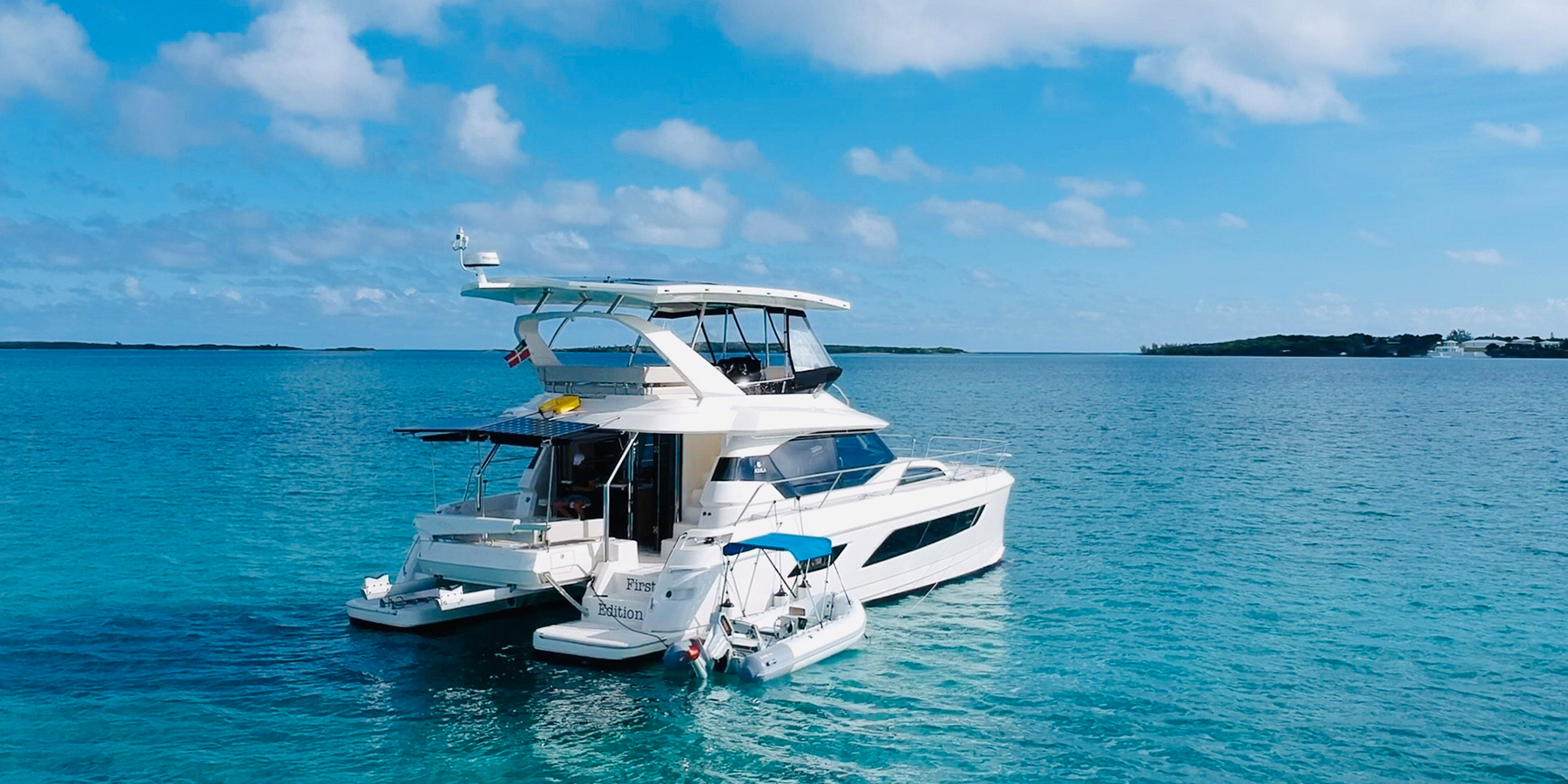 The conversion was completed at a boatyard in St. Petersburg, Florida, and the solar-electric boat was launched in June 2019.
The new environmentally friendly propulsion system consists of two Deep Blue electric drives and a pair of Deep Blue 40 kWh BMW i3 batteries, a rooftop 5.6 kW array of solar panels and a small 25 kW backup diesel generator. Hawxhurst says the solar panels produce 20 kWh of power on an average day and claims the system delivers a range of over 800 miles at a cruising speed of 6.5 mph.
Torqeedo's fully integrated modular system provides complete energy management. Each component's energy demands are monitored and managed by the on-board processor, ensuring economical collection and distribution of clean, renewable energy with automatic generator backup when necessary. The solar cells recharge the house batteries and the Deep Blue batteries.
Importantly, since the boat is kept in Florida, efficient air conditioning is a must. Hawxhurst says that, depending on sunshine, the vessel can run the AC in 100-degree weather for up to 72 hours without starting the generator. Even the boat's tender is 100 per cent electric. The ZAR mini aluminium RIB is driven by a Torqeedo Cruise 10.0 outboard and two Power 48-5000 batteries yielding 50 miles of cruising range. The tender's batteries are charged by a power supply station built into the yacht.
Experiencing the boat underway is almost eerie – whether idling or at wide-open throttle. No engine noise. No exhaust fumes. Just sweet silence and clean, fresh air.
Steve Trkla, President of Torqeedo Inc., commented: "Our Deep Blue Hybrid system has a strong position in the cruising sailboat market, but until now powering large motor yachts with electric propulsion has meant compromising on speed, range, or amenities. Now, Torqeedo's latest developments in motor and battery technology combined with more efficient solar systems are changing that. We believe Nova Luxe's Aquila 44 with Deep Blue Hybrid strikes the right balance between on-board conveniences and sustainability.
More information:
Find high-resolution pictures at the: › Torqeedo Dropbox
Find the main catalogue 2020 here: › Catalogue 2020
Related Torqeedo Products
Smooth, Silent Cruising in Style
16 APRIL 2020 • 4 MIN READING TIME