The boatbuilders MY-Electroboat GmbH are setting standards in building environment-friendly motor yachts. Torqeedo supplies them with emission-free electric drive systems for everything from small e-boats to powerful day cruisers.
Bavaria's Alpine foothills region is one big water paradise. When the weather is good, the numerous sparkling, turquoise-coloured lakes form a striking contrast to a backdrop of mountain peaks against Bavaria's legendary blue sky. Faded wooden barns and gnarled fruit trees are dotted around meadows that gently slope down to the water, and every shoreside property has a dock of its own. In Raisting, on the southern shores of Lake Ammer, they treasure this scenery as a gift of nature – and do their best to conserve it. This is where you find the small boatyard MY-Electroboat. For five years now, they have been building electric boats. Torqeedo supplies the drive systems for a wide range of models from small e-boats to powerful day cruisers.
Licenses for private individuals to use combustion engines are restricted for environmental reasons on more and more of these pristine lakes. Electric-powered boats are in vogue. As Germany's Süddeutsche Zeitung reports, the number of newly registered boats has risen by double-digit percentage figures in recent years. And that makes sense. Boaters spending a day in the fresh air amidst beautiful surroundings don't want to emit exhaust fumes and a lot of noise. After all, it's the restful calm that draws people to this area in the first place. MY-Electroboat managing director Philipp Dorsch says "a day's sailing is like a week's vacation".
The boatbuilders keep hearing three reasons why customers purchase an electric boat. Besides the significantly better environmental footprint and lack of noise, it is the ease of maintenance that convinced many prospective buyers. "There are hardly any service costs for our customers. No need to change a filter. No oil changes. Overwintering is really easy. It simply works," Dorsch relates.
MY-Electroboat combines state-of-the-art technology with outstanding design. "MY-Elégance S" is their flagship, a re-interpretation of the classic day cruiser. As Dorsch explains, the premise was to offer a product that combined excellent performance with the maximum possible efficiency – without sacrificing comfort: "The boat is easy to use – just pull out the plug, turn the ignition key, and you're away." Elegance combined with functionality were the two design principles, so the boat also has enough room for passengers without losing performance. "An all-things-to-all-men boat," Dorsch sums up.
This boat proves yet again that you need not equate carbon footprint reduction with a loss of performance. The decisive factor is Torqeedo's new Deep Blue 100i inboard engine. This fully integrated drive system delivers 100 kW of propulsive power and accelerates the "MY-Elégance" to a top speed of just under 65 km/h – enough power to pull water-skiers. With a maximum range of 260 km at a cruising speed of 13 km/h, the powerful batteries ensure that even lengthy tours are no problem.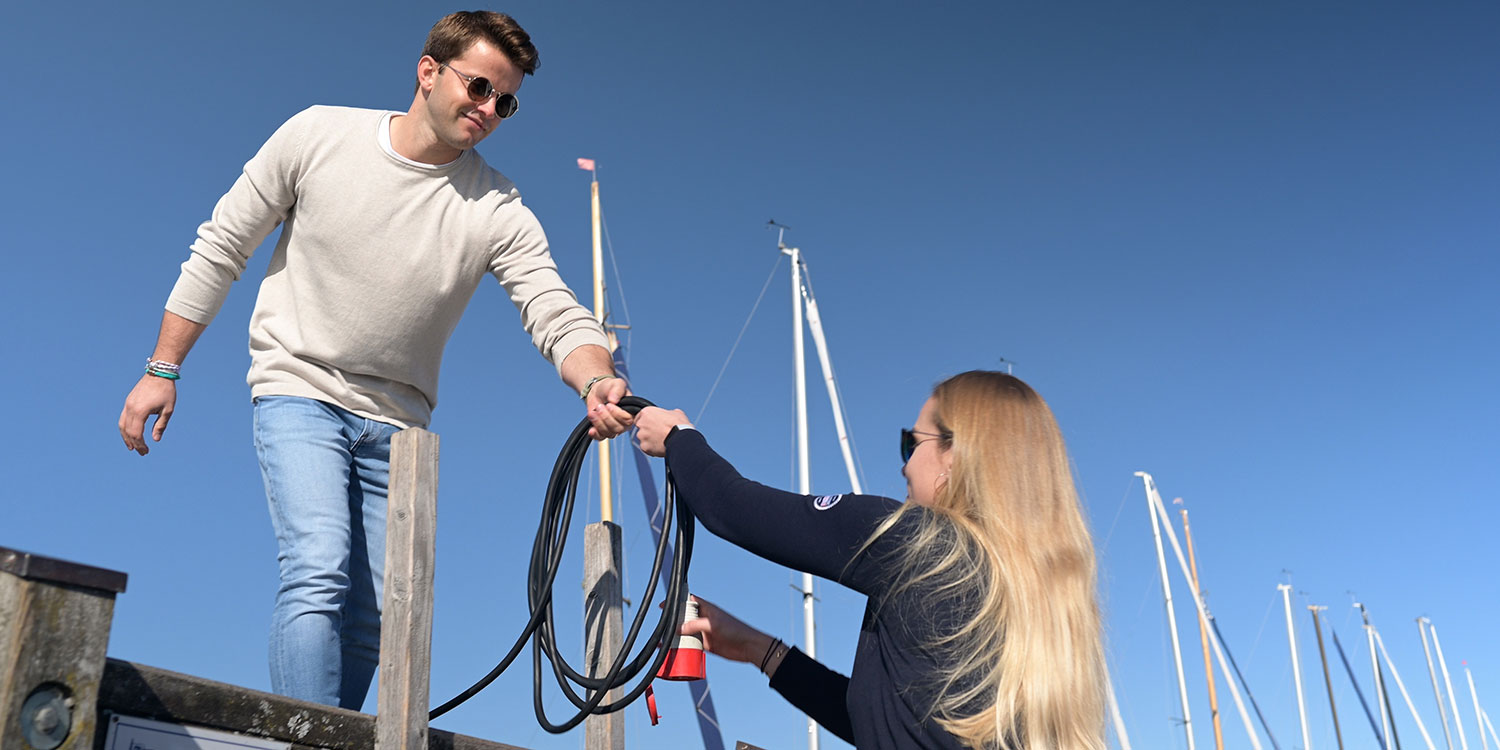 Electric charging infrastructure is available in most marinas – it takes eight hours to charge the Deep Blue batteries fully.
MY-Electroboat also integrates Torqeedo engines into other types of boats. Building an electric boat is, in many respects, different from conventional vessels. An e-boat has to be rigid, sturdy and, above all, light in weight with an efficient hull shape. "We planned the boat around the drivetrain," Dorsch explains.
The fully integrated and nicely compact Torqeedo system ensures there is enough room aft for a cosy reclining area, six passengers and a spacious cockpit - the electric drive technology has ensured the boat fulfils every requested purpose. It is powerful enough to pull two wakeboarders, has enough space to lie at anchor offshore for hours, and stirs a sense of esprit that makes it twice the fun to cast off again in the evening and cross the lake for a grilled fish dinner. On "MY-Elégance S", a day on the water really does seem like a week's vacation.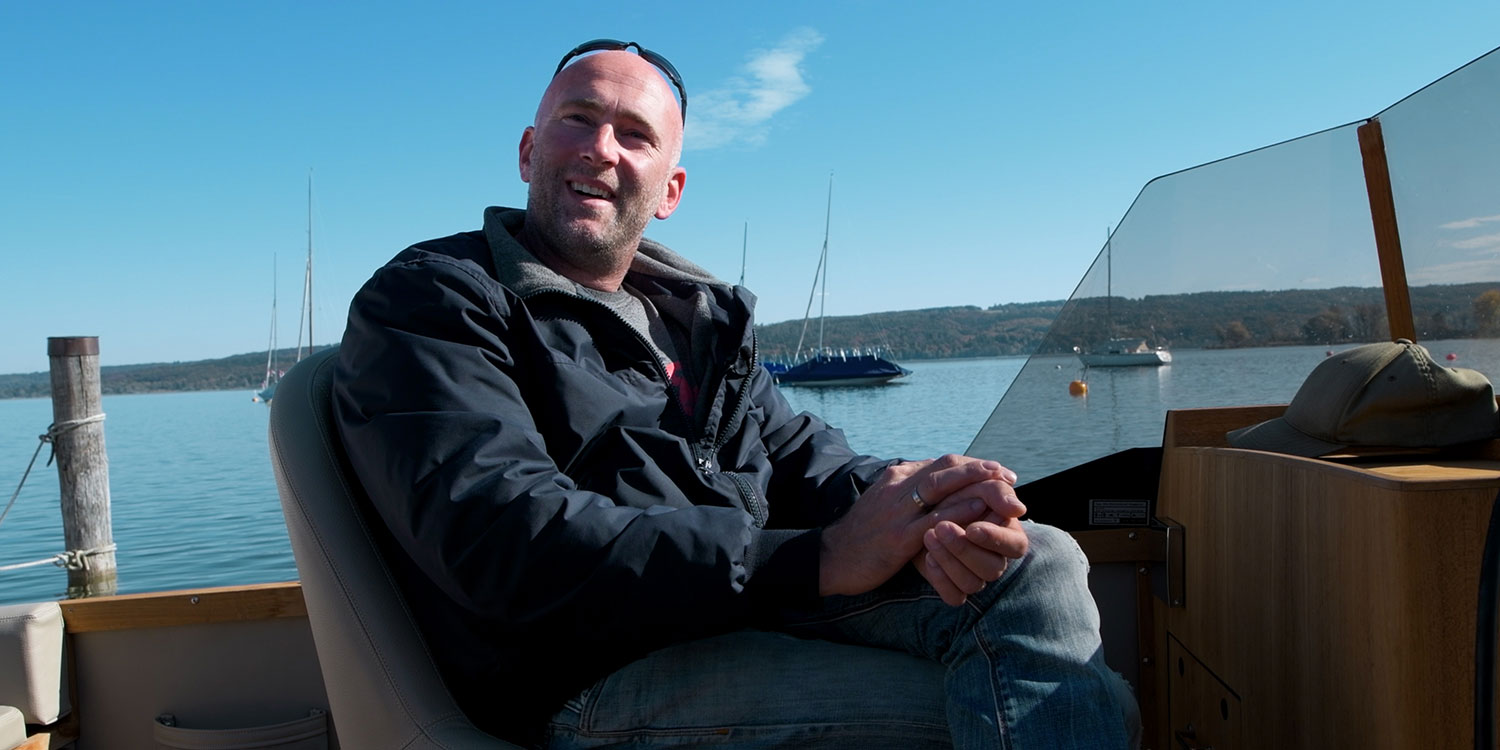 Philipp Dorsch founded MY-Electroboat GmbH with Marian Hanke.
39-year old Philipp Dorsch grew up on boats. His parents are both sailors and never shied away from taking their children boating at a young age - whether on inland waters or cruises at sea. From 1999 on he studied to become an electromechanical engineer and started a business as an independent boat technician. The state-certified electrical engineer founded MY-Electroboat GmbH with Marian Hanke.
More information:
Find high-resolution pictures at the: › Torqeedo Dropbox
Find the main catalogue 2021 here: › Catalogue 2021
Find the commercial catalogue 2021 here: › Commercial Catalogue 2021
Relevant Torqeedo Products
A brief vacation on the water
21 JANUARY 2021 • 7 MIN READING TIME
Motorboats
Big Picture
Tech
People