Electric ferry service powered by Torqeedo
Bangkok is one of the most congested and polluted cities on the planet. To make the megalopolis more sustainable and livable, Bangkok Metropolitan Administration has launched an ambitious electrification program for urban traffic. One of the key projects is an electric ferry service on the city's many canals, powered by Torqeedo electric drive systems. We went on board a Khlong Phadung Krung Kasem ferry to discover how electric mobility on the water can change cities for the better.
It's only a small step, but Rawisuda Khaodee is entering a new world. Just a moment ago, the young businesswoman had been rushing through downtown Bangkok, pushing her way along congested streets, enduring the noise of motorcycle taxis, buses, and countless cars, and glancing at her smartphone screen again and again to check the time. Perhaps even grateful for the NP95 mask because it protects her from the coronavirus and keeps out the smog that darkens the sky in the Thai metropolis. Then she boards the green-painted ferry at the Phadung Krung Kasem Canal – and visibly relaxes. "These electric ferries are brand-new and very quiet," she says. And most importantly: "They usually run on time. I can count on catching my connecting train".
The ferry departs almost silently. "The cool breeze and the beautiful views along the way make the ride relaxing", says Prapharat S., also on board that day and heading for her workplace. "Especially when you go through the old town of Bangkok." The commute becomes a moment of inner peace.
Bangkok, a metropolis of 17 million people, is one of the world's most congested cities. On average, a resident spends 96 minutes a day in traffic. Bangkok also ranks 12th among cities with the highest smog levels. Despite this, more and more people rely on cars to get from A to B, as most buses are unreliable and outdated. Only 5.8 per cent of Bangkok's modal share goes to modern means of public transportation, such as subways.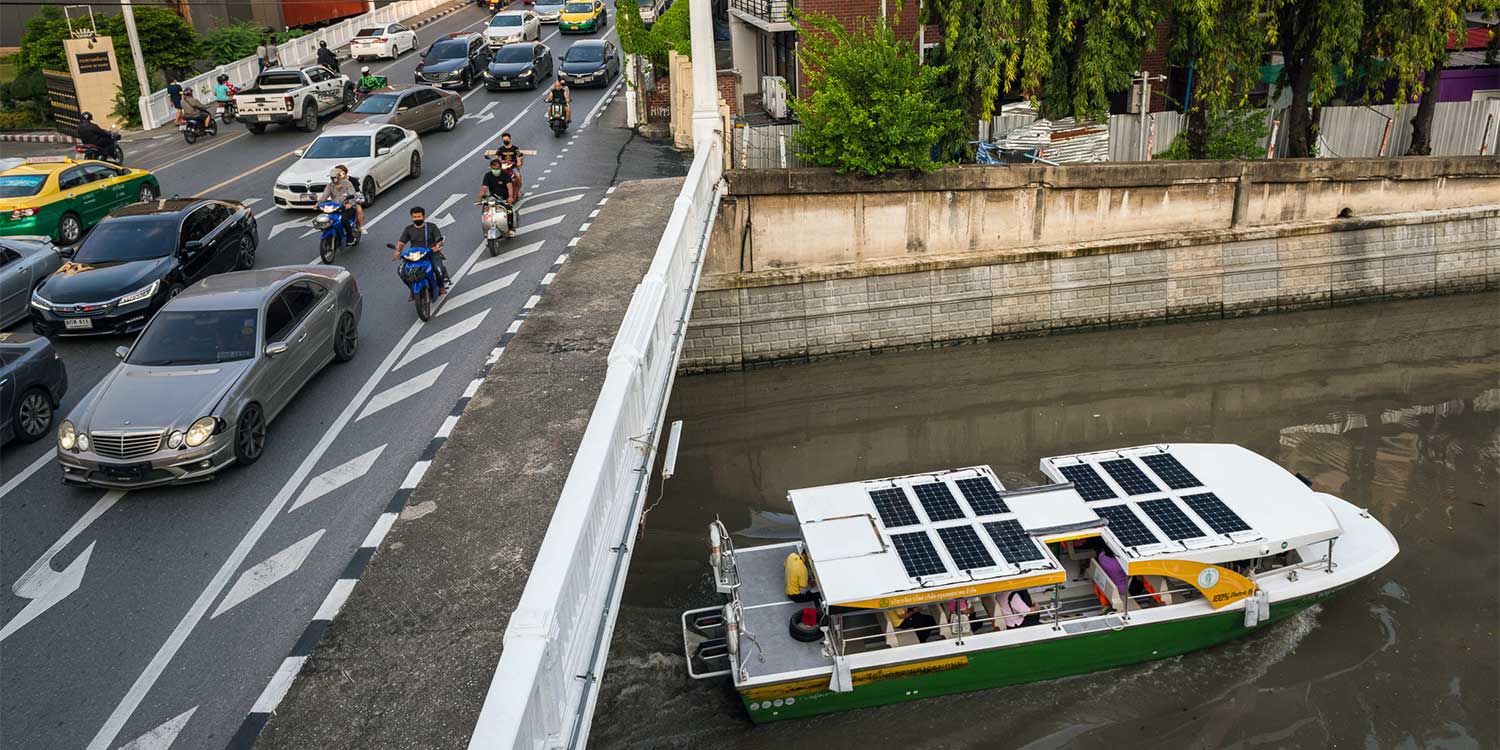 The streets in Bangkok are congested on most days. The canals are a great alternative. Credit: Athikhom Saengchai
To avert infrastructure gridlock and reduce pollution, the Bangkok Metropolitan Administration launched a fleet of electric ferries in spring 2021. Twin Cruise electric motors power the 47-foot-long fibreglass boats, accommodating up to 30 passengers every 15 minutes. The ferry line connects the Chao Praya River and one of the city's main train stations, but there are no red lights or traffic jams on the water. The ambitious project is just the first step in a transportation revolution that aims to make Bangkok a more sustainable and livable city.
Who doesn't want to be part of the solution?
Old water cabs ply the narrow canal, as do traditional longtail boats powered by rumbling diesel engines. By comparison, the electric ferries look futuristic with their bright green paint, LED lighting, and digital control systems. "The electric propulsion system saves energy and is environmentally friendly"," says Sathaphon Phuengchai, the electric ferries' lead captain who has been with the project since the prototype phase began in 2018. He used to pilot conventional ferries on the Phasi Charoen Canal and likes the feeling of contributing to solving one of his hometown's most pressing problems. But he also appreciates the driving experience: "Electric ferries run more smoothly than diesel boats and offer a relaxing driving experience – you can call it deceleration," he says, recounting that he can easily perform a 360° maneuver in the narrow canal. He enthusiastically reports on the boat's technical features: "We have solar cells on the roof of the boats to generate electricity for the lighting system inside the ferry." Powering hotel loads with solar significantly increases the ferries' range in sunny Southeast Asia. The ferries are equipped with 12 Torqeedo Power 24-3500 lithium batteries for a range of just over 33 km – enough for three round trips. Depending on the exact use case the ferries can be recharged through landline electricity which takes four hours – or the batteries can be hotswapped to reduce downtime.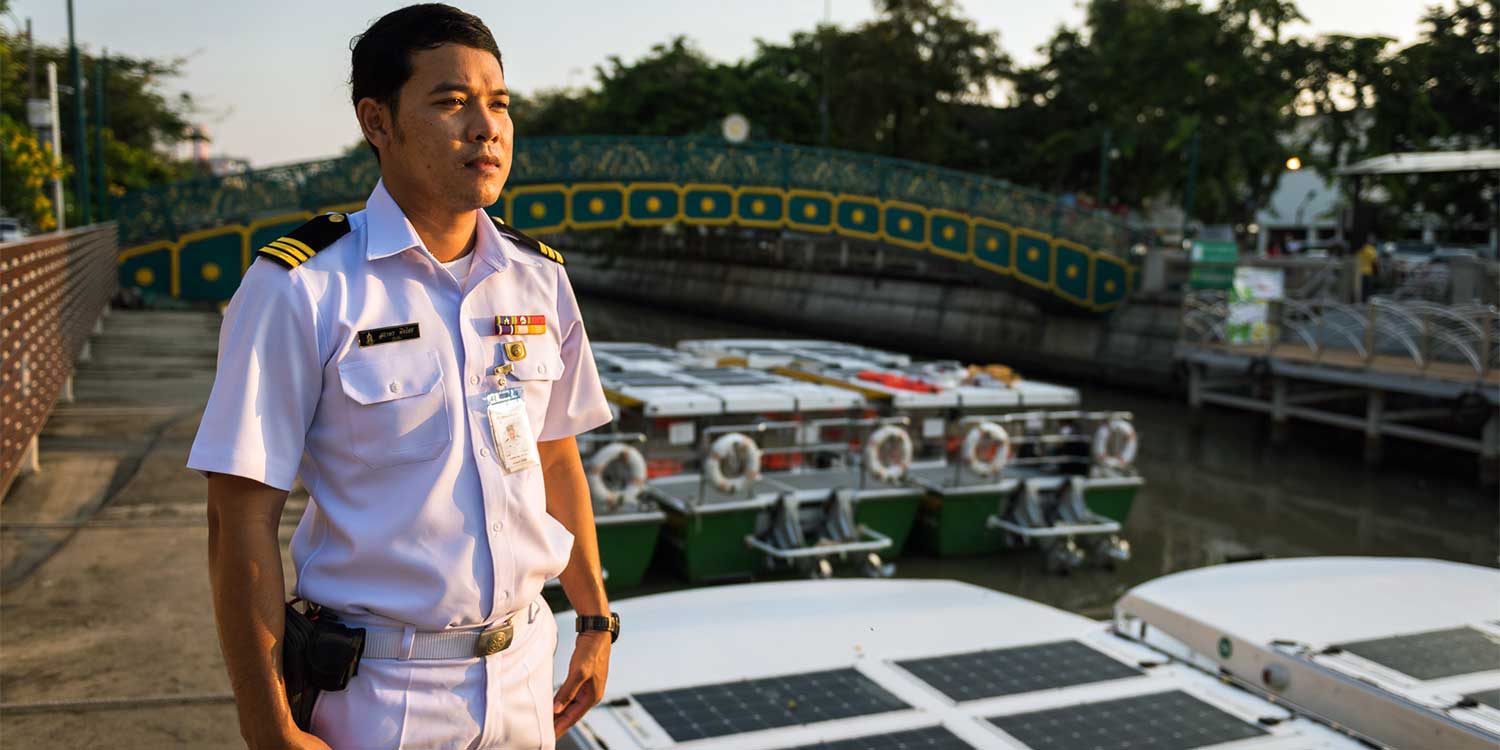 Sathaphon Phuengchai is the electric 'ferries' lead captain and believes in the mission. Credit: Athikhom Saengchai
The Torqeedo team in Bangkok is also working on the project as part of the German high-tech company's mission to reduce CO2 emissions by electrifying water transport in the world's metropolises. And, of course, every Bangkok resident has a personal interest in solving the traffic problem. "As soon as you start using the roads, life becomes unbearable," says Joe Macdonald, Sales Manager at Torqeedo Asia Pacific. Joe does without a car and gets around by using a mixture of Skytrain, cab, and water bus. For him, water transport is the future: "It takes 2 minutes to cross the Chao Praya River by boat. By car, it will take you an hour to find a bridge."
A critical case study for all of Asia
Torqeedo engineers and technicians worked closely with the Bangkok Metropolitan Administration and the boatbuilder, MariArt Shipyard, to find the best set-up for the project. The narrow, low-profile fibreglass boats are perfect for navigating the channels with low bridges. Two 10 kW Cruise electric drives replaced the old 225 hp diesel engines . "Public transport is a perfect fit for electric propulsion," says Joe Macdonald, "We know we want to go X hours at Y knots and cover Z kilometres." That makes it easy to determine the appropriate battery and propulsion system to guarantee that there will always be enough power. The results from operations are encouraging. Electric propulsion only uses energy when the vehicle is moving and emits no CO2 emissions or pollutants, unlike diesel engines that often idle during passenger boarding. "Everyone is excited by the cost savings," Joe says. "The boats use less energy and maintenance is much lower, too." The canal project is an important case study for similar deployment opportunities in Vietnam, the Philippines, and Australia. "Bangkok is a landmark market in Asia," he says. "If we demonstrate that this is a worthwhile business model, many cities in the region will follow suit."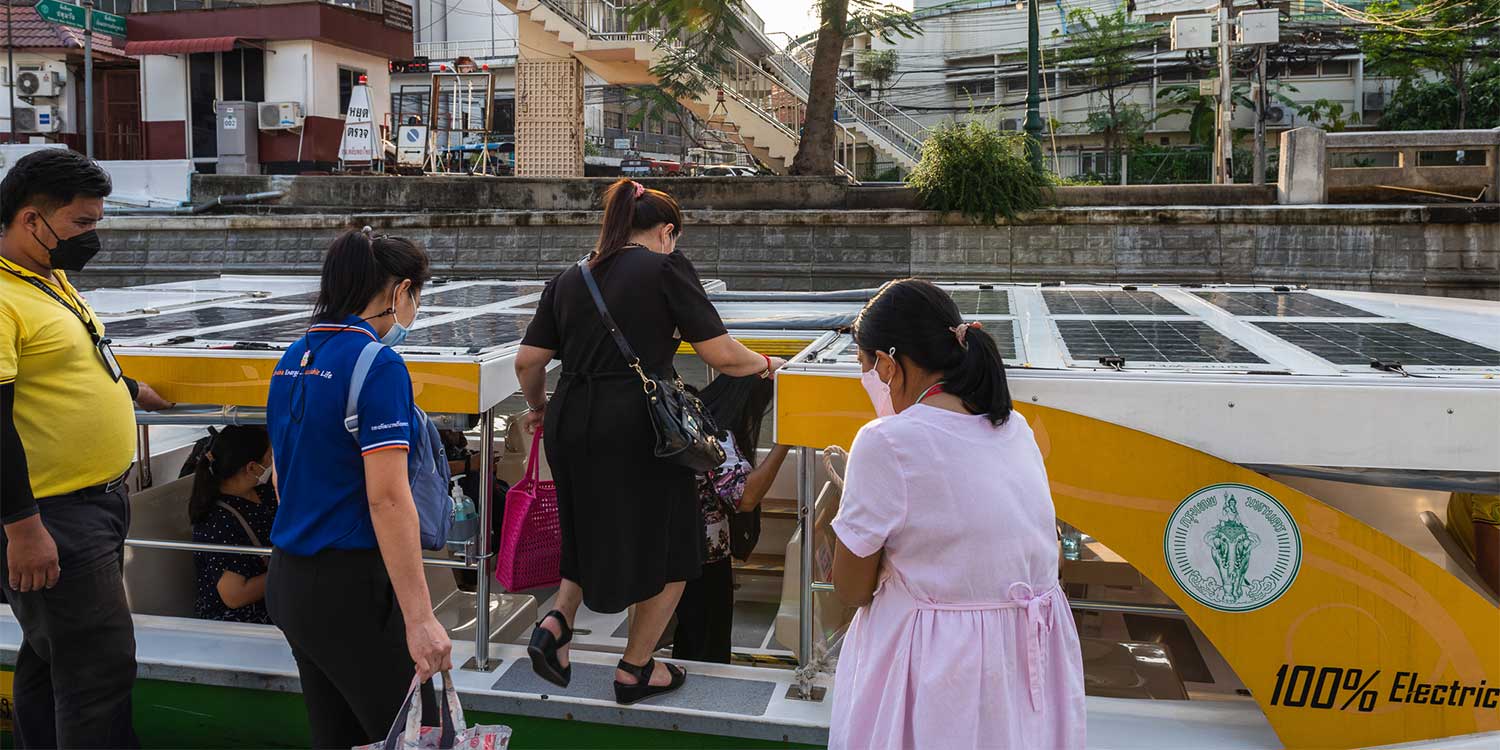 The silent and comfortable electric ferries are enhancing the image of public transport in Bangkok. Credit: Athikhom Saengchai
A new image for public transportation
Public transportation in Thailand has struggled with its image for years. Using the bus, tuk-tuks, or water taxis were seen as a sign of material hardship because these mass transit options were frequently unpleasant, unsafe and uncomfortable. On the electric ferry, Rawisuda Khaodee enjoys the feeling that "the staff are friendly, well-trained, and service-minded. I can feel that they prioritize passengers' safety." The electric ferries are part of the city government's initiative to make public transportation more attractive. "It used to be noisy and smelly on the water," Aswin Kwanmuang, Bangkok's city governor, commented at the service's inauguration. "Now we can listen to music while we ride and enjoy our time on the water."
Our partners from MariArt Shipyard explain the project. Credit: Mariart Shipyards
The project is developing rapidly. What started with seven boats on Khlong Phadung is continuing with another 12 boats on Klong San Saeb and is expected to expand onto Lat Phrao by the end of 2021. "There are over 1,100 waterways in Bangkok, so we have a long way to go. But we hope to eventually connect 400 kilometres of canals, which would give people a coverage of 1,100 square kilometers," says Torqeedo manager Joe Macdonald. He is also looking forward to electrifying the boats on the Chao Praya River, which has strong currents, with more powerful Torqeedo systems such as the Deep Blue drive. The electric ferries will be part of an interconnected electrified transportation network that includes electric buses, a monorail, and the conversion of hundreds of Bangkok's iconic tuk-tuk cabs. By 2035, 30 per cent of the transportation system is expected to be electric.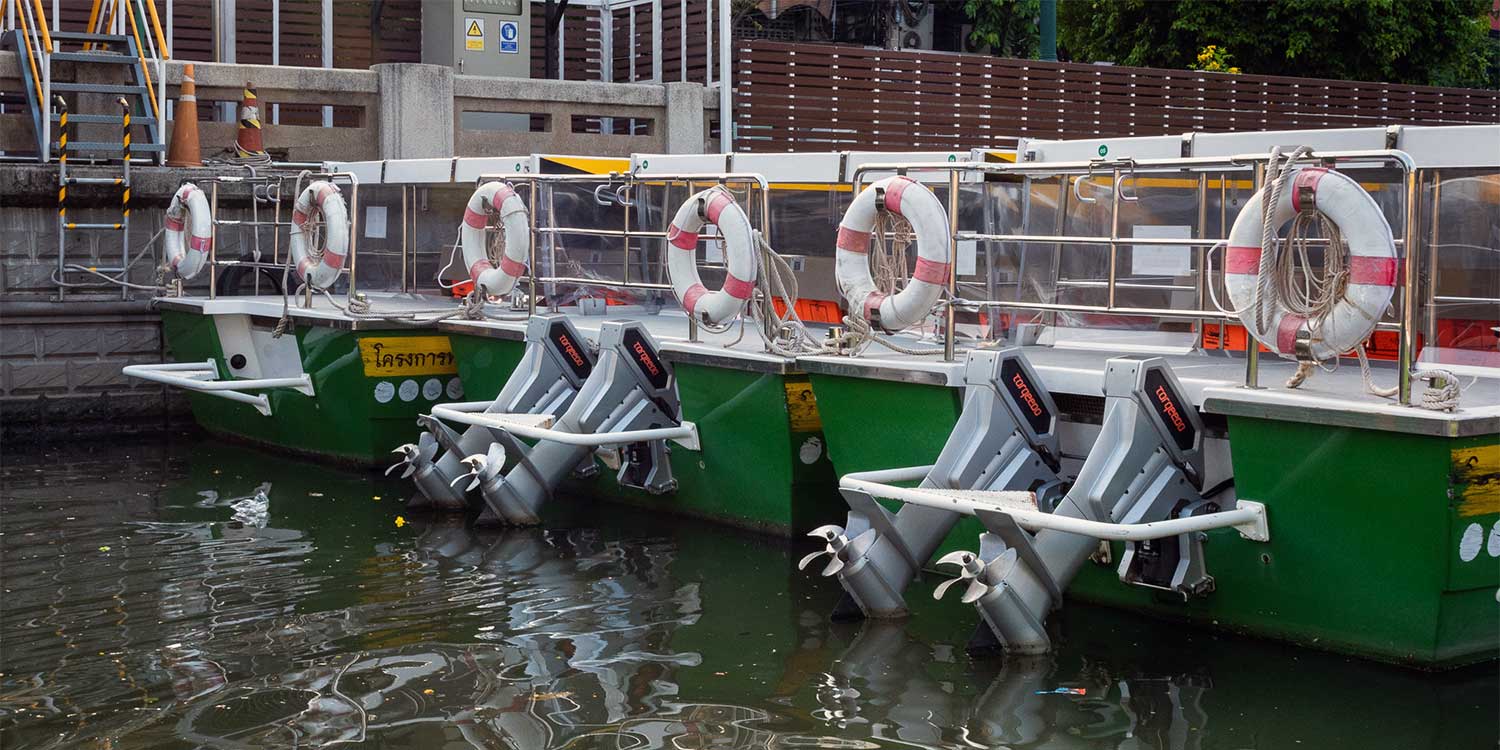 The Torqeedo Cruise electric motors are powered by 12 lithium-ion batteries. Credit: Athikhom Saengchai
Back to the future
Until the onset of industrialization in the 20th century, Bangkok was known as the Venice of the East. The city's canals, called Khlong, were the main traffic arteries. Even the markets took place on the water. But, over time, waterways were filled in or buried under asphalt to build more roads. This rapid growth led to poor urban planning, so about a third of the streets are dead-ends. But, even today, there are still 1,100 canals with a total length of over 2,500 kilometres. Several initiatives are working to integrate canals into the transportation mix. As a scienctific study with the title "Sustainable Boat Transportation Through Electrification of Propulsion Systems" states: "Waterborne transportation systems for passengers offer a great alternative for coastal and river cities, especially in dense urban areas where conventional road transportation has reached its full potential." As part of the Resurrecting Canals Project, existing canals in Bangkok are uncovered, deepened, and integrated into the waterway network. Pongporn Sudbanthad, the lead architect of the Resurrecting Canals Project, hopes "to attract tourism as well as commercial, taxi, and passenger boats, and to create social enterprises along the canals."
This investment in sustainable water transportation is urgently needed. Bangkok was built on marshland. The city is sinking by about one centimetre per year and could be below sea level as early as 2030. Flooding is already one of the city's most pressing problems and will become even more frequent due to climate change. According to Pongporn Sudbanthad, the Canal Restoration Project plans to plant urban forests along the canals to better treat and drain water and improve water flow in the network.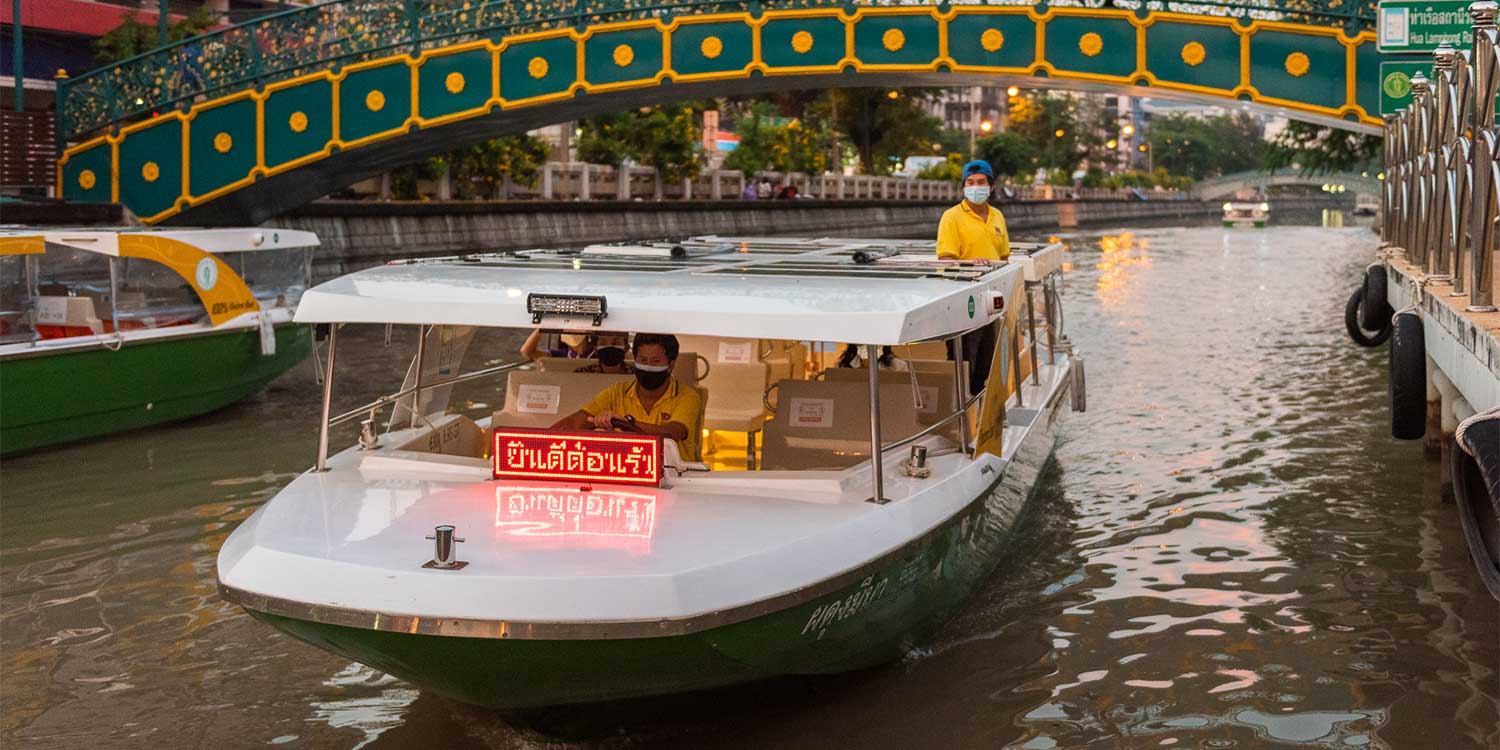 The electric ferries provide an important business case for similar services around the region. Credit: Athikhom Saengchai
Our commuter Rawisuda Khaodee is already looking forward to a future where all of Bangkok's modes of transportation work as well as the ferry and where she can "switch from bus to boat to train without stopping, waiting, and thinking." Right now, buses are usually stuck in traffic jams – and even ferry services are interrupted if the water level rises too high after a monsoon rain. A real-time early warning system has been set up to inform passengers. The switch to electromobility has not been made a second too soon. Only drastic, swift emission cuts will make it possible to limit the negative consequences of climate change – and ensure navigation on the canals of the Asian Venice remains viable and Bangkok livable.
Half an hour after boarding, Rawisuda Khaodee leaves the ferry and calmly walks to the station to catch her connecting train. Today, she'll reach her workplace on time. In a city like Bangkok, that's always a small miracle. She hopes she'll get used to this very soon.
Ready for commercial use
There is a strong upsurge in electric or hybrid drive systems for ferries and water taxis. The distinct advantages of electric drives play a major role.
– electricity costs are much lower and more stable than petrol or diesel
– a vastly reduced maintenance schedule means more time on the water and more money in your pocket
– zero local emissions – a diesel-powered ferry emits air pollution roughly equivalent to that produced by 40 diesel buses
More information:
Find high-resolution pictures at the: › Torqeedo Dropbox
More information about Torqeedo for commercial applications: › Commercial Use
Find the main catalogue 2021 here: › Catalogue 2021
Find the commercial catalogue 2021 here: › Commercial Catalogue 2021
Relevant Torqeedo Products
Future City Bangkok
Back to the future
15 OCTOBER 2021 • 7 MIN READING TIME