New software release for Deep Blue improves remote service and data access.
Minh Hieu Ta's customers are spread across Vietnam's entire 3,400 kilometers of coastline. The managing director of Marine Supply Vietnam, a boat and accessory dealer based in Nha Trang City, has been selling the Torqeedo Deep Blue System since 2017. "It's a very good and sustainable system," he thinks, "but especially to start with, you have to find your way around first, just like with any other system." And because his customers, including a 15-boat fleet of tour boats, are often based in remote locations or out on the water, he has always recommended Torqeedo's Remote Services to them. "That's because every hour of operation counts, especially in commercial applications," says Daniel Schwab, Manager Field Service at Torqeedo: "Our customers need fast and efficient service support."
The Deep Blue system has long been connected wirelessly for remote updates and diagnostics from Torqeedo service specialists – with clear benefits. Many hardware and software issues can be addressed immediately and efficiently. A new software release, which will be uploaded from May 2021, improves the existing remote diagnostics. The new software makes the analysis of historical data easier and allows real-time data transfer.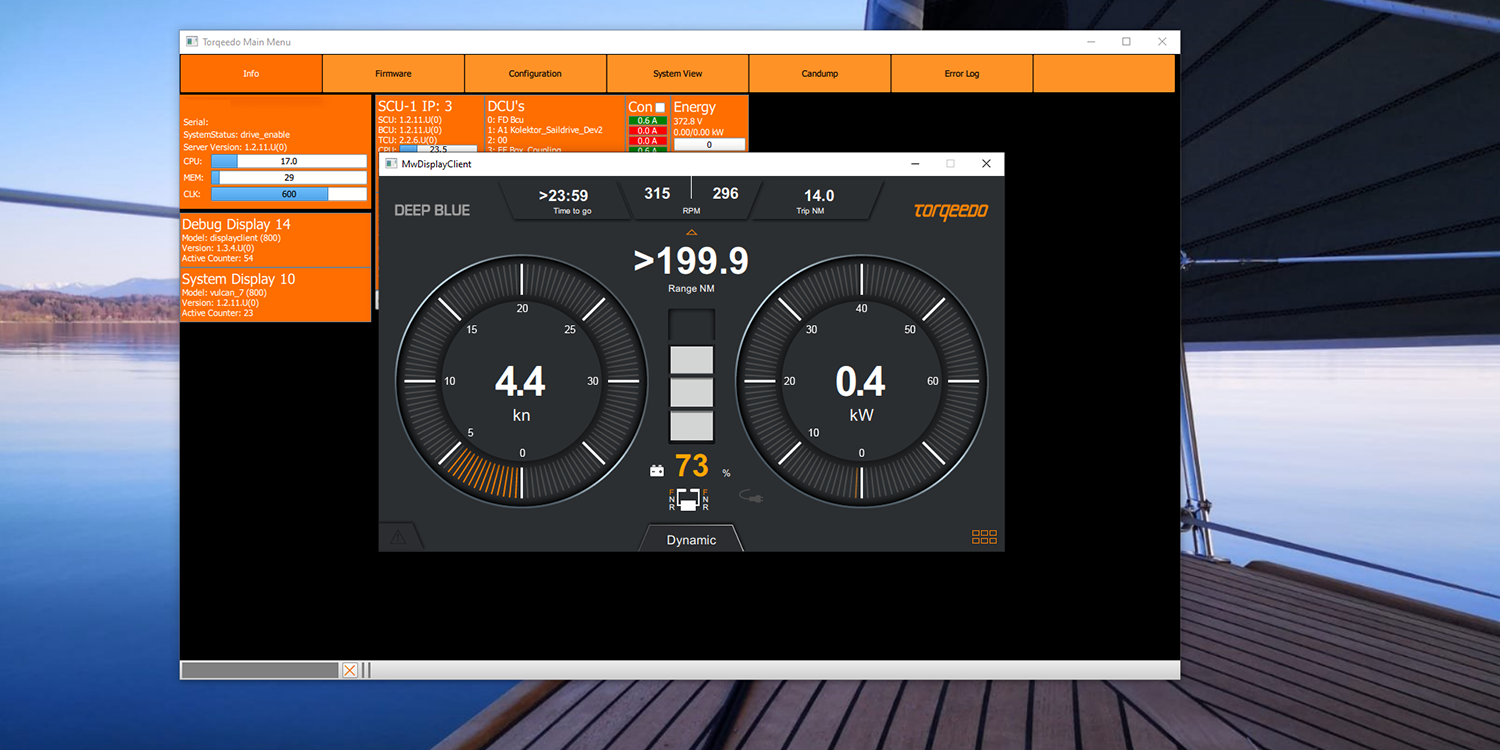 The remote access interface allows the Torqeedo service team to check the system's current status, perform updates or diagnostics, and transfer or analyze data.
This software update, Daniel Schwab points out, will not only make it easier to analyze problems and solve them faster in the future: "Our next big step is toward predictive maintenance." But data management is not only important for remote maintenance and safety.
Although Torqeedo has a steadily growing service network with well-trained and experienced service partners, "our boats operate all over the world," Daniel Schwab adds. Remote services allow for immediate initial fault diagnosis online. "In up to 40 per cent of all cases we can find the fault directly and solve it," he says. "For any other faults we then know which spare parts are needed and which experts should look at the issue." This saves valuable time and travel costs, as Minh Hieu Ta confirms: "The system really works very quickly and helps our customers exactly when they need this help the most."
More information:
Find high-resolution pictures at the: › Torqeedo Dropbox
Find the main catalogue 2021 here: › Catalogue 2021
Find the commercial catalogue 2021 here: › Commercial Catalogue 2021
Relevant Torqeedo Products
20 MAY 2021 • 5 MIN READING TIME