Wilderness river tours with Ashby Gap Adventures and Travel 1103
When Jeff Kelble talks about the wild beauty of the rivers in Virginia's Shenandoah Valley, his enthusiasm is such that you begin to wonder if he has river water flowing through his veins.
Kelble has spent most of his adult life hunting, fishing and rafting in the pristine waterways of the Shenandoah Valley, which is located between the Blue Ridge and Allegheny Mountains near the US capital. The region is known for its wineries, Civil War history, astounding natural beauty, and beautiful rivers.
Jeff is a storehouse of knowledge about every cove, rapid, tributary, shoreline and island, as well as the unique fauna and flora of the waters and adjacent forests. In fact, he spent more than 14 years as a leader in the Waterkeeper Alliance organisation working to restore and protect the Shenandoah and Potomac Rivers from deadly agricultural runoff and other sources of pollution.
Then, in 2018, just before the pandemic, Jeff Kelble and his wife, Erika, decided to launch a new business called Ashby Gap Adventures, offering high-quality luxury river experiences just a few hours' drive from Washington, DC. Their unique offerings range from simple half-day scenic tours all the way up to overnight customised camping trips on private islands and hunting and fishing expeditions.
Jeff and Erika spent months designing and customising the perfect river tour boat. The result is a 15-foot commercial raft with six padded swivel seats for passengers, and a seat in the stern for the operator/guide/rower. They call it the "river version of a safari Land Rover."
But there was just one thing that wasn't quite right. "We realised we could enhance our adventures with a little bit of power, not to mention we could save some wear and tear on our guides' shoulders. Additionally, having power on our rafts could extend our range and give us the ability to adventure into sections of the river that would be inaccessible due to time limitations."
But noisy, leaky and high-maintenance gas outboards were unacceptable for high-quality river adventures on the pristine waterways which the Kelbles had devoted so many years to preserve from pollution.
That's when they discovered Torqeedo's electric motors.
"On the advice of an old friend, we acquired our first Torqeedo," said Jeff. "It is a Travel 1103 3.0 horsepower-equivalent brushless direct-drive outboard motor with a 915 Watt-hour lithium battery. When I picked it up, I was amazed how lightweight it was, and when we started to run it, the torque and performance were nothing short of astounding."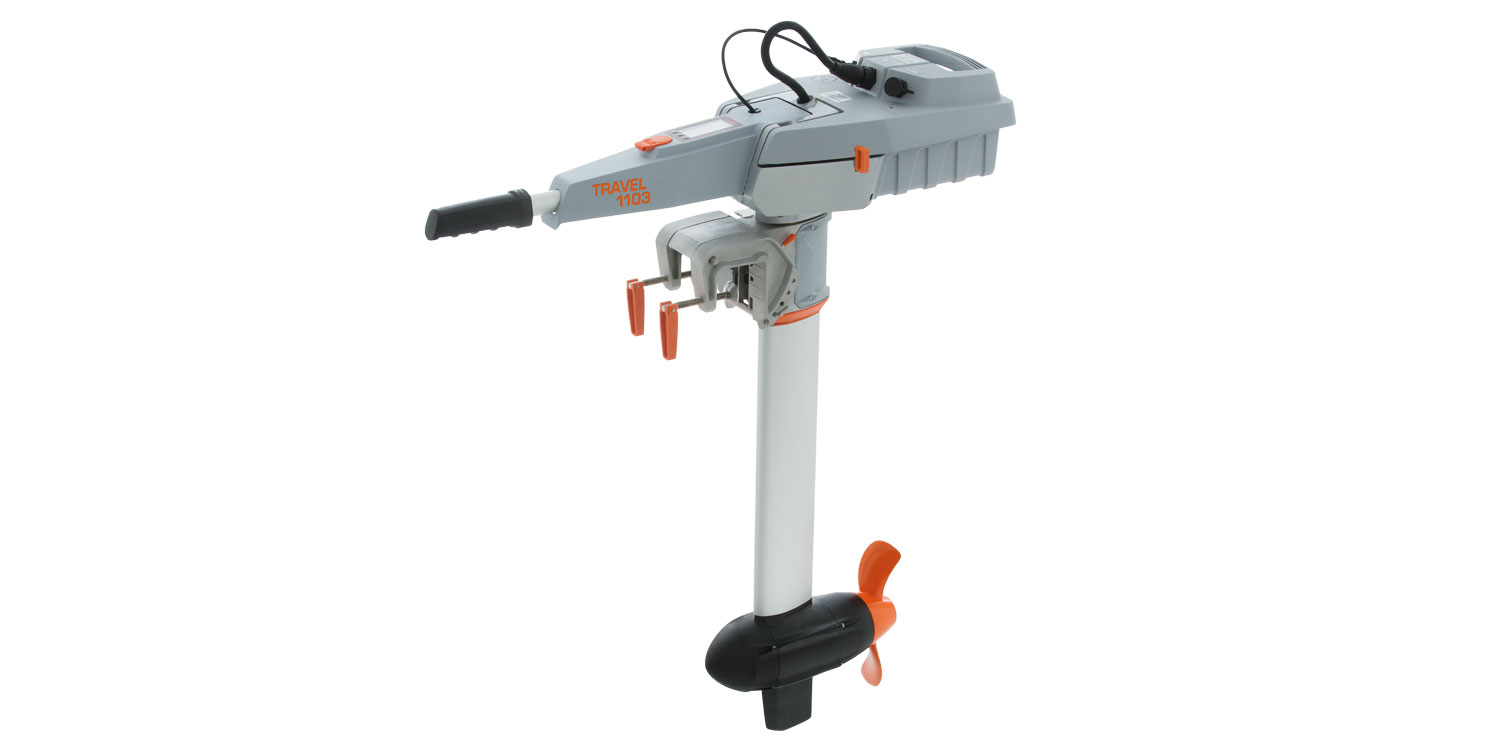 Travel 1103 with direct drive and 915 Wh make adventures on the water easy and comfortable.
The custom installation includes an underwater rock-guard frame that protects the prop from damage. "We bang and smash rocks constantly, and using Torqeedo's flexible plastic-based weedless prop with the third-party rock guards has meant zero prop casualties," Jeff observed.
When asked about range and endurance on battery power, Jeff said they discovered from experience that the "sweet spot" was about 3.9 knots, which yields 12 hours of power on a fully charged battery. "That's nearly two weeks of trips without charging the battery," he said.
"The first time I used the motor, I didn't say anything to the guests about it. Then I turned it on to move through some stiff headwinds. I was just talking with the guests as we motored past the historic riverside town of Harpers Ferry. They were used to seeing me rowing, and now the boat was cruising into the wind. One of them said, 'Hey Jeff, how are you keeping the raft going so fast without the oars while you're talking?' I'm not making this up. They just didn't recognise the little Torqeedo as a motor. They were pretty impressed when I showed them the battery and the information on the display panel."
Ashby Gap Adventures now has Travel outboards for all their whitewater rafts. The electric boats are perfect for their needs. "We run these motors in places where there are no docks or maintenance facilities," said Jeff, "and we cannot tolerate oil or gas spills, since there's no way to clean them up."
"And then there's the noise," he added. "We run scenic trips where our specialty is being able to approach wildlife from a platform that they don't recognise as threatening, so we can often get very close. Now we can get there a lot faster with zero additional noise."
"A key advantage of the Torqeedo electric motors over gas outboards is that our use is intermittent. We might go six or seven months without using the electric outboard and then use them every day for the next six months," said Jeff. "I cannot tell you how tired I had grown of the headaches we endured with gas motors due to our on/off use, ranging from messy lower-unit grease to spilled gas, odors and messiness and warped water-cooling impellers leading to overheating and meltdowns --- not to mention the frustrations associated with small engines using ethanol fuel additives."
Jeff sums it up concisely: "The electric Torqeedos are exactly in keeping with the quiet solitude we strive to provide on our high-end nature tours."
"No noise, no sooty carbon emissions, no spills. Enough said."
More information:
More information about Ashby Gap Adventures: › Ashby Gap Adventures
Find high-resolution pictures at the: › Torqeedo Dropbox
Find the main catalogue 2022 here: › Main Catalogue 2022
Find the professional catalogue 2022 here: › Professional Catalogue 2022
Ecotourism goes electric in the Shenandoah Valley with Torqeedo
29 JULY 2022 • 4 MIN READING TIME