RIBs will play a big role in the future
The best market research is listening to your customers' needs and ideas. So when sailing clubs repeatedly asked the German company MY-Electroboat if they offered rigid inflatable boats (RIBs) with electric propulsion systems, they went into full R&D mode. MY-Electroboat is a manufacturer of fully electric boats at Lake Ammer in Bavaria, only a few miles from the Torqeedo headquarters. "We immediately saw the potential for a very efficient and fun boat," says Sebastian Sieber, a technical expert with MY-Electroboat. "And we knew that our partners at Torqeedo would be up to the task."
Fast-forward a couple of months, and the 4.2-meter long MY-RIB 420 with a Torqeedo 12 kW electric motor is on the market as the latest fully electric Power RIB. A RIB is a perfect fit for electric mobility on the water with its versatility and unique performance properties. The 6-meter-long Zero-E RIB from the boatyard Tornado has been used as a committee boat at the Monaco Solar Challenge on the Cote d'Azur. But RIBs can do so much more than carrying passengers; they can work hard, help, and be a lot of fun.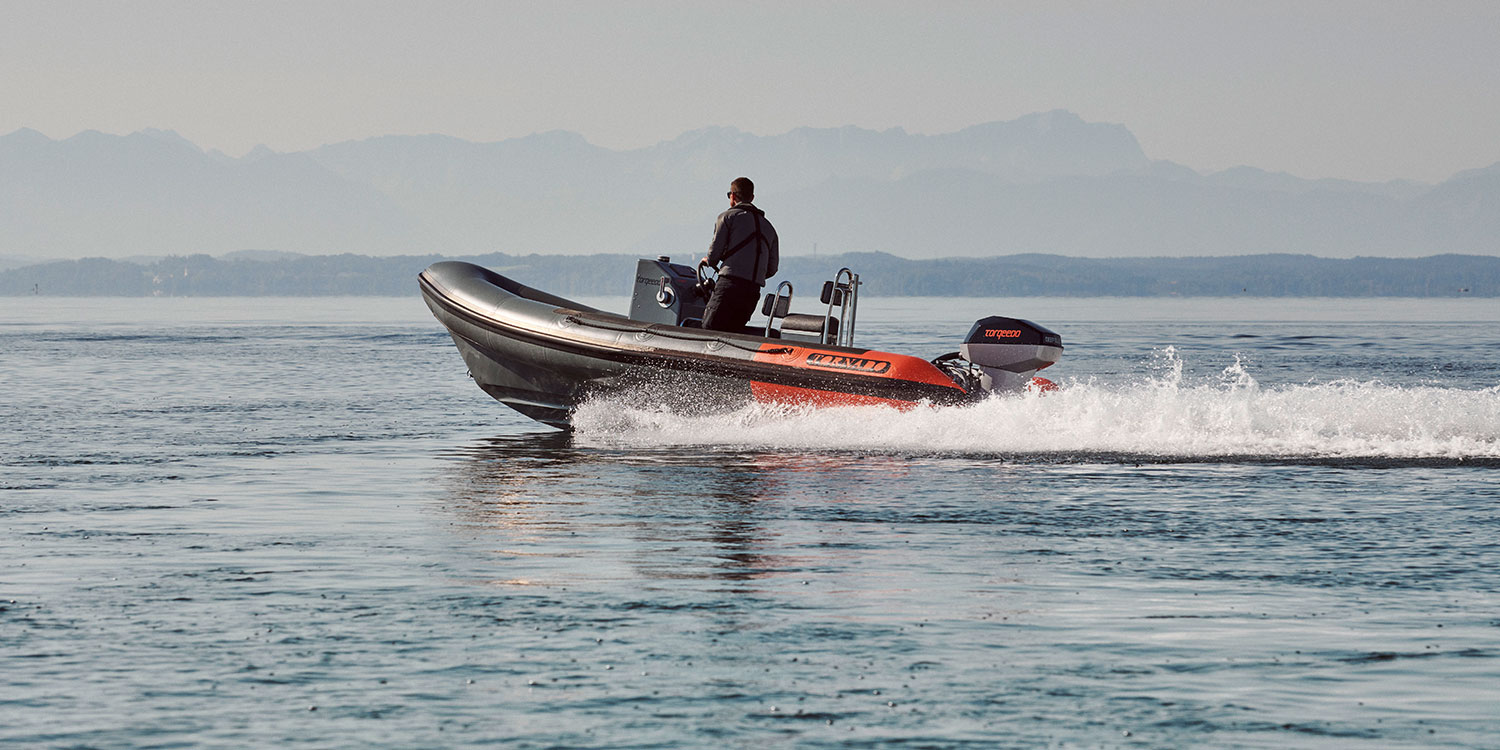 Tornado's Zero-E RIB is powered by Torqeedo's Deep Blue 50 R outboard and a 40 kWh Deep Blue battery – an 80 HP equivalent. Credit: Torqeedo / Christian Brecheis
1. The power of silence
In the early 1990s, RIBs became popular for coaching sailing because their inflatable tubes act as giant fenders, allowing coaches to come up close to the sailboats during practice sessions. Electric motors are an ideal fit for sailing clubs, as Tornado CEO Lars Hjorth sees it: "Sailing is a clean sport that runs on wind and has minimal impact on the environment. Electric propulsion allows the coaches and jurors to be as green and environmentally friendly as the athletes." It's a gain without a loss. The Zero-E RIB is powered by Torqeedo's Deep Blue 50 R outboard and a 40 kWh Deep Blue battery and "has a performance that is in many ways very much the same as if a 70 hp petrol outboard engine powered it," Lars says.
Sebastian Sieber from MY-Electroboat sees another advantage of electric propulsion systems for coach boats: "Without the screeching noise of combustion outboards, coaches and jurors can actually talk to each other and the sailors." It's not only good for the environment but also for communicating with people. So, it's hardly surprising that sailing clubs from all over Germany have ordered the MY-RIB 420. World Sailing, the governing body of the sport, estimates that switching coach boats to electric drives can reduce emissions by 30 per cent.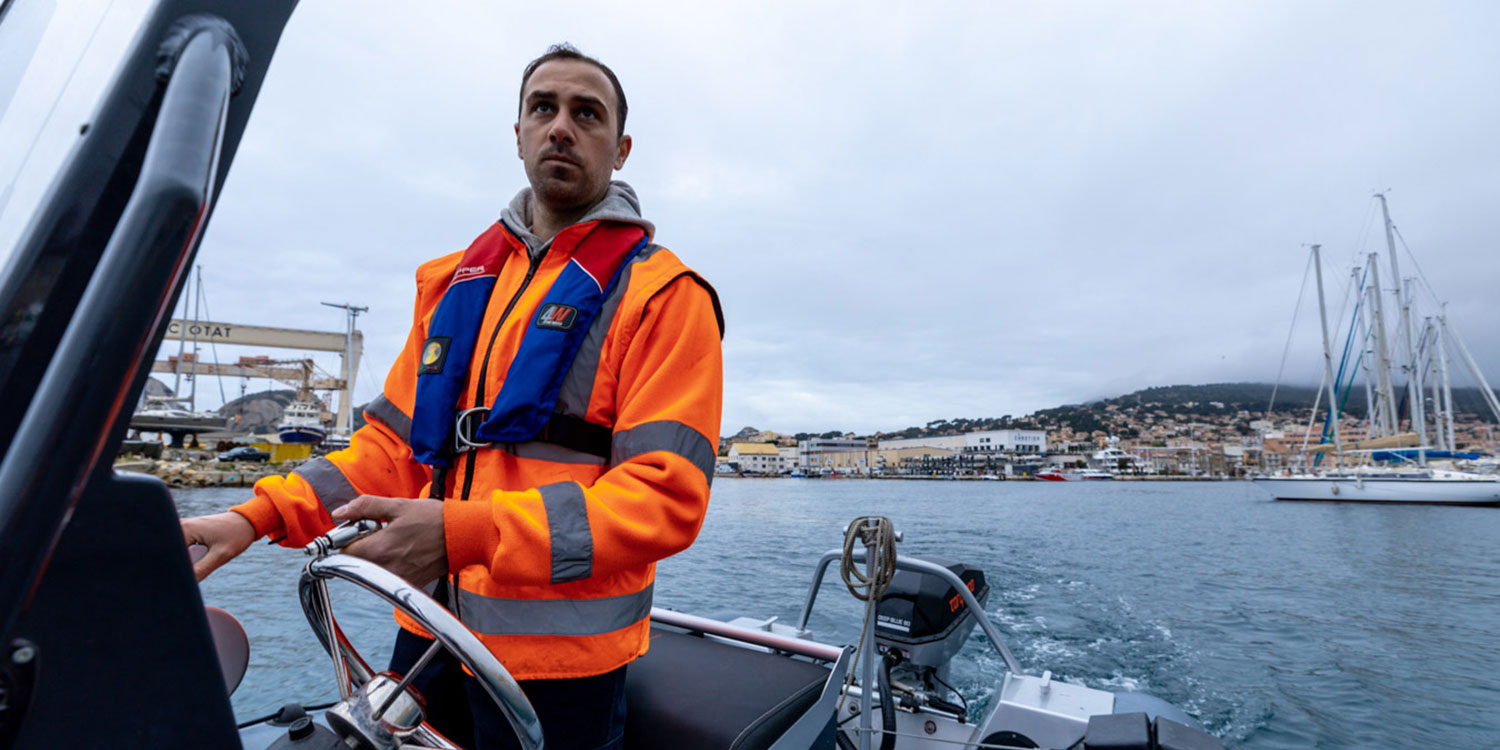 The Naviwatt ZenPro 580 RIB is used as a workboat in French harbours – the workers appreciate the high torque and manoeuvrability. Credit: Naviwatt / Emeric Jezequel Studio
2. Just flying over the water
"The key to electric propulsion is weight and weight management," says Sebastian Sieber. No wonder RIBs perform well with electric motors – they are partly made of air! Because they are so light, electric RIBs punch above their weight class. The hull of the MY-RIB 420 is made of high-tech composites and was specifically designed for an electric drive system. While RIBs are often back-heavy when powered by fossil-fuel engines, as Sieber points out, the Torqeedo Power 48-5000 battery and charger are integrated below the steering wheel and the jockey seat – right in the middle of the boat. This improves manoeuvrability and balance. MY-Electroboat's Sales Director Stephanie Strumberger adds, "There is this real jet-ski-like feeling to it. Just a lot of fun."
RIBS are often also used as tender boats for sailing and motor yachts, and many professional skippers are switching to electric RIBs. Electric drives require very little maintenance, start at the push of a button, have plenty of torque to move heavy loads, and are ultra-quiet.
With the extreme acceleration typical of electric motors, E-RIBs can be operated even in demanding conditions, high waves and strong currents. One example is the Naviwatt ZenPro 580 RIB, which is used in French ports as a workboat. "The working conditions on the ZenPro 580 are unattainable for gasoline-powered boats," says Jean-Charles Santoni from the La Ciotat Shipyard. "It's a real joy not to listen to the noise of an internal combustion engine all the time." The Deep Blue 50 R's electric motor has exceptionally high torque, making Santoni's job easier: "This enables us to help superyachts manoeuvre."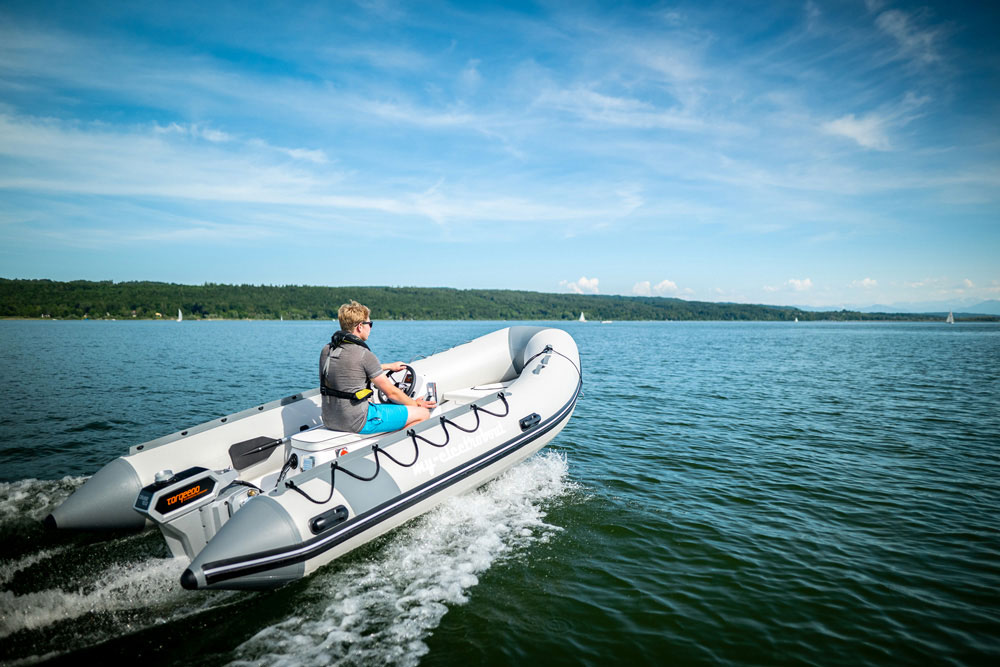 On the Bavarian lakes that are the home turf of MY-Electroboat, combustion engines are strictly regulated. Through electric RIBs like the MY-RIB 420 more people get access to the beautiful nature near the Alps. Credit: Tim Marcour
3. Ribs will take you places
If you trim up the Torqeedo Cruise motor of MY-RIB 420, you can drive the boat in water as little as 30 cm deep. "And because it's so light, it won't damage the hull if you actually hit the beach," says Stephanie Strumberger.
Legendary RIB manufacturer Zodiac, which presented their all-electric eOpen series with Torqeedo last year, knows that electric Power RIBs "are ideal for exploring inaccessible places". They envision the eOpen series as a customer's "own private island".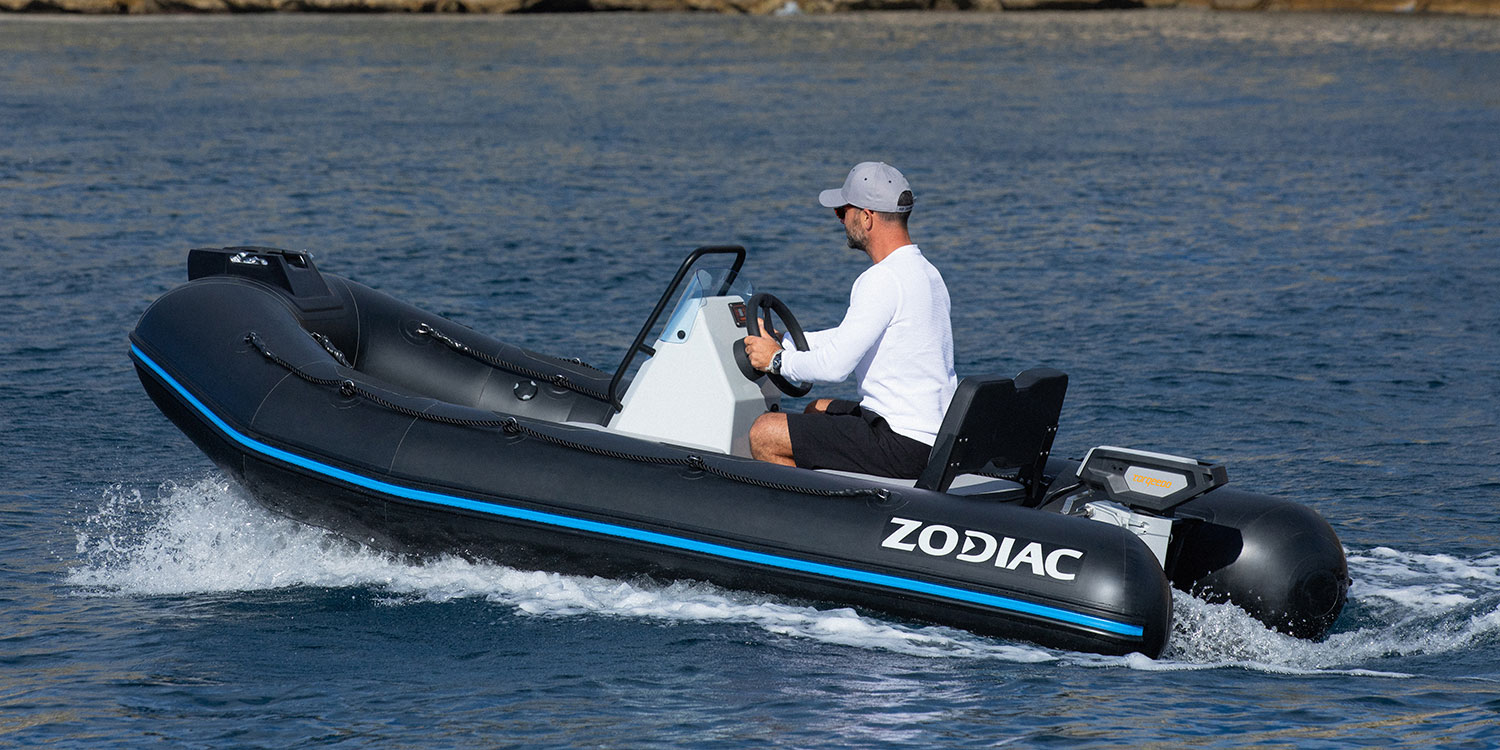 Ideal for exploring inaccessible locations, eOPEN RIBs have 4 to 6 seats depending on size, providing passengers with the comfort and safety they need. Credit: Zodiac / Thomas Deregnieaux Photography
Boatbuilders also see RIBs "as the bicycle of urban mobility on the water," says Strumberger. "Just look at Copenhagen and Amsterdam. All the houseboats have RIBs as domestic tenders." The future is wide open. And one thing is for sure: electric RIBs will be everywhere.
More information:
Find high-resolution pictures at the: › Torqeedo Dropbox
Find the main catalogue 2022 here: › Main Catalogue 2022
Find the professional catalogue 2022 here: › Professional Catalogue 2022
RIBs – the multitools of boating
10 AUGUST 2022 • 5 MIN READING TIME