Torqeedo speaks with professional bass kayak angler Kristine Fischer to find out how she navigates the complex world of bass fishing.
Waterway Wanderer
Professional bass kayak angler Kristine Fischer has a passion for the outdoors. Fischer, from Weeping Water, Nebraska, made her mark on the fishing industry by competing in some of the world's biggest fish kayak bass tournaments. Including winning Hobie's Bass Open Series Championship on Eufaula in 2021 gaining her an automatic entry into the 2022 Hobie World Championship.
She has caught countless bass in practically every kind of water, from the undulating bayous to quiet creeks and rivers in East Tennessee, to Pennsylvania's muddy rivers. Fischer has fished everywhere except the kitchen sink.
Competitive kayak fishing for bass is exploding in popularity. Many of the kayak tournaments are open to anyone with a kayak and enough money to enter, so it's far more accessible to anglers than Major League Fishing or the Bassmaster series. "Rigging your kayak for these tournaments takes serious consideration." says Fischer.
See how Kristine Fischer turned a kayak into the ultimate fishing machine.
Mastering the Art of Stealth Mode
Fischer gives us a steer on the best prerequisites that will give you an edge on the water and help you to succeed in elite kayak fishing tournaments.
Use A Whisper-Quiet Engine
Catching bass is a challenging pursuit because they are highly adaptive and keenly aware of what is happening within their environment. The technique or ability of an angler to manoeuvre through the water completely undetected by bass is a challenging skill to master. Serious bass tournament anglers often prefer to use a combination of the electric motor and the pedal drive (using the force of your feet to power the fins or propeller directly under the kayak's hull) which is particularly useful when fishing in skinny water. The pedal drive system allows them to use their feet to have their arms free to fish. Fischer says, "Noise makes a huge difference, especially when fishing in shallow water. The Torqeedo Ultralight 1103 is much quieter than other motors. It's a big advantage to have a quiet, less intrusive approach."
Trying to pinpoint good areas for fishing in huge reservoirs as quickly as possible is a challenge on a kayak because you can't run 60 mph the way a bass boat can. However, the Ultralight 1103 allows anglers to go faster and fish further, helping break down large bodies of water. Kayak anglers can find productive lake areas more quickly on 1103. "Right now the Ultralight it's the most powerful motor out there. It goes faster than all the other motors, so you can learn where you're fishing and get further away from the ramp," says Fischer. The Hobie Pro Angler 14 can reach speeds up to 6.5 mph with the Torqeedo Ultralight 1103. You can cover over 20 miles at 4 mph with its integrated 915 Watt-hour waterproof lithium battery.
Professional kayak anglers don't hit the water without their Ultralight, and neither should you.
The Ultralight 1103 is useful for professional anglers because it comes with a GPS-calculated range display that keeps the user well-informed about the remaining range at that specific throttle setting based on speed, remaining battery percentage, and the energy being used to attain that speed. "With the Torqeedo Ultralight 1103 motor, you won't require a second battery; I use it a lot and work really hard when I'm competing." says Fischer. Still, if the range is a concern a second battery is easy to store and quick to swap out.
Invest In a Killer Kayak
Fischer underscores the importance of investing in a high-quality kayak with the right components; everything from the reels to the rod, to the vessel you're fishing in, can make your fishing experience more enjoyable. Kayaks come in a range of different shapes, sizes, and models, so it's worth trialling a few models out to find out what works best for you. Before choosing a kayak there are several things to consider, including your size and build, fitness level, and where you intend to fish. Also, consider the type of fishing and gear that you will need to carry, how far you will have to paddle, and your budget.
Vessel choice preferences are contingent on which environment you intend to fish in. "Lightweight kayaks are better in super shallow, fast-moving water. Sometimes bigger, more stable kayaks are better suited to fishing offshore and in large bodies of water." However, Fischer needs to have one vessel to use in a range of places, so she opts for Hobie's Pro Angler 14 360. She rates the MirageDrive (a pedal system), "I think it is superior to the other kayaks in terms of efficiency. It gives you the freedom to move through the water without constraints. You can go wherever you want." Fischer spins around effortlessly and manoeuvres in a range of directions quickly in her Pro Angler. Still, she keeps a Hobie iTrek 11 inflatable kayak as her "grab and go" kayak.
Understanding Bass Behavior
The United States' diverse ecosystem makes trying to pigeonhole bass behaviors tricky, as different environments can significantly impact the behavior of bass. Some lakes are large bowls, gin-clear and very deep, and others are as shallow as birdbaths, full of vegetation and mud, each requiring a tailored approach to fishing. Fischer goes fishing on dams, reservoirs, creeks, river systems, lakes, and every waterway between. She believes that the first port of call when fishing in new water should be to try and understand any micropatterns. She breaks down the water into sections to help her dissect what the water is doing. Fischer will sometimes motor for at least five or six miles on each tournament day, covering a lot of distance while looking at a depth finder for forage assessment and sampling areas for bass activity.
When fishing, another variable to consider is seasonality and the expected weather conditions. For example, during Spring bass often head towards shallow flats to spawn.
During the fall transition, bass migrate to shallower water for a longer period of time on lowland reservoirs. Highland waters tend to be deeper with clearer water, while lowland often are shallower with more stained, murky water. Early in the fall, bass can be found along the creek channel but they can also be found in the shallows chasing shad. If the water cools down rapidly in the fall, highland lake bass will not venture to the backs of the creeks. Instead, these fish will congregate near channel swings.
The Science Behind Nature
"Fishing is more complex than just going out with a rod and reel and making a cast. Being attuned to nature's patterns and cycles helps you to become a better angler," says Fischer. "Bass tend to stay close to the bank, so I would keep your eyes peeled for laydowns or vegetation. Look for micropatterns, and places where fish tend to blend in, for example, any contoured points, main leg or secondary points or humps." Areas where the deep channel swings close to shore, as well as creek intersections, are also good hotspots to find bass.
Timing is Every Fin
Another key consideration for fishing bass is the time of day. During the Summer, fish tend to hide in the shadows to take refuge from the mid-day heat.
Bass Fishing: How Do You Improve?
Fischer honed her angling skills working as a kayak fishing guide. "Taking people out on the water helps you become a better angler. I also made a lot of useful connections along the way." Fischer's tip for anglers who want to improve is simple: spend more time on the water and practice fishing in a diverse range of environments. "I practice a lot. Fishing is just like any other discipline. It's said that to become an expert requires 10,000 hours of practice at your craft." Fischer spends up to six or seven days a week exploring waterways across America. Understanding the river's currents is an excellent place to start. Fischer recommends going out on the water with somebody who is experienced that can mentor you, by showing you how to read the water's patterns.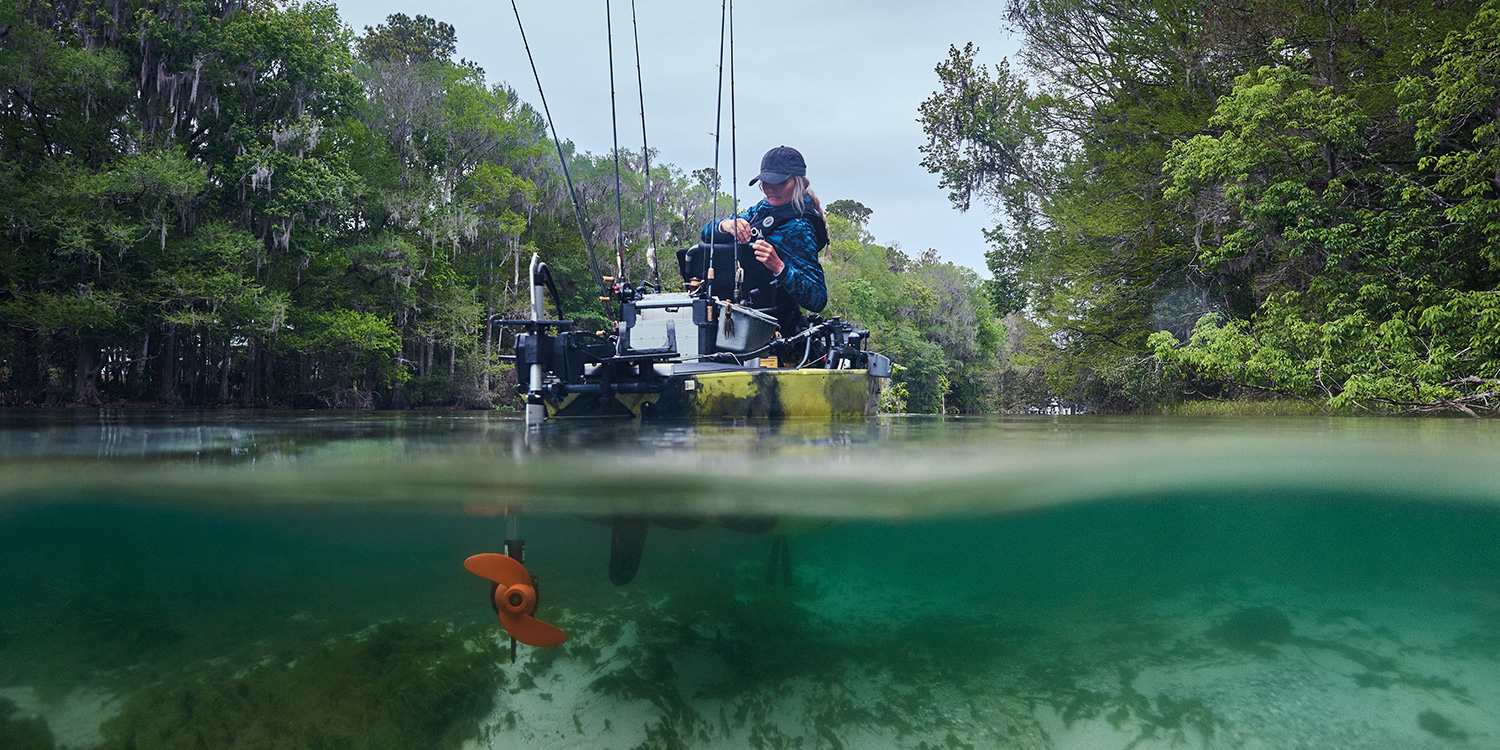 The best rivers are great fishing and stunning scenery.
Rollin' on The River
When Fischer isn't out fishing a tournament, she loves getting onto remote, shallow rivers to fish muskie and bass. Fischer's favorite rivers are in East Tennessee, the Susquehanna River in Pennsylvania, and the rivers up in northern Wisconsin. "They're beautiful and typically not very crowded, and I feel a sense of escape. The best rivers are great fishing and stunning scenery," says Fischer.
When taking part in tournaments, Fischer fishes alone, but she loves going out with her significant other or friends when she goes fishing for fun. "It's a great sport to enjoy with others," says Fischer. "It's important not to put yourself under pressure to catch something but to enjoy the fishing itself."
Fischer's mantra is, "Don't chase someone else's fish. You won't catch them. Learn what your strengths are and put them to work."
Words to live by.
More information:
Find high-resolution pictures at the: › Torqeedo Dropbox
Follow Kristine Fischer on Instagram: › @midwestfishergal
Find out more about the new approach: › THE FUTURE IS ORANGE
Find the main catalogue 2023 here: › Catalogue 2023
Related Torqeedo Products
Legend Kristine Fischer Lures Us In
27 APRIL 2023 • 9 MIN READING TIME