How an electric motor improves a day on the water: the new Travel 903 delights even experienced sailors with its range and efficiency. A sailing trip on Lake Starnberg near Munich – with winds at 15 knots and with no gasoline fumes.
They were both warned right from the start: "Couples who sail together eventually get divorced," Ingrid Schegk recounts. Two decades later, the warning has failed to come true and Ludwig and Ingrid Schegk are still a well-rehearsed team. They only need a few moments to hoist the mainsail and pick up speed. Even later in the day, when steering their boat back into the narrow berth under power, there are no signs of tension. "That's it," Ingrid exclaims, as her husband steers the boat in a long sweeping turn toward the jetty. He briefly puts the small electric Torqeedo Travel 903 outboard into reverse and the boat is back at its mooring.
The couple has fun even in the most stressful situations – like when a strong wind is blowing and they're sailing from Sardinia to Corsica in nine hours. "We worked together really harmoniously on that trip," Ludwig Schegk recalls, good-humoredly. The Torqeedo Travel helps by making what has become such an important part of their lives even more relaxed.
Ingrid and Ludwig Schegk discovered sailing over twenty years ago. They are both university lecturers and run a landscape design office. For them, sailing is important in helping find the right balance. "One foot on the boat and everyday life is forgotten," Ludwig says. In 2012, they bought an elegant, dark-blue sailboat they christened Chappy MacFletcher. This Dragon class boat is moored in the Bernried Marina on Lake Starnberg near Munich.
When they bought the boat second-hand, it had a two-stroke outboard engine. But they never used it. "All the fiddling around with fuel and oil, the exhaust fumes, and the question of whether the engine would even start – we didn't want any of that," Ingrid says. "To get out of the harbor we preferred to paddle." But then they watched other sailors and yachtswomen using small, quiet electric motors to cast off and dock. The distinguishing feature was a bright orange propeller. "We immediately realized how practical it was," Ludwig says. "And we wanted to have one, too."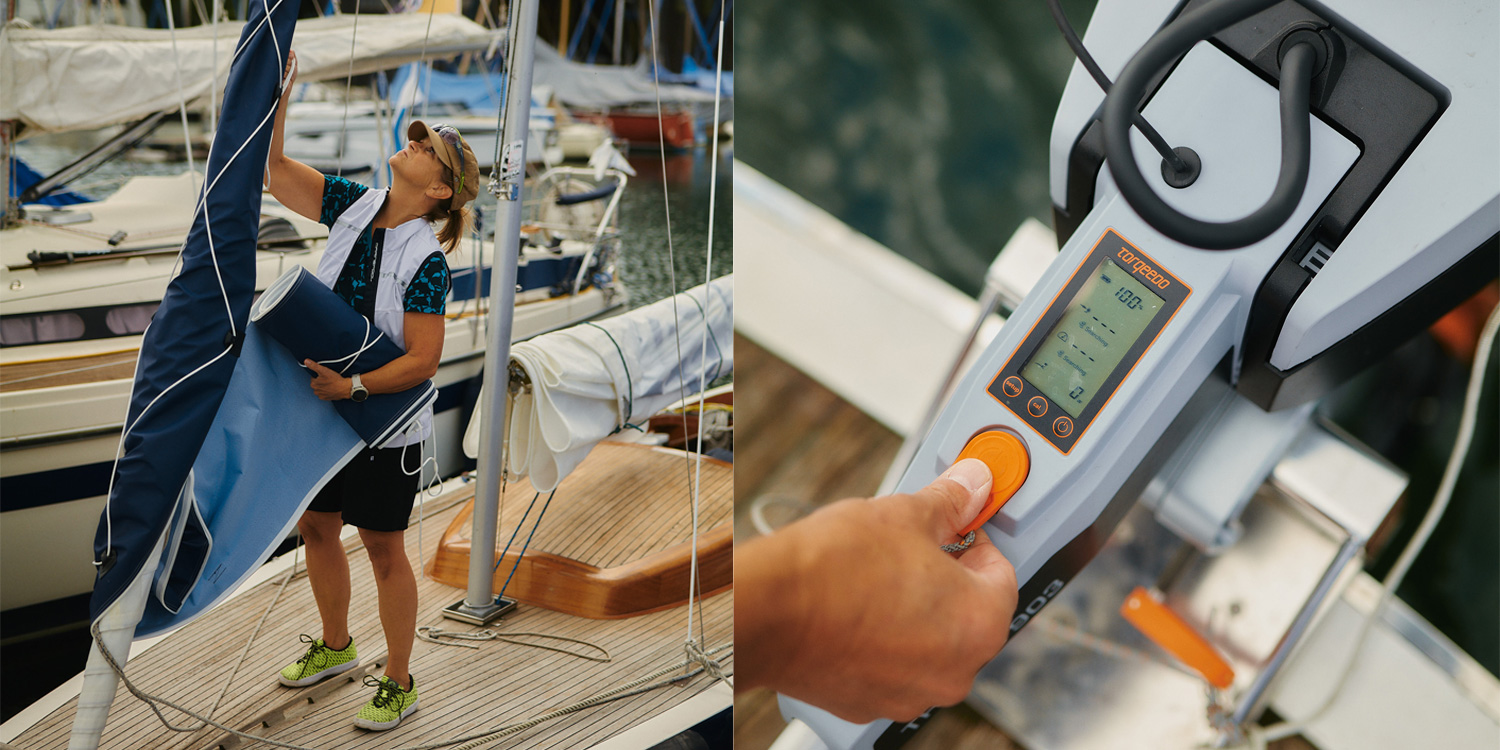 Ready for a little adventure: The sailors prepare the sails and the electric motor in just a few steps.
On this particular day, the Schegks are out on Lake Starnberg with a brand-new Torqeedo Travel 903, which is even more efficient and has a longer range. And they are thrilled. "In our free time we try not to pollute the environment any more than we already have to," Ingrid says. Above all, they like the intuitive handling. "The battery is easy to remove and recharge at home," Ludwig points out. Maneuvering in somewhat hectic situations has also become easier with the Travel. "Especially when there's hullaballoo at the good swimming spots, the electric motor helps," Ingrid says. "Coming up alongside another boat is naturally possible under sail and with a paddle, but in strong winds it's much easier with the motor." And as Ludwig adds, "The electric motor can be more finely controlled." Compared with situations when he's been out on larger boats with diesel-powered inboard engines, this is a feature he's come to appreciate. "That's when you just engage the clutch and shoot off," he says. There was only one problem at the beginning: the engine was so quiet you could only tell how much thrust you were giving by the movement of the boat. "That took some getting used to," he says with a laugh.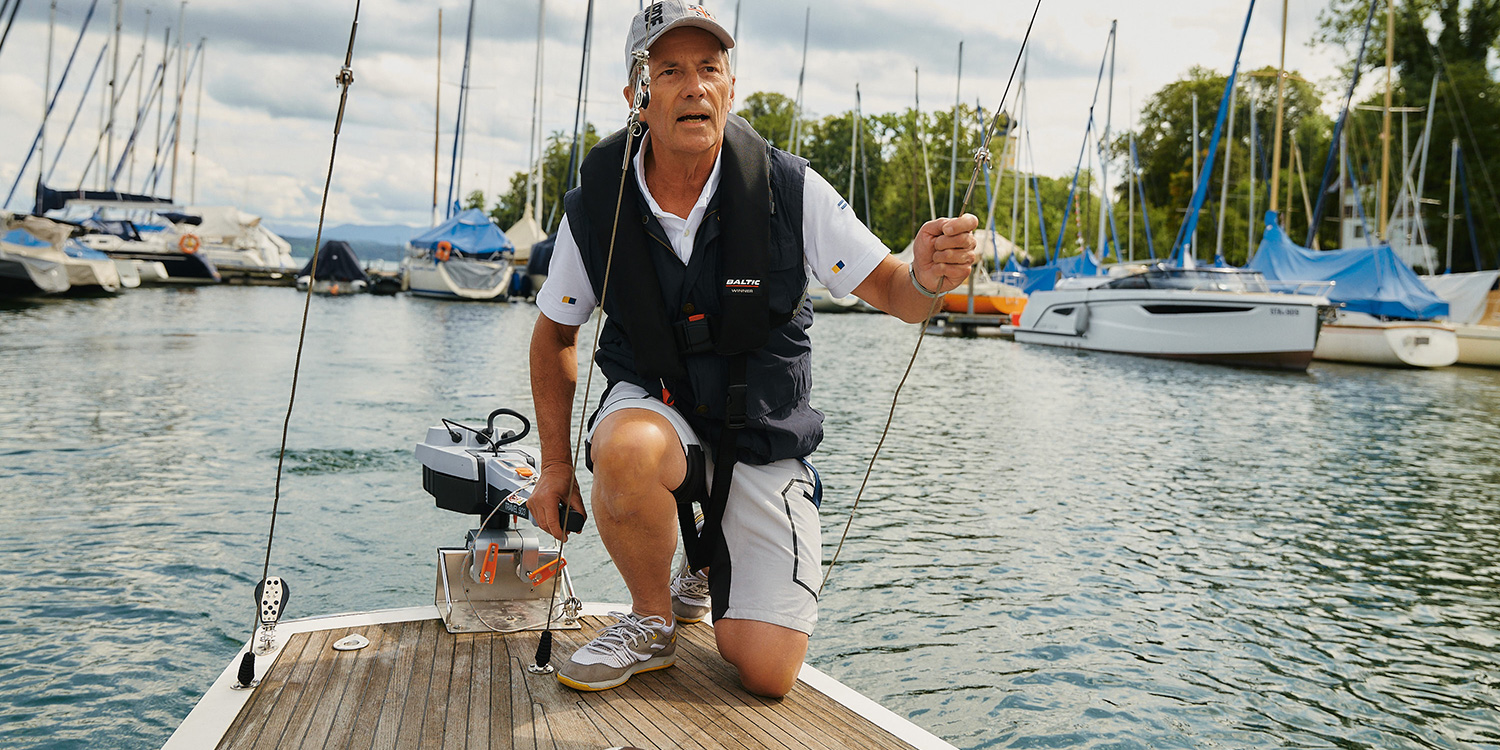 Before they had the electric motor, the Schegk family used to paddle out of the narrow harbor in the foothills of the Alps.
A decade later, they're still using the same Travel. "We still mainly use our Torqeedo the way we did today – for casting off and docking," Ingrid explains. "I think it's much better that we can now see how fast we're sailing," she says with a grin on her face. And although Ingrid likes to sail fast, she can also enjoy this beautiful boat when there's no wind because it naturally can be used as a private island as well. "With the Torqeedo, you can really enjoy the evening sun. You don't hear anything and before it gets completely dark, you whiz back to harbor quickly and quietly," she tells us.
In fact, they now appreciate the quiet, clean Torqeedo Travel so much that they miss it when on one of their annual Mediterranean sailing trips on a larger chartered sailing yacht with a diesel-powered inboard engine. The noise, they say, is a real issue. "When there's a lull and you're sailing for five to six hours with a diesel like that, your head really aches afterwards," Ludwig tells us. "And depending on how the wind is, you've also got the smell of exhaust on board." So, they're hoping it'll only be a matter of time before electric motors also become commonplace on larger yachts. While such boats do exist, there are hardly any of them in the commercial charter sector right now. "You're usually hooked up to shore power in the evening anyway," Ingrid points out. She's also bothered by the fact that even the dinghy is usually equipped with a gasoline-powered two-stroke outboard engine. And as Ludwig adds, you have to rent it, too – for about €140 a week. "Next time, I'll take our Torqeedo with us," as he dismantles the Travel in a few easy steps and it disappears into a carrying bag he simply throws over his shoulder.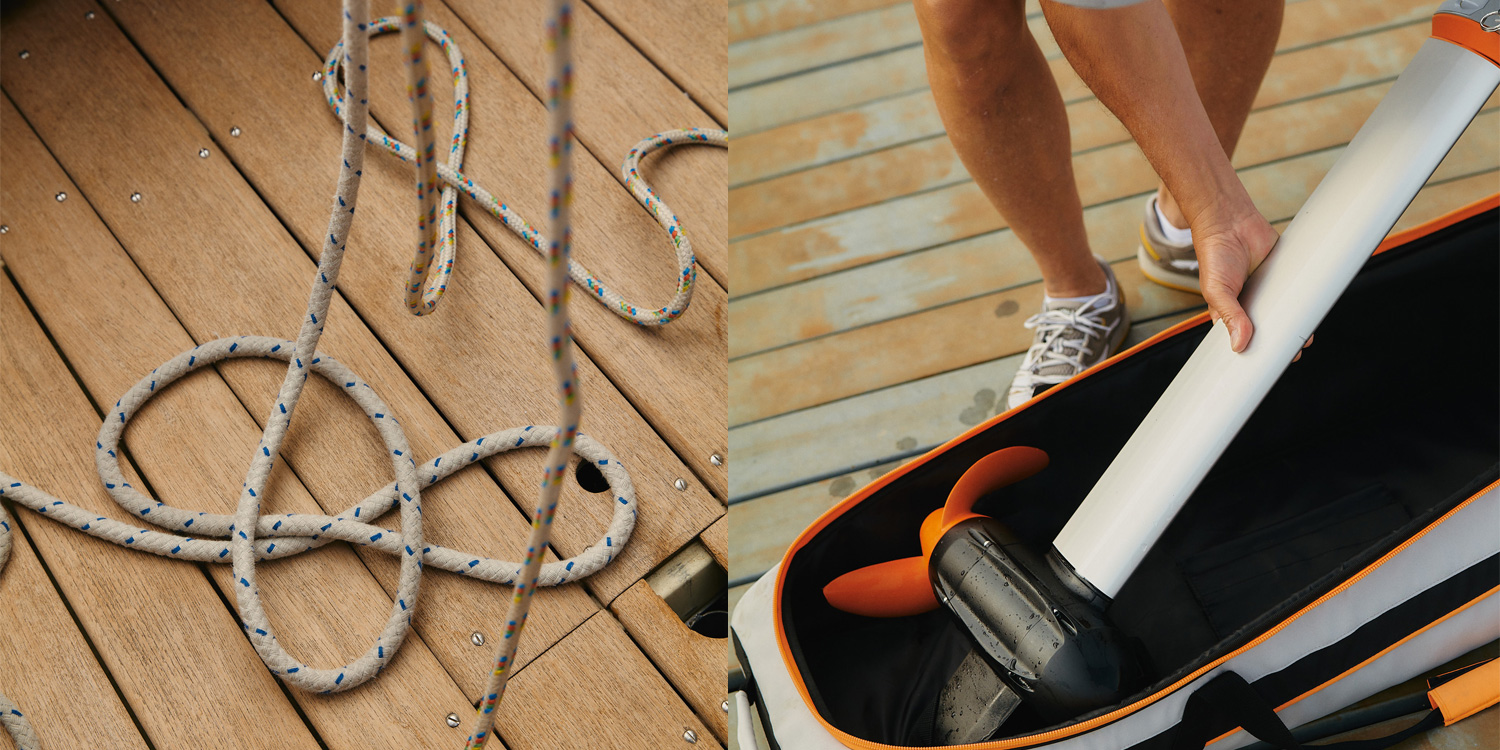 The Schegk family clears away the ropes in a few easy steps – and stows the Travel 903.
Ask Ludwig Schegk about the maintenance of his Travel and he shoots a question back: "What maintenance?" Ask him to explain the handling, and his explanation takes three sentences. And if you want to know how complex charging is, his reply is "Just like a cellphone".
The best products are the ones that are so intuitive you don't need a lot of words to explain them, and work so reliably they become almost invisible. In this respect, Torqeedo has come a long way with the Travel series and the new 903. But on the other hand, the Schegks probably wouldn't have bought their Torqeedo if it hadn't caught their eye when other sailors were using one. So it's lucky the Torqeedo Travel has a bright orange propeller – and isn't quite so invisible.
More information:
Find high-resolution pictures at the: › Torqeedo Dropbox
Find the main catalogue 2023 here: › Catalogue 2023
Instagram profile of Chappy MacFletcher: › Chappy MacFletcher
Related Torqeedo Products
The Dragon of Lake Starnberg
27 SEPTEMBER 2023 • 5 MIN READING TIME