Dr Michael Rummel has a vision to bring Torqeedo to the next level. With decades of experience in program management and business development in publicly listed companies brought to bear, Torqeedo's new managing director shares how global mobility trends have shaped his strategy to forge the first modern, enterprise-scale company in marine e-mobility.
Which factors will define the future of mobility?
I see two dominant trends: The warming climate will continue to present a pressing challenge to humanity, and at the same time, our population becomes more concentrated in urban areas. I worked for many years in the automotive industry, and it is clear that digitalisation, electrification, connected and autonomous vehicles will become ever more important tools to address these issues, both in land and water transport.
How is Torqeedo prepared to address these trends?
Torqeedo's objective is to make marine mobility climate-neutral. We have a 15-year history of innovation and performance as we created and refined the technology for e-mobility on the water. Now, the time is right and the technology is ready. We can provide electric drive systems which are not only climate-friendly but are budget-friendly, too, in terms of the total cost of ownership and lowering recurring fuel and maintenance costs.
My focus is on leveraging Torqeedo's position as a leading-edge technology innovator to build an even stronger, more prosperous company. But delivering revolutionary products for boats that are used every day means more than just an opportunity to grow the business. It means we can make even more of a difference for the climate and human health.
Electric workboats are a promising solution for decarbonising the light commercial fleet.
To better support the professional user, we are developing even stronger commercial products and services. This means standardised, modular systems, and commercial-grade components. We are working with regulatory agencies around the world to create robust and protective safety standards for commercial electric vessels and pursuing component-level certifications.
This also means further development of our current system architecture with a focus on simplicity, and developing even more emission-free boat packages for OEMs and commercial users. As part of the DEUTZ Group, Torqeedo has a unique opportunity to leverage our strengths as a global company and further develop our worldwide service network.
These strategies will cement our leadership position in the right markets with the right products and addressing the right global topics. Torqeedo is already growing quickly. Now, we reinforce the skills, systems, processes and industrial architecture that will allow us to scale and drive the company to new levels of success.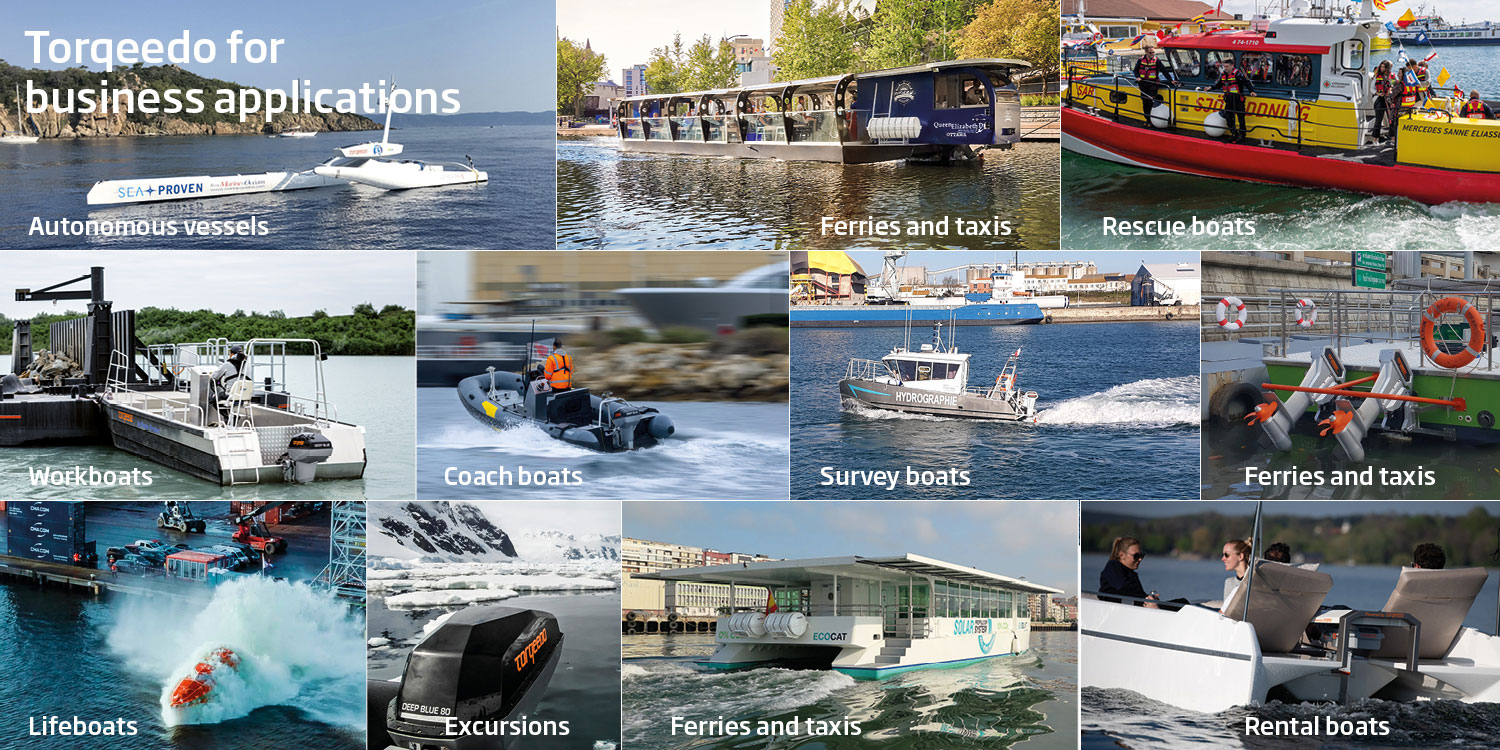 Emission-free electric drives are used for a wide variety of commercial applications.
What does that mean for the recreational marine market?
The electrification of the commercial and recreational markets are happening together, not one at the expense of the other. With further growth and industrialisation, purchasing and production become more efficient. Standardised products are uncomplicated to install, maintain and use, and charging and infrastructure development to support electric vessels will become more common. This only benefits our recreational boatbuilders and clients.
Can we dive a bit deeper into the global trends you mentioned earlier: climate warming and urbanisation?
Of course. The Paris Agreement will have a significant impact on the commercial marine marketplace over the next few years as stricter emission controls take effect. One of the critical Paris goals is to peak global greenhouse gas (GHG) emissions as soon as possible, paving the way toward climate neutrality.
According to scientists, global GHG emissions from the transport sector need to be reduced from 8 billion tons of Carbon Dioxide (CO2) if we hope to keep the temperature increase within acceptable limits. In April of 2018, the International Maritime Organization (IMO) set goals to peak GHG emissions from shipping as soon as possible and to reduce total annual GHG emissions by at least 50% by 2050. (MEP Committee, 2018)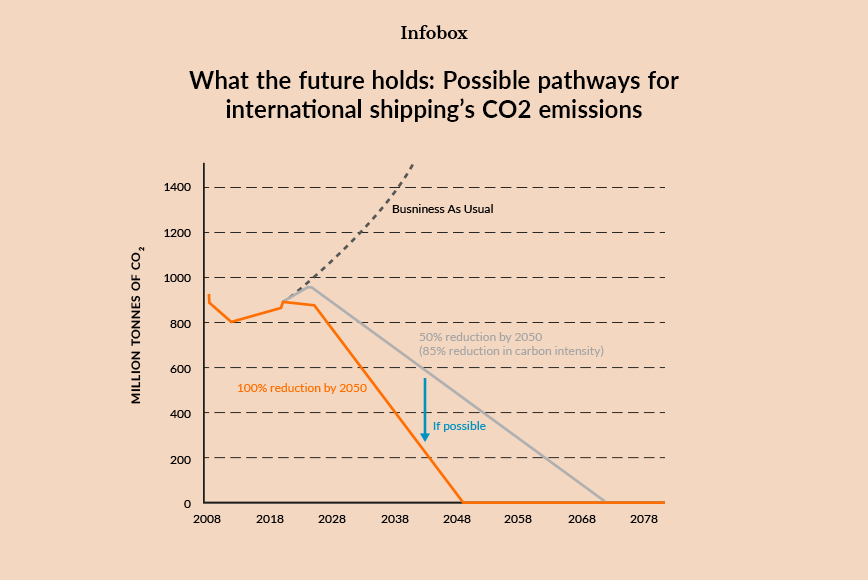 Pathway for international shipping's CO2 emissions (IMO, Torqeedo, 2018)
How can Torqeedo help meet the goals?
The decarbonisation of the oceangoing fleet presents many technological challenges. Though the IMO is clear in its ambition to reduce GHG emissions, the pathway to truly emission-free shipping is unclear. At Torqeedo, we see opportunities to help reduce the maritime industry's GHG emissions over the near term by focusing on the recreational and light commercial fleet, such as port security, support vessels, autonomous vessels, survey and research boats and many other workboats. That will help reach the IMO goals and combat global warming, but the positive effects on human health are also very significant. Harbours are often a major contributor to poor air quality in cities. Health outcomes can be improved by switching as many vessels as possible to emission-free electric.
That leads us into the second driver you mentioned – global population shift. What does that mean for e-mobility?
While international agreements are important, cities are where the work gets done. 74% of Europeans currently live in urban environments. By 2050 the world population is projected to reach 10 billion, 75% of which will live in cities. Faced by the prospect of this rapid urban population explosion and the resulting gridlock of land-based transportation, urban planners are increasingly looking to their waterways to ease congestion on city streets.
Waterways are generally underutilised and already exist, so they don't require massive investments in construction and maintenance like new roads or train tracks. This creates opportunities for integrated water-land public transport networks. This is called intermodal passenger transport, or mixed-mode commuting, where passengers choose from a combination of rail, road and ferry transport to reach their daily destinations. Waterborne options could include rapid transit to reach the urban center or last-mile connections. Since a limited number of bridges means waterways are a geographic barrier to road traffic, small autonomous electric barges that work like elevators could provide a faster, safer way for pedestrians and bicycles to cross an urban river.
Worldwide urbanisation (Population Reference Bureau, Statista, 2020)
Most cities have waterways - it makes sense to take advantage of them to move people around. Why haven't we done that already?
The number one reason is that moving traffic from the roadways to the waterways would make cities' air pollution problems even worse. The transport sector is a key contributor to ambient air pollution. A report by the World Health Organization in 2018 stated: "In 2016, 91 per cent of the world population was living in places where the WHO air quality guidelines were not met. Ambient (outdoor) air pollution in both cities and rural areas was estimated to cause 4.2 million premature deaths worldwide in 2016."
Boats and barges running on fossil fuels actually produce more harmful emissions than cars, trucks and buses because emission standards for watercraft are much more lenient than those on vehicles. It has been estimated that one hour of operation of a new, 5hp four-stroke outboard motor produces as much nitrogen oxides and hydrocarbon pollution as running 38.5 cars for one hour at 60 mph. For that reason, cities are starting to take actions to limit or eliminate boats with internal combustion engines in their urban waterways.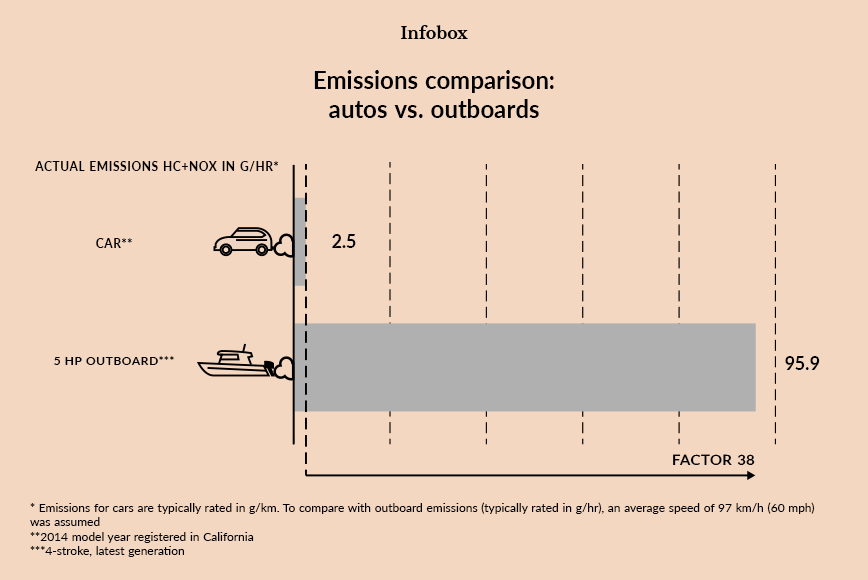 Emissions comparison: outboards vs. autos (United States Environmental Protection Agency, California Air Resources Board, European Commission, Environmental Capital Group, Torqeedo, 2016)
Which cities are taking the lead?
There are several. The city of Amsterdam has 165 canals with a combined length of 100 km (60 miles). There are about 3,600 houseboats and thousands of large and small passenger vessels and privately owned boats in the city, in addition to tugs, barges and other commercial traffic. Electrification of canal traffic is one of the keys to the city's goal of cleaning up its air quality. In March of this year, city officials announced that 75% of Amsterdam's commercial vessels were already running emission-free electric drives.
Many Scandinavian and European cities have electrification as part of their climate or air quality action plans. But it's not just happening here: Istanbul is deploying a fleet of 100 electric boats for commuters, and large solar-electric ferry projects are proposed in India. Bangkok is reviving its ancient canals and creating an integrated, electrified network of water taxis and urban rail transit systems. A total of eight Torqeedo-powered ferries will transport commuters through the canals of the megacity by the end of this year, with 12 more in-build.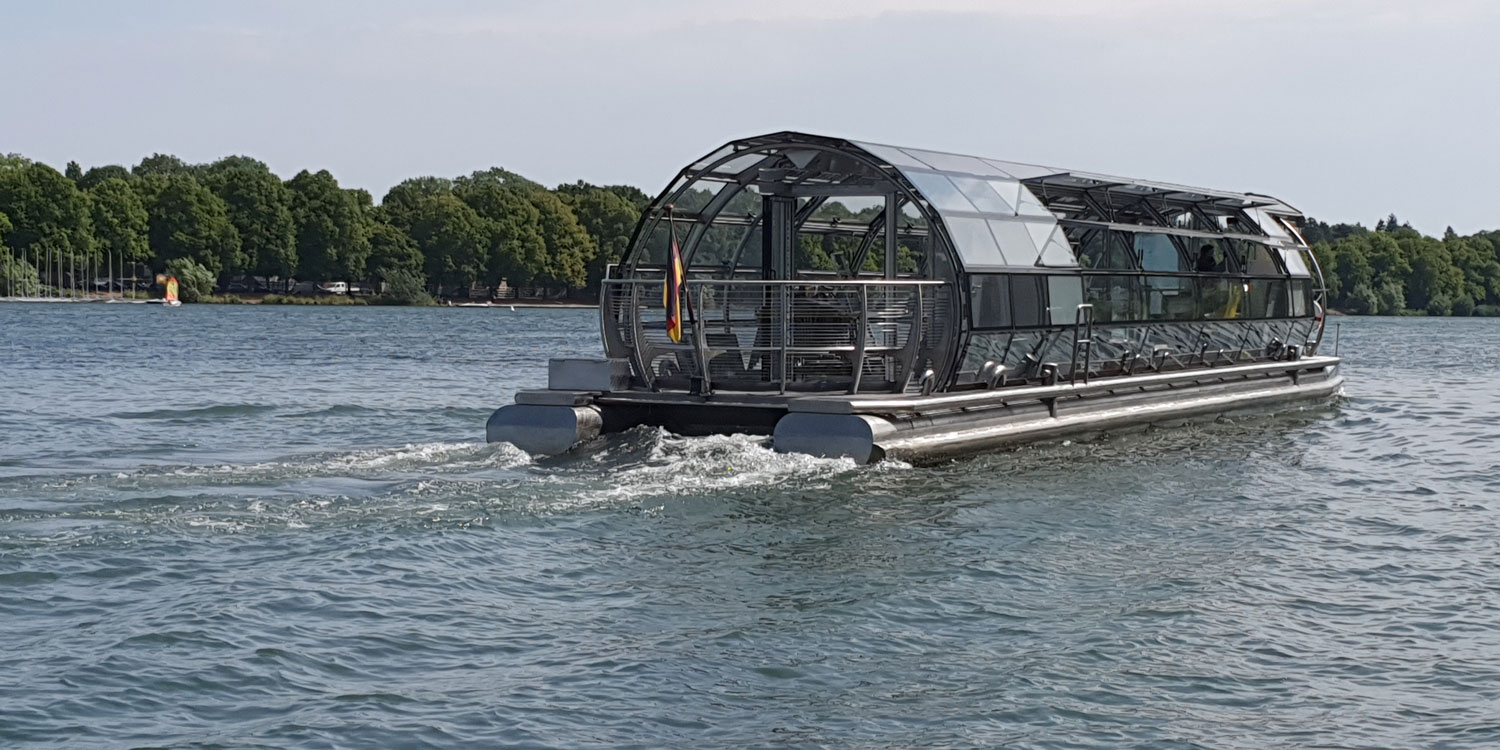 Üstra – a Torqeedo-powered electric ferry in Hannover, Germany
As the global economy starts to recover, how will it impact the adoption of emission-free transport technology?
It doesn't seem wise to invest in the recovery of an outdated economic model. Instead, environmental and economic experts are calling for a "green recovery" that prioritises renewable energy, electrification, efficiency, smart mobility, and more resilient infrastructure. I believe we will see rapid electrification of the inland transport and water taxi and ferry markets over the next few years. Cities are realising electric mobility's potential to reduce congestion, improve urban air quality and protect the climate and human health. The time is now.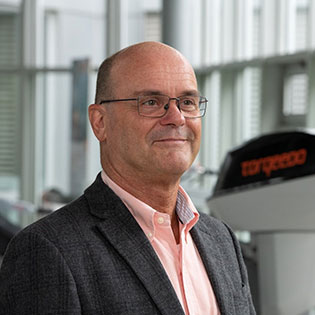 Biography
Dr Michael Rummel joined Torqeedo as a managing director in November 2019 and is responsible for finance, reporting, and business performance, with a focus on improving profitability. He is also in charge of sales, service, marketing, human resources, information technology, and the international subsidiaries.

Dr Rummel came to Torqeedo from Leoni Bordnetz-Systeme GmbH, a global supplier of wires, cables and wiring systems, as well as related development services. At Leoni, Dr Rummel was CFO and in charge of finance, controlling and program management. Before joining Leoni, Dr Rummel spent 35 years in various managerial functions in the automotive industry, the majority of which was spent at Daimler Group. He holds a degree in Law and Banking.
More information:
Find high-resolution pictures at the: › Torqeedo Dropbox
Find the main catalogue 2020 here: › Catalogue 2020
Relevant Torqeedo Products
8 OCTOBER 2020 • 7 MIN READING TIME