The Polish team "Biomachine" with Grzegorz Prokopowicz and Piotr Cichocki won the 2nd Inclusion World Championship for Sailing. 18 teams from seven countries, each consisting of one disabled and and one non-disabled person, competed last weekend on Lake Alster in Hamburg. Torqeedo supported the competition with electric motors for coach and work boats. An interview with the winning team.
Congratulations on the title of World Champion in Inclusive Sailing! Tell us: How did you manage to win? What were the biggest challenges?
Grzegorz: We had 16 races over four days, which was quite exhausting. Last year there were only six. But this year the boats were even better prepared and fairly distributed. It was exciting until the last moment: On Saturday something broke our rudder and so we only finished sixth. On the final day we could not allow ourselves a slip-up. But it worked out and we are very happy.
What is your role distribution on board?
Piotr: I am the skipper and Grzegorz is my crew. I can't do without him, and he can't do without me. At least on this boat...
Grzegorz: Piotr has already become world champion and European champion in para sailing.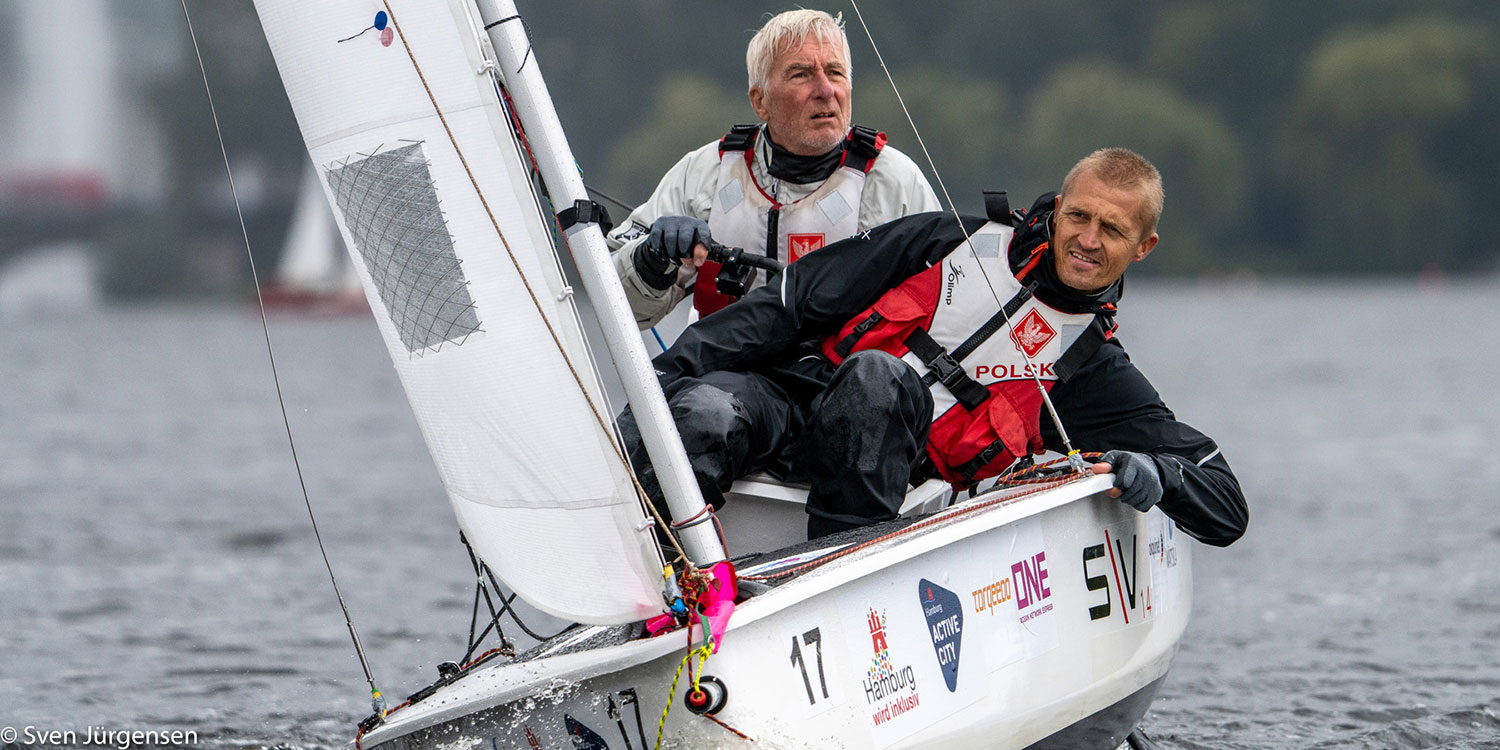 Grzegorz Prokopowicz (left) and Piotr Cichocki on the Alster in Hamburg. Credit: Sven Jürgensen
How did the two of you meet?
Piotr: Grzegorz has been my coach for eight years. Before I got sick, I was an extreme sailor. In 2000, I was on the Polish team in the ocean race "The Race", where you sail around the world non-stop in huge multihulls. During the race, in the middle of the high seas, I developed hip bone necrosis on both sides. It got worse day by day. In Brazil I had to be taken off the boat. I was flown back to Poland and immediately operated on. In the meantime I have prostheses on both sides, and several bone transplants behind me.
When you met Grzegorz, did you immediately harmonize as a team?
Piotr: Oh no, he threw me out again with a clean slate. I was too unpunctual for him.
Grzegorz: No, seriously, we have to adapt to each other a lot, it's not always easy. But we've been a good team for eight years.
The motto behind inclusive sailing is, "Maybe the world will be a little bit more circumspect." In what area of your life do you see the need for such change most clearly?
Grzegorz: I work a lot with disabled people at home in Masuria as a physiotherapist and sailing coach. In my opinion, inclusion should be a given in all areas of life, in bars, offices, concert halls, just everywhere. If you take inclusion seriously, disabled and non-disabled people participate in the same thing together. But many are afraid of it because this world is foreign to them. It's a mental limitation. We need to train the non-disabled people to overcome it. Inclusion is the best way to do that.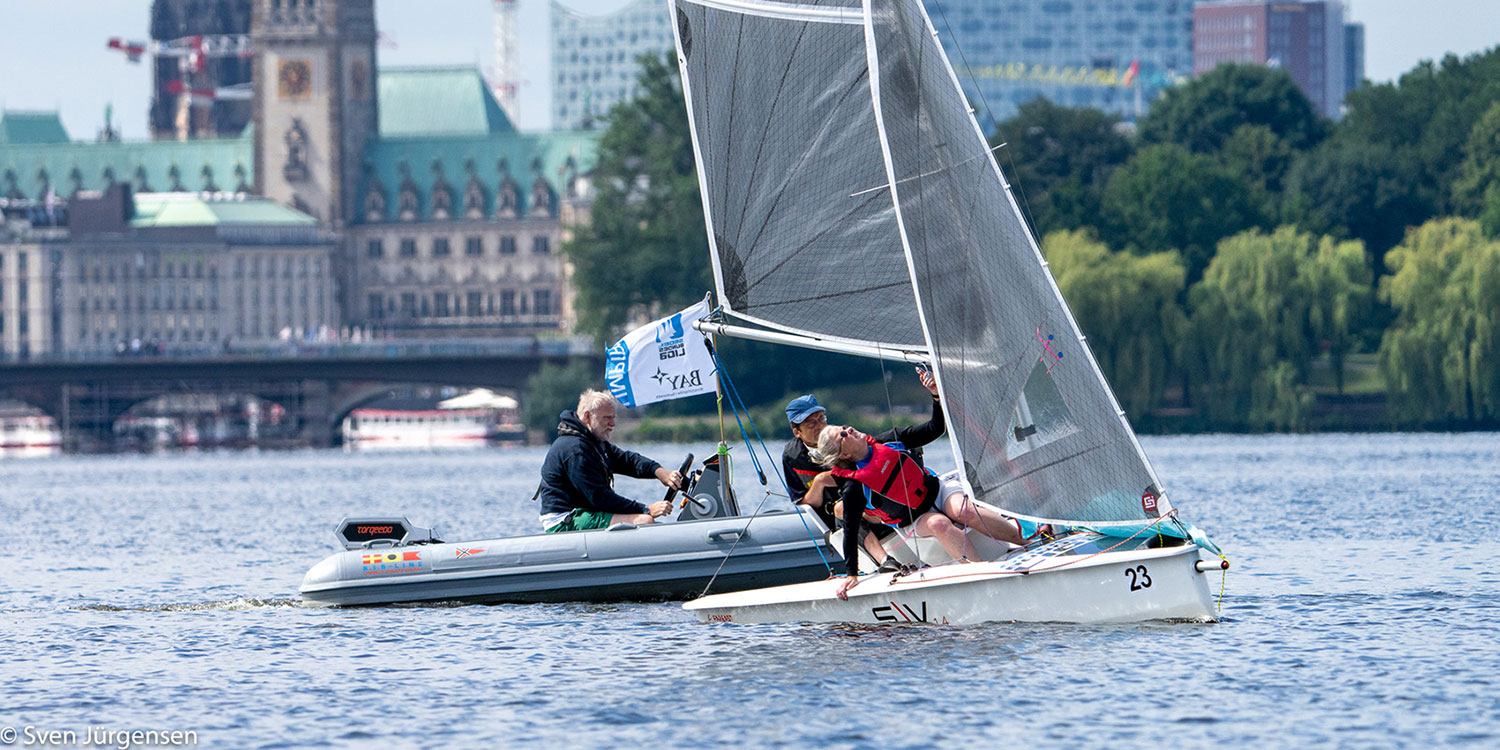 Torqeedo supports the inclusion regattas and training groups in Hamburg with electric motors for coach and work boats. Credit: Sven Juergensen
Is there anything else that is important for you to emphasize?
Grzegorz: I would love to see more inclusive regattas where non-disabled sailors participate, racing the same regatta, maybe with different boats. There needs to be more points of contact.
Piotr: Then people could hear stories like that of my buddy Krzysztof, who reached eighth place today. He's been in a wheelchair for over 20 years. People look at him from the side and say "oh man, that's really bad ". But for the 20 years before the accident, Krzysztof worked normally. Then a coal slab weighing one and a half tons fell on his legs. Fortunately, most people don't know what it means to have to completely change your life from one day to the next.
Grzegorz: And also nothing about how great the joy of disabled athletes is just to be part of an event like this one. It is unbelievable.
More information:
Find high-resolution pictures at the: › Torqeedo Dropbox
More information about the NRV: › Website NRV
Find the main catalogue 2021 here: › Catalogue 2021
Find the commercial catalogue 2021 here: › Commercial Catalogue 2021
Relevant Torqeedo Products
"The joy is unbelievable"
1 SEPTEMBER 2021 • 4 MIN READING TIME
Motorboats
Press Releases
People