How a Swedish crew make their contribution towards the UN's Sustainable Development Goals through emission-free, gender-equality sailing.
Imagine spending two months sailing in Scandinavian waters without leaving any trace of your journey. The wind powers your yacht from Stockholm across the Baltic Sea to Gotland. With the sun setting no earlier than 10 pm in summer, you can use your solar-powered oven all day long. And you glide past beautiful coastlines and leave them just as you found them – with no fossil fuel, no chemicals and no plastic waste. This was the vision behind ACT 2020, a sustainable sailing journey in partnership with Torqeedo that took a three- to seven-person crew through the Baltic Sea this summer. Sounds ideal, doesn't it? But did it work?
The journey started in 2017 when Bjorn Bertoft bought the 10.5-metre-long sailboat Johanna, a Smaragd SWE209. As he made plans for the refurbishment and was looking at new combustion engines, he started to feel uneasy. "One day I would want to give this boat to my children. But what would the ocean look like by then?" Bjorn says on the phone from his boat off the west coast of Sweden. "In the 21st century it felt like a step backwards to install a new diesel engine." On the web he discovered the Torqeedo Cruise Pod Drive 10.0 and instantly fell in love with the idea of an electric engine. "I've been sailing for 40 years and going electric has been like a dream." Whereas the loud old combustion engine had to spin up before delivering enough torque to manoeuvre, the electric motor responds quickly and quietly. "Like magic. It's freedom, it's reliability, it's silence," he says.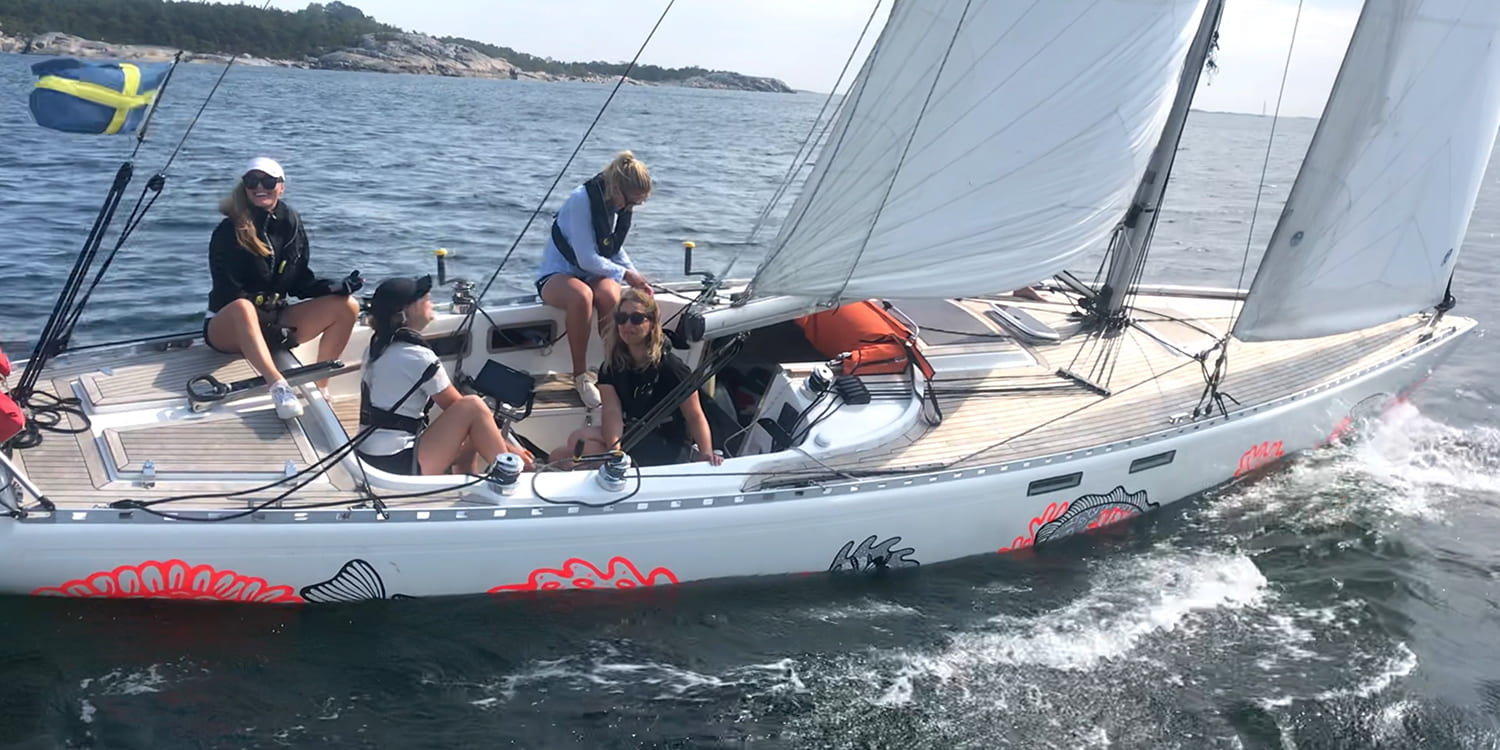 The all-female racing crew on Johanna during the Gotland Runt Unplugged race this summer – they reached a top speed of 14.2 knots. Credit: Bjorn Bertoft
In 2018, Bjorn Bertoft decided to use Johanna to raise awareness of the environment on a sailing trip in partnership with Torqeedo. It didn't feel fair to him to "consume" all the beauty of nature and leave nothing for the generations to come. "I don't blame people who are still unaware of the situation," he says. "But as soon as you realise what's what, you have to act." This year, ACT 2020 took the idea a few steps further and promoted the UN's Sustainable Development Goals (SDGs). The plan was that from June, an all-female racing crew would sail four big races around Scandinavia starting from Stockholm: the Lidingö Runt, the Gotland Runt, the Tjörn Runt and the Hovedøya Runt. Bjorn points out that gender equality – one of the SDGs – is not being realised in the sailing community. The idea of taking part in the races actually came from the sailing trio of Hanna Torlén, Siri Rembe and Hanna Marklund, all sailors since their childhood, and they were joined by Elin Carlsson, Inez Eriksson and Eva Grim to make sure that they would be able to sail in all the races.
To Gotland and back
Corona restrictions meant that most of the races had to be cancelled, but the all-female crew of Hanna Torlén, Siri Rembe and Hanna Marklund was still able to fulfil one of their most important goals and sail Scandinavia's longest race, almost 300 nautical miles, in the Gotland Runt. On the Hoburgen-Sandhamn leg Johanna managed a top speed of 14.2 knots "with two reefs in the main sail and not even the storm jib in action up front", as the sailors proudly remember. The crew discovered and participated in five Corona open races around the coasts and has already made plans to make up for the cancelled races next year.
Nutrition specialist Guri Bigham (front) developed a zero-waste concept for the sailing tour through Scandinavian waters – the crew ate berries and herbs they found on the shore. Credit: Leyla Kerley
For the rest of the summer, Bjorn Bertoft sailed the Baltic Sea with Guri Bigham, a 29-year-old author, recipe developer and sustainable food advocate. Their idea was to create a truly green sailing experience. Johanna is powered by a Torqeedo Cruise Pod, which they used to cruise silently to anchoring spots on wild Scandinavian shores. The two Torqeedo 24 V lithium batteries were mostly charged by solar panels and only occasionally in harbours. The boat's coating contains zero toxins and zero micro-particles, which could otherwise pollute the water – an issue that was highlighted by the colourful artwork by team member Julia Maldonado.
Throughout the entire journey they implemented a zero-waste policy designed and managed by Guri Bigham. Guri is from Hawaii and knows all about the harmful impact of sailing first-hand. Numerous sailors simply leave their waste on those islands, filling up the landfills and leaving the consequences to the locals. The zero-waste idea was also inspired by her son's concern about pollution. "Sailing is so quiet and peaceful. We're on this modern vessel using modern technology, but it still feels like we're immersed in nature," Guri says.
Zero waste is possible
The first thing Guri had to figure out was where to put all the containers needed to avoid waste. "We factored in the measurements of every tiny compartment," she recalls. Bjorn and Guri also used a portable solar oven, a silver tube that reflects the sun's rays to reach inside temperatures of up to 200° C., and a Wonderbag, a giant pillow-like construction for slow cooking. Guri also built a composter with a cylinder for food waste on the inside and herbs growing round it. Once this system was set up on the boat, the main challenge was to shop for package-free food. "Going zero-waste is definitely harder when you're traveling, because you don't know the shops yet," Guri points out. So they used the online tool Bulkfinder to find stores offering unwrapped bulk food, and visited numerous local farms en route. "Going directly to the source of the food is the best way to do it," Guri adds.
When the crew stopped at Gotland, an island off the east coast of Sweden, they visited a small farm and bought a giant head of lettuce, bell peppers and lamb. That night, they cooked the lamb on an open fire with wild herbs they had picked on the island. "We had the fire sitting right on the rocks, sprawled everything out with nobody else around. It was a feast," Guri recalls with delight. The next morning, they used the same firepit to make pancakes with wild blueberries they had also picked on the island.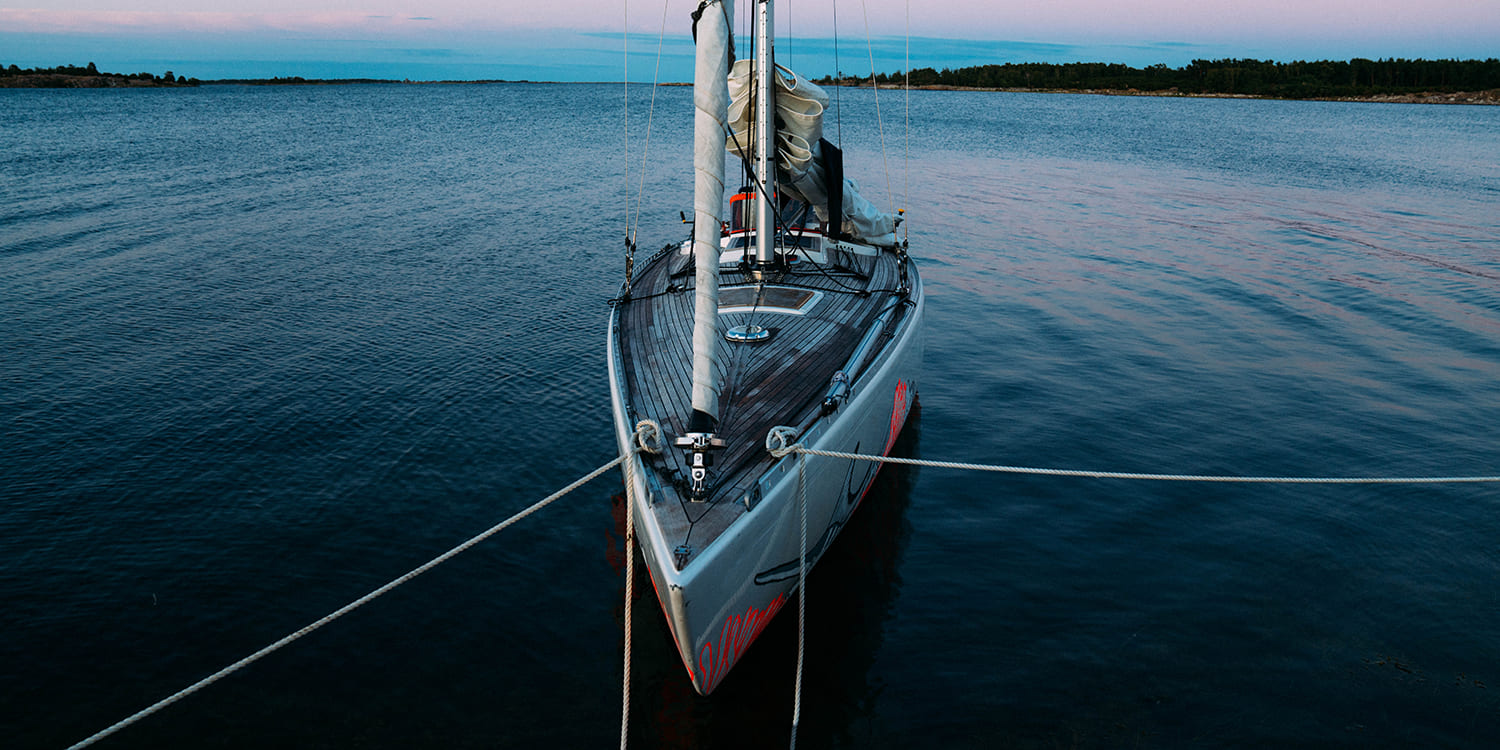 Enjoy nature and leave as you found it – that's possible thanks to a Torqeedo Cruise electric motor and other sustainable innovations. Credit: Leyla Kerley
There were times when Guri and the crew had to give in and buy something wrapped in plastic. But on this journey she learned that it is not about being perfect, but about making choices consciously. "I can definitely recommend zero-waste for any sailor," she says. "Even making just one simple choice, like reducing the amount of fruit that comes in plastic, can make a huge difference and will add up over time." At the end of the two-month journey they brought back only one bag of plastic.
With ACT 2020 now over, Bjorn Bertoft is already planning next year's project. "This journey has really proved that there is so much more that we can do," he says. The journey goes on.
The low-waste, fossil fuel-free menu
"We ate lots of rice and quinoa with any kind of vegetable. The Wonderbag works great for stews and curries. Breakfast was usually oatmeal and overnight oats with dried fruits and nuts. The solar oven was perfect for making banana bread. Dairy and meat were sort of a treat because they're difficult to find package-free. The best meals we had were usually after visiting a local farm."
Guri Bigham
More information:
Find high-resolution pictures at the: › Torqeedo Dropbox
Find the main catalogue 2020 here: › Catalogue 2020
You can find more information about the ACT 2020 project and sustainable sailing here: › www.100sunwindwater.com
Relevant Torqeedo Products
12 NOVEMBER 2020 • 5 MIN READING TIME
Sailboats
People
Big Picture