Powered by a Torqeedo electric motor and solar energy, the four-meter uncrewed surface vessel "Mahi Two" crossed the Atlantic Ocean. Battling severe storms and high waves, it proved the potential of the technology. A tale of robot adventure and human ingenuity.
Pieter-Jan Note's gaze tracked the small boat between the high waves, navigating farther and farther away. Out into the Atlantic it moved, toward the point where the gray sky and dark sea merged in the haze. "It felt like leaving your child alone in the ocean," the Belgian engineer recalls. But he also knew that he and the Project Mahi team had done everything they could to make their four-meter "baby" strong, robust and independent.
In computer simulations and tests, they had ensured that the watercraft could right itself in heavy swells and was resilient. Cameras, sensors, satellite connectivity and an onboard computer ensured that Mahi Two never lost its bearings.
They had lovingly covered the deck with solar panels to keep the power going. And they had installed a Torqeedo Cruise 2.0 Pod electric motor that "goes on and on," as Note says.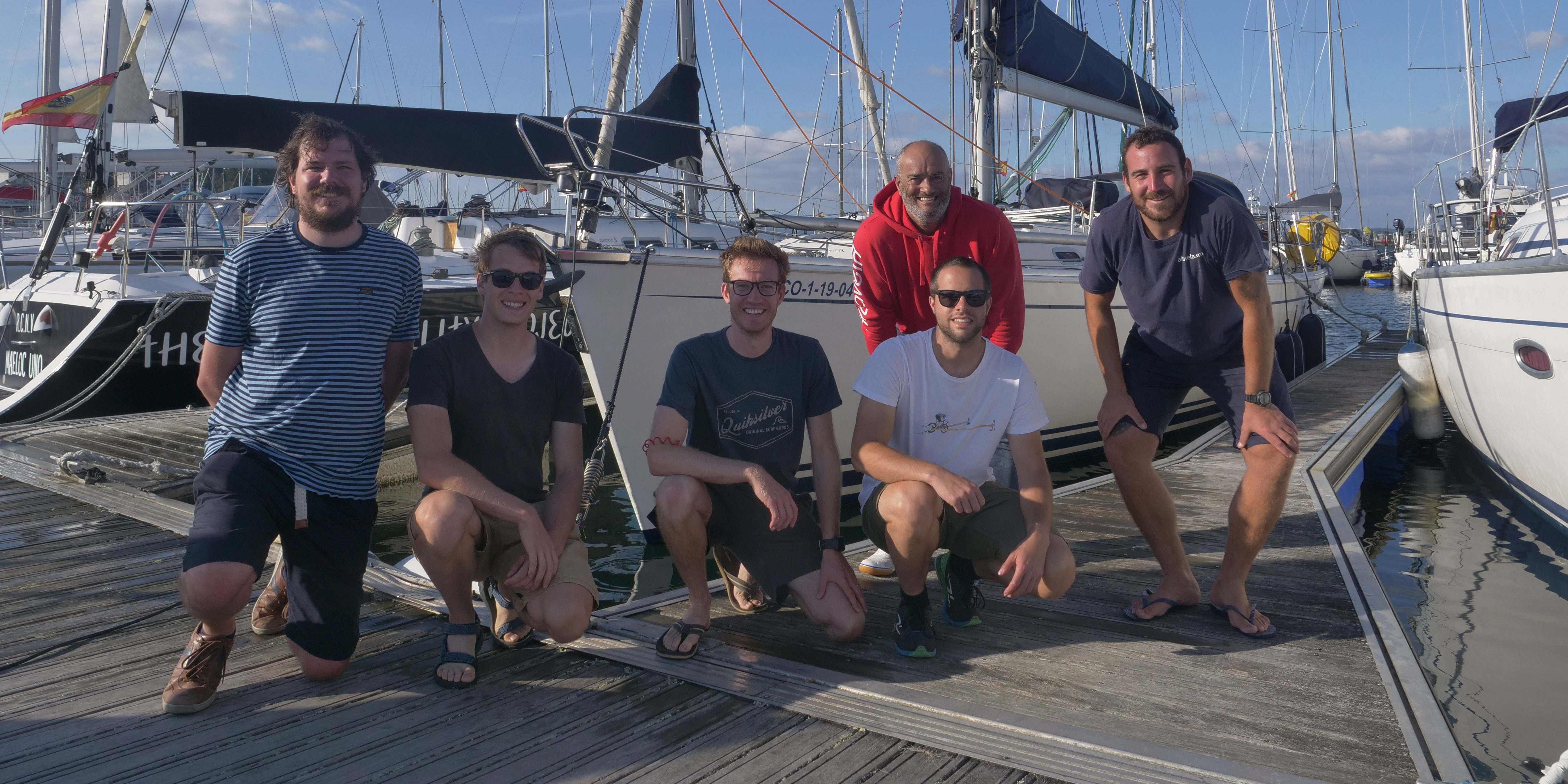 Before launch: The USV inventors Bertold Van den Bergh, Quinten Lauwers, Pieter-Jan Note, Julien Meert and two skippers of Altavela Nautical Services (from left to right). Credit: Project Mahi
Mahi Two is believed to be the first solar-electric autonomous vessel to successfully cross the Atlantic Ocean. The uncrewed surface vessel (USV) left the coast of Spain in September 2021 and reached Martinique, in the French Lesser Antilles, six months later after more than 8,000 km at sea. It's a success story – and so much more. What happened between the coasts of Europe and America tells a lot about the potential of new technology, human creativity and the fact that you should simply never give up.
Solar power for electric mobility on the water
In the fall, everything went according to plan. Fair winds and weather followed the vessel to the Canary Islands and further west. The Mahi Two has a composite hull for strength, efficiency and durability and is fitted with a Torqeedo Cruise 2.0 pod drive and two 24V Torqeedo lithium-ion batteries charged by Solbian solar panels. The Mahi Two can reach 9 knots, in the first weeks it reached 5 knots on a regular basis.
The steering, communication, hardware integration, navigation and energy management onboard are all managed by Mahi's self-developed USV software. The boat communicates via an onboard satellite modem, GPS and automatic identification system. The Mahi-crew received data updates every fifteen minutes – location, speed, solar power generated and some sensor data. "You develop a sort of empathy for the machine", says Note, "imagine in what kind of conditions it is moving." The fans of the project could follow the vessel in real-time on the website.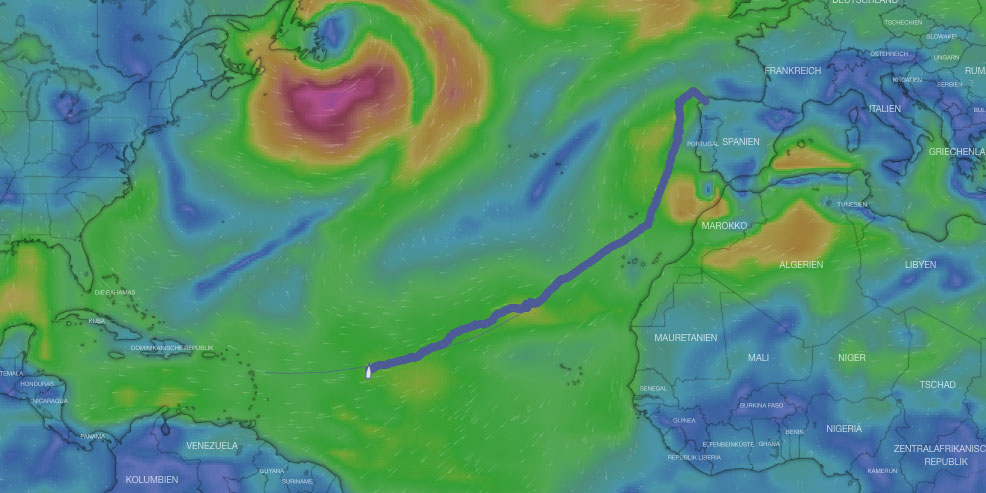 The inventors and fans of Mahi Two followed the vessel in real time in its journey across the Atlantic. Credit: Project Mahi
Explorer on the shore
Pieter-Jan Note has the perfect education for a USV-inventor. Since he was young, he loved to sail and surf, in awe of the vast and powerful sea. And he spent a lot of time building remote-controlled vehicles, tiny helicopters, cars and boats, in search of the perfect system. In 2013, he studied naval architecture and marine engineering at the University of Southampton, when he met an American fellow student who wanted to build the world's first autonomous vessel to cross an ocean – it sank before reaching halfway. "I thought, that's a pretty good challenge," remembers Note. That's true for the technical intricacies of the task, but also in a larger context: In the 21st century there are not many "firsts" left in our flat and transparent world, all mountains have been climbed, all seas sailed. "400 years ago, you needed a huge ship and crew to cross the Atlantic," says Note. Could an autonomous vessel complete the journey? Can you be an explorer while staying ashore?
Like many success stories, Project Mahi started in a garage: Together with a group of friends he met during studies at the University of Leuven, Pieter-Jan Note accepted the challenge. "We spent a lot of hours building, designing, and writing software", he says. "We had a pretty good skill spread."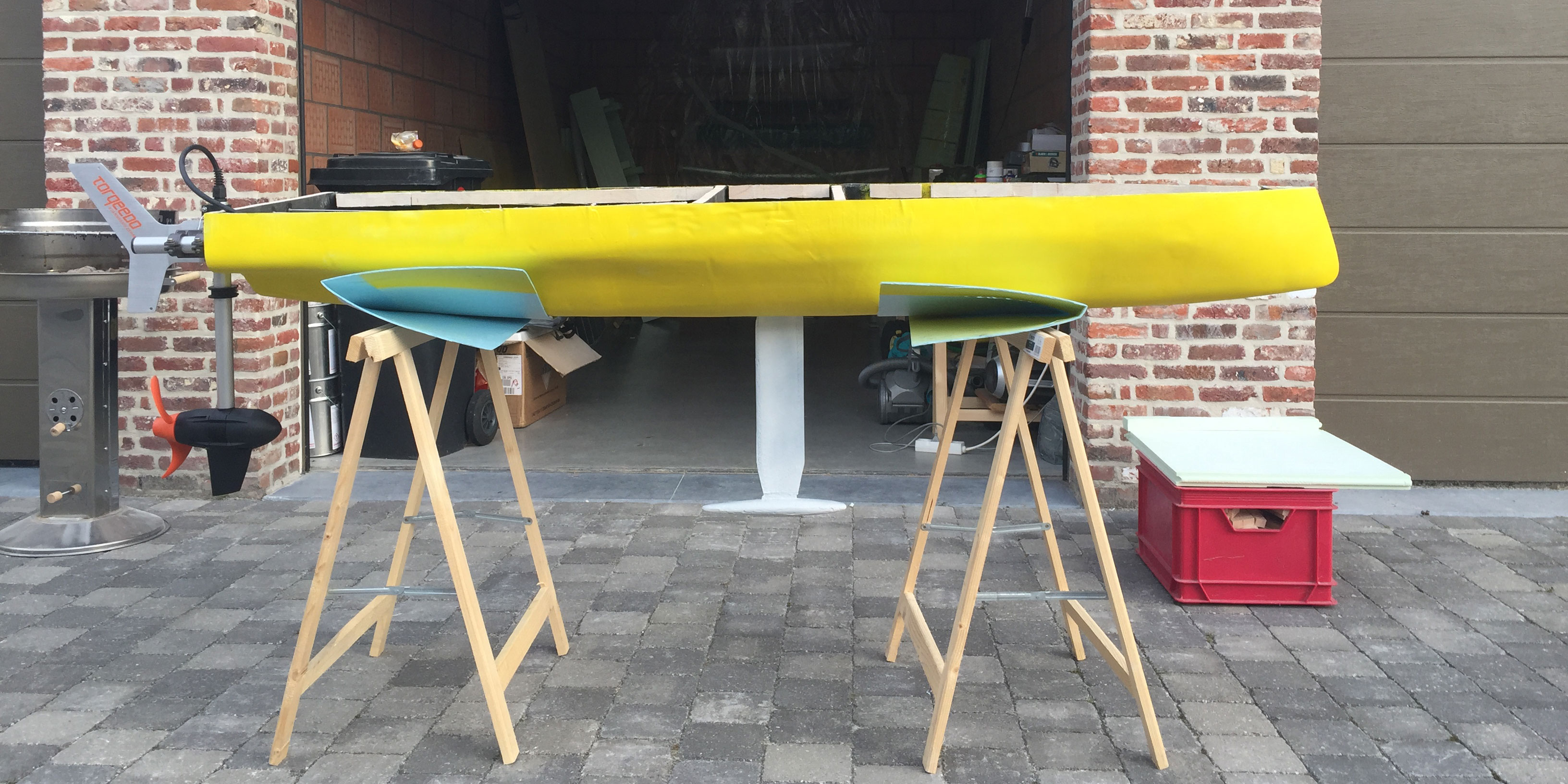 Like many success stories Project Mahi started in a garage of its founders. Credit: Project Mahi
Bertold Van den Bergh specialized in embedded systems and wireless communications, Andreas Belderbos in electrical and energy management, Quinten Lauwers in situational awareness and collision avoidance, Julien Meert in vessel construction and CAD design of components and Koen Geurts in navigation. Everyone thought it would be a one- or two-year project, but they developed three different prototypes. The first vessel, Mahi Zero, was just two meters. The first full-size vessel, Mahi One, attempted the crossing but capsized during a storm. "We learned a lot from that short journey, however, and used that knowledge to build Mahi Two," said Note. For years they spent their spare time on the project. That start-up spirit resembles other corporate histories, like that of Torqeedo. The biggest driver of change is essentially the drive to answer a question: can it be done?
"You need a reliable motor that can power on"
In the late 2010s, marine USVs were just starting to be developed. "Accessibility to low cost, high performance embedded systems made the project more feasible", says Note, "and, of course, you need a reliable electric motor and a salt water-resistant system, that can power on and on." Torqeedo supported the project from the beginning with equipment and know-how, in the night before the launch of Mahi Two local Torqeedo partner Eric Wouters from Variodrive provided the team with some new parts and valuable tips to make the system even more durable.
In the Mid-Atlantic the Mahi Two encountered bad weather. For long stretches, the USV slowed down to a speed of one or two knots, and during the night, when the engine shut off due to lack of solar power, it was often pushed back. But the team was delighted. "The first few months were flawless. Other than adjusting speed to compensate for reduced solar power production, Mahi took on stormy, cloudy days at sea with no problem," recalls Note. When the system detected a problem, it would reboot itself.
Will the data reveal the secret?
In January, however, incident struck. Mahi Two suddenly started using more power. The team began to fear that the USV was taking on water and the bilge pumps were working hard to compensate. But the vessel was thousands of miles away. The inventors had a theory but could not check the vessel in detail. After some days, the power consumption dropped off – a short relief. And then the team lost communication with Mahi Two altogether, just 700 nm from completing her mission. "We tried everything to save Mahi", says Note. The Maritime Rescue Coordination Centre in Martinique requested that a nearby sailing vessel keep an eye out for the small USV. The competitors in a transatlantic rowing race even searched near her last known location, but it was all for nought. Mahi Two seemed lost.
The Mahi team scoured the gigabytes of data Mahi Two had already sent home, looking for answers. To no avail. Then, two months after we lost communication, a surprise: Note received a call from the Maritime Rescue Coordination Centre Fort-de-France in Martinique: Mahi had been found! "She didn't sink after all. Instead, she had completed her mission, navigating her way to the coast of Martinique all by herself." As he tells the tale, he sounds moved by a hero's journey. And rightly so.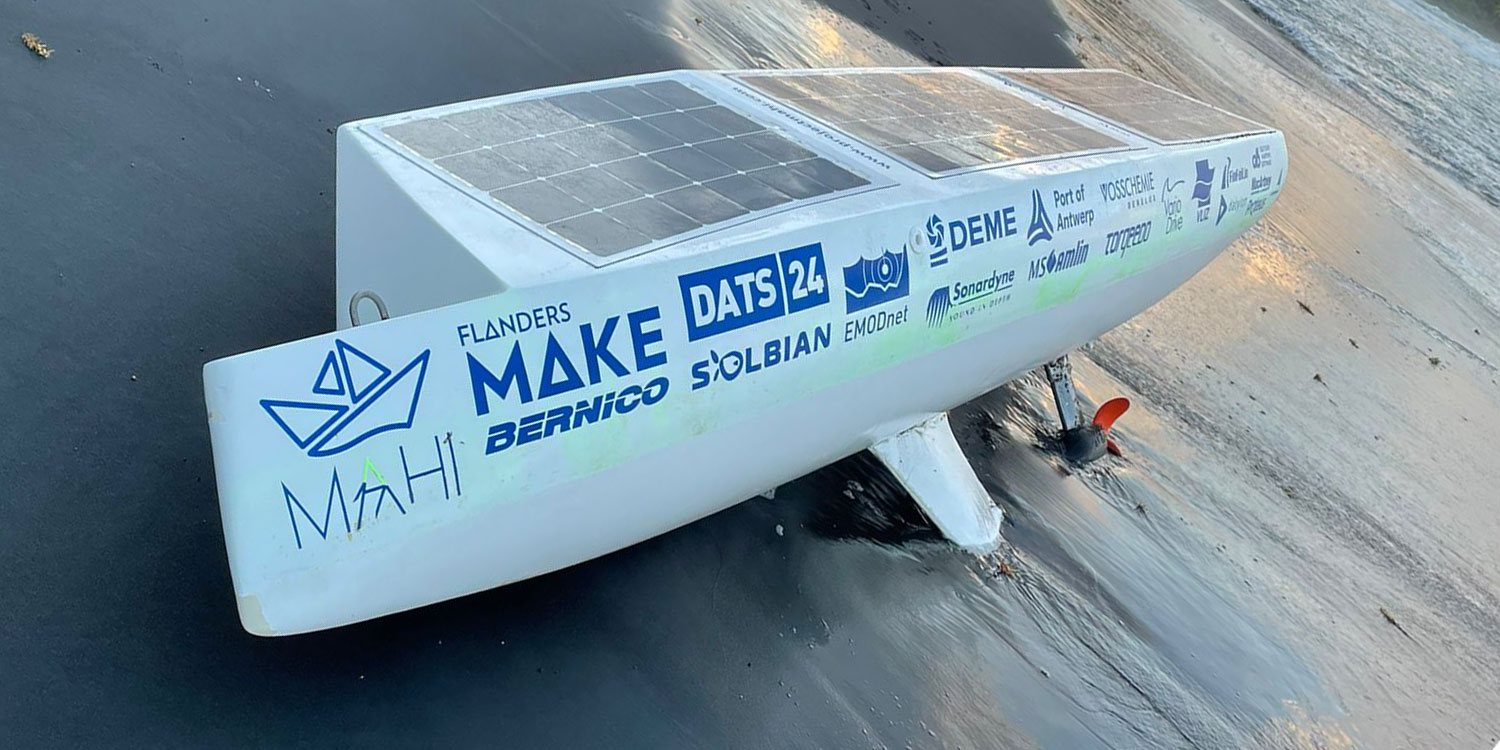 Mission Accomplished: The Mahi Two on a beach in the Lesser Antilles. Credit: Project Mahi
The team is still analysing what happened between the communication breakdown and the successful landing. The USV captured 2.4 Terabytes of data: camera feeds, audio signal and so on. Project Mahi will upload and share this treasure trove of ocean data so researchers from different fields can access it. Note and his friends had time to look at some videos and were delighted to see underwater videos where the USV encountered the large and odd Sunfish or the sleek and elegant Mahi-Mahi, its namesake.
After the first successful Atlantic crossing by a solar-electric USV, part of the Project Mahi team recently started a company MAHI (https://mahi.be/) to bring maritime autonomy solutions to the market. They are developing software and hardware products that enable USVs to detect obstacles and other vessels accurately and avoid collisions according to the International Regulations for Preventing Collisions at Sea. "Projects like ours will build the confidence in the technology", says Note. Some issues like legislation and power sources still have to be worked on, but "there are a lot of possibilities in research and monitoring."
This adventure is over, but the next years will be even more exciting. Just imagine: Your USV went over the Atlantic Ocean all on its own. The places it can go.
More information:
Find high-resolution pictures at the: › Torqeedo Dropbox
Find the main catalogue 2022 here: › Main Catalogue 2022
Find the professional catalogue 2022 here: › Professional Catalogue 2022
8 APRIL 2022 • 10 MIN READING TIME