The 2022 Miami International Boat Show will be the venue for the US premiere of Torqeedo's latest lineup of marine electric and hybrid propulsion systems.
The new range of electromobility products being shown in Miami include a product-line upgrade of Torqeedo's market-leading Cruise motors and a powerful new integrated Deep Blue high-voltage 50 kW saildrive. Torqeedo-powered boats in the water will include the RAND Mana 23 and an Ocean Renegade R5.
Torqeedo's new higher-powered Cruise-series motors consist of 3 kW, 6 kW and 12 kW models (6-25 hp equivalent) in outboard and pod configurations. Designed to work with Torqeedo's Power-series lithium-ion batteries, the Cruise motors have been completely re-engineered with up to 50% more power, enhanced thermal behavior, a robust aluminum pylon with integral fin, ultra-quiet and durable helical gears and improved tiller functionality.
"Despite their higher power ratings, the Cruise motors are still the lightest weight electric outboards in their power classes," said Steve Trkla, president of Torqeedo, Inc. "And the 12.0 and 6.0 models also now come with our advanced TorqLink data network, which simplifies system setup and seamless communication with solar, hydrogeneration and AC generators in hybrid configurations when paired with Torqeedo's Power 48-5000 lithium-ion batteries.
Also making its U.S. debut is the new Deep Blue 50 kW saildrive system, which took top honors in the prestigious Boat Builder Award competition at the 2021 METSTRADE exhibition. The new Deep Blue configuration was developed in partnership with ZF and was introduced to the market in a Beneteau Excess 15 catamaran.
Other new enhancements in the Deep Blue product range include an upgraded 22 kW shore power charger and a DC interface that makes it easier to manage third-party DC range extenders.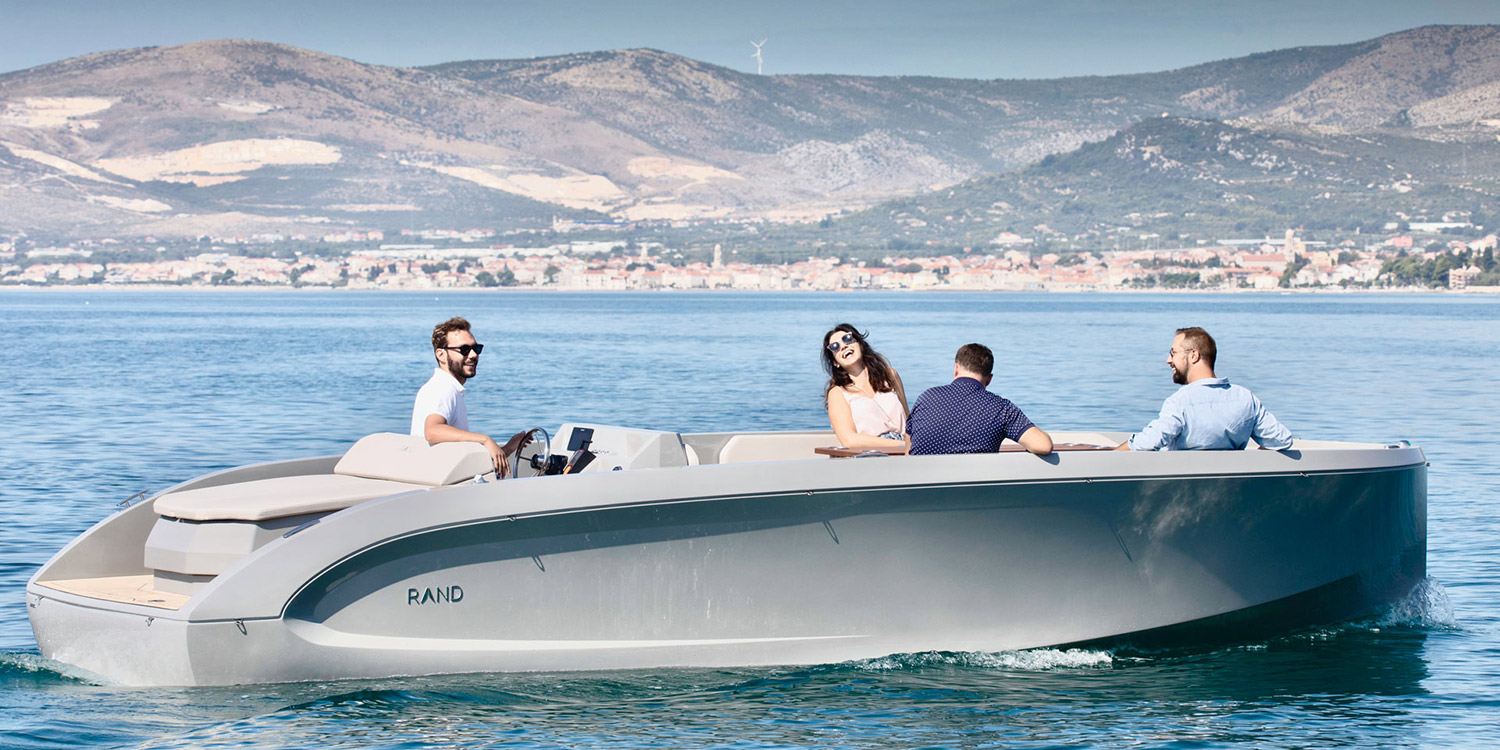 The Rand Mana23 day Cruiser with Cruise 12.0 credit Rand Boats
The RAND Mana 23 is a Danish electric day cruiser powered by a Cruise 12 kW outboard with three Power 48-5000 lithium-ion batteries and a TorqLink throttle. The boat's hull design with reduced hydrodynamic drag provides cruising speeds of up to 12 knots. The electric propulsion system is charged by solar cells neatly covered out of sight under the aft sun lounge. The Mana 23 is available for test drives at Sea Isle Marina slip 306.
The Ocean Renegade R5 presented by Nova Luxe is a 54-ft. luxury electric catamaran with twin 25 kW Deep Blue electric drives, 40 kWh Deep Blue battery and regenerative propulsion system for recharging under sail power. All electrical systems are integrated and controlled via the Torqeedo interface.
"Since 2005, Torqeedo has been the technology leader in innovation and advanced engineering in marine electric power systems," said Trkla. "Electric propulsion is rapidly gaining in popularity as boatbuilders, dealers and boatowners discover the benefits of cruising quietly and cleanly through the water without constant expensive visits to the fuel docks."
Where to find Torqeedo at the boat show
Miami Beach Convention Center (Booth MB2428) – Full range of products on display
Sea Isle Marina (Slip 306) – Test drives on Rand Mana 23
Museum Park Marina (Slip FEC 115a) – Ocean Renegade R5
To schedule an appointment for a booth tour or an on-water demo, please contact Tess Smallridge at tess.smallridge@torqeedo.com.
More information:
Find high-resolution pictures at the: › Torqeedo Dropbox
Find the main catalogue 2022 here: › Catalogue 2022
Miami International Boat Show 2022
16 FEBRUARY 2022 • 3 MIN READING TIME