For more than 20 years, a Swiss family has been on an expedition in extreme conditions across the Seven Seas – most recently supported by a Torqeedo Travel motor.
The interview call comes at a bad time for Dario Schwörer. "Can I call back in two hours? We've just got to put something in plaster," he says. He'd been carrying the heavy protective case for his laptop when he slipped on the ice and fell on his elbow. His own diagnosis is a broken arm. The nearest X-ray facility is several hours away, so confirmation will have to wait until tomorrow. But that doesn't mean he's in a bad mood – on the contrary. His attitude toward time is different from most people's. What's more important to him is that the day before, 150 students joined Dario and his family at Lyngseidet Bay in the far north of Norway. "As the herrings have arrived, the bay is full of humpback whales and orcas," he says. "Seeing the broad smiles of those children and youngsters recharges my batteries every time."
Dario is very fond of the Torqeedo outboard they use to power the dinghy from the yacht they're sailing round the world in. He's often reflected on the most important difference between his Torqeedo motor and a normal combustion engine: pure efficiency or being in harmony with Nature instead of destroying it. Traveling from the yacht to the shore isn't something you want to get done as quickly as possible. "On the contrary," he says, "it's an experience that could go on forever." It gives him time to follow the flight of a sea eagle or greet the nosy dolphin that swims up to the dinghy because its quiet electric motor makes hardly any noise.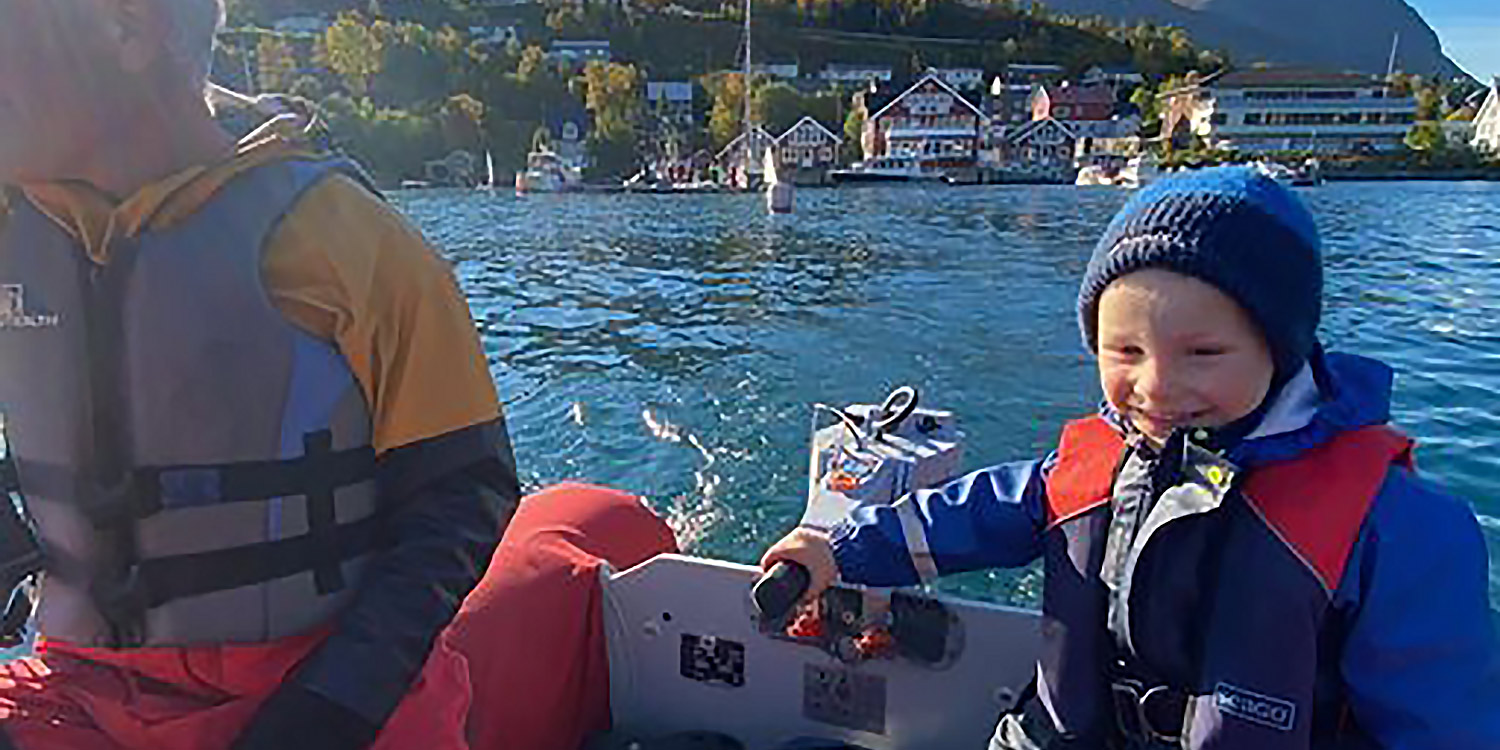 A Torqeedo Travel outboard – lighter and quieter than all other small outboards on the market; motoring with a Torqeedo Travel is easy and carefree (Credit: ToptoTop)
"If we had a combustion engine, the whales would immediately dive under," Dario says. Thanks to the quiet electric motor, these curious creatures often approach the boat on their own. "Once," he recalls, "when we were sailing in the Marine Park north of Vancouver Island, a pod of orcas headed towards us. Our children began to shout and whoop with delight, and the orcas responded by leaping out of the water. You could really see how they communicated with one another. After a while, a park ranger came charging up in a boat powered by two huge outboards. He told the children off because the noise they were making was disturbing the whales." Dario laughs: "Of course, the orcas were gone immediately."
Dario doesn't just use the dinghy and the Torqeedo Travel outboard for the fun of it, but primarily for research work. "We travel in extreme environments, and I was initially skeptical whether the battery would be ok in freezing conditions," Dario says. They have yet to experience any loss of performance. The battery is easy to disconnect and can be simply taken inside the yacht for recharging from the power generated by the yacht's solar panels. And if the sun isn't shining, as is now the case in the polar night, the power comes from two wind generators installed on the Pachamama. The electric motor offers two other advantages in the Arctic: "A combustion engine has to be water-cooled and the water would freeze under these conditions," Dario says. They also need high and directly available torque to break through a thin sheet of ice or drag a manta net for collecting microplastic samples. "The Torqeedo motor's torque per unit of energy is simply better," Dario points out.
The reason for the Schwörers' expeditions was a disturbing observation Dario made years ago in his "office", which is what he calls the Swiss mountains where he spent his youth and worked as a mountain guide. Climate change is impacting that environment, causing glaciers to melt and thawing the permafrost that holds mountains like the Matterhorn together. He wanted to make people aware of these problems, so he and his wife Sabine began their Top to Top Expedition in 1999. The goal was to reach the highest mountain on each of the seven continents using nothing but wind, solar and muscle power – and thus demonstrate how to help our planet.
They took out a loan, bought a 15-meter ocean-going sailboat, and christened it Pachamama, the word for Mother Earth in Indigenous Andean languages. Over the years, they have been becalmed for weeks, experienced terrifying storms, met cannibals, rammed a ship container in the middle of the Pacific, and were almost shipwrecked. But this adventurous lifestyle didn't stop them from having children. More than 20 years after their maiden voyage, the Pachamama is now home to a family of eight.
The Schwörers' three daughters and three sons were born in Chile, Australia, Singapore, Iceland, and Switzerland. Almost in passing, the family has set all sorts of records: sailed 126,000 nautical miles, cycled 23,500 kilometers, visited 155,000 students in more than 100 countries, and had volunteers, friends, and scientists from 63 countries on board. Only one mountain is still missing from their original goal of climbing the highest mountain on each of the seven continents: Mount Vinson in the Antarctic.
"Back then we thought the expedition would take us four years," Dario says. But they soon discovered that traveling in harmony with nature meant adjusting their life rhythm. They would simply sit out hurricanes or periods of dead calm and instead visit numerous schools to report on their mission. They now see slow speed as a gift that has enabled a vital realization to ripen: to gain quality of life and conserve resources, you must slow down.
Pachamama – the high-tech lab
Dario's enthusiasm for using technology more gently should not be mistaken for innovation skepticism. Initially, the only electronic device on board the Pachamama was a handheld GPS. But over the years, the Schwörers have gradually transformed their yacht into a high-tech lab for renewable technologies. They contacted companies and universities offering to test and provide feedback on their sustainable prototypes under real-life conditions. They've experimented with hydrogen generators and tested various types of batteries for Nanyang Technical University in Singapore. "Our first solar panels were broken after just two years," Dario recalls. They suggested laminating the modules to make them 100% waterproof. "The current ones, which Torqeedo also uses, have been working well for 12 years."
Dario is more than happy with the Torqeedo Travel motor – an innovative and reliable piece of technology that supports the Schwörers' in their research work and adventurous lifestyle, while also demonstrating that sustainable travel is possible on the water. Yet Dario feels that the Torqeedo Travel's most important function cannot be explained in technical terms: "When you're surfing, you can feel the waves, the sea. Or when you're skiing, gliding over powdery snow." If we humans can just get outdoors more often and feel nature for ourselves, we'll be able to build up the kind of relationship that will save not only our planet but ourselves as well. "A motor from Torqeedo is a tool for doing just that," Dario adds.
More information:
Find high-resolution pictures at the: › Torqeedo Dropbox
Find the main catalogue 2022 here: › Catalogue 2022
28 JANUARY 2022 • 8 MIN READING TIME