Tartan Yachts is specifying Torqeedo Cruise electric pod drives for its popular 27-ft. Fantail series sailboats. According to Tim Jackett, chief designer at Tartan Yachts, customer acceptance of the emission-free pod drive has been amazingly strong, but he says he's not surprised. He's been a strong advocate for electric auxiliary power for sailboats for more than a decade.
Early Electric Pioneer
Jackett enjoys talking about his first experience with Torqeedo: "I was at the Oakland boat show in 2008, and Torqeedo was doing demonstrations of its electric motors on inflatables. About three years later, when I was designing a new smaller daysailer, I had a vision of motoring past my local clubhouse with a nice cold beer in hand, a little music on the stereo and silent electric propulsion, so the new model included a 12-volt cooler, stereo with cockpit speakers and a Torqeedo Cruise outboard. We never regretted it. Now, electric motors are pretty much standard fit for our Fantail series boats."
"Originally, we used a bank of standard marine deep-cycle batteries, but we soon learned that the discharge curve of lead-acid was not a good match for electric propulsion, so we switched over to lithium-ion. As an extra benefit, we cut the total battery weight by 300 lbs, which allowed us to redesign the keel with a heavier bulb providing better stability and sailing performance," he said.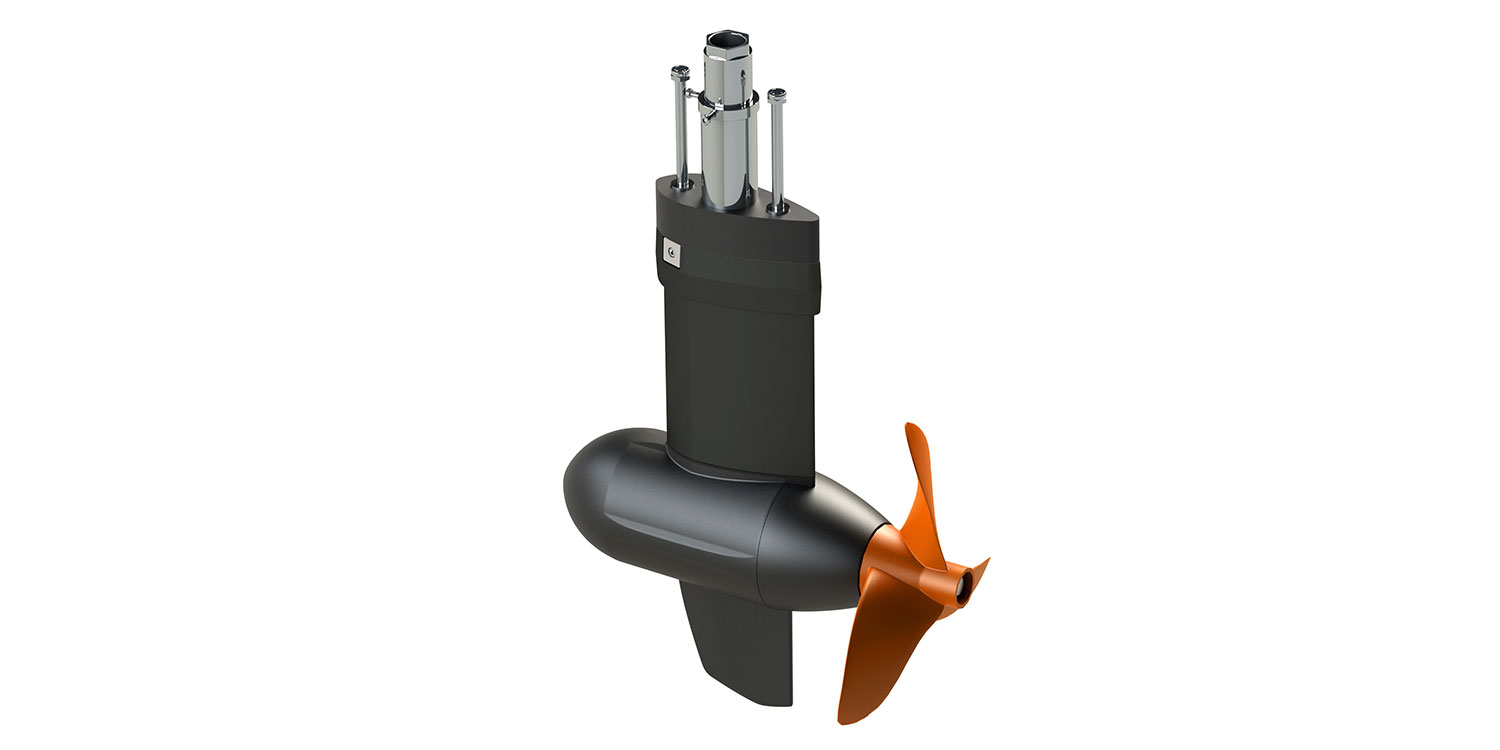 Inconspicuous yet powerful, the Cruise pod models offer high-tech propulsion in the 6 to 25 HP performance class.
Jackett said that the idea of switching from the electric outboard to the Cruise pod drive originated with a buyer who planned to sail on Lake Erie, and he wanted more horsepower to contend with the rough wave conditions on the lake. He also liked the idea of a fixed installation rather than dealing with the outboard in the enclosed motor well, eliminating the need to tilt the outboard when sailing. He also liked the additional storage space.
The fully integrated Torqeedo system includes a Cruise fixed pod drive with a two-blade folding prop, a Power 48-5000 lithium-ion battery, charging system and engine controls, as well as GPS, complete battery monitoring and readouts of range and speed in the cockpit. "The pod drive is a nice sleek design, and we were able to nestle it nicely behind the keel. Coupled with the folding prop blades, any impact on sailing performance is negligible," said Jackett.
Strong Performer
The first sea trial for the Fantail with the electric pod drive produced impressive results. "We learned that the range curve vs Watt consumption is pretty dramatic. At 500 Watts, the range was a full 35 nautical miles at 3.5 knots. When we cranked it up to wide-open throttle, the power consumption jumped to 4,300 Watts, reducing the range to seven nautical miles," Jacket said. "The happy place will be in the mid-range, where speed is 4.5 to 5 knots yielding a range of 12 to 15 nautical miles."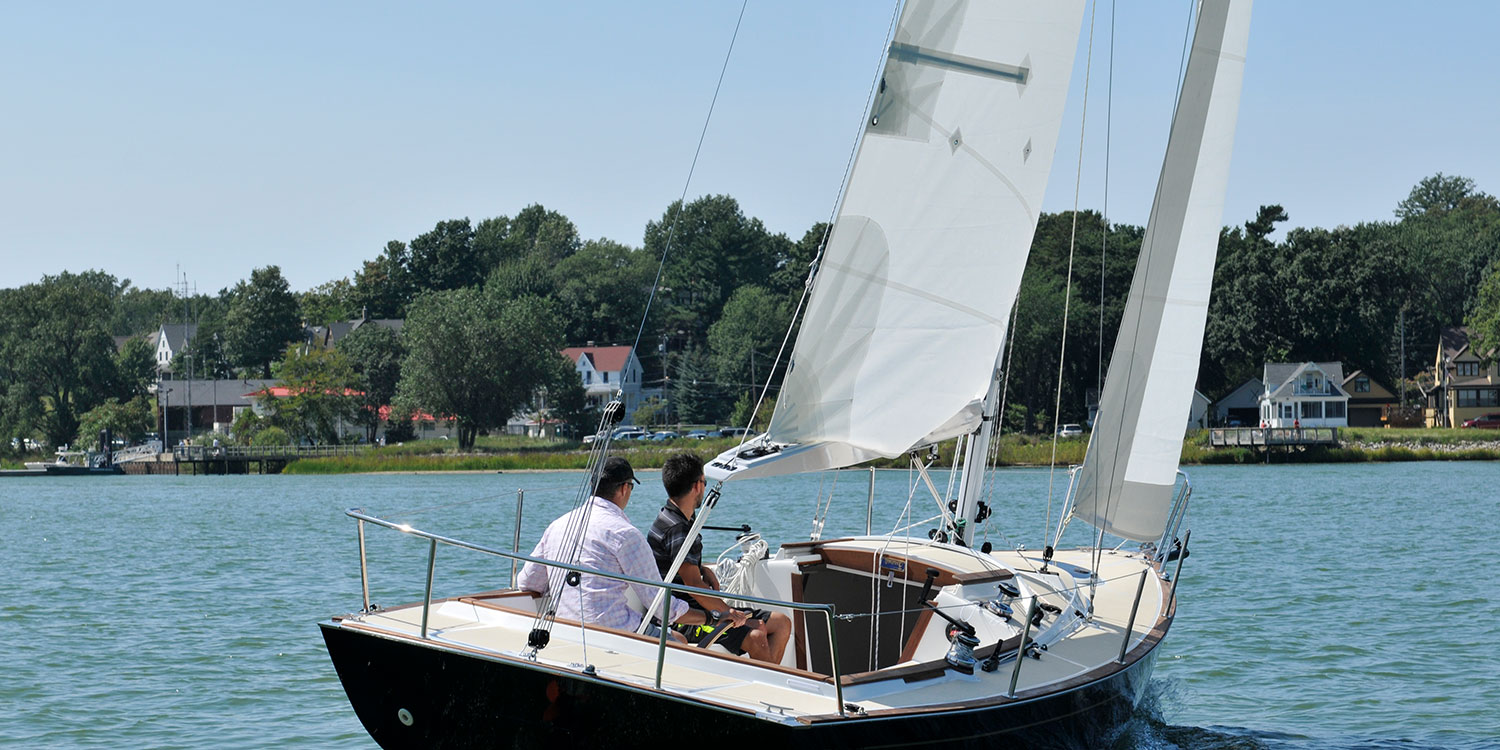 The Fantail DS (Daysailor) under sail. credit Tartan Yachts
Plug and Play
"As a boatbuilder, one of the nicest things about working with Torqeedo is that everything is all fully integrated, including the propulsion, battery and charging. It is truly plug-and-play," Tim said. "As a builder, we have to be experts at too many things. Inventing battery systems and charging systems for lithium-ion does not need to be one of them."
"It's easy for the owners too," he added. "Skippers love the cockpit display, which gives a real-time snapshot of speed, battery charge status and – most importantly – the cruising range at the current speed. The skipper can quickly see how a relatively minor change in speed of less than one knot can have a dramatic impact on battery discharge and range."
"Of course, experienced sailors know they can hoist the main when motoring, expanding the cruising range dramatically."
Consumer Acceptance
According to Jackett, the great majority of Tartan Fantail buyers specify the electric drive package. He added that the new Caraluna 245 by Tartan, designed for learn-to-sail programs and private owners, comes with Torqeedo Travel 1103 outboards as an option.
Jackett said that Tartan is looking at electric options for bigger boats in its lineup. "Consumer awareness and preference for auxiliary electric propulsion for sailboats are growing. It's no longer a novelty. The interest is absolutely there, and our customers ask about it regularly for our larger boats. As battery technology and range continues to increase, more and more cruising sailors will be making the jump."
More information:
Find high-resolution pictures at the: › Torqeedo Dropbox
More information about the Fantail: › Tartan Yachts
Find the main catalogue 2022 here: › Main Catalogue 2022
Find the professional catalogue 2022 here: › Professional Catalogue 2022
Tartan upgrades Fantail sailboats with electric Cruise pods
6 MAY 2022 • 5 MIN READING TIME