Joylife Boats with Torqeedo Cruise motors
Unspoiled nature, solar power, easy handling – the all-electric houseboats from Joylife Boats with their Torqeedo Cruise motors make e-mobility on the water accessible for everybody. Just come on board!
The houseboat glides silently along the river. A vineyard winds its way up the left bank; on the right, there is forest as far as the eye can see. The passengers experience nature without distraction. And once they've found a particularly beautiful spot, they can simply drop anchor, open a good bottle of wine, cook something, and enjoy the view until the sun goes down. Vacationing on a houseboat is the best of both worlds – land and water, travel with all the comforts of home.
Since spring 2022, these all-electric Joylife houseboats with Torqeedo Cruise drives have been cruising along the German rivers of the Saar and Mosel. The guest response "has been consistently enthusiastic," says Franz With, managing director of Delphin Tec, the company that builds and rents out the floating vacation homes. Life on a houseboat lures with the promise of freedom and independence, but the reality of propane stoves and folding beds often make it feel more like a camping holiday. The Joylife houseboats, in contrast, offer no-compromise, five-star comfort – high-end kitchen, washing machine, and even a wine cooler that can be powered by the sun. "With conventional houseboats, you usually have to stoop down to move around inside," says With. "These boats have 2.40 meters' headroom," he adds, as well as clear angular shapes, huge windows, and a generous sun terrace on the upper deck. The houseboat takes design cues from urban lofts and offers 54 m2 of living space and four berths. And the boats are fully electric powered. "As the market leader in maritime electromobility, Torqeedo was naturally the first port of call," explains Matthias Schmitt, Delphin Tec's co-managing director.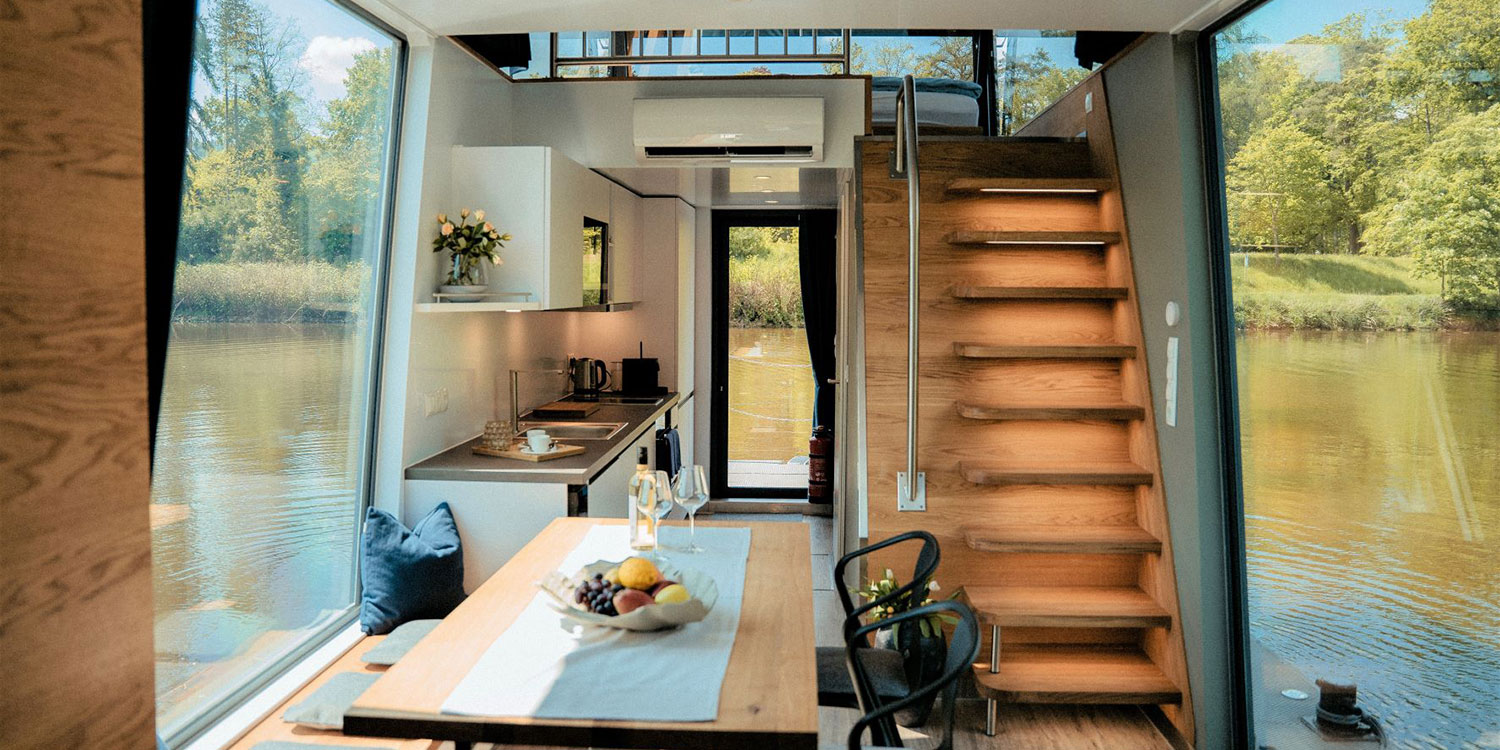 Unspoiled nature and high-quality materials: The houseboats were designed by architects and only products from market leaders like Torqeedo were used for the interior. Credit Joylife Boats
Their three-vessel houseboat fleet is expanding - the Joylife makers are sure of the market potential. In times of growing environmental awareness and people rediscovering staycations, the luxurious, emission-free houseboats are absolute trendsetters.
The houseboat fleet's home port is the historic town of Mettlach on the Saar, not far from the French border. From the river you can see medieval castles, steep cliffs, and lush vineyards. "It feels like you're in France or Italy," With adds. This tourist region not only has a lot of beautiful scenery to offer, but also plenty of cultural highlights. A recommended route runs for just under 60 km upriver to Saarbrücken with its historic castles and huge ironworks from the city's industrialized heyday, which is now a UNESCO world heritage site and cultural space. You could cover the distance in just under six hours at top speed. But a vacation on a houseboat also means rediscovering slowness.
E-mobility for everyone
Any adult is allowed to steer one of these houseboats, even without a boating license. The Saar River has a consistent depth — there are no navigation channels. "You don't have to worry about whether you're at risk of running aground or maybe damaging the propeller," says With. Torqeedo's user-friendly electric drive system also helps to ensure that guests on board can concentrate on the essentials – relaxation and enjoyment.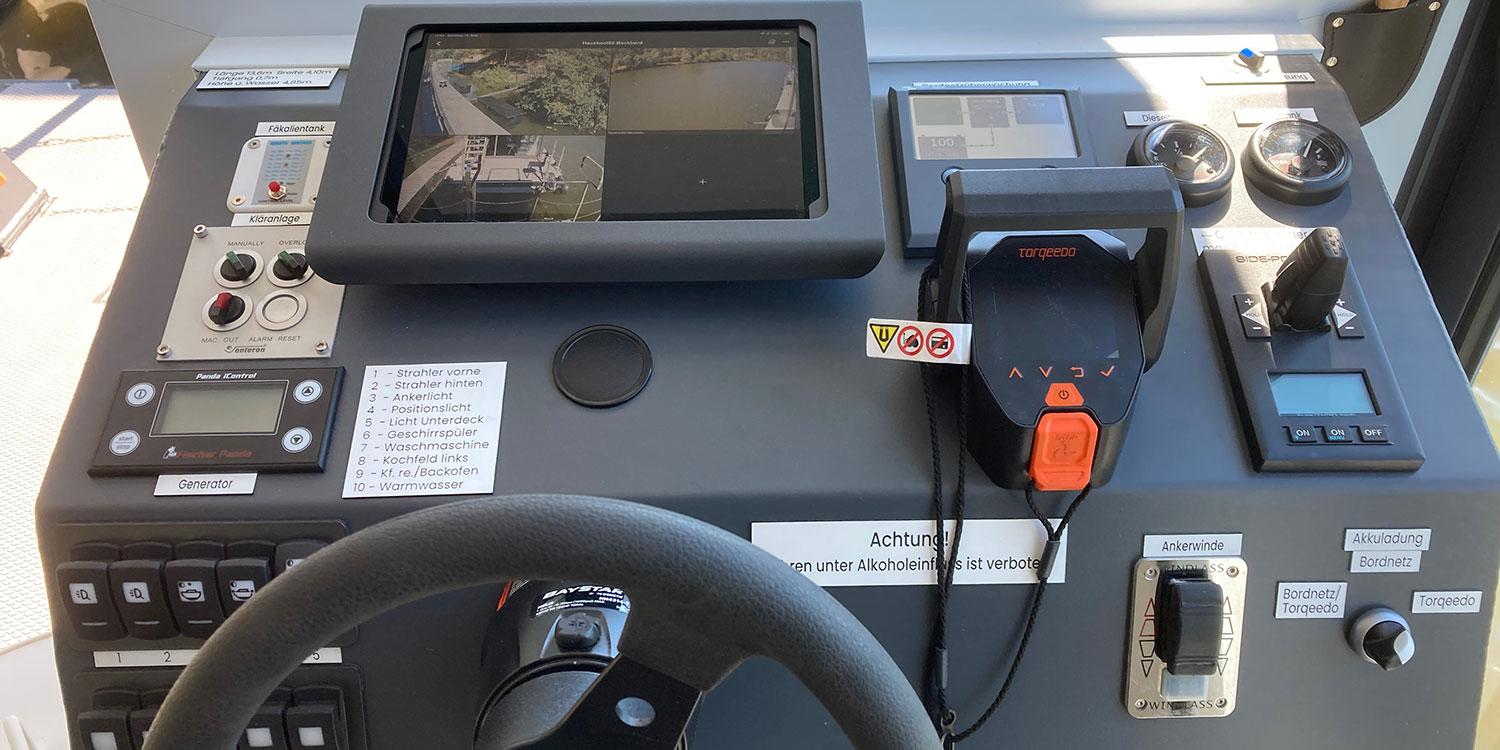 The houseboat's helm with the Torqeedo throttle and tablet computer: intuitive and user-friendly, even for guests without a boating license. Credit Joylife Boats
Before casting off, the Delphin Tec team gives its guests a comprehensive briefing and takes them on a test ride, and a tablet computer at the helm reminds amateur captains of the "rules of the road". Whether passing under bridges or entering side channels or locks, guests can simply check the computer.
A houseboat with solar power and water treatment system
Electric houseboats are a real innovation on the market. "On the one hand, we had to think about how the boat could be supplied with shore power," explains Matthias Schmitt. "And, on the other hand, how it could autonomously cover longer distances when no mainland energy supply was available." In addition to the generator, the on-board solar panels feed the batteries with a peak output of 2.5 kW. The boat's water treatment system is self-sufficient for two weeks.
"Our job is making people happy and enabling new encounters with nature," Franz With says. But, the founders feel it's vital to get a sustainability message across, too: Holidays on a houseboat is not just about having fun; it's also important to consider the ecological impacts of travel.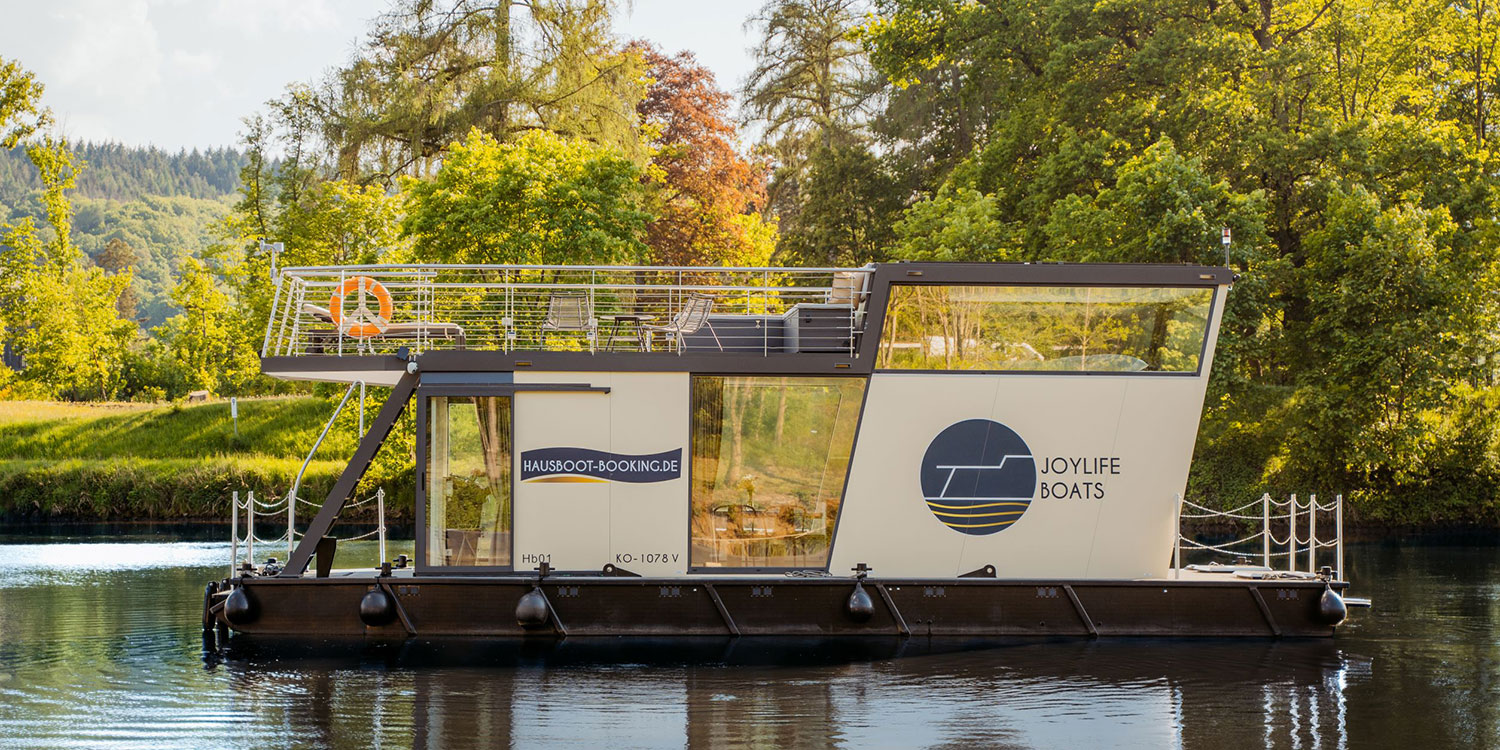 This houseboat can travel autonomously for up to two weeks thanks to solar panels and a water treatment system. Credit Joylife Boats
The boats are powered by a Cruise 12.0 outboard with a peak output of 12 kW. "Our customers are thrilled by how quiet our houseboats are," With says. "You really only hear the sound of the water." Torqeedo engineers worked closely with Delphin Tec throughout the development process and Delphin Tec shared all the relevant data, such as weight class, dimensions and draft, with Torqeedo.
A test was conducted in which only the hull of one boat was weighted as it would be in the final version. Two trips were then made for comparison purposes, one with the electric drive and one with a combustion motor. "I was so enthusiastic after the test drive because it was immediately obvious that the Torqeedo drive had to be our choice," Schmitt recalls. It wasn't just the electric drive's maneuverability and acceleration that were impressive, but also its intuitive control, high torque, and higher top speed.
All the technical features ranging from water tanks, heating, and generator to electric anchor drive and luggage storage space are built into the hull. Despite this, the boats have a draft of just 26 cm. "This gives us very low drag and allows us to reach speeds of 11 km/h in calm water," Schmitt says.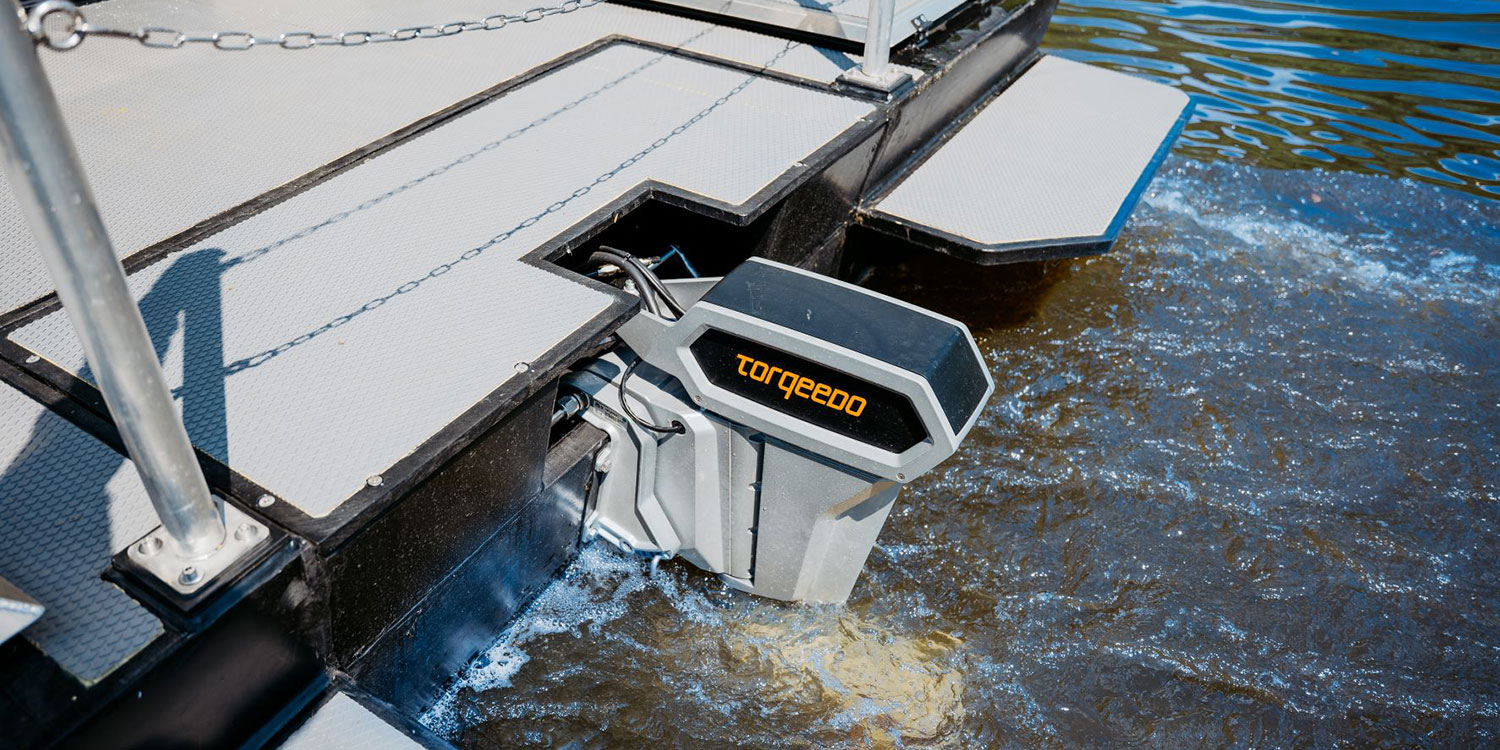 The Torqeedo Cruise 12.0 reaches a top speed of 11 km/h in calm water. Credit Joylife Boats
Delphin Tec has deep roots in the region. Its parent company has been building work boats, moorings, and swimming bridges for decades and enjoys a good relationship with the local government. Schmitt and With were able to convince the Mettlach municipal authorities that it would be worthwhile installing charging facilities in the harbors and at the jetties. "But of course, some small communities shy away from the investment costs," Schmitt tells us. "For a long time, electrification wasn't a big issue – neither in cargo traffic on federal waterways nor in recreational boating." But that's changing. The Joylife makers see their project not only as a tourism attraction, but also as a trendsetter that is pointing the way ahead. As With says, "We want to raise awareness among communities that these waterways have tremendous tourism potential, especially when boats are emission-free, solar-electric, and offer low barriers to entry." The further they look into the future, the more optimistic the founders are: "The market will certainly grow. People are increasingly looking for quick, easy breaks from everyday life. And houseboats are ideal for a short vacation."
More information:
More information about Joylife boats: › Joylife boats
Find high-resolution pictures at the: › Torqeedo Dropbox
Find the main catalogue 2022 here: › Main Catalogue 2022
Find the professional catalogue 2022 here: › Professional Catalogue 2022
22 SEPTEMBER 2022 • 8 MIN READING TIME