designboats new boat called Chill
The Swiss boatbuilder designboats is taking electric-powered aesthetics on the water to the next level. With the help of Torqeedo technology, mastermind Peter Minder has again come up with a big hit: CHILL lives up to its name.
Sometimes, Peter Minder says, you have to consciously swim against the current. And it helps if you're not put off by any obstacles, as that's the only way progress is possible. Peter knows what he's talking about. Almost twenty years ago, his Swiss boatbuilding company designboats helped shape the still dominant trend of sober minimalism. His company won design awards worldwide for the clean edges and shapes of their tender boat series, and trade media featured many glowing tributes.
"At the time, people were just floored," he recalls. "It wasn't until a few years later that this philosophy went mainstream, and everyone was producing copies of it." This small Swiss boatbuilder based in Kreuzlingen on the southwestern shore of Lake Constance only makes boats in small series. "Our raison d'être is to appeal to the small niche of design-savvy early adopters," as Peter explains. Some time ago, he realized that even their minimalist approach to design has a "sell-by date". These days, the most aesthetically demanding people who want to shape the zeitgeist are looking for something different.
Retro-Chic and High-Tech
So, it was once again time for a radical change. "We wanted to implement something nobody had ever seen in this form on the water," Peter says. He found the necessary inspiration in the past. Not on the water, but on asphalt – in beautiful racing cars from the first half of the 20th century, the Mercedes Silver Arrows, Porsche 356, or iconic British-made Austin-Healeys and Morgans. The boat was to be a combination of retro chic and postmodern clarity. The big challenge was to get a design like that into a boat hull without neglecting functionality.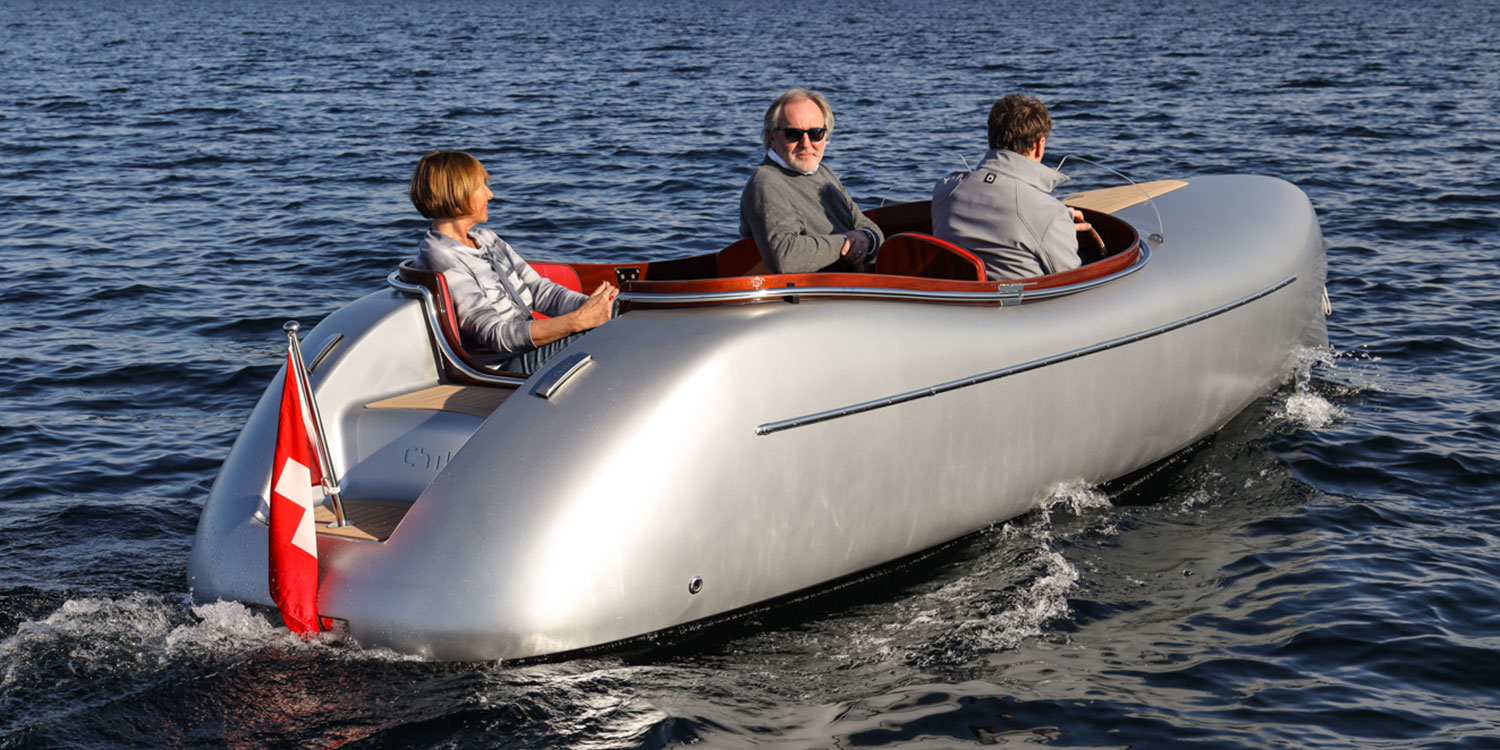 The CHILL's electric drive system boasts a range of up to 100 kilometers. Credit designboats
The result was the CHILL: a boat that makes onlookers wonder if it is a computer animation when they first see it moored in a harbor. The lines and shapes are so soft and yet so definite. A boat that catches the eye with an aggressive, almost axe-shaped bow in combination with flowing sides and a rounded stern. Peter Minder himself drives a Morgan Plus4. "When you look at the car from the side, you can naturally see similarities with the CHILL design."
Yet the CHILL is unique not just because of its appearance; it is also the shipyard's first model that is being solely offered with an electric motor. The decision to install a purely electric drive is only logical for Peter Minder: "More and more water sports enthusiasts are concluding that gas-guzzling sport boats are no longer socially compatible," he explains. He feels their owners are being confronted with a kind of 'justification emergency'.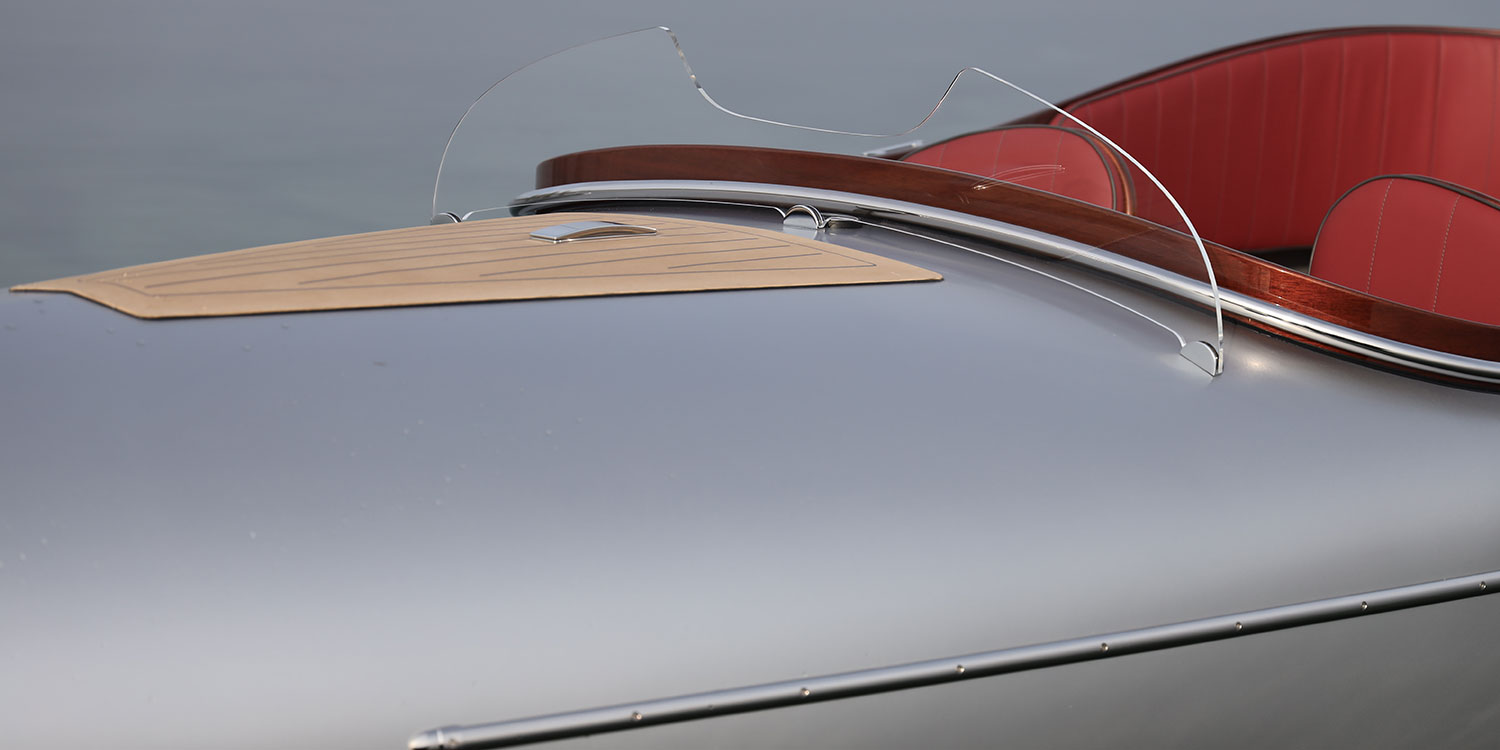 The design language of classic automobiles - with an electric and emission-free drive system. Credit designboats
Electric motors are the best choice for Peter Minder's maritime creation because of their dramatically superior environmental balance. But they also perfectly fit the application scenario he has in mind for the CHILL. "Speedy deceleration" is the experience the CHILL should make possible through a unique combination of sportiness and savoir-vivre, comfort and elegance. When the boatyard owner explains it this way, even this apparent contradiction suddenly makes sense. He explains the careful positioning of the Bimini top and the seats, and how the freely swiveling seats in the cockpit turn into two human-length recliners when combined with the bench seats in the stern. The canopy linkage is almost invisibly recessed in the coaming. Everything is well thought out, nothing arbitrary.
Investment in electric charging infrastructure necessary
The boat can be powered by a 3 or 6 kW Torqeedo pod drive. The plug-and-play technology ideally meets Peter Minder's design goals. In the standard battery configuration, the 5 kWh battery is located in the foredeck, while the long-range version boasts a second battery installed in the stern.
"An electric boat requires maximum efficiency and effectiveness," Peter explains. "We achieve this through optimally calculated underwater geometries." The ultralight hull consists of a prepreg-manufactured high-tech composite construction composed of high-quality structural foam with deck laminates made of glass-fiber-reinforced epoxy resin.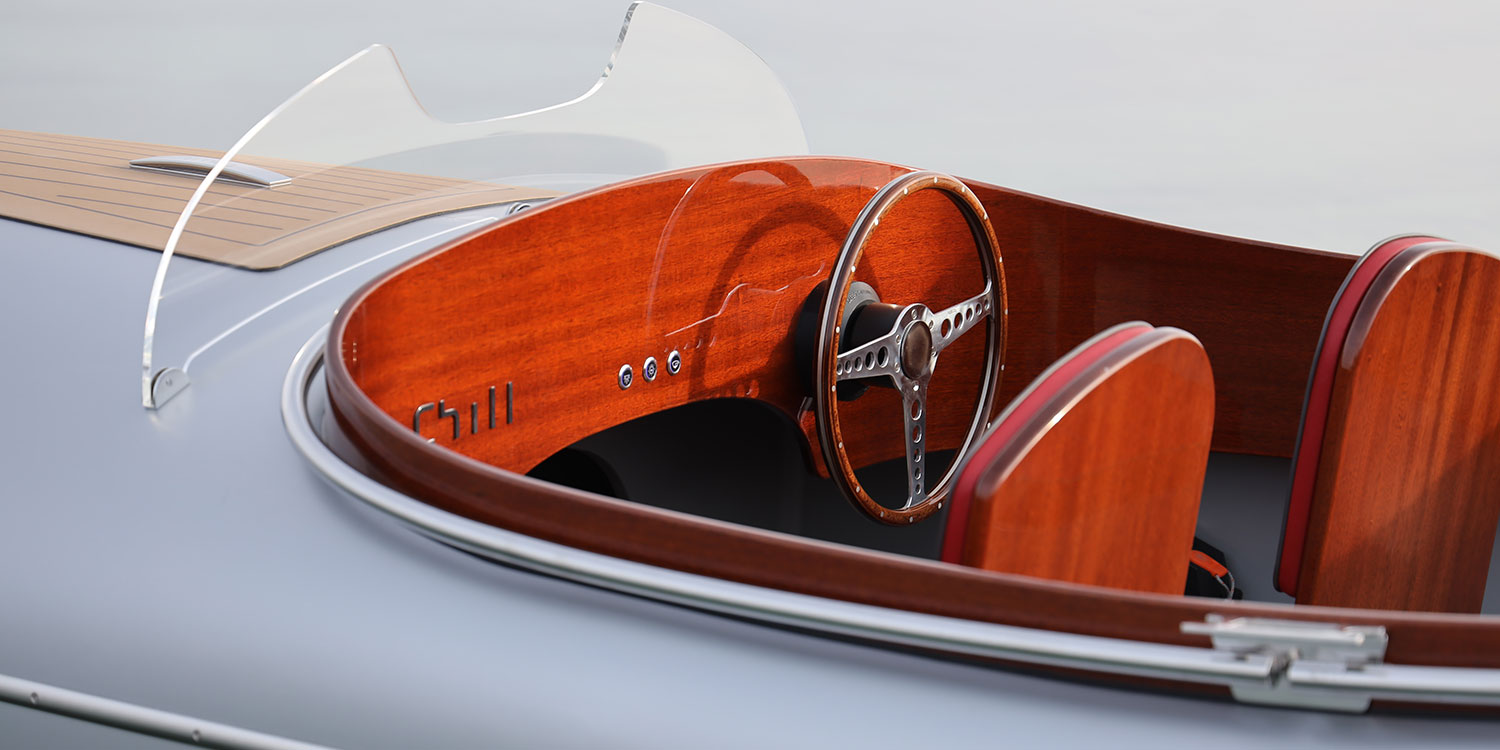 Torqeedo batteries fully charge overnight with typical shore power. Credit designboats
Peter Minder and his team were focused on a pure displacement concept from the outset. The boat requires only 1 kW of propulsive power in pure displacement mode and can cruise for up to 10 hours in the long-range configuration. At the optimum cruising speed of 10 km/h, this adds up to an incredible range of up to 100 km. The boat can be fully recharged overnight at any normal 230V socket and is ready to go the next day.
"Torqeedo's systems come from a single source, which allows us as a boat manufacturer to concentrate on our core competencies," Peter says. His praise comes from the close cooperation he has enjoyed with Torqeedo's development and technical support teams.
Peter Minder sees political breakthroughs – not technical advancements – as the most important prerequisites for advancing emission-free boating: "The lakes in Switzerland and the neighboring market of northern Italy still have some catching up to do in infrastructure terms." In this boatbuilder's opinion, the legislative authorities would have to intervene with political and economic incentives to create suitable charging facilities at boat berths in marinas and for boats moored at waterside restaurants. "It's there you have to make quick recharging possible during lunch," Peter says – so boaters can enjoy their time on the water, motoring cleanly and quietly in tune with nature.
More information:
Find high-resolution pictures at the: › Torqeedo Dropbox
Find the main catalogue 2022 here: › Main Catalogue 2022
Find the professional catalogue 2022 here: › Professional Catalogue 2022
Related Torqeedo Products
14 SEPTEMBER 2022 • 6 MIN READING TIME