Sailing yacht, sports boat, underwater scooter, ice-class catamaran – if it's up to iYacht's Udo Hafner almost every vessel will go electric. Here he explains why boat building is a genuinely innovative industry – and why he enjoys working with Torqeedo engineers.
Your company is called iYacht. Are you a big Apple fan?
The "i" in our company name stands for innovation and not for the use of information technologies. But there is one thing we have in common with the famous company from Cupertino, California: We are interested in new things and want to change the world for the better.
As an engineer, what interests you about boat building?
I grew up on the lakes of Austria and loved being on the water. As an engineer I always want to solve problems, and there are few environments on our planet where conditions are as extreme as on the oceans. Boats have enormously high functionality and design demands, with all systems needing to function optimally. I like the fact that you can make giant leaps in our field.
What do you mean by that?
While innovation in the automotive industry can be slow and cumbersome, in yacht building we are much more agile. The small quantities and the fact that a lot of manual work is involved mean that the path from the initial idea to the finished product is often quite short. You can experiment a lot. And even a small team like ours – ten designers, engineers and naval architects – can create something genuinely new.
You regularly work with electric propulsion systems. Do you have a favourite project?
At the end of 2019, we designed some new, fully electric 16-passenger tour boats for a Waldorf Astoria resort on the Maldives. These boats are based on the traditional transport boats of those islands, the dhonis.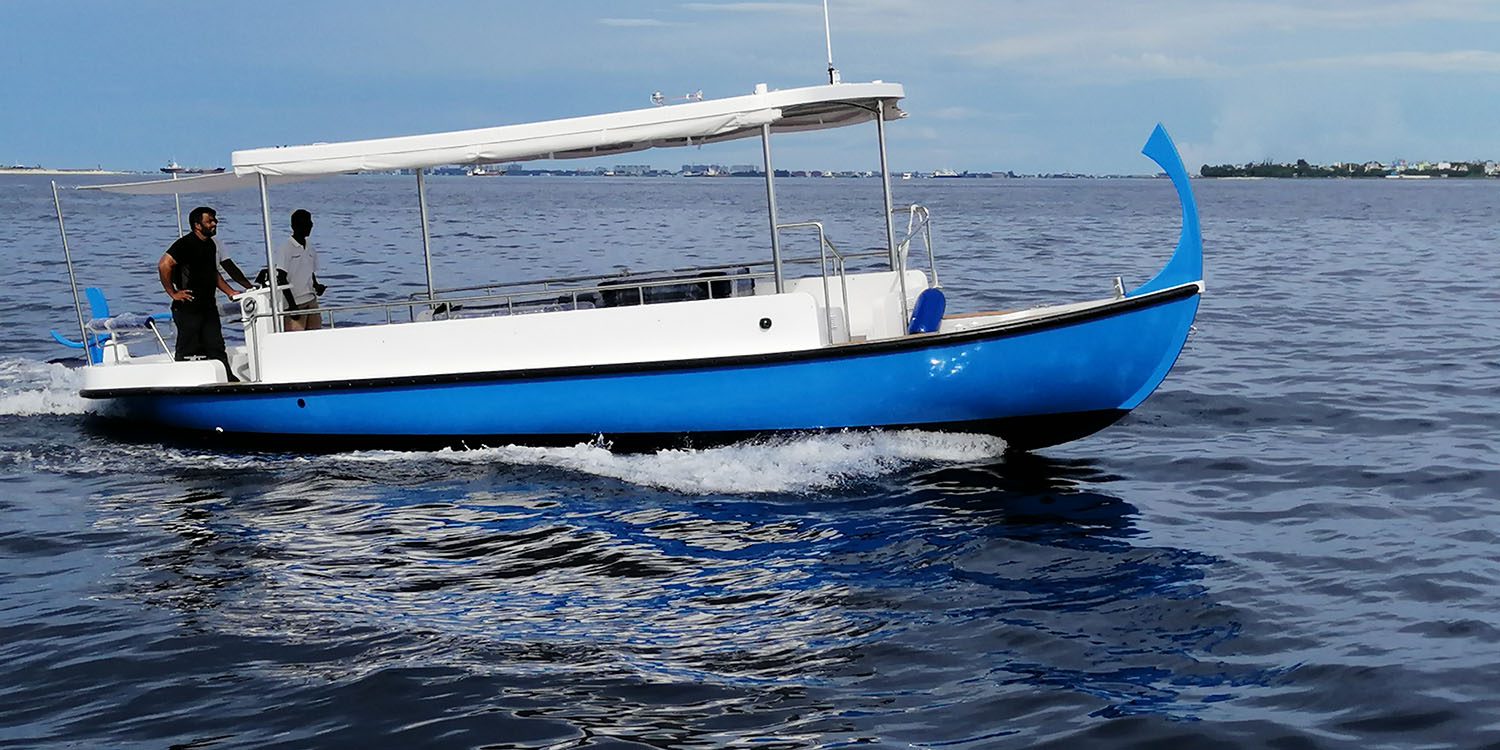 iYacht designed the first electric-powered dhonis, a traditional kind of boat on the Maldives.
What makes dhonis unique?
The boats look a bit like a dhow, the traditional Arabic sailing vessel, but there isn't much wind around the Maldives so nowadays many of them are motorized. They have a relatively flat hull and are very efficient with little water resistance and a high payload. I like it when you can combine modern technology with old maritime traditions. With a Deep Blue 25 kW propulsion system and a 40kw/h BMW i3 battery, the boats can cruise for hours between the islands with no CO2 emissions. In addition to the low maintenance requirements, sustainability is one of the most important unique selling points for this customer. The Maldives are acutely threatened by climate change. And who wants to travel by water with a rattling combustion engine?
What was the biggest challenge during the project?
Our customer initially wanted the electric-powered dhonis to be built in the Maldives as well. However, we soon realized that we could only meet the performance requirements with a high-voltage system. And that requires specialists. With the help of Torqeedo, which has an excellent global network, we found a construction partner in Dubai that has plenty of experience with Deep Blue systems in high water temperatures of over 35° C. After construction and sea trials, the dhonis were packed into ISO containers with millimeter precision and shipped to the Maldives. I'm looking forward to when life there starts up again after the corona lockdown and the first tourists go on board.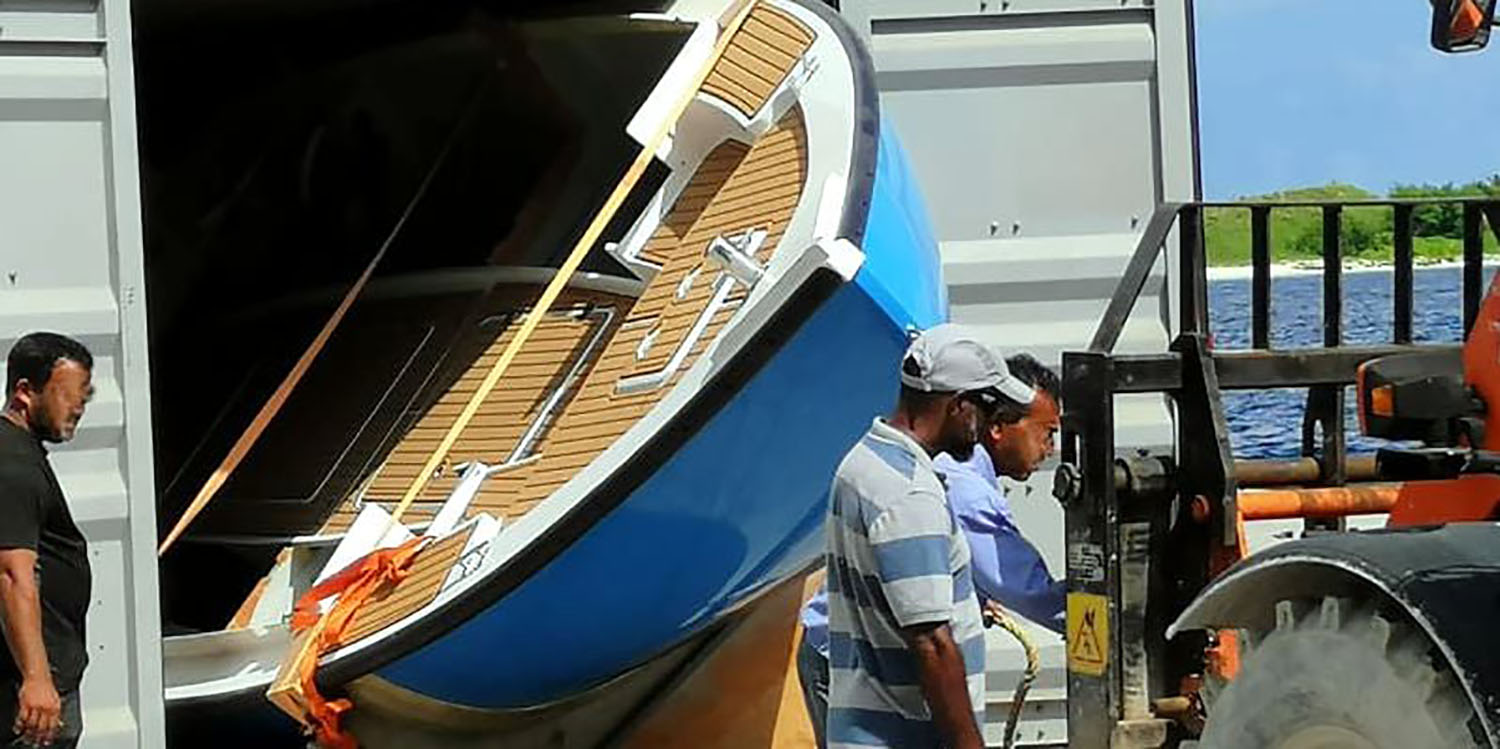 The dhonis were built in Dubai and shipped in containers to the dream islands – a logistical masterstroke.
How does your collaboration with Torqeedo work?
I like the mixture of manufacturing industry and start-up mentality. On the one hand, you get serial products from Torqeedo that undergo rigorous testing. On the other hand, they think like a start-up that reacts very quickly and can implement radical ideas.
Which electric boat projects have inspired you?
"Hand in hand with Torqeedo, we have developed a seaworthy, all-electric catamaran made of aluminum, has ice-class certification, and is soon to be deployed in an Icelandic fjord. All that is missing is one more certificate. And we are also working on an electric-powered underwater scooter that will allow people without a diving licence to get to know the underwater world. Electric mobility is conquering all possible areas of the world.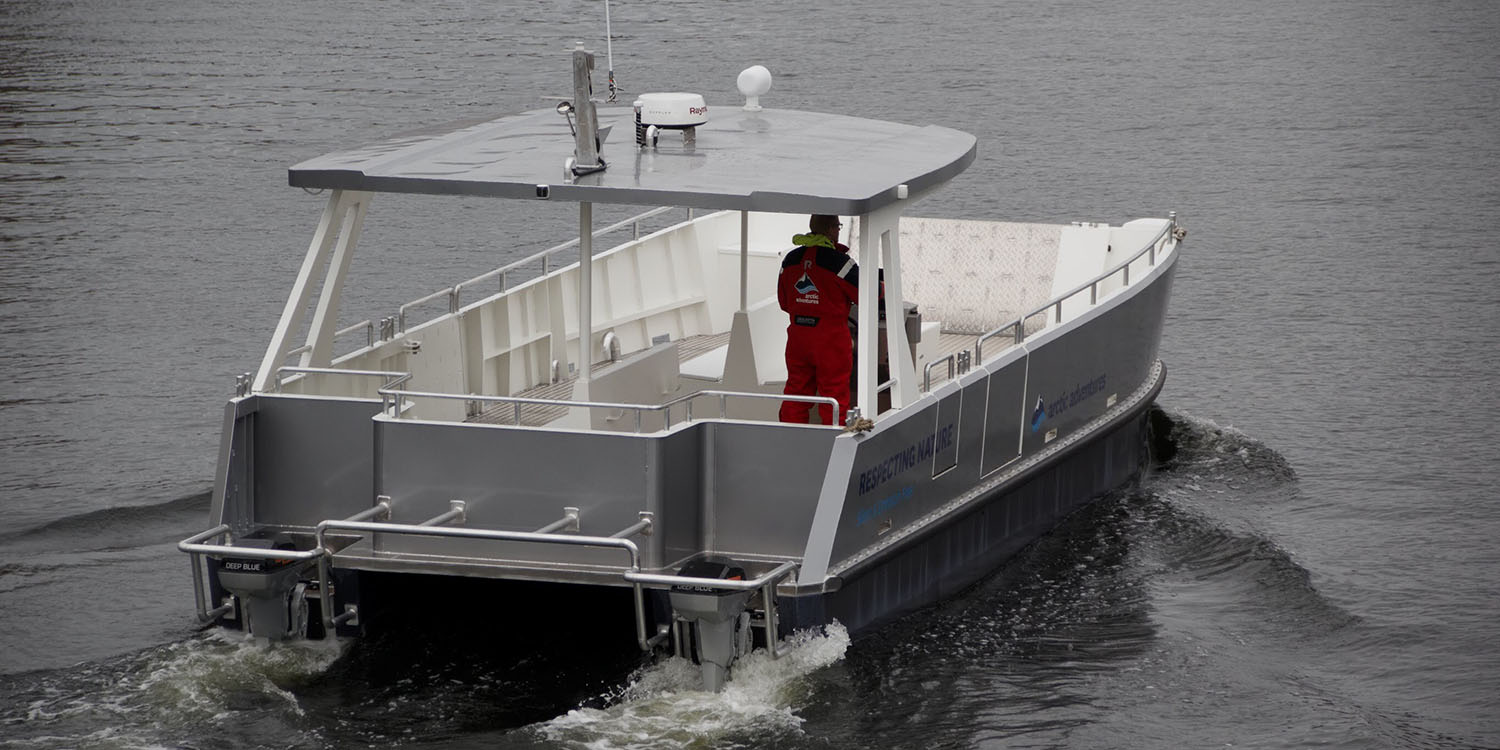 This ice-class catamaran is powered by two Deep Blue drive systems and will soon be operating in an Icelandic fjord.
Which technology do you think will continue to drive electromobility forward in the coming years?
Electromobility has a great future. The performance of batteries and drive systems will continue to improve, opening up new fields of application with larger boats and longer ranges. We are already planning large hybrid yachts of over 30 meters in length. An important point to me is the onshore infrastructure. To take the next step forward we need to improve the charging facilities in harbors. But for this the boating industry needs support from sailing clubs, local authorities, and governments. Only by working together can we build a new mobility system.
More information:
Find high-resolution pictures at the: › Torqeedo Dropbox
Find the main catalogue 2020 here: › Catalogue 2020
Related Torqeedo Products
"Ready for radical ideas"
28 MAY 2020 • 5 MIN READING TIME
Commercial
People
Motorboats
Tech