New Templar Marine All-Electric Family Picnic Boat Is Powered by Torqeedo
Looking for an affordable, environmentally friendly way to enjoy a day gliding silently through the water with your family and friends?
Templar Marine has the answer. The Canadian boatbuilder has just introduced its new all-electric Picnic 20 powered by Torqeedo. The Picnic 20 follows the successful launch of Templar's original flagship electric Cruiser 26 last year. The company developed the smaller, lighter version to address the demand for an entry-level electric day boat.
The Torqeedo propulsion package consists of a 48V Cruise 10.0 electric pod drive with a bank of eight six-volt batteries and electronic throttle control. It delivers a cruising range of six or more hours at five knots. It can be recharged overnight when plugged into a standard 110V 15-amp outlet. A display/control screen at the helm station gives a continuous readout of battery status and cruising range at current speed, so you don't need to worry about running out of power.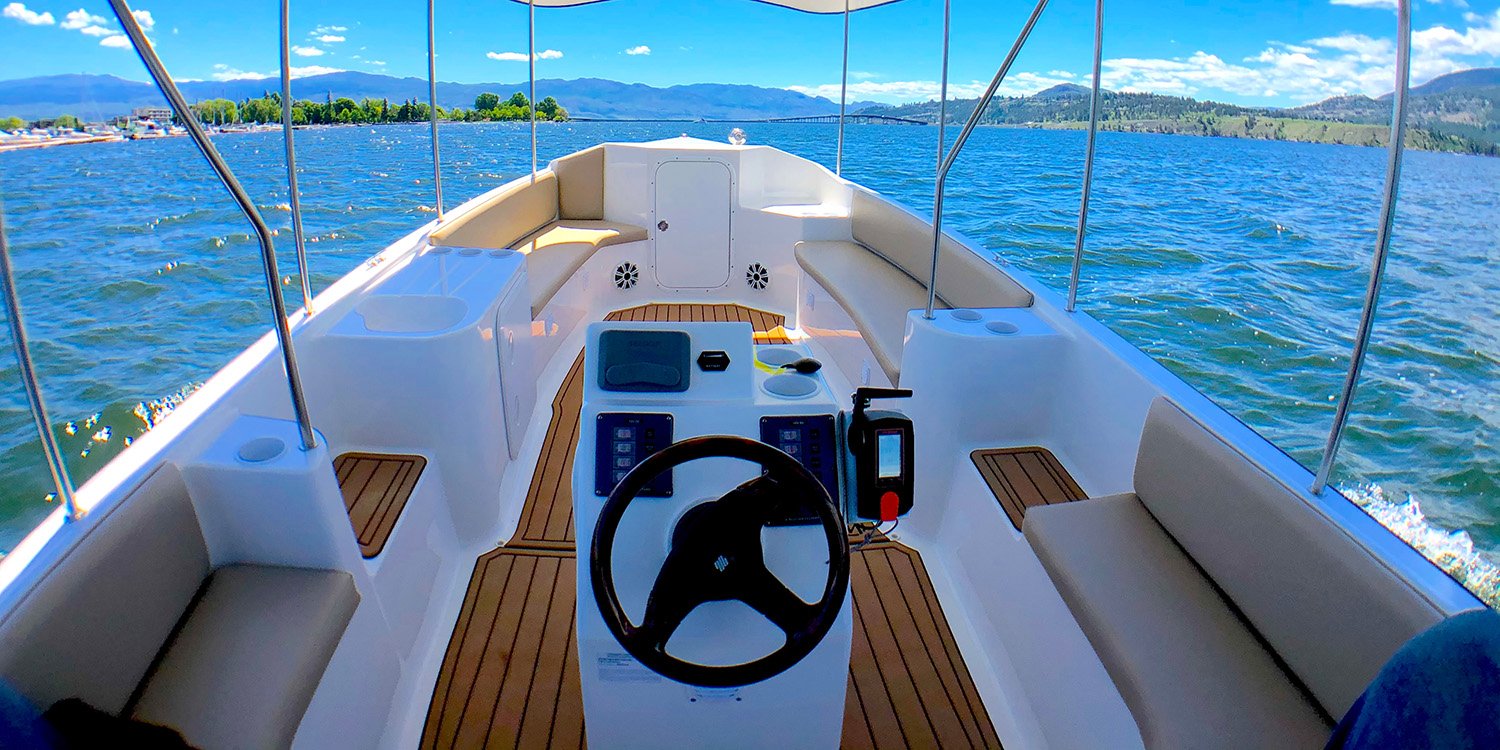 The 20-foot picnic boat with a 7-foot beam has a similar hullform to the larger Cruiser 26 with room to seat up to 10 under a hard canopy top. The basic configuration can be upgraded with a large selection of optional features, such as an enclosed toilet, refrigerator, swim platform, rooftop solar cells for battery recharging and other extra conveniences. The lightweight boat can easily be trailered.
"Our goal was to build an environmentally friendly day boat at a very reasonable price point for families looking for economical 'staycation' alternatives," said Mark Fry, Templar Marine Group founder and CEO. "In addition to the low up-front outlay, the costs of ownership for the electric boat are minimal when compared with a fuel-powered boat of similar size. Depending on your usage patterns, you can save hundreds – even thousands – of dollars per year in fuel and maintenance costs. With an electric boat you can also enjoy year-round boating with no winterizing hassle. Most important, you have the satisfaction that comes from knowing you're doing your share to protect the environment."
"Pioneering companies like Templar Marine are leading the electric boating transformation," said Steve Trkla, President Torqeedo Inc.. "With the Picnic 20, young families can discover the joys of boating while protecting the precious environment. And do it in style."
More information:
Find high-resolution pictures at the: › Torqeedo Dropbox
Find the main catalogue 2020 here: › Catalogue 2020
Related Torqeedo Products
Clean, Green Cruising in Style
2 JULY 2020 • 4 MIN READING TIME
Motorboats
Press Releases
Tech