There is a strong boat building tradition dating back centuries on the shores of Germany's Alpine lakes. The Markus Glas Boatyard on Lake Starnberg exemplifies that tradition, yet has recently designed a modern electric-powered boat with joystick controls and technology from Torqeedo.
In 1924, Markus Glas set up Glas Boatyard in Possenhofen. Nearly a century later, his grandchildren and great-grandchildren are still building boats on the shores of Lake Starnberg. But, of course, much has changed. The boatyard has been modernized and extended, a harbour was added – and propulsion technology is advancing rapidly.
Since 2005, Torqeedo, the world leader in electric boat drives, has been working on a vision for 21st-century boating near Lake Starnberg, and the two firms regularly collaborate. The latest example is the electric-powered motor yacht 7EVEN.
The Glas family is well known for its elegant and powerful motorboats. In the 1950s, Markus Glas, the founder's son, set a world speed record and won numerous international titles in boats equipped with racecar engines. He would probably be delighted by the 7EVEN with Torqeedo Deep Blue 50i 1800, as the electric motor's torque characteristics boost acceleration. He might be surprised by the lack of exhaust fumes and engine roar. But, above all, he would be proud that his family's boatyard is building boats that keep pace with the times nearly a century after its founding.
"An electric drive is also a bit of freedom," says boatyard owner Markus Glas in a video interview. © electrive.net
7EVEN – the dawn of a new motorboat era
In the 1970s, the regulations governing motorboats on inland waters became stricter, so the boatyard started building more high-class sailboats. Since then, they have produced more than 200 dragon boats. Other kinds of boats followed, like the incomparably elegant 45 sqm National Cruiser, which comes equipped with a Torqeedo Cruise Pod 4.0.
Nowadays, the boatyard is led by a third generation: Markus Glas and his son Max. Dominik Glas, Max's brother, explained about the emission-free 7EVEN, "This is, quite simply, state of the art and naturally much more pleasant."
It doesn't sound as if they had much difficulty making up their minds about how to power the 7-metre vessel. "There's no demand for combustion engines," said Dominik.
But, before they started with an electric boat project, they wanted to make sure that an electric-powered motor was powerful and safe enough. "We waited until the technology reached the stage where we were absolutely convinced of the product and knew it wasn't some kind of makeshift solution like many others on the market," Dominik adds. With its industrial-style production and rigorous product testing, Torqeedo easily fulfils the high standards set by this tradition-rich boatyard.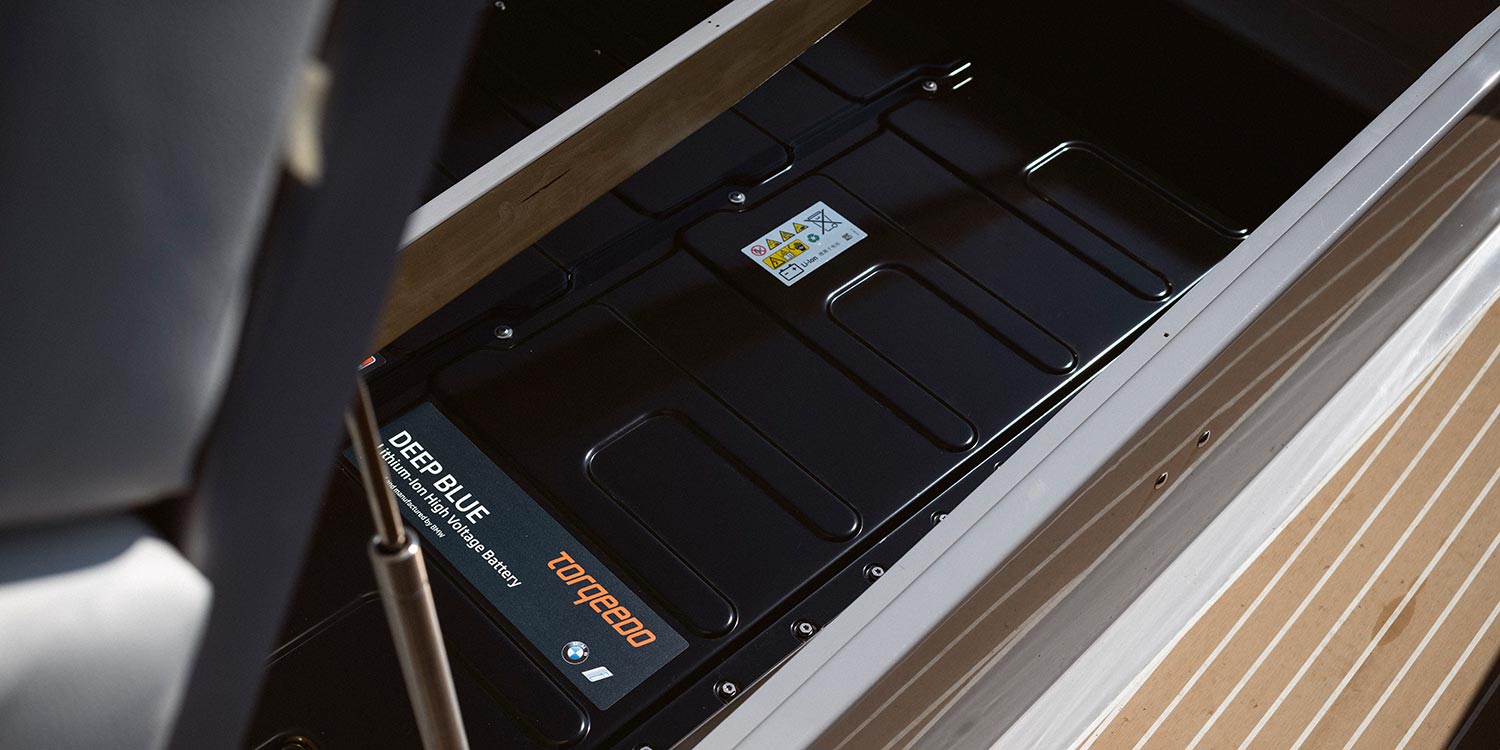 The 40 kWh Deep Blue i3 battery ensures sufficient range.
The 7EVEN combines elegant design, comfort and space. A bathing platform with a built-in ladder makes swimming even more fun. There is plenty of space around the control panel with its integrated joystick, and you can easily walk all around the boat. That is very convenient, especially when boarding or mooring.
The wide-open layout, combined with intuitive joystick steering, makes the 7EVEN agile and manoeuvrable. "The risk of hitting something when mooring in a harbour is relatively low," Dominik says. A large sundeck offers plenty of space for relaxing and there's even a small fridge to keep drinks cool. "Thanks to the big Torqeedo battery and its 40 kWh we can offer a range that is absolutely adequate for our lake and useful on other lakes as well," Dominik points out.
More freedom thanks to e-mobility
The 7EVEN was designed right from the start as an electric-powered boat because on Lake Starnberg and many other inland waters in Europe the use of motorboats is strictly regulated for environmental reasons. Only 255 private motorboat licenses are available for Lake Starnberg and people have to wait for well over ten years for such a license. But electric-powered boats don't have to have one of the 255 licenses, which is why the yard's owner, Markus Glas, is convinced that e-mobility is the propulsion system of the future: "It's so much more practical. I don't need to fill up and I enjoy the advantage that electric drives are given preferential treatment in the approval procedure." Another advantage in his view is the greater degree of flexibility you have with an electric drive in a sailboat: "When I'm becalmed at midday and the sun is beating down on my head, I can simply switch on the motor and sail home. I'm not allowed to do that with a combustion engine," he adds.
The 45 sqm national cruiser is one of the most elegant sailboats around – and has a Torqeedo Cruise 4.0 Pod electric drive.
Torqeedo and the Markus Glas Boatyard's collaborations cover almost the whole emission-free product line. "We offer electric drives from 0.5 to 100kW," says Torqeedo's founder and CEO Christoph Ballin. "But a more decisive factor than performance segments are application areas." Instead of trying to be all things to all men, Torqeedo focuses on applications where e-mobility makes a lot of sense: "The trick is to pick segments where e-mobility can already be competitive in order to switch market shares from combustion engines to electric drives," he explains – and at the same time reduce CO2 emissions. For the recreational market, this means sailboats, tenders, dinghies – and of course pleasure boats like the 7EVEN.
More information:
Find high-resolution pictures at the: › Torqeedo Dropbox
Find the main catalogue 2020 here: › Catalogue 2020
Relevant Torqeedo Products
11 JUNE 2020 • 8 MIN READING TIME
Motorboats
People
Sailboats
Big Picture