Travel electric outboards power your on-water adventures
Whether you're a sailor, skipper, angler, or enjoy exploring your local river or lake, an electric drive is a perfect upgrade for your boat up to 1.5 tons. Travel e-motors are not only clean, quiet, and easy to use, they are readily available online here or at your local Torqeedo dealer.
Travel electric boat motors have been delighting boaters with their outstanding efficiency, German quality and engineering, and user-friendly technology since their launch in 2005. Since then, the Travel motors have transformed the small outboard segment, outselling all competitors in their power class. Today's models, the Travel 1103 and Travel 603 with their iconic orange propellers, are the lightest, quietest outboards on the market and come with everything you need, including an onboard computer with GPS and an integrated, high-performance lithium-ion battery.
Come on board as we look at some of the most common ways people use their Travels and how electric makes boating better.
Exploration station
Building memories with family and friends happen naturally out on the water as you fish, swim or find a secluded beach for a picnic. Inflatables and small boats are the perfect platforms for exploration – and for Travel motors. When you power your boat with an electric drive, you can quietly explore nature while protecting the air and water. When your adventures last all day, the Travel's onboard computer lets you enjoy the peace of mind of always knowing exactly how far you can go at your current speed. You can even connect your Travel to your smartphone and see your range on a map with the TorqTrac app, and it's quick and easy to swap out for a fully charged battery to extend the fun. Safe, anxiety-free, environmentally friendly, and easy to use. Get out there and Travel!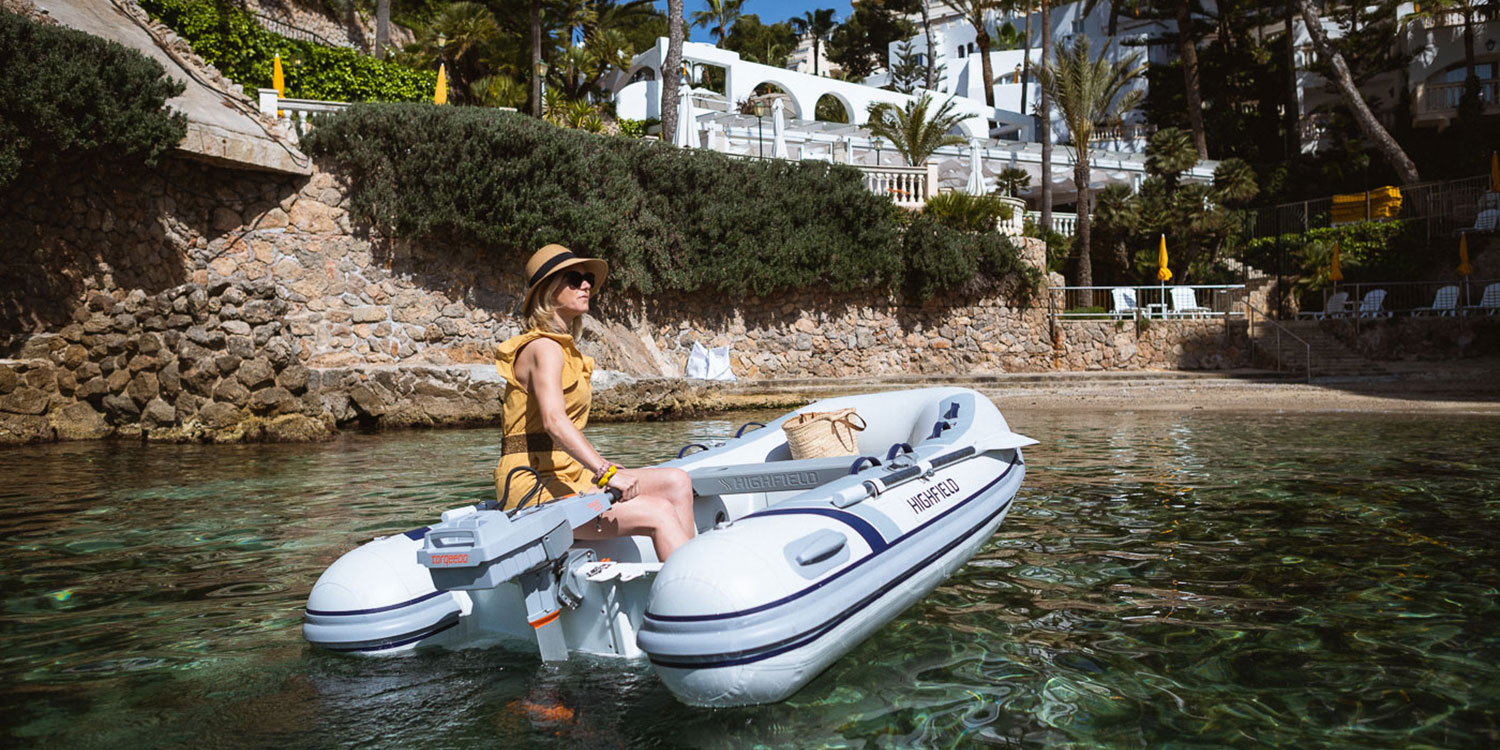 Explore the most beautiful places quietly, electrically and environmentally friendly.
Travel electric boat drives from Torqeedo as the ideal companion for your dinghy and yacht
For boat owners, a Travel is the first choice: it is the perfect electric companion, for both sailing and motor yachts. At only 17.3 kg, including battery, the Travel 1103 is incredibly light and easy to handle and store. Everyone in the crew and family can use it to get back and forth to the shore or dock, or for errands by dinghy. The Travel disassembles into three pieces for easy stowage on board, plus it won't leak fuel or oil when stored below deck. You can even charge the battery with solar power or 12-volt while cruising.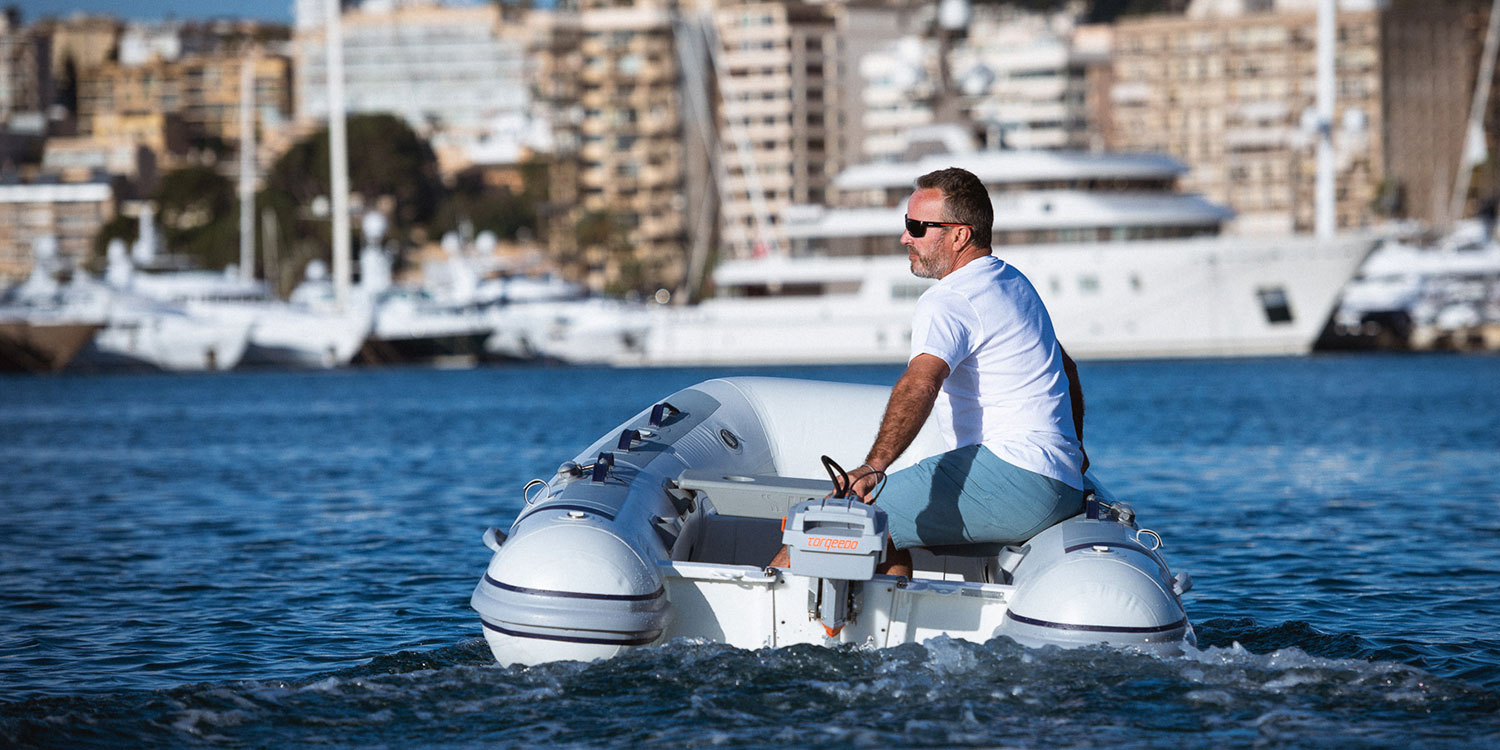 Travel electric outboards as an ideal companion for your dinghy and yacht.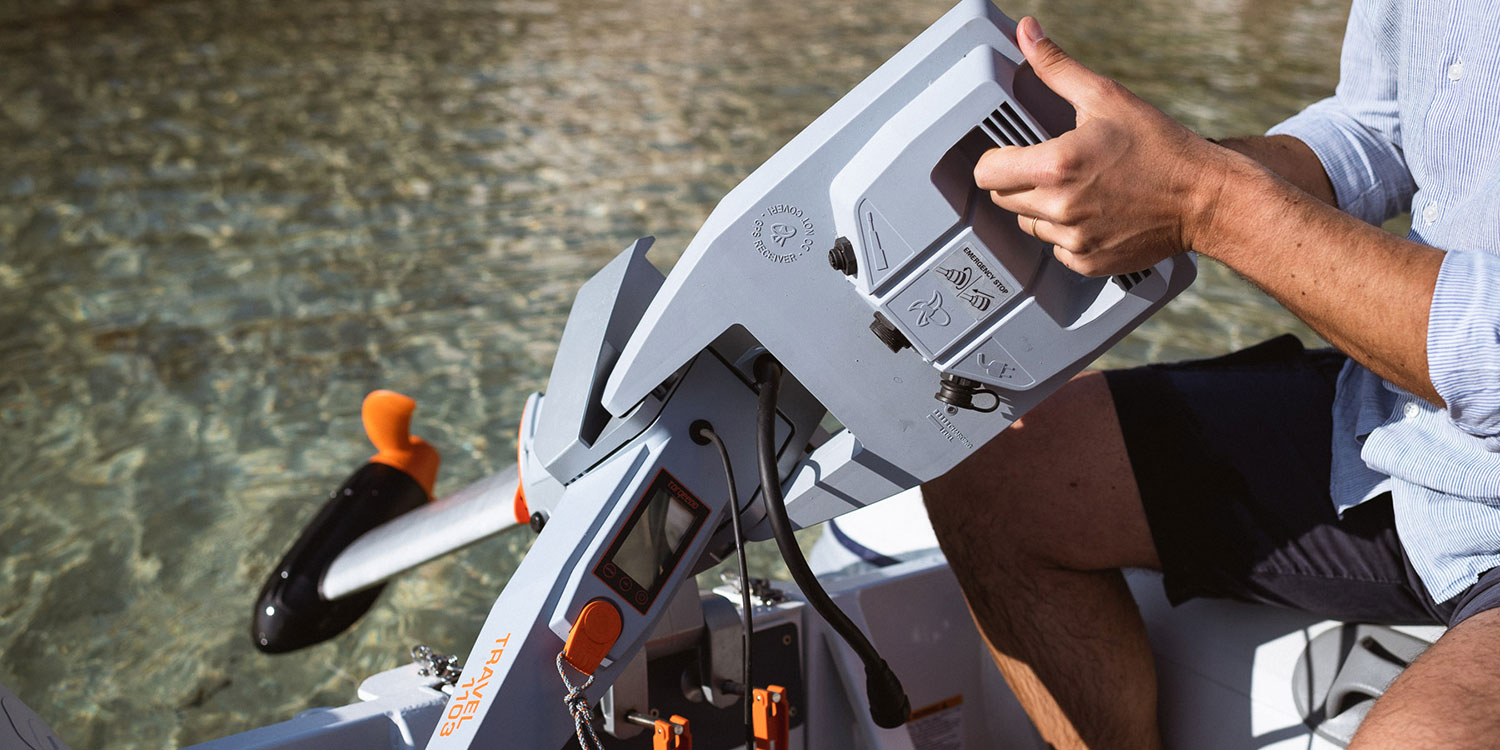 Electric Travel e-motors with easy-handling and replaceable lithium-ion battery.
The low maintenance motor for yacht tenders
If you don't use your combustion outboard every day, maintenance may be required. Leaks, clogged lines, and fouling fuel or oil plague small engines, which then won't start or can only be kept running by constant use. For this reason, many professional skippers are switching to electric motors for tender boats: they always start at the push of a button, no matter how long they have been stored below deck. If your Travel does need servicing, you can call on Torqeedo's global service network no matter where you are. Travels have plenty of torque to move heavy loads, are light enough to hand down quickly, and are ultra-quiet, a considerable advantage when working and communicating between the tender and the yacht.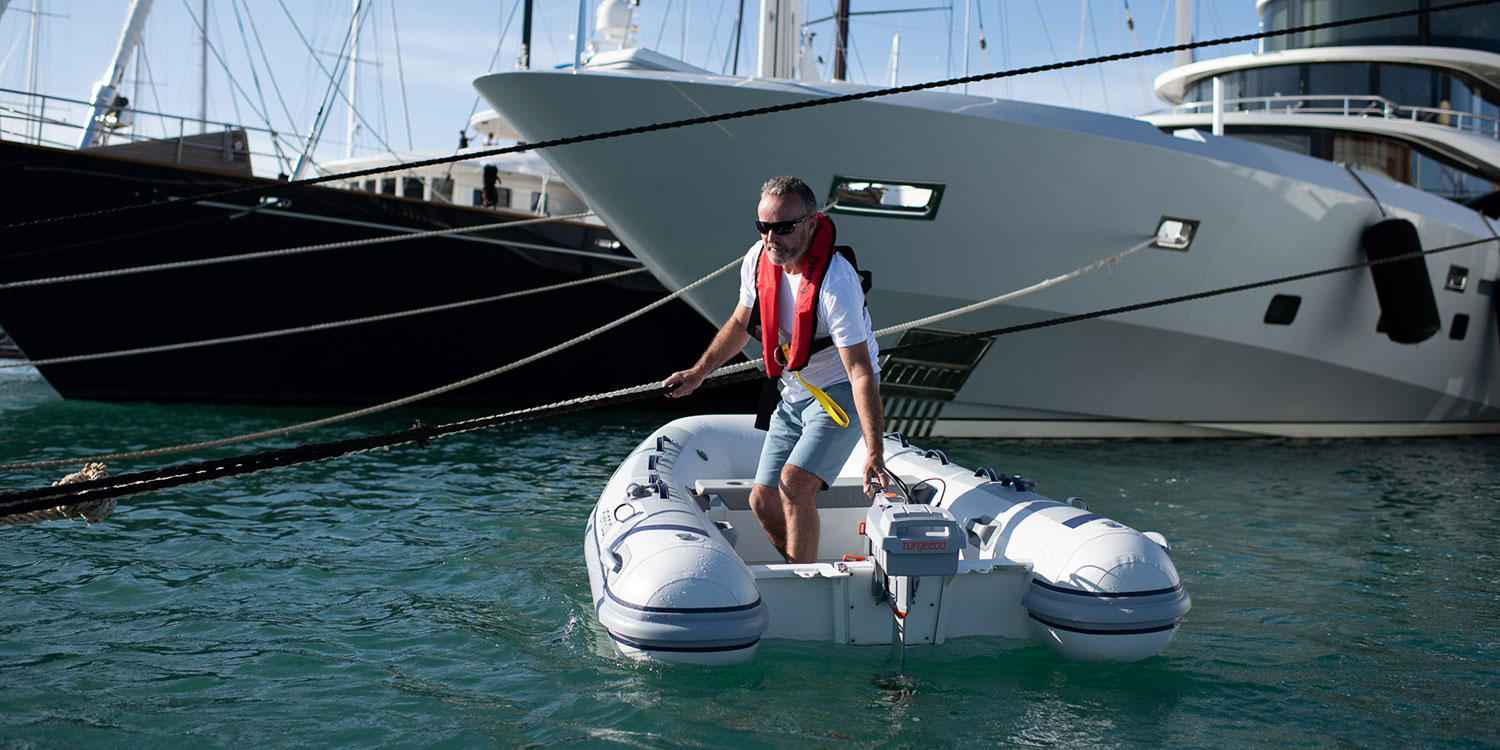 More and more professional skippers rely on electrically powered tenders or workboats.
For more information about Travel or our higher-power electric drive systems, get in touch with the experts at your local dealer.
More information:
Find high-resolution pictures at the: › Torqeedo Dropbox
Find the main catalogue 2022 here: › Main Catalogue 2022
12 MAY 2022 • 5 MIN READING TIME
Motorboats
Sailboats
Big Picture