This summer, get ready to witness an exciting moment in the world of competitive sailing. An emission-free, hydrogen-powered coach boat will work the 2023 World Sailing Championships – with a Torqeedo Deep Blue electric motor.
Daring manoeuvres, incredible athletic skills, and great teamwork make the upcoming World Sailing Championships in The Hague, Netherlands, an event to look forward to. One unprecedented feat is already guaranteed: for the very first time, the Dutch sailing organisation Watersportverbond will be using an emission-free, hydrogen-powered coach boat. The aptly-named H2C Boat is six meters long and reaches a top speed of 45 km/h – almost noiselessly and without emissions. It was developed by the Dutch start-up H2 Marine Solutions, consisting of a consortium of innovative companies including longtime Torqeedo partner De Stille Boot, in conjunction with the Delft University of Technology (TU Delft). Torqeedo supported the project from the start, contributed to the crucial energy management system and provided the powerful Deep Blue 50 R outboard motor and Deep Blue Battery 40 (lithium-ion).
The Dutch probably won't take all the gold medals in The Hague, but it won't be because their sailors can't hear their coaches over a noisy combustion engine.
The hydrogen fuel cell as a range extender
For decades, sailors and sailing enthusiasts have grown accustomed to the presence of countless RIBs equipped with loud, fossil fuel-powered outboard engines trailing behind the elegant yachts. During the World Championships there will be hundreds of coach boats on the water, says Marcel Schaap, founder and managing director of Dutch electric boating pioneers De Stille Boot, "That alone shows how much of an impact this project could have."
The H2C Boat premiere marks the beginning of a new silent and environmentally friendly era. "Sailing was always about being one with nature, wind, and waves," says Fabian Bez, Torqeedo's CEO. "We want to enable sailors to make the most of their time on the water with electric motors and clean energy." In recent years, Torqeedo has made significant strides in developing larger battery banks, hydrogeneration, and solar power solutions. "We've long recognized the potential of hydrogen and its high energy density," Bez adds, "We're excited to bring the benefits of electrification to larger and faster boats by leveraging that potential."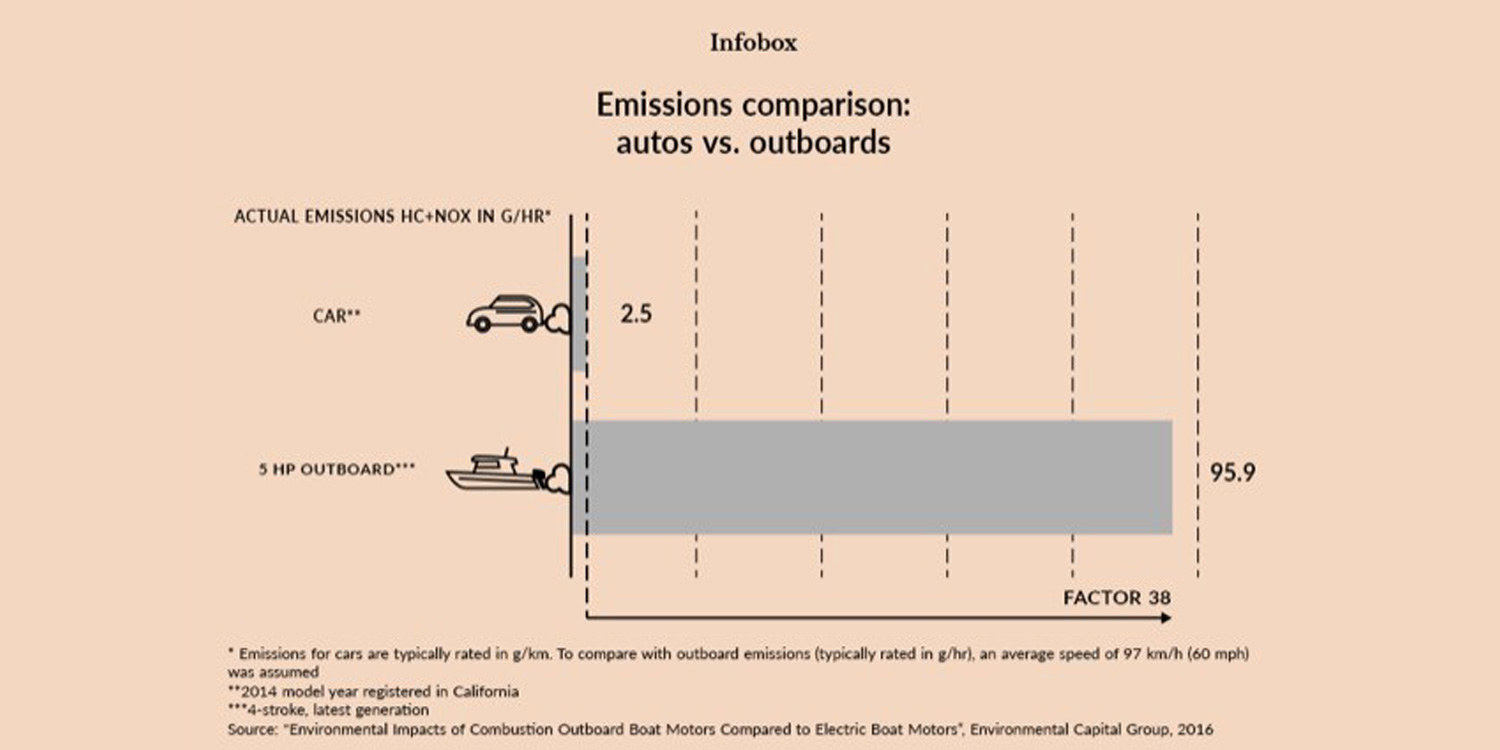 Combustion outboards are less regulated and efficient than modern cars. To protect our climate and local air quality, the sailing community is exploring electrification. Source: ECG report 2016
The idea for an emission-free coach boat was conceived by Jaap Zielhuis, the Dutch Olympic sailing coach, during the 2018 World Championships in Denmark.
"Electric motors were an obvious solution, but the demanding nature of a coach boat's work profile presented challenges."
Cees van Bladel, Managing director of H2 Marine Solutions
Coach boats often operate in rough waters, with a mix of high and low speeds. Sometimes, they have to tow the sailing yachts back to the harbour when the wind dies. "We wanted to develop a system that could handle the demanding workload but still fit on a compact boat," van Bladel says. The H2C Boat boasts a 40 kWh battery capacity and an additional 51 kWh hydrogen (H2) capacity. Its onboard fuel cell extracts electrical power from the hydrogen, supplying it to the battery and electric motor that propels the vessel. The fuel cell serves as a range extender, ensuring the RIB can stay out on the water for a minimum of five hours.
From a distance, the H2C Boat seems to resemble other coach boats. But upon closer inspection, the fuel cell positioned behind the steering seat stands out as a robust structure that gives the boat a muscular appearance. "The H2C Boat is slightly heavier and one meter longer than standard coach boats," van Bladel explains. "This ensures safe manoeuvrability in all conditions."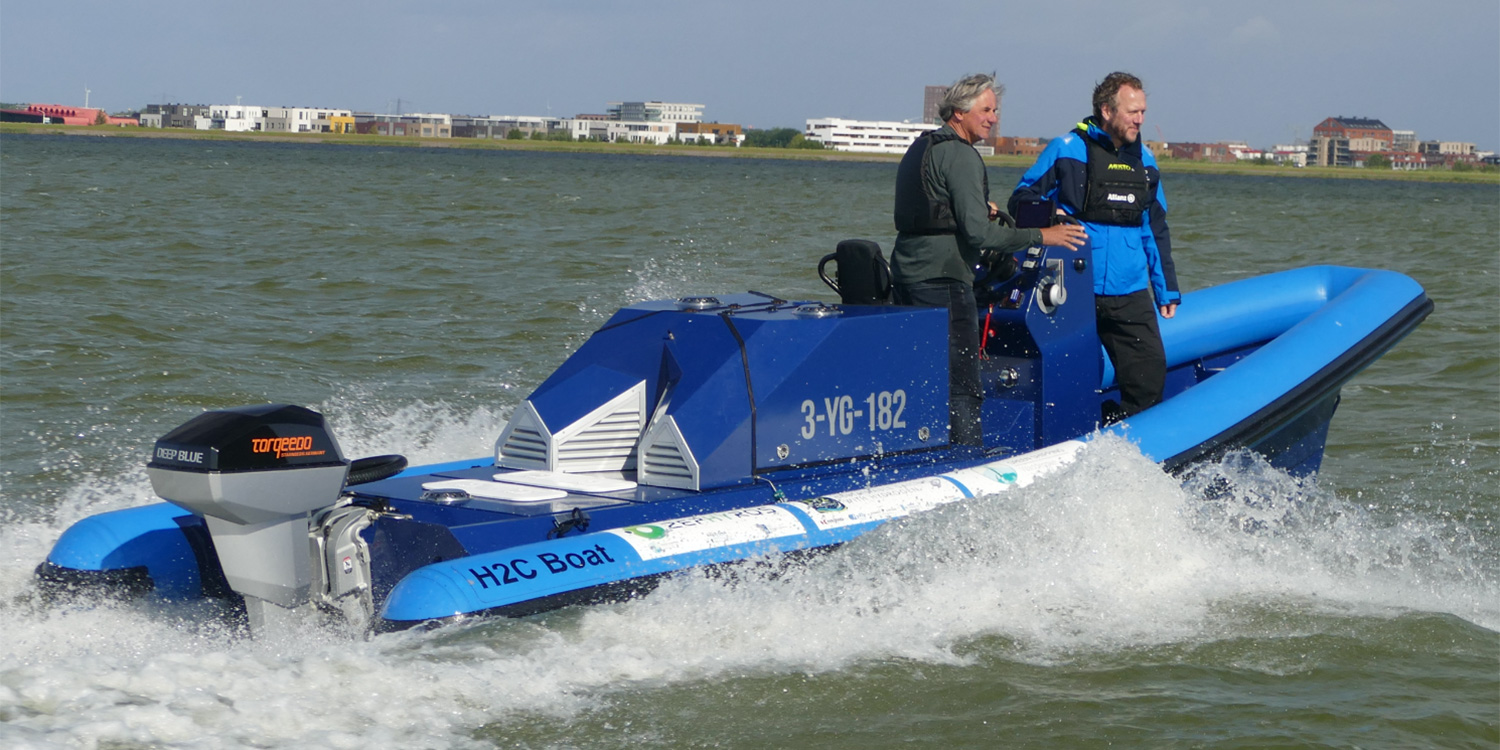 The Dutch Olympic team's coach, Jaap Zielhuis, came up with the idea of an emission-free coach boat in 2018; five years later the H2C is working its first regattas.
Working together for an electric, emission-free future
Truly groundbreaking technologies rarely emerge from a single entity. In 2018, the Sailing Innovation Centre in The Hague/Scheveningen collaborated with the Watersportverbond to form a consortium consisting of the TU Delft, specialist companies such as Koedood Marine Group, longtime Torqeedo partner De Stille Boot, the fuel cell specialists of Intelligent Energy and Hyfly, and the design and boatbuilding innovators form Habbeké Shipyard. "We're proud to be part of such an elite task force through our partnership with De Stille Boot." says Torqeedo CEO Fabian Bez. "We love collaborating, exchanging ideas, and learning from each other."
This collaborative structure gave rise to H2 Maritime Solutions. The project progressed in three distinct steps. Initially, a theoretical study resulted in the development of a small-scale fuel cell system that operated in water tanks. Subsequently, a life-sized fuel cell and electric motor were integrated into a standard sloop. During this phase, the hull lacked a streamlined design, and the hydrogen was stored onboard in small tanks like those used for propane gas. Nevertheless, the results were remarkable: Tests demonstrated that the hydrogen system tripled the sloop's range. In the final and third step, a boat was purpose-designed and constructed to withstand the challenging conditions encountered by coach boats in their work between Copenhagen and Cape Town.
"It was a great learning experience," says Marcel Schaap of De Stille Boot. The key lessons? "First and foremost: It's feasible," he says, "To our knowledge, this is the world's first fuel-cell powered RIB." The engineers had to reduce the weight of the overall system and install shock absorbers and special filters – fuel cells need clean and dry air so particulates and contaminants must be removed.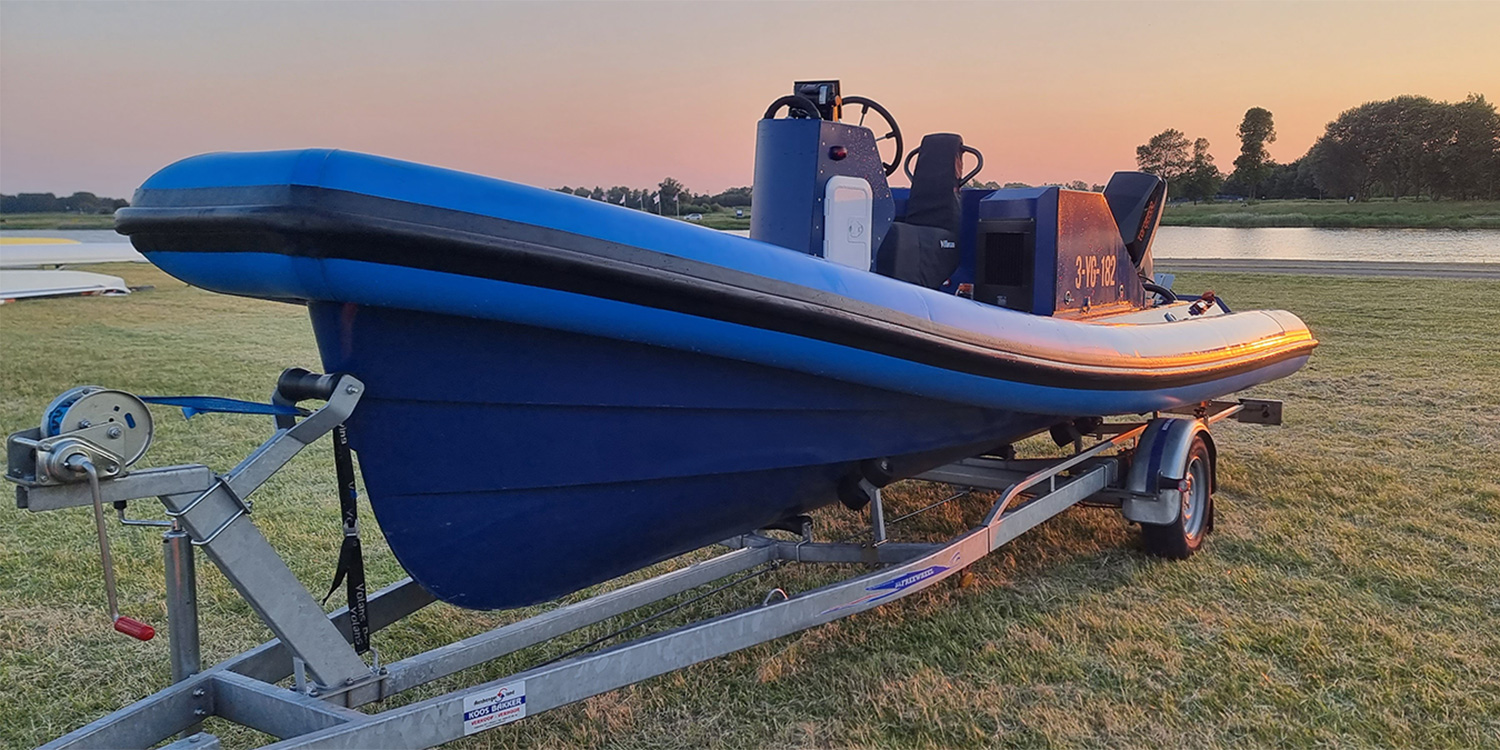 Dawn of a new age: The H2C Boat is just one of many fuel cell solutions coming to the sailing community and the entire marine sector.
Sport as a source of innovation?
The sailing community has set a new course. Research has shown that the emissions from the fuel used at World Sailing events account for almost thirty per cent of its overall carbon footprint. That's why the world governing body for the sport of sailing wants to drastically reduce the number of fossil fuel-powered boats by 2025 and will only allow zero-emission coach boats at major regattas by 2030. What's more, the 2024 Olympic and Paralympic Games in Paris are planned as fully carbon-neutral events. Through exceptional performances, competitive sports inspire energy and continuous self-improvement. The question is whether these sports can transcend the boundaries of their rulebooks and playing fields to become a revitalizing force within mainstream culture.
Fuel cell technology in the maritime sector is still a work in progress. "We need to reduce costs and establish a hydrogen infrastructure," emphasizes Cees van Bladel. He envisions patrol and work boats in ports as the initial use cases for hydrogen-powered RIBs, as the hydrogen supply can be reliably guaranteed in these industrial environments. One exemplary project is Zephyr, which aims to demonstrate the technical viability of a green hydrogen chain in the maritime sector in the Netherlands. This project encompasses the entire process from the generation of green power to its application in vessels, with the ultimate goal of achieving zero emissions. The development of the H2C Boat was also part of the Zephyr project. "The RIB can simply refuel on the trailer at a local H2 stop," van Bladel points out. "That's a big advantage but doesn't work for all boats."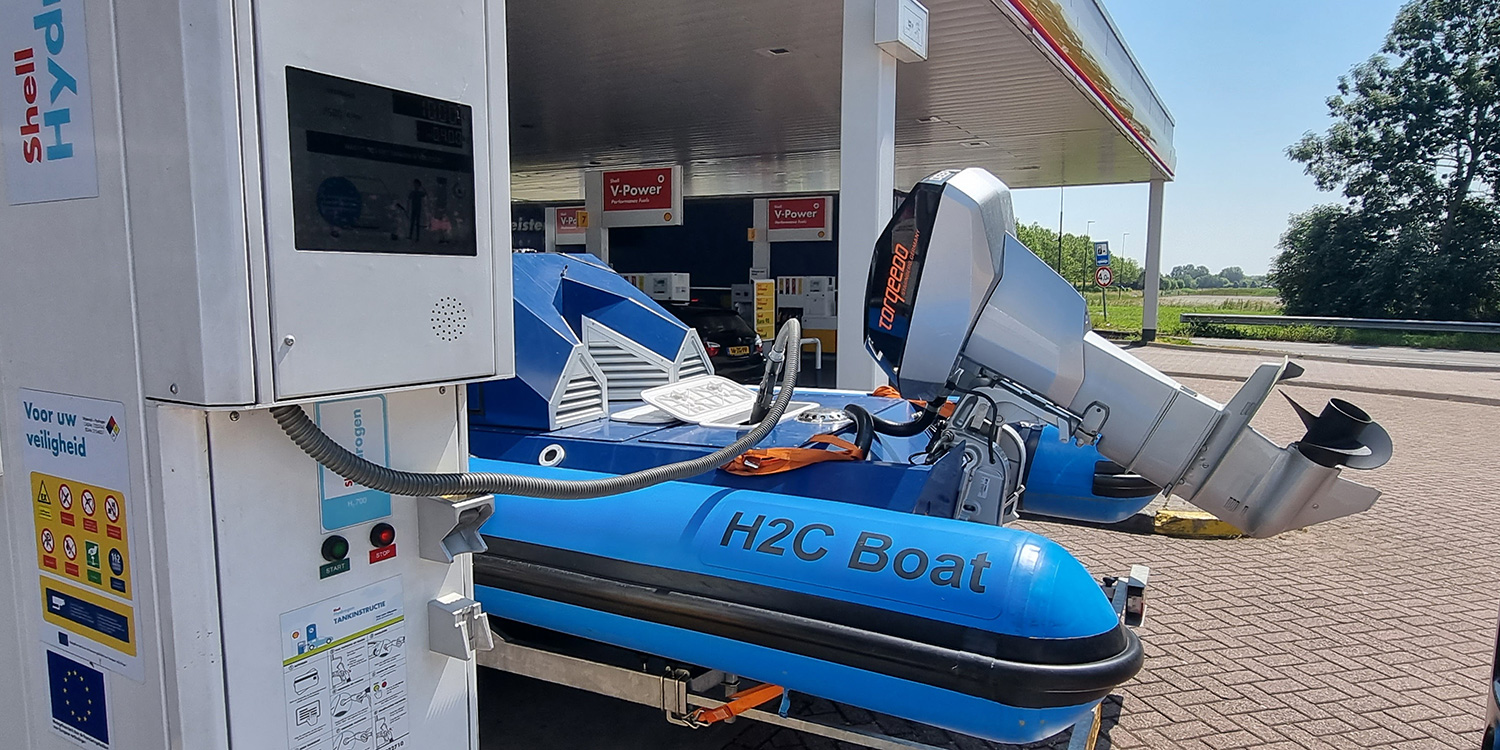 The H2C can recharge its hydrogen tanks at one of many H2-enabled fueling stations in The Netherlands.
This compact and robust six-meter boat exemplifies the current state of affairs. "It's evident that we require multiple technologies tailored to specific applications to transition into a post-carbon era," says Fabian Bez, Torqeedo's CEO. They include powerful batteries charged by renewable energy, onboard solar power and hydrogeneration, as well as fuel cells or generators fueled by carbon-neutral liquid fuels to meet extended range and energy requirements. That's why Torqeedo has designed its electric drive systems to be modular and adaptable.
"You can always integrate new energy storage devices into the boat's electric powertrain and energy management system. As soon as a new technology is ready for the market, our system will be ready to incorporate it."
Fabian Bez, CEO Torqeedo
The World Championships in The Hague are not the culmination of the journey; they are a stepping stone to the next challenge. Such is the nature of any high-stakes competition.
More information:
Find high-resolution pictures at the: › Torqeedo Dropbox
Find out more about H2 Marine Solutions: › H2 Marine Solutions
Find out more about the Dutch sailing organization Watersportverbond: › Watersportverbond
Find the main catalogue 2023 here: › Catalogue 2023
Zero emission Coach Boat for 2023 World Sailing Championships
2 AUGUST 2023 • 7 MIN READING TIME