Electric hydrofoil boats boast unheard speed and range – and are a key enabling technology for zero-emission mobility on the water. That's why Torqeedo supports innovative boat design and applied research at the Foiling Week series on Lago di Garda.
The America's Cup, the oldest and most famous regatta in the world, is always a highlight for sailing enthusiasts. But when Luca Rizzotti followed the Cup in 2013, he saw more than just a spectacular regatta. He saw the future. The catamarans were racing with underwater hydrofoils for the first time. As soon as the catamarans reached a certain speed, the entire boat lifted out of the water and sailed only on the thin metal foils. Sailboats, the stunned world learned, could suddenly fly.
Luca Rizzotti was sailing a 3.35-meter hydrofoil Moth at the time. "But I thought to myself, if even a 22-meter boat can foil," he recalls, "then this technology will completely change the way we move across the water." To foster exchange in the growing community and to spread the technology further, Rizzotti founded Foiling Week – a mixture of regatta, trade conference, and high-tech trade fair.
Looking out over Lake Garda on a cloudless summer day from the Fraglia Vela Malcesine Yacht Club ten years later, you can't help but notice that the future Rizzotti had envisioned has become reality. The water is teeming with boats that seem to suspend the laws of physics.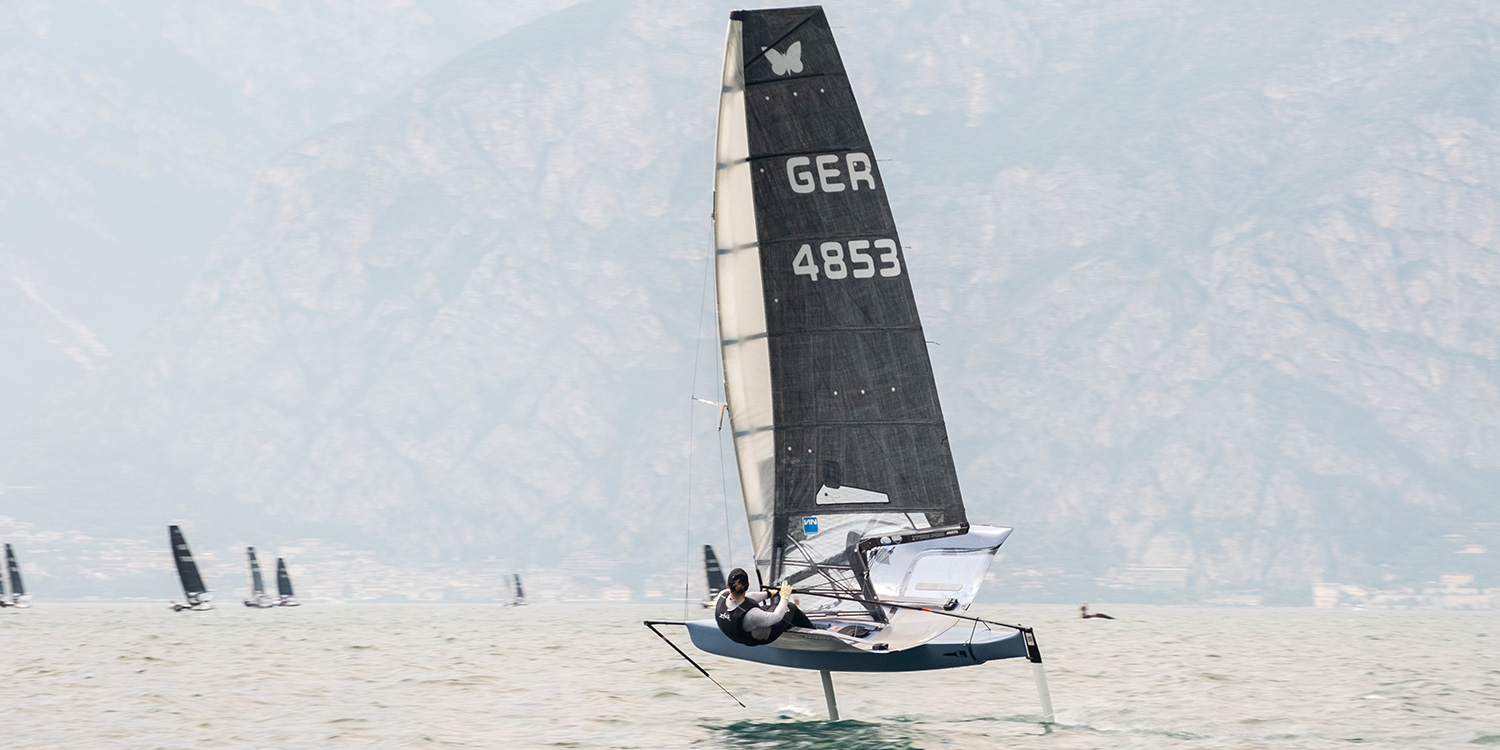 The combination of speed and silence is the most fascinating aspect of foiling, many sailors agree.
Doubling the purely electric range
Hydrofoils reduce drag and displace significantly less water when underway. As a result, foiling boats not only achieve unprecedented top speeds but have enormous potential for electric mobility on the water. "With a hydrofoil, the energy requirement is reduced between 50 and 90 percent," says foiling expert Rizzotti. "The purely electric range can thus be doubled to tripled." This potential was recognized long ago at world market leader Torqeedo – as demonstrated by spectacular hydrofoil e-boats such as The Icon, a collaboration with BMW and start-up Tyde that is powered by Deep Blue electric motors and has a range of 500 kilometers.
As a global promoter of innovative boat design, Torqeedo is also a longtime partner of Foiling Week and supports the event with, among other things, a Torqeedo Tornado RIB powered by a Deep Blue 50 motor that serves as a jury and coaching boat. This afternoon, it is accompanying the International Moth Class races. As the boat glides silently out of the harbor, it appears to be moving by magic. It's hard to imagine any quieter movement across the water until a swarm of 76 foiling Moths swoops past. The foiling boats only produce a bright singing noise as their wings cut through the water. The speed is breathtaking: just moments ago, they were distant dots on the far shore, a few moments later they are racing close by. "You can't put the feeling into words," Rizzotti says. "To understand foiling, you have to try it."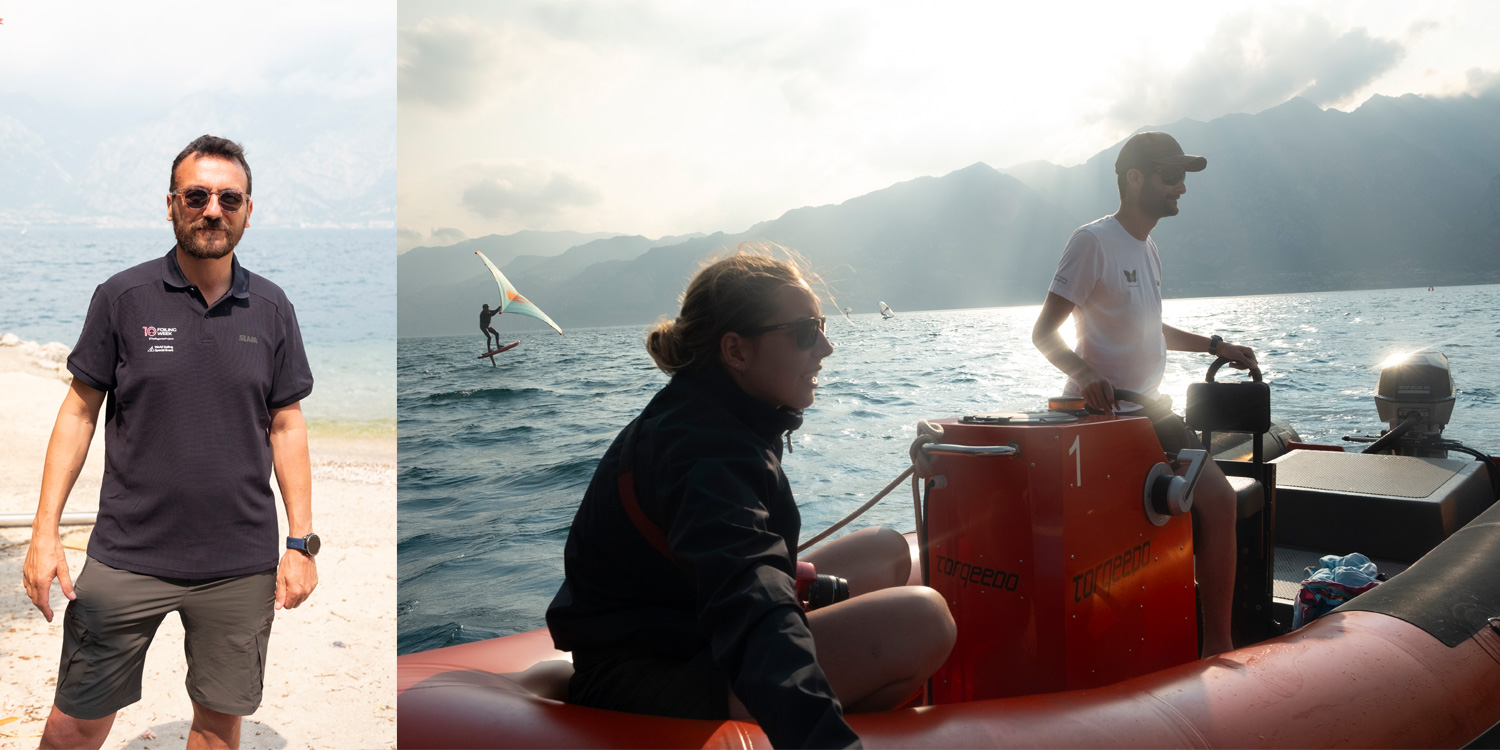 Luca Rizzotti (left), founder of Foiling Week, and Torqeedo are long-time collaborators.
Foiling and electric mobility – a perfect match
The comparison with Formula 1 is apt. After all, foiling is high-tech, with enormous demands on materials and the sailors' willingness to innovate. To keep up with the world elite, CJ Perez tells us, "I have to constantly keep pace with innovations and upgrade my boat – that's how quickly hydrofoil technology develops." And she is certain that these innovations from elite sailors will soon change conventional sailing and boating as well.
The principle of hydrofoils was discovered and understood as early as the 19th century, but larger foiling boats proved unstable and impractical. Only with the advent of computers offering powerful hydrodynamic simulations and sophisticated "flight control" systems that control the angles of the hydrofoils could boats reliably take off. For motorized vessels, electric motors play a central role in this process. "Electric drives and hydrofoils are a perfect match," Rizzotti says. Electric drives, with their high torque, make a boat plane faster. And communication between the onboard computer, electrically adjustable foils, battery, and electric motor is optimized.
True believers: Sailing star CJ Perez competes in the Moth class, Bruno Giuntoli founded the research competition SUMOth.
"Given the dramatic climate change, it's clear that the time of fossil fuels is coming to an end," Rizzoti says. "That's why it's so important to develop sustainable alternatives that can keep up in performance and range. And foiling enables both."
Foiling Week also features many young engineers, naval architects, and designers who are pursuing the dream of a truly green boat. "We need boats that no longer emit emissions – and are also produced sustainably," says Bruno Giuntoli, the Argentine who five years ago founded the SuMoth Challenge that is also part of Foiling Week. Here, teams of students from different universities sail Moths to compete. What makes this race so special is that the boats are not only designed and built by the students, but how sustainable their boat is also factors into the scoring. "We want to initiate a bottom-up process and give students room to experiment with fresh ideas," says Giuntoli. "This should lead to new methods that sooner or later can be adopted by industry." To achieve the highest possible score, the teams rely on both recycled and recyclable materials. For example, a defective mast is turned into a new hydrofoil; instead of energy-intensively produced carbon fiber you see a lot of wood; and windsurfing sails are given a second life.
When asked what foiling feels like, Luca Rizzotti has an answer after all: he describes the feeling of flying over the water in a hydrofoil as "poetic speed". That sounds like a feeling we all should experience soon.
25 AUGUST 2023 • 8 MIN READING TIME