Friedrich Deimann and his start-up, GREENBOATS, have realised their vision of building stylish sailing boats from renewable materials. When sustainability is at the core of the lifecycle design, an electric drive is the obvious choice.
When looking at the environmental footprint of modern-day boatbuilding, it is easy to forget that this was once a sustainably cyclical activity. Wood taken from a forest would, one day, sink to the seabed. Creation and decay; the cycle of life.
Today's boatbuilding industry, however, is a high-tech industry. When the sun shines through the windows of a boatbuilder's hall, you see glass fibres shimmering in the air and smell paint and epoxy resin. Friedrich Deimann was convinced you could combine both worlds – old and new, nature and technology. Wouldn't that be possible? The sublime feeling of sailing in a unique vessel made of natural materials, yet still profiting from state-of-the-art technology and a modern manufacturing process.
Friedrich Deimann is a modest man, his style best described as Nordic sobriety; but it's fair to say that his start-up GREENBOATS is working on a revolution. Wherever possible synthetic production materials are substituted with renewable ones, therewith reducing the CO2 emissions over the course of the life Cycle of the product by up to 80% compared to conventional GRP boat building. This does not come at the expense of performance or durability. The Flax 27, the green boatyard's current flagship, is even 10% lighter than a comparable GRP design. For their pioneering work, GREENBOATS has won numerous awards.
And if the whole lifecycle of a boat is designed around sustainability, the only possible drive system is an electric motor, a Torqeedo Cruise Pod.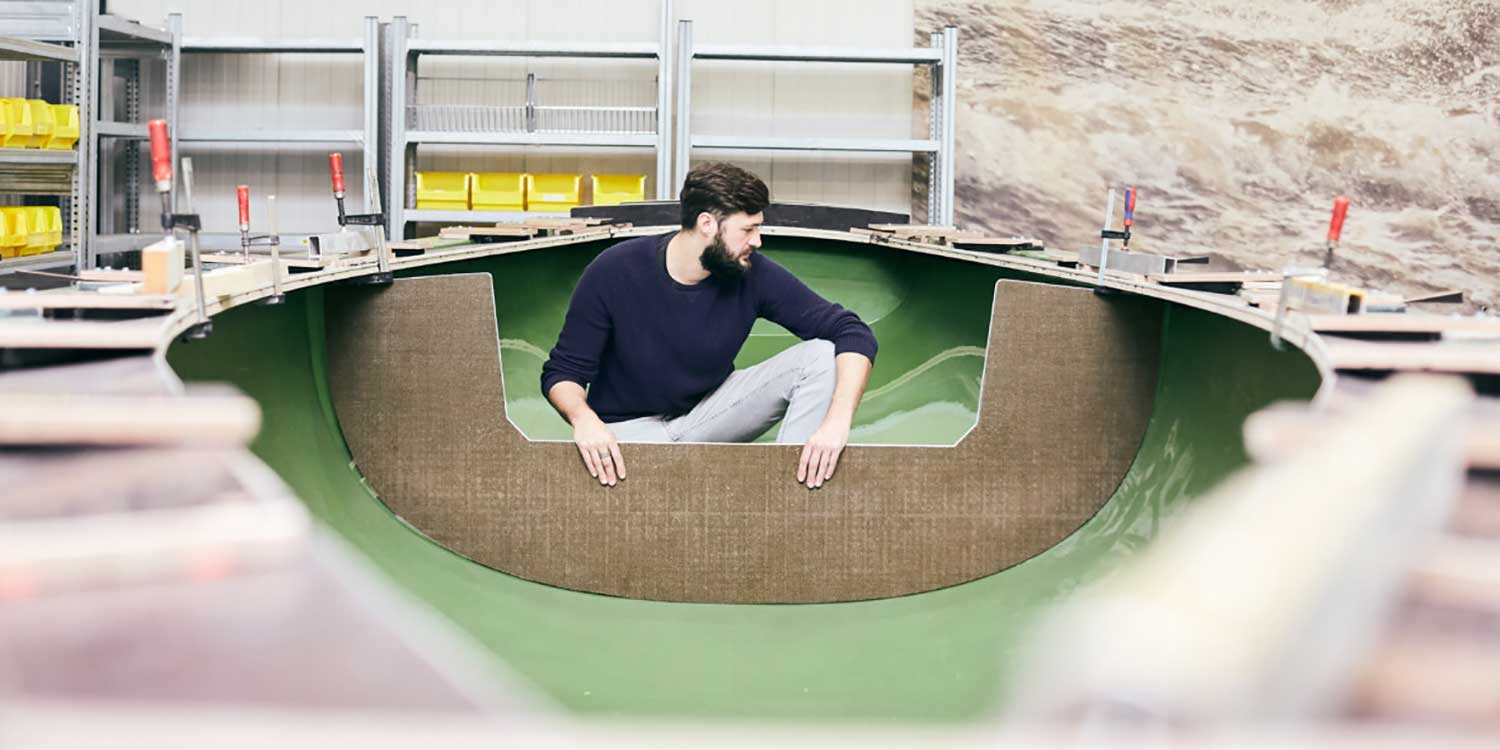 Friedrich Deimann spent years researching the right fibres and resins for his sustainable daysailer. Credit: GREENBOATS
A sense of purpose as the most important resource
The young master boatbuilder has a long journey behind him. He wanted to find a sustainable alternative for every conventional material. Glass fibre, core components, epoxy resin, teak deck – how do you replace materials considered indispensable in modern boatbuilding? What fibres can you use? Hemp, jute, sisal? Friedrich spent a year just researching. When he did start to work, there were plenty of setbacks. The deck had to be built up twice, for example, and there was a lot to learn. But, the two years of hard work proved worthwhile. The outcome was a sleek, two-seater kayak. He presented his prototype at the Düsseldorf Boat Show, then quit his job and set up his own firm. A good idea, most people would say, but was the world ready yet? At the time People thought it was something charitable but did not yet see the relevance for themselves," says Jan Paul Schirmer, who joined Friedrich in 2017 as co-managing director "However, we have been seeing a real increase in momentum during 2020. Maybe we will look back to this year as a turning point."
When it comes to innovation, a sense of purpose is an essential resource. The Torqeedo team can relate. When the world market leader for electric mobility on the water started, there were no industry standards or high-tech products in the field of sustainable maritime mobility. But what some people find off-putting, others see as an opportunity. To shape the future, you need the courage to rethink everything.
Friedrich Deimann and his team knocked on doors, visited trade fair after trade fair and promoted their vision. They spent a lot of time talking and philosophising, until one day, Deimann's girlfriend said: "Either you never mention it again or get on with it now!" He decided on the latter. Overtime turned into night shifts, and unpaid bills for the materials and varnish lingered. But, in just a few months, he and a "gang of volunteers" built a small cruiser the likes of which the world had never seen: a sexy and sustainable 24-footer. "With hindsight, you'd say it was a suicide mission," he recalls. "The plan was to build the boat and then sell it. Pure hara-kiri. It could have ended up very differently."
Another success story that began in a garage
But the breakthrough came, and the idea of sustainable boatbuilding managed the quantum leap from the theoretical to the practical. The industry responded with innovation awards and environment prizes, which generated awareness and orders. GREENBOATS was no longer just a project; it was a real business. They moved from the old premises, not much bigger than a twin garage, to an actual production hall.
Trade journals call Friedrich Deimann and his firm the industry's "green conscience". He thinks such descriptions are pretty cool, but he doesn't want to be seen as the "sustainability police". He sees GREENBOATS as a pioneer that shows the way forward. At GREENBOATS, electrification and decarbonisation are an intrinsic part of the business. "We cannot imagine the Flax 27 with a combustion engine. It would simply not fit", says Jan Paul Schirmer.
The Flax 27 is an excellent example of what concentrating on the essentials means. It does not look like an eco-product, or like "an old woollen sock", as Friedrich puts it. Instead, you immediately see that this is a high-tech boat. But at the same time, the daysailer has a very natural appeal. "The warmth, acoustics and haptics when you're below deck are a completely different experience than sailing in a polyester tub," the boatbuilder enthuses.
Lightweight materials enhance the range of electric mobility
"Boatbuilding is subject to relatively few regulations – unlike car making," says Jan Paul Schirmer. He believes that the maritime sector is the perfect playing field for innovative companies. GREENBOATS has shown that with sustainable raw materials, you can achieve the same mechanical qualities as with conventional ones. Now that the performance gap has been closed, the challenge is to close the price gap as well. As is so often the case, the final 20% is what takes up 80% of the work.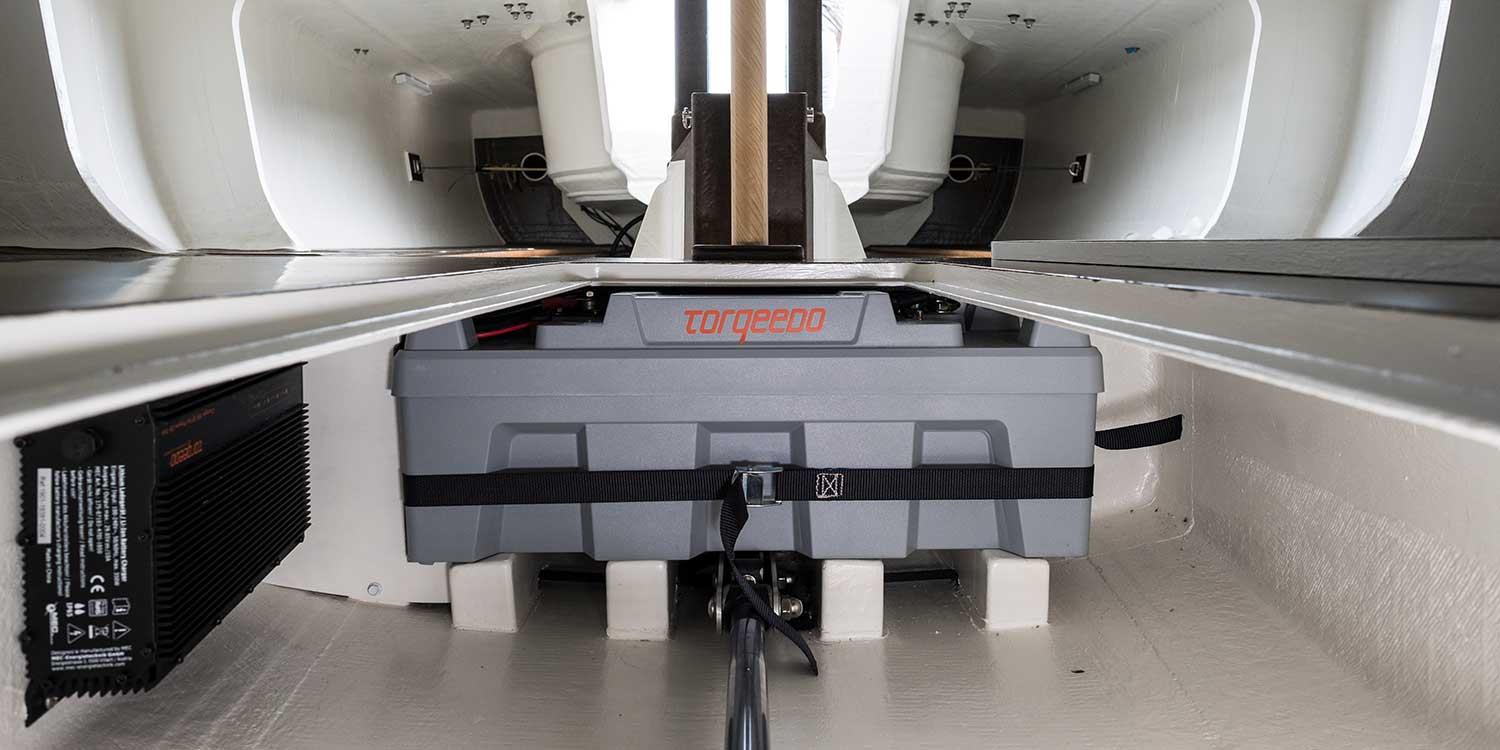 The Flax 27 is equipped with a Torqeedo Cruise Pod electric motor and a Power 24-3500 lithium battery. Credit: GREENBOATS
Naturally, the search for an ideal solution is far from finished, so GREENBOATS cooperates with universities, research institutes and innovative companies like Torqeedo. They are experimenting with graphene-reinforced flax fibres and bamboo-based materials that are stronger but have a very low density. In another project, they are working to reinforce core materials utilising bionic structures, so the boats get lighter yet stiffer.
The Bremen boatbuilders equip their sailboats with Torqeedo Cruise 2.0 Fixed Pods and Power 24-3500 batteries. "The installation of an electric motor is easier and more comfortable", says Jan Paul Schirmer, "and we improve the weight trim of the boat by installing the battery further forward."
Lightweight materials are critical for the climate-neutral mobility of tomorrow. After all, every kilo saved lowers power consumption and enables a greater range. It is a rule the Torqeedo engineers know all too well. Now, thanks to companies like GREENBOATS, boatbuilders have access to high-performance materials that are easy on nature. A true win-win.
More information:
Find high-resolution pictures at the: › Torqeedo Dropbox
Find the main catalogue 2020 here: › Catalogue 2020
Relevant Torqeedo Products
A green way into the blue
26 NOVEMBER 2020 • 5 MIN READING TIME
Sailboats
Big Picture
Tech