Jody Queen is one of the best kayak anglers in the US. Here, he tells how electric motors are taking the sport to a new level - and reveals the best fishing spots.
Just recently you won "The Ten", a tournament featuring America's best kayak anglers. What was the secret of your success?
Actually, the Torqeedo Ultralight electric motor played a huge part in this tournament. I used the bigger Ultralight 1103 and it was amazing. The water was full of hyacinths that float on the water but have a really thick root system to a depth of at least a foot. Thanks to the power of that electric motor, I was able to just glide through a giant hyacinth patch, even though I was in a heavy 14-foot kayak. Some of the other guys couldn't even get out onto the water because of those plants. But I was able to get to a good spot, which more or less secured me the win.
Was that your first experience with the 1103?
I've been using it for nearly six months now, but that was the first time I really exploited its full potential. With this motor you can not only get through thick vegetation, but also overcome currents. That's a huge advantage because I can cover a much larger amount of water. And once, when a freak thunderstorm came up, it got me to safety quickly.
When was the first time you used an electric motor?
2017. I then had the original Ultralight 403. Electric motors have gotten more and more popular since then. As a matter of fact, the day I used it in the tournament I probably helped sell two or three of these motors because the other competitors on the bank were like "There's no way I gonna get through these plants". And then they saw how I just was able to get through them.
Is the increasing electrification changing the sport itself?
It's definitely setting the bar higher. Right now, kayak fishing is growing exponentially and the big tournament organizations like Kayak Bass Fishing (KBF) are now allowing these motors in their competitions. They've pretty much set the standard for the smaller tournaments, which increases the sales of these motors.
Do the fish behave differently when you use an electric motor?
Here's the thing I always notice about the 403: When I pull up on a school of bait fish and they hear the engine noise, they scatter and the bass come after them and feed. It is a weird reaction, but in a way the sound helps to lure out the larger predators. I mean, I've never had problems catching fish. But the 1103 is so much quieter than its predecessors and that's naturally really helpful if you're trying to be stealthy. In very clear or shallow water, it comes in real handy.
How many miles do you cover on an average day?
Well, it depends on the lake of course, but I'd say anything from six to eleven miles. Range has never been a problem with the 1103. I always carry a spare battery with me, but up to now I've never had to use it. Once, I had the motor on a camping trip where I had no way to charge it and I just wanted to see how long the battery would last. I set it on a very low wattage, was on the water every day, and when I went home after five days, I still had four percent charge left.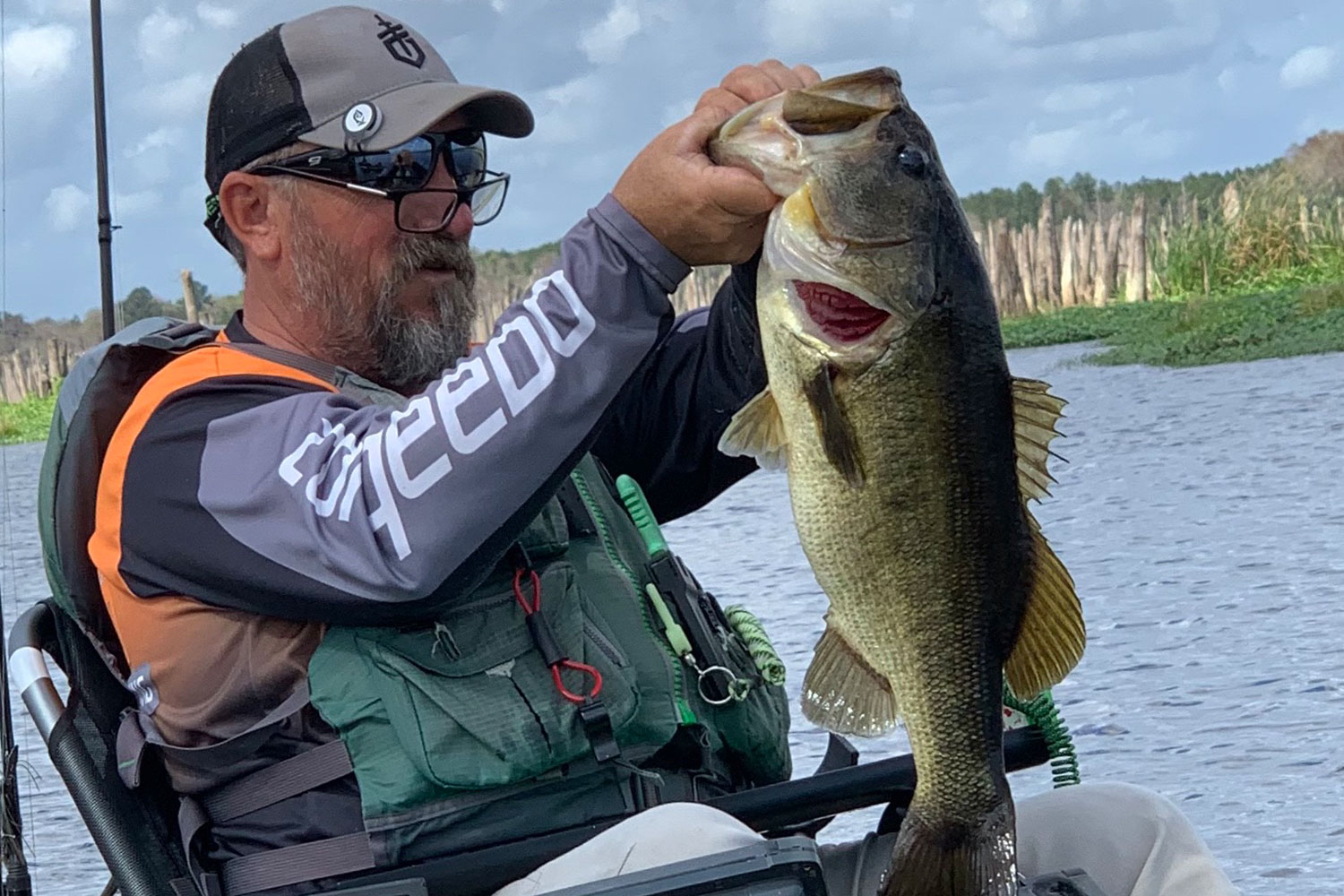 Thanks to a quiet drive from Torqeedo, fish are less likely to be chased away. Credit: Jody Queen
How important is sustainability for the kayaking community?
I think we're all very environmentally conscious. It's nice to know you're not polluting the water any more, where there are already so many big boats around. And of course, there's the silence. You see things with an electric drive you'd never see with a combustion engine. I've pulled up on big alligators and otters. I've had deer coming right down to the bank and never noticed me. Your footprint from the electric motor is so small you can experience nature in a completely different way. That's a huge advantage.
Do you have a favorite fishing spot you could recommend?
One of my favorite places is the New River Valley, not just because it's the best place for fish, but also for its scenic beauty. It starts in North Carolina, but the stretch in Virginia is even more beautiful. There are very few places to get onto the river and there's some white water too so it's kind of hard to reach the best spots. But there's a lot of big Smallmouth bass in it and a couple of stretches with big Largemouth as well.
Every outdoorsman has favorite memories. What was the catch of your life?
Quite simply, every fish that wins you a tournament. I'm doing this for a living, so every catch is important. But when I think back, the fish that really got me a lot of recognition was a nine-pound bass I caught at Lake Chickamauga. That's when people ready started to take notice of me.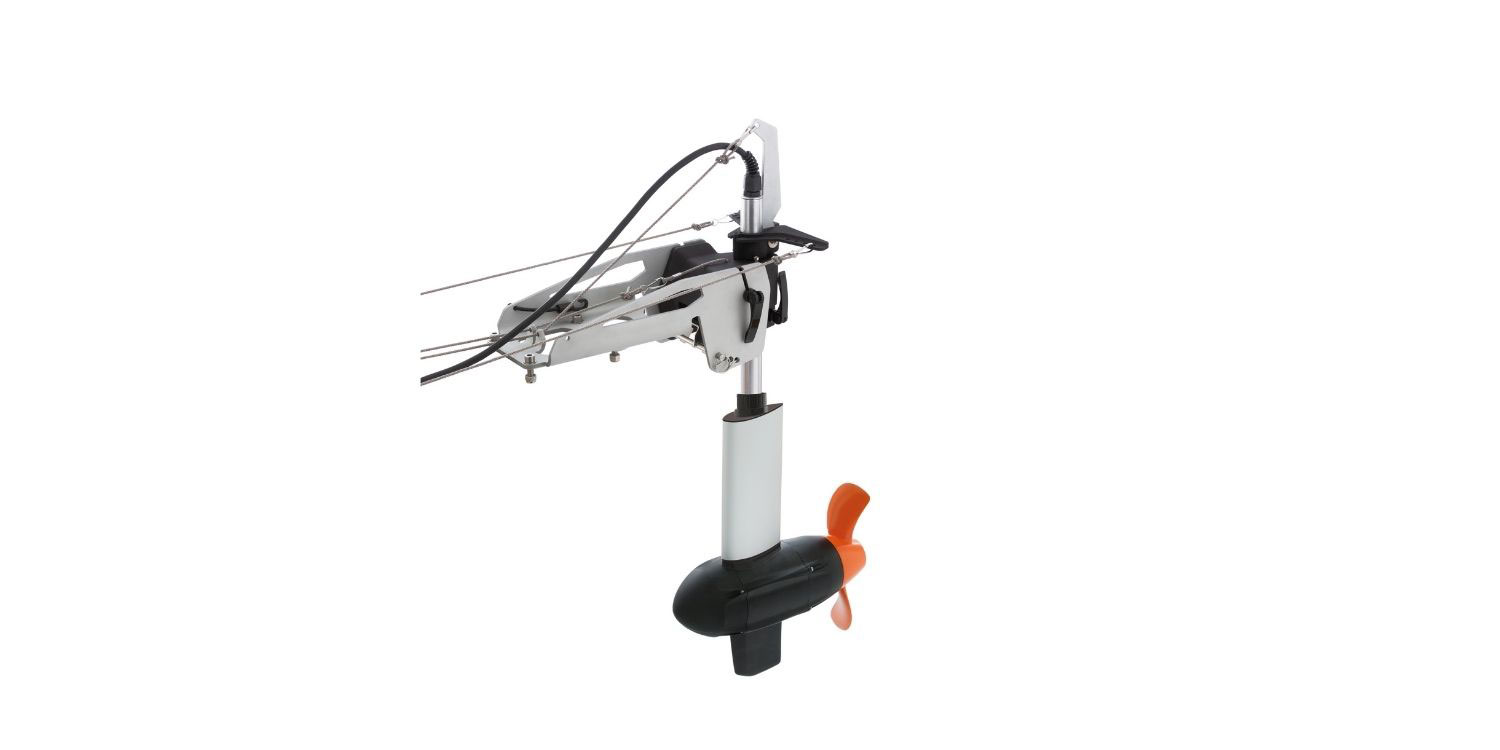 Infobox Ultralight 1103 AC
The name says it all – the › Ultralight Torqeedo 1103 AC outboard weighs only 15.3 kg (incl. battery) and transports anglers to the right spots for a big catch.

The Ultralight comes with lots of power, up to 50 km range, and a new innovative mount that's easier to fix in place, operate and transport. It ships with a high-performance weedless propeller for fishing in heavy vegetation, which almost completely eliminates weeds from wrapping around the prop.

Tailored mounting options ensure compatibility with many popular kayak brands, including Hobie, Grabner, Prijon, and Rotomod.
More information:
Find high-resolution pictures at the: › Torqeedo Dropbox
Find the main catalogue 2021 here: › Catalogue 2021
Find the commercial catalogue 2021 here: › Commercial Catalogue 2021
Relevant Torqeedo Products
15 APRIL 2021 • 7 MIN READING TIME
People
Big Picture
Motorboats