Catch the big fish
Every angler is familiar with trolling motors: tiny electric motors used for slow, stealthy fishing and boat positioning. But did you know that you could have an outboard that is almost as quiet as a trolling motor and just as unlikely to disturb fish? Anglers all over the world are switching to electric drives such as the Travel or the Cruise not only because they're ultra-quiet: they're also easy-to-use, low maintenance and lightweight.
Some anglers are switching to reduce their carbon footprint by eliminating the use of fossil fuels or to maintain their access to the best fishing spots. Electric propulsion is mandated in many pristine lakes that serve as drinking water reservoirs, and due to population growth and climate change, regulations are expected to become even more stringent in the coming years.
Electric outboard motors are ideal for anglers fishing nearshore waters or freshwater lakes & rivers with small to medium-sized boats including skiffs, aluminium boats or "bass" boats.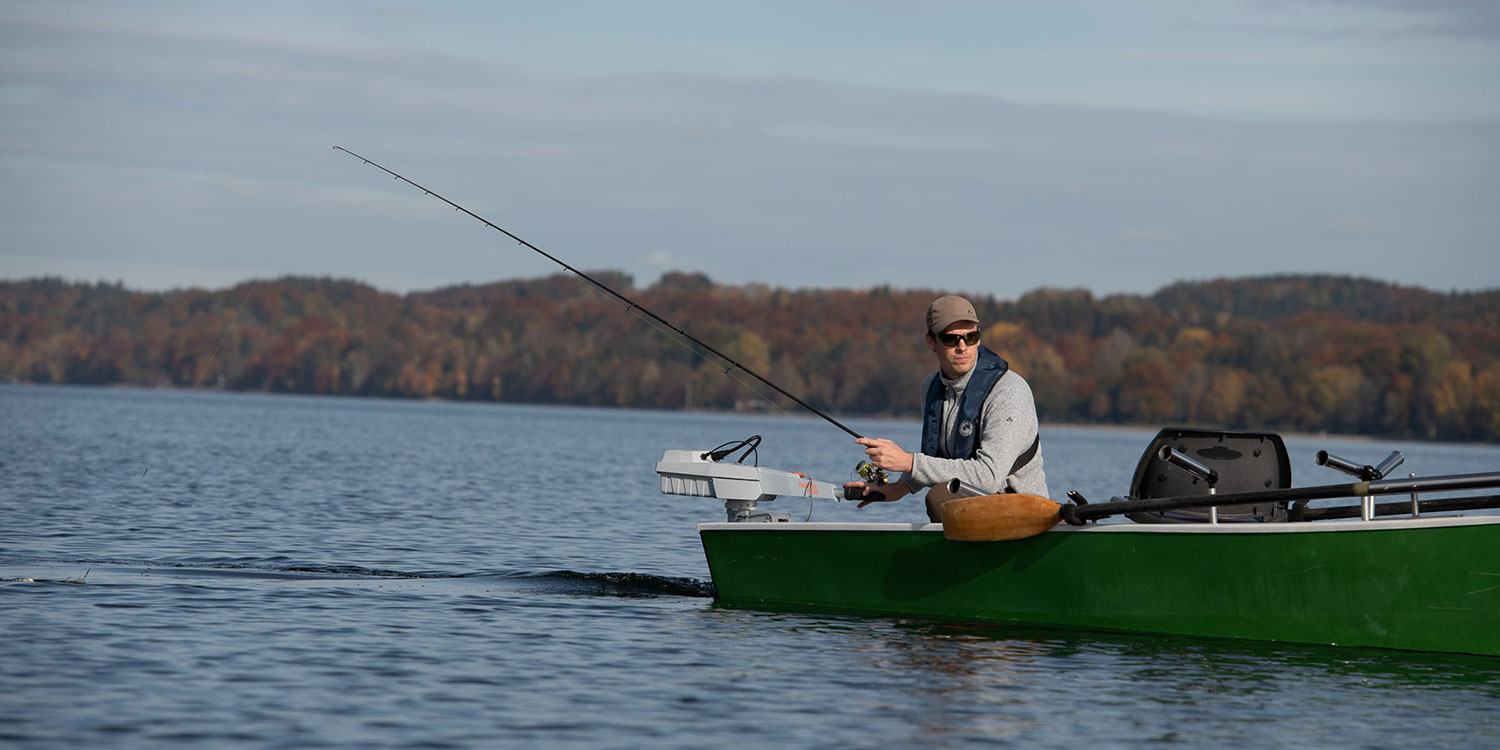 The Travel is the perfect choice for fishing nearshore or freshwater lakes & rivers.
Ultralight watercraft such as kayaks, canoes, and inflatables are very compatible with electric outboards. They have a long range without running out of power - ideal for a day of fishing on the water.
Silence is the key to success
Quietly approaching a fishing spot is one of the first tactics you learn as an angler. Gingerly lowering anchors, soundproofing the boat, fishing barefoot, idling through bay waters, and speaking in whispers are tactics used to prevent spooking fish.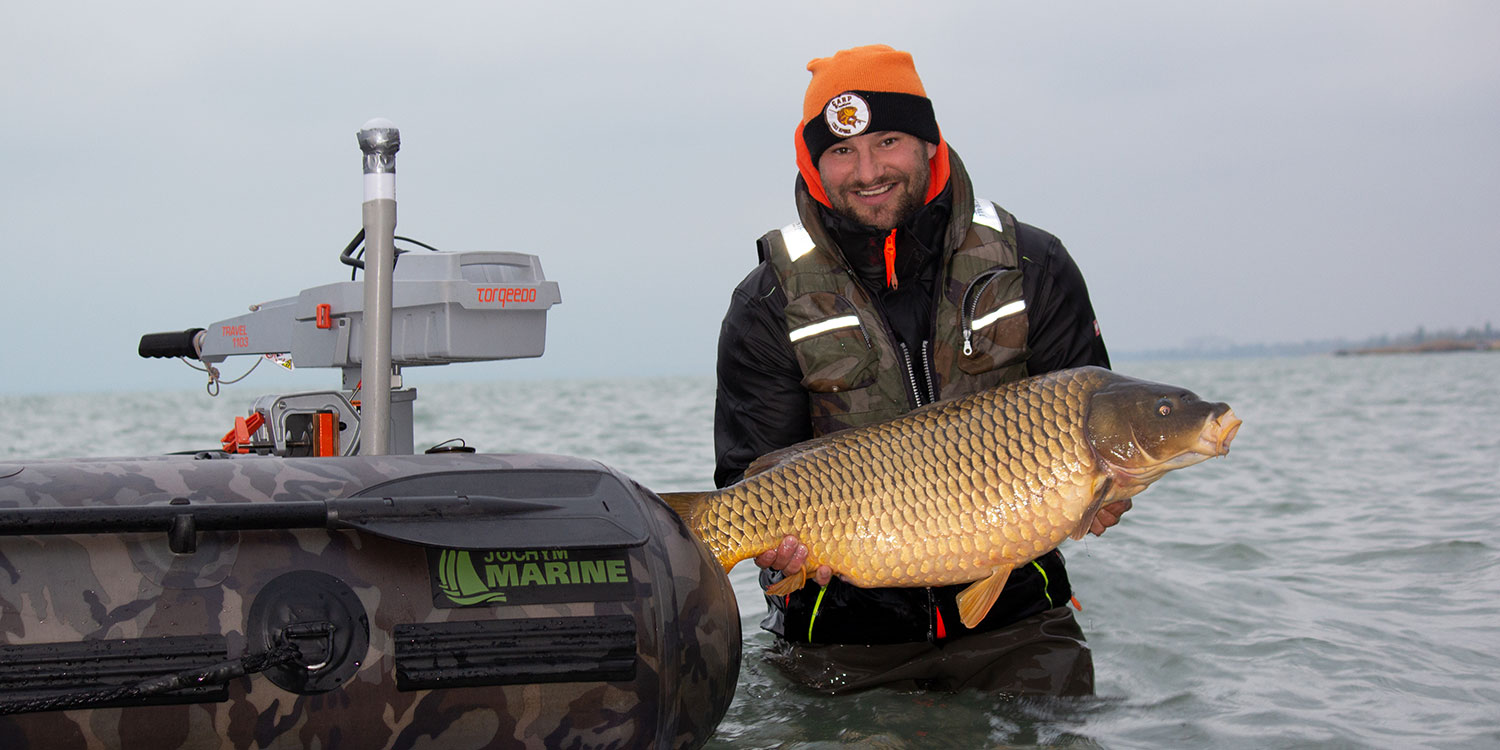 Catch the big fish. credit Carp Brothers
Sound penetrates skinny waters more thoroughly than deeper waters. Therefore, the slightest vibration or sudden change in that environment sends game fish scurrying to seek refuge. Pike and trout, for example, are very cautious in shallow waters. Fortunately, an electric outboard motor is whisper-quiet - unlike noisy internal combustion engines.
Speed, weight and power
When looking for an electric outboard, one of the first questions an angler asks is how fast and how long it will go. As more consumers have first-hand experience with electric cars, they naturally look to draw parallels between the marine and automotive industries.
But boats are met with exceptionally high water resistance and going fast takes far more energy from the battery reserve than moving a car through air. While 100% electric propulsion is still complicated for large or very fast offshore fishing vessels, there are easy-to-use and affordable solutions available today for fishing boats up to twelve tons.
Cruise motors are the most popular option as the drives are easy to install, lightweight and run on 24- to 48-volts. Smaller fishing boats up to 1.5 tons powered by a Travel motor can reach a respectable top speed of up to 6 MPH, giving the angler enough acceleration to reach the next fishing spot quickly.
Another parallel between an electric car and an electric fishing boat is reduced maintenance: they do not require oil changes, fuel system maintenance or winterization. Less maintenance means fewer costs in the long term, and since lithium-ion batteries last 8-15 years, you will not have to worry about volatile fossil fuel prices impacting your hobby.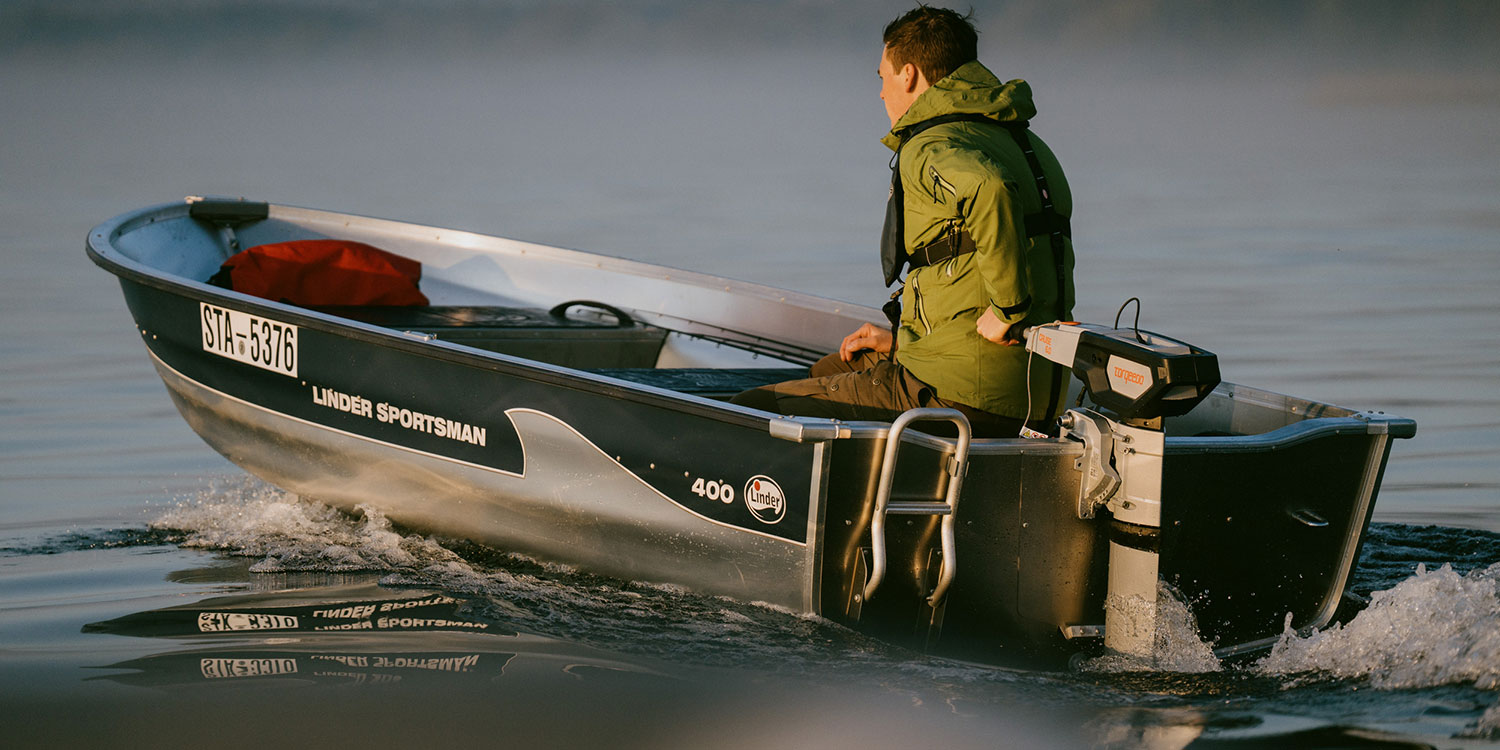 Fast and dependable.
Maximise your range
While managing your speed is the most important variable in maximising range and runtime, the weight of the vessel and how much tide or wind you must overcome are also critical factors. Some factors can change quickly over a day on the water.
That is why all Torqeedo products provide users with a highly accurate, GPS-calculated range display that shows your speed over ground and your remaining range in hours, miles, kilometers or nautical miles. And, of course, it shows your current watt draw and battery charge percentage down to 1% accuracy.
Specific details on range and runtime for Ultralight, Travel and Cruise can be found on the respective product pages. All Torqeedo electric motors offer a GPS-calculated range indicator that informs the user of the energy consumption and remaining range, the remaining battery percentage and the energy used to reach this speed.
Clean, quiet fishing
There will be no stubborn smells or stains on your hands, clothes, deck, or vehicle as you handle and store an electric outboard. Electric drives don't need fuel or oil that could contaminate your baits or leak into the water and harm marine life. And, of course, they eliminate exhaust fumes. When you fish electric you enjoy clean air and a peaceful environment, enhancing the fishing experience and connecting you with nature.
When you choose an electric motor, you're not only helping yourself catch more fish, but you're also helping to preserve the marine ecosystem. Preserving the water quality of lakes and rivers is essential for fish to thrive, so that future generations can enjoy the sport.
Torqeedo is the market leader for electric mobility on the water. Talk to a Torqeedo dealer today to learn about alternative propulsion solutions that suit your fishing needs, or conveniently buy directly online here.
More information:
Find high-resolution pictures at the: › Torqeedo Dropbox
Find the main catalogue 2022 here: › Main Catalogue 2022
Cast Away: how and why to fish with an electric outboard
19 MAY 2022 • 5 MIN READING TIME