The first fully electric-powered charter fleet will start operating in the Spring of 2021 on the Telemark Canal in Norway. The project proves how high-tech e-mobility and public-sector investment can pave the way to a future of lower CO2 emissions.
Did you realise that there are more than seven wonders of the world? Depending on which country you happen to be in, you'll hear very different answers to the question of which structure or project simply has to be included in the list of humankind's greatest historic achievements – to go with the pyramids or the Colossus of Rhodes. In Norway, for example, people are pretty certain that the Telemark Canal is the eighth wonder of the world.
"A very special place," says 32-year-old Nora Sjögren Johre, "so pure and pristine." After years of working in Stockholm and Oslo the marketing expert has recently returned to the North Atlantic coast where she grew up – to "make a difference", as she says.
The locals are rightly proud of their waterway. 105 km in length, it links Skien with Dalen, runs from the coast to the mountainous interior, and gains 72 metres in height via eight locks. The scenery along the canal is the Norway you would know from National Geographic: rugged landscapes and high skies, sawmills and farmland, pine forests and craggy rocks.
The canal was hewn into the wild landscape with the simplest of means in the mid-19th century. The people here have had plenty of experience of how putting nature to good use, while at the same time treating it with care. That is no different nowadays. Nora Sjögren Johre and her recently founded Canal Boats company are building up the world's full fully electric-powered charter fleet along the Telemark Canal and the coast. From spring 2021 six charter boats from the Slovenian Greenline Yachts boatyard will be travelling up and down the canal between coast and mountains – powered by Torqeedo Deep Blue electric motors.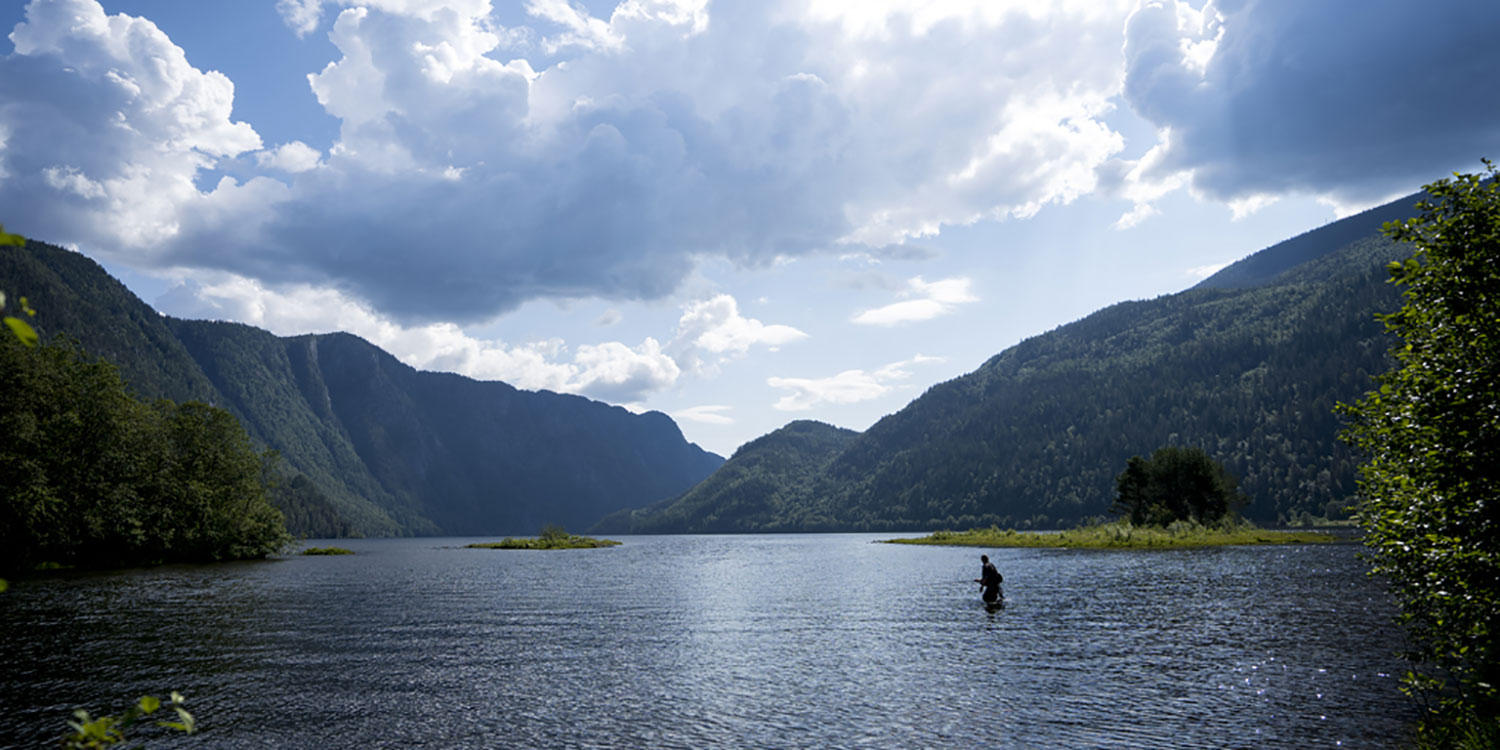 With emission-free drive systems you can enjoy the beauty of nature without harming it. Credit: Telemark brand image
With their large arched windows and glistening dark-blue solar cells on the roof, the Greenline yachts look like vessels from a none-too-distant future. The Greenline 33 and 39 E-Drive models have a range of 50 nautical miles when fully charged and a top speed of 11 knots. The 12-metre Greenline 39 E-Drive was presented at Boot Düsseldorf 2019 and has already been sold ten times worldwide. "The demand for electrically powered yachts is growing fast," says Luca Raumland, Head of Sales and Marketing at SVP Yachts, the parent company. The Slovenian yard is well prepared for this mobility revolution, as it has been building low-voltage hybrid drives for all of their models since 2008. From 2030 onwards, it intends to only build yachts with electric and hybrid drive systems. A few years ago, when Greenline Yachts was looking for high-performance high-voltage e-motors, Luca Raumland recalls, "it was clear to us we could only work with a manufacturer offering all the system components from a single source. The Torqeedo drive systems are a perfect fit!" At the planning stage the hull design of the Greenline yachts was optimised for electric-powered drive systems, and that has improved their range and energy efficiency.
Whereas many countries are still just talking about the energy transition, 90% of the electricity generated in Norway comes from renewable sources. And many Norwegians, like Nora Sjögren Johre, quite naturally drive to work in an e-car. In 2020, 54% of all new cars sold in Norway were electrically powered and by 2025 the aim is to reduce the proportion of combustion engines even further – to zero, to be precise. But in a country that lives from and on the water, the focus is naturally not just on road traffic. Norway's National Transport Plan has laid down a target of reducing emissions from domestic shipping and fisheries by half by 2030. Moreover, the country's entire greenhouse gas emissions are to be reduced by 40% by then.
If this ambitious plan is to succeed, people like Nora Sjögren Johre have to change things at a local level. Leisure boats alone, figures from Statistics Norway reveal, emitted 531,000 tonnes of CO2 equivalents in 2017 – more than all the country's fishing boats (339,000 tonnes) and all the motorbikes, mopeds and snowmobiles together (146,000 tonnes). Although Johre and several business partners only founded Canal Boats on 1 July 2020, within 12 months tourists are expected to be sailing the canal in charter boats. "It was a real rollercoaster ride," she says. "Everything went so quickly because everyone from the boatbuilders to the local council really believed in the project." In numerous Zoom conferences Luca Raumland and Stephan Bayerle, Torqeedo's Global Accounts Manager, discussed just about everything to do with the Norwegian start-up – from the setup of the motor to the charging infrastructure.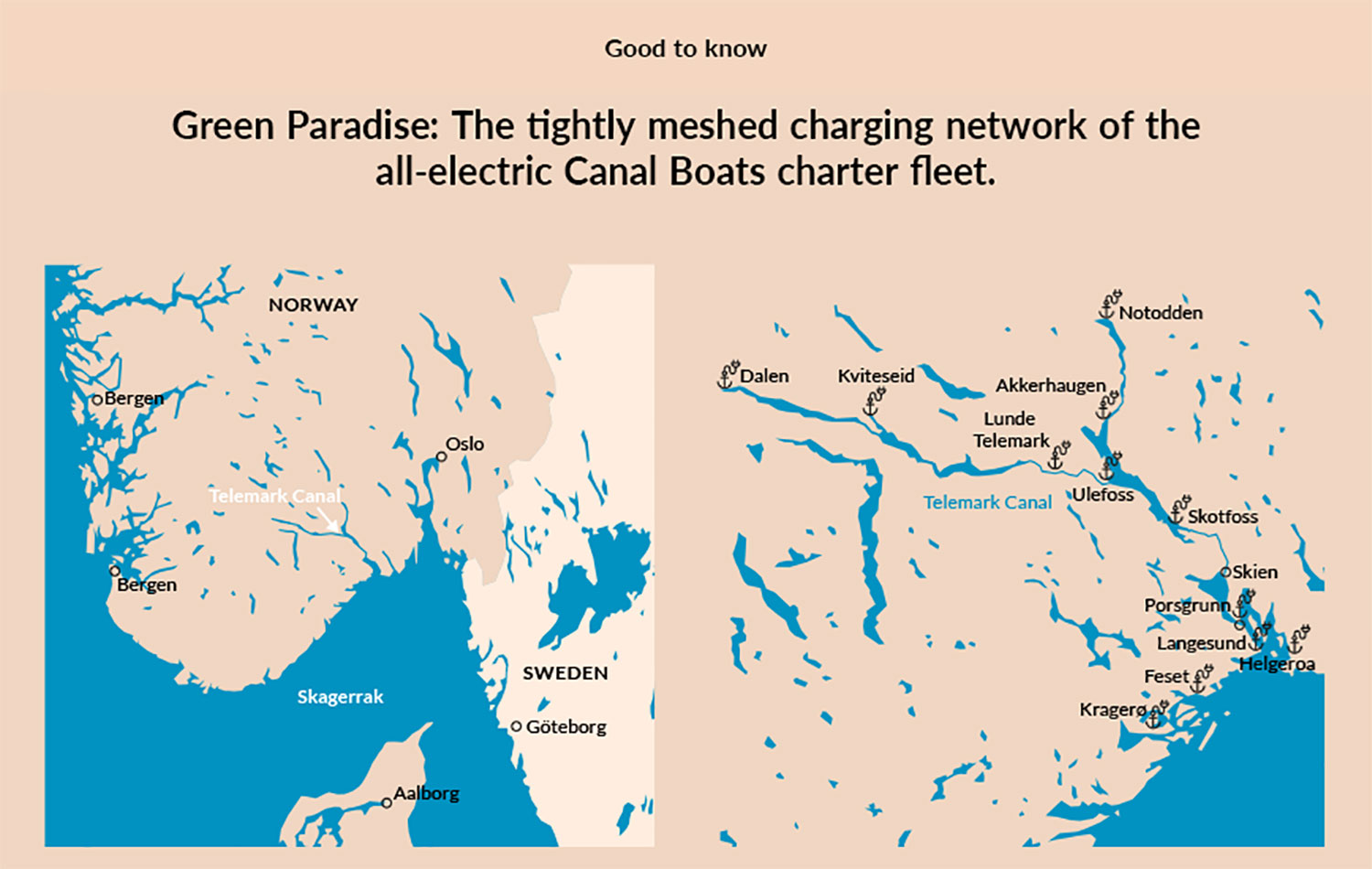 The Greenline yachts will never be short of power along the coast and the Telemark Canal. Credit: Canal Boats Telemark
A network of ten fast-charging stations along the Telemark Canal and the coast around Porsgrunn (see map above) ensures the yachts' Torqeedo batteries are powered up in no time at all. "Instead of being tied to a power outlet all night, you can charge up a battery with green power in a harbour – and nobody needs to interrupt their holiday," says Stephan Bayerle. A battery at 20% power needs at the most just three hours to be fully charged. A subsidiary of Norway's Ministry for Climate and Environmental Protection financed the installation of the fast-charging stations. In February, Canal Boats and the local communities handed in their funding application– and approval usually takes just a week. "The example of Norway shows you that investing in infrastructure is key to comprehensive changes," says Luca Raumland. The Canal Boats project is a fine combination of high tech, economic policy and creativity. "When installing the fast-charging stations, we chose sites where there were great views or good restaurants close by," explains Nora Sjögren Johre. "E-mobility is not about doing without things; it's about gaining more quality of life."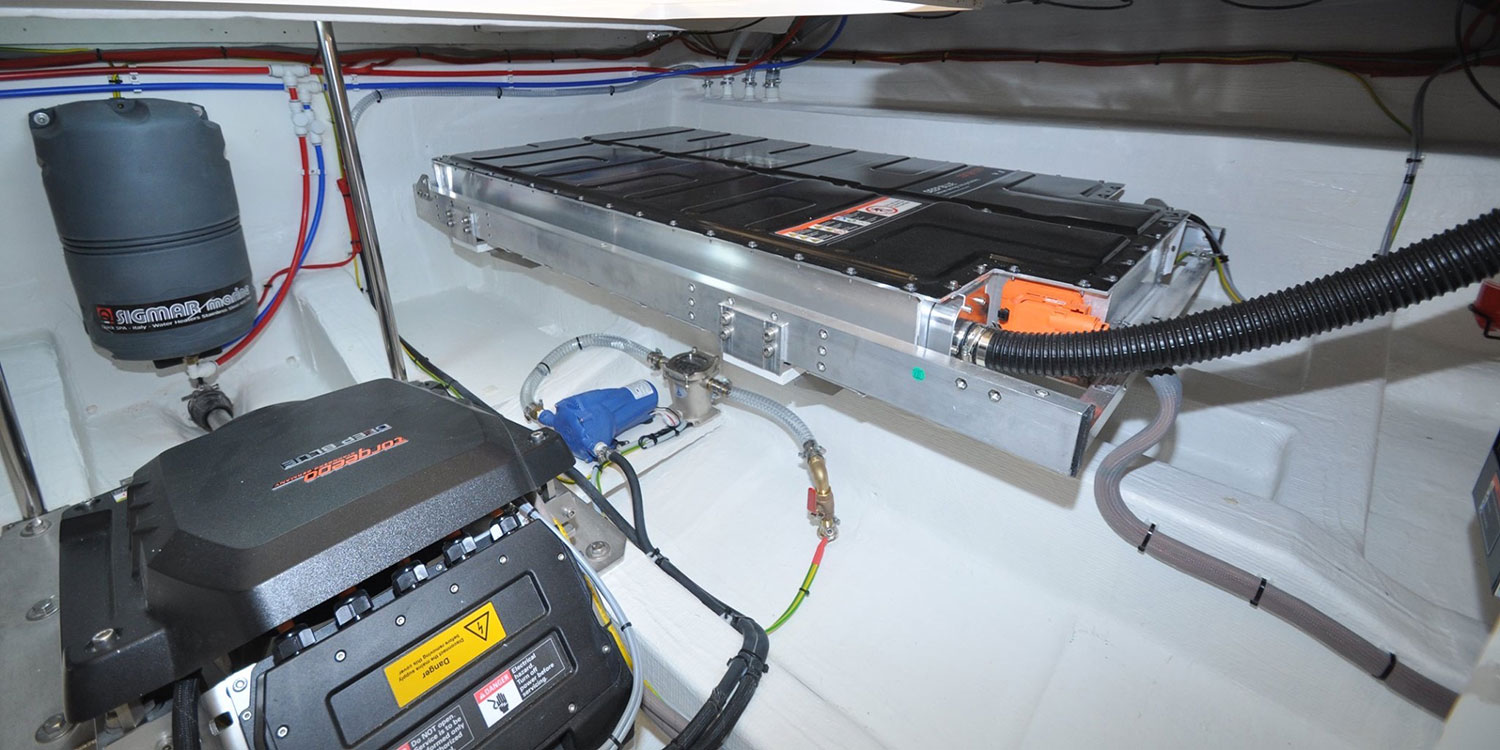 Deep Blue 50 kW inboard drive system is equipped with from one to three Deep Blue batteries. Credit: Greenline
In a few months' time, tourists will be able to explore Norway's natural beauty in silent, emission-free style – Covid-19 permitting. It will prove a fascinating adventure because the Telemark Canal is not one of those dead straight waterways. Along this canal you can experience Norway in all its beauty. In some places the waterway squeezes past steep cliffs; in other places boating tourists will glide on the perfectly flat water past orchards or traditional Scandinavian villages; some may be lucky enough to spot elk. Johre says that the project should save 200 tonnes of CO2 a year – and the boating tourists will benefit too. Whereas a one-week holiday on a combustion engine boat costs the users, on average, €350 in diesel, Canal Boats claim that a week's electricity will cost less than €70.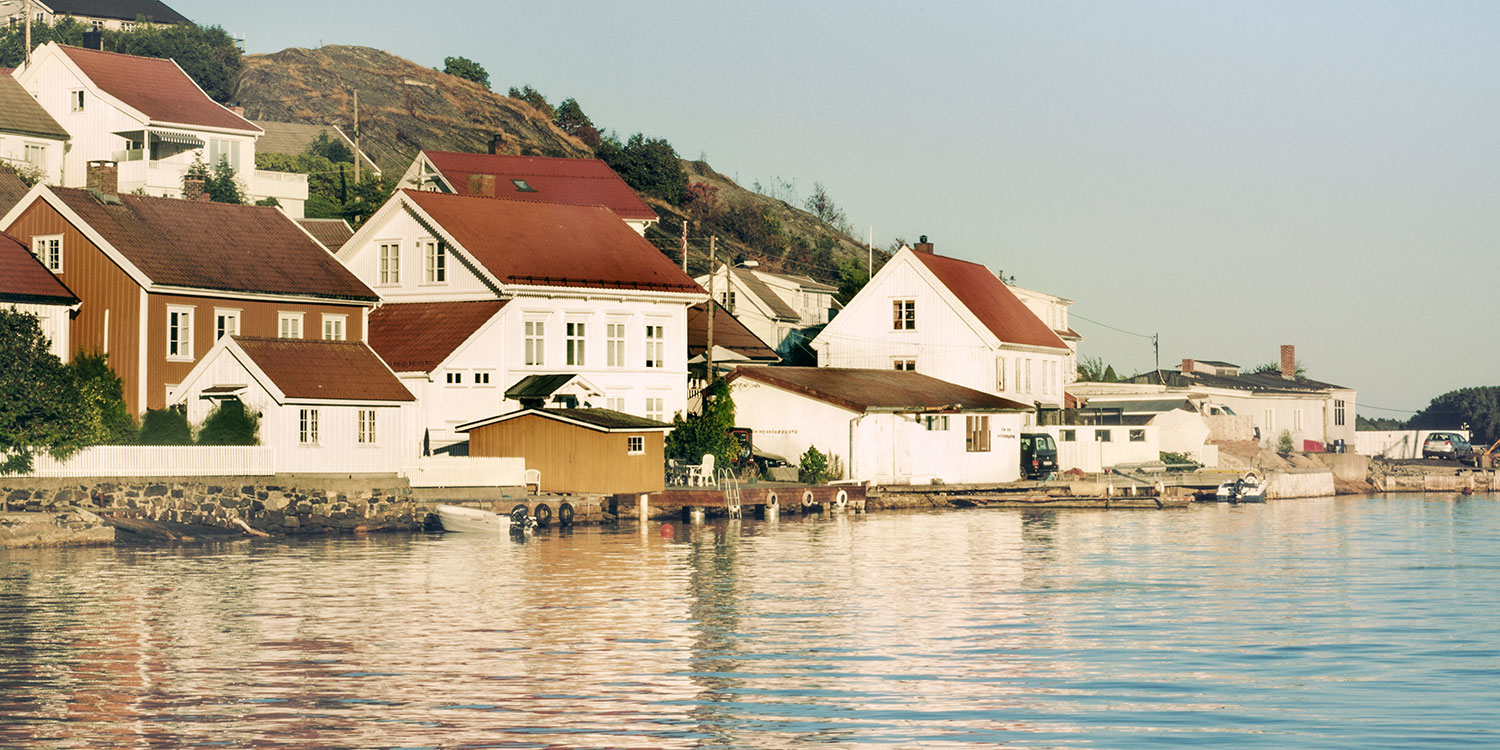 Traditional Scandinavian villages line the banks of the Telemark Canal; some of them now have charging stations. Credit: Telemark brand image
The Torqeedo Deep Blue system looks after the entire energy management needs of these boats. "On conventionally powered charter boats there is always a shortage of energy," says Stephan Bayerle. "You normally don't have any more comforts than while camping." On Greenline yachts, in contrast, you get a ceramic hob and a fridge. After all, plenty of energy is available, not least due to the solar cells on the roof. Besides, any traditional houseboat skipper always needs to be a bit of a ship's mechanic as well, as Stephan points out. But with the self-regulating Torqeedo system all you need to do is press a button for thrust or to monitor the drive system. You're not only travelling with a good, green conscience but also in greater comfort.
The electrification of Telemark Canal and the nearby coastline is an exciting and sustainable holiday option – and, at the same time, a feasibility study for similar projects in diverse canal and inland waterway landscapes around the world. "The Telemark project is a real pioneer and an important reference," Stephan Bayerle says. "When holidaymakers are experiencing e-mobility on a day-to-day basis, confidence in this technology rises." Nora Sjögren Johre adds, people in the tourism business are always scared of being copied. "With this project it's just the opposite. We hope that it will be realised by copy-and-paste in many other regions and countries."
More information:
Find high-resolution pictures at the: › Torqeedo Dropbox
Find the main catalogue 2021 here: › Catalogue 2021
Find the commercial catalogue 2021 here: › Commercial Catalogue 2021
Read more information about Canal Boats here: › Canal Boats Website
Relevant Torqeedo Products
11 FEBRUARY 2021 • 7 MIN READING TIME
Motorboats
Commercial
Tech
Big Picture