UK Boatbuilder Pioneers New Technologies to Clean Up the World's Waterways
Water Witch has been building boats at its Liverpool yard since 1966. The boatbuilder is well known for its innovative, cost-effective and efficient aluminium workboats designed to scoop up and remove litter in harbours and waterways.
The fourth-generation family-owned shipyard has achieved acclaim for its Versi-Cat series of twin-hull aluminium skimmers, which are designed to remove and dispose of litter, debris, plastics and aquatic vegetation floating on the water or semi-submerged beneath the surface. Over 200 of these specialised vessels have been deployed around the globe. They have removed over two million tonnes of marine debris from the world's waterways.
Jackie Caddick, Water Witch Director explained, "Over 90 per cent of marine debris reaches the ocean from rivers. By reducing the flow of plastics and waste in our inland waterways, rivers and estuaries, we can really make a huge difference."
Embracing Electromobility
Caddick reports that Water Witch's customers around the world are increasingly requesting electric propulsion to meet zero-emission and sustainability targets. "Clients are looking towards green technology to support their water and waste management services, reduce their dependence on fossil fuels and create a better environment for their own stakeholders," she said.
Since 2020, Water Witch has been working closely with Torqeedo to create an efficient electric power package for quiet, emission-free and efficient operation. The company is now offering a fully electric Torqeedo propulsion option for new boats as well as an electric retrofit package for existing combustion-powered Versi-Cats. Operators of the electric boats are achieving dramatic reductions in running costs with no fossil fuel usage and lower maintenance requirements.
Cruise for commercial applications
The standard Torqeedo propulsion package on the Versi-Cat vessels consists of a Cruise electric outboard with two Power 48 intelligent lithium-ion batteries weighing just 36 kg each. A cockpit control panel gives the operator a view of system status, including estimated range at different speeds.
Multi-Missions with Zero Emissions
The Versi-Cat design is designed to meet requirements for a variety of on-the-water jobs in addition to litter pickup. Last year, for instance, Water Witch delivered a Torqeedo-powered multi-mission electric workboat to the Loch Lomond National Park Authority as a step toward the goal of achieving net-zero emissions on the iconic Scottish lake's waters by 2030.
The new 8.0-meter all-aluminium boat is powered by a fully integrated Torqeedo electric propulsion package, consisting of a transom-mounted Cruise electric outboard with four Power 48 lithium batteries and a charging system. The electronic controls include a built-in GPS and onboard computer, providing a visual display of information such as speed, input power, state of charge and remaining range at the current speed. The boat can operate for six to eight hours between recharges.
The 100% electric boat, sustainably built from up to 75 per cent recycled content with 100 per cent recyclable aluminium hulls, is believed to be the first of its kind in the United Kingdom. It will be used to maintain hazard buoys and perform other maintenance missions on the lake.
"Our Mission Zero route map is bold and ambitious, and that is exactly what is needed in the face of the climate crisis we are facing," said Charlotte Wallace, climate action manager for the Loch Lomond Park Authority. "Emissions reduction is our top priority."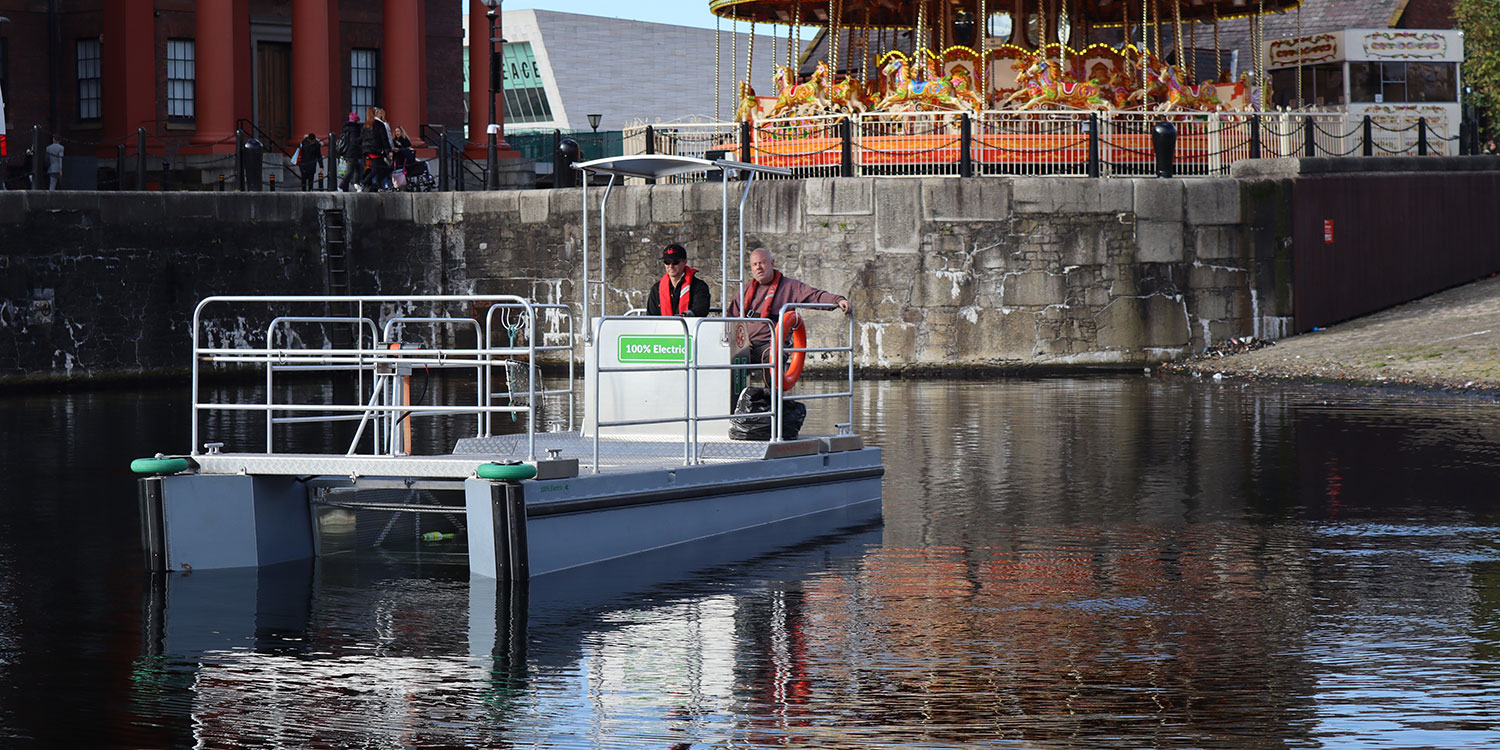 Versi-Cat are designed to remove and dispose of litter, debris, plastics on the water or semi-submerged beneath the surface. Credit Water Witch
Next Up: Autonomous and Hydrogen Solutions
Water Witch isn't stopping with batteries and electric drives. The company recently collaborated with Ecomotus to upgrade a 14-tonne surface dredger in Glasgow, Scotland, with a unique electrolyser system, called EcoPro, for producing catalytic hydrogen to enhance the efficiency of the boat's legacy diesel engine.
The vessel was moored on the River Clyde waterfront during last year's UN Climate Change Conference, where delegates from all over the world could witness the clean, green pollution control vessel firsthand.
Ecomotus Director Jason Munro observed that the EcoPro technology is a vital transition between fossil fuels and a hydrogen/electric economy.
In February, Water Witch announced a partnership with Marine AI Ltd, a leading software engineering firm, to develop a new generation of autonomous electric-powered vessels. The companies will modify the proven Versi-Cat design to run autonomously under the control of Marine AI's GUARDIAN artificial intelligence (AI) and decision-making software solution.
The new, highly integrated vessels will be fully autonomous, smaller and lighter. The Versi-Cats' electric propulsion systems will include thrusters to increase versatility, manoeuvrability and portability whilst reducing operating costs.
GUARDIAN's advanced data analytics will enable full automation of the process and will allow marine litter and ocean plastic retrieval to be optimised. The detailed data captured and processed by GUARDIAN will give better insights into the location and predicted movements of plastics in the marine environment, the variations and density of these hotspots and the characteristics of the litter. The AI technology will use this monitoring, modelling and machine learning capability to increase the recovery capacity, endurance and cost-efficiency of the cleanup process.
"Water Witch is a truly pioneering boatbuilder with a 50-plus-year tradition of innovation in harnessing new emerging technologies to clean up the world's waterways and oceans," said Tommi Salonen, senior vice president of sales for Torqeedo GmbH. "Their engineering teams are leading the way with new vessel design that effectively reduce litter and plastic pollution with zero noise, zero fossil fuel usage and zero emissions into the atmosphere."
"With collaboration partners like Torqeedo, Ecomotus and Marine AI, we are confident that our next-generation trash skimmers will provide a proven and innovative solution to achieve cleaner waters," Caddick said.
She sums it up succinctly: "It just makes good sense that a boat working to clean up pollution should not add to the problem be causing more pollution of the air and water."
More information:
Find high-resolution pictures at the: › Torqeedo Dropbox
More information about Water Witch: › Water Witch
Find the main catalogue 2022 here: › Main Catalogue 2022
Find the professional catalogue 2022 here: › Professional Catalogue 2022
Profile in Sustainability
3 JUNE 2022 • 8 MIN READING TIME