When searching for the perfect electric outboard, there are many factors to consider. You are rarely presented with a simple solution when browsing for an outboard engine, and that is because there is no "one size fits all."
Almost any boat can serve as a fishing platform, including aluminium boats, jon boats, bass boats, bay boats, pontoons, skiffs, and flats boats. Every boat has a different weight, shape, and size. The environment you choose to fish in also affects your choice of drive system. Some face a strong current or tide, and others may regularly opt to fish in calm inlets. The third factor to consider is how fast you need to go.
Once you have decided to own an electric fishing boat, understanding how they operate, which add-ons are a prerequisite, and which electric outboard line is right for you takes time to learn and understand.
Torqeedo offers four main types of electric outboards, including Ultralight, Travel, Cruise, and Deep Blue. We look into a range of environments and boat types to help you determine which electric motor series line and power are best suited to your needs.
Outboards for freshwater fishing
Large lakes, rivers and coastal areas
If you fish larger bodies of water you need an outboard with enough power, like one of the Cruise series of electric drives. These battery-electric outboards provide up to twenty-five horsepower-equivalent (HPeq).
If high speed isn't a priority, you can power a full day on the water easily with a Cruise 3.0 (6 HPeq) and a Power 24-3500 lithium-ion battery. This is an affordable, lightweight option for going emission-free and gaining access to the best fishing holes.
If you want to go faster, you will want a more powerful system. When your boat is in planing mode, the bow is displaced from the water and drag is reduced. This allows you to achieve higher speeds but also uses quite a bit of energy. For planing, you need a Cruise 6.0 (9.9 HPeq) or Cruise 12.0 (25 HPeq) outboard. These powerful 48-Volt drives are paired with Torqeedo's Power 48-5000 batteries.
To give you an idea of what the Cruise 6.0 is capable of, if you mount a Cruise 6.0 (9.9 HPeq) onto a 13-foot flat-bottom fishing boat, it will average a cruising speed of 11 knots (depending on the conditions and number of passengers).
Cruise outboards for anglers - Cruise 3.0 and Cruise 6.0. Credit: Tim Marcour
Fishing in lakes and rivers
Very lightweight motorboats best suited to angling on protected waters, rivers and inland lakes include aluminium or composite boats, small skiffs, and even inflatables. The Torqeedo Travel 603 outboard (2 HPeq) and the Travel 1103 outboard (3 HPeq) are our most popular engines for these smaller vessels. They come with an integrated battery and onboard computer so you know exactly how far and how fast you can go. The Torqeedo Travel 603 outboard is compatible with any watercraft weighing up to 1 ton, and Travel 1103 outboard can accommodate powerboats up to 1.5 tons.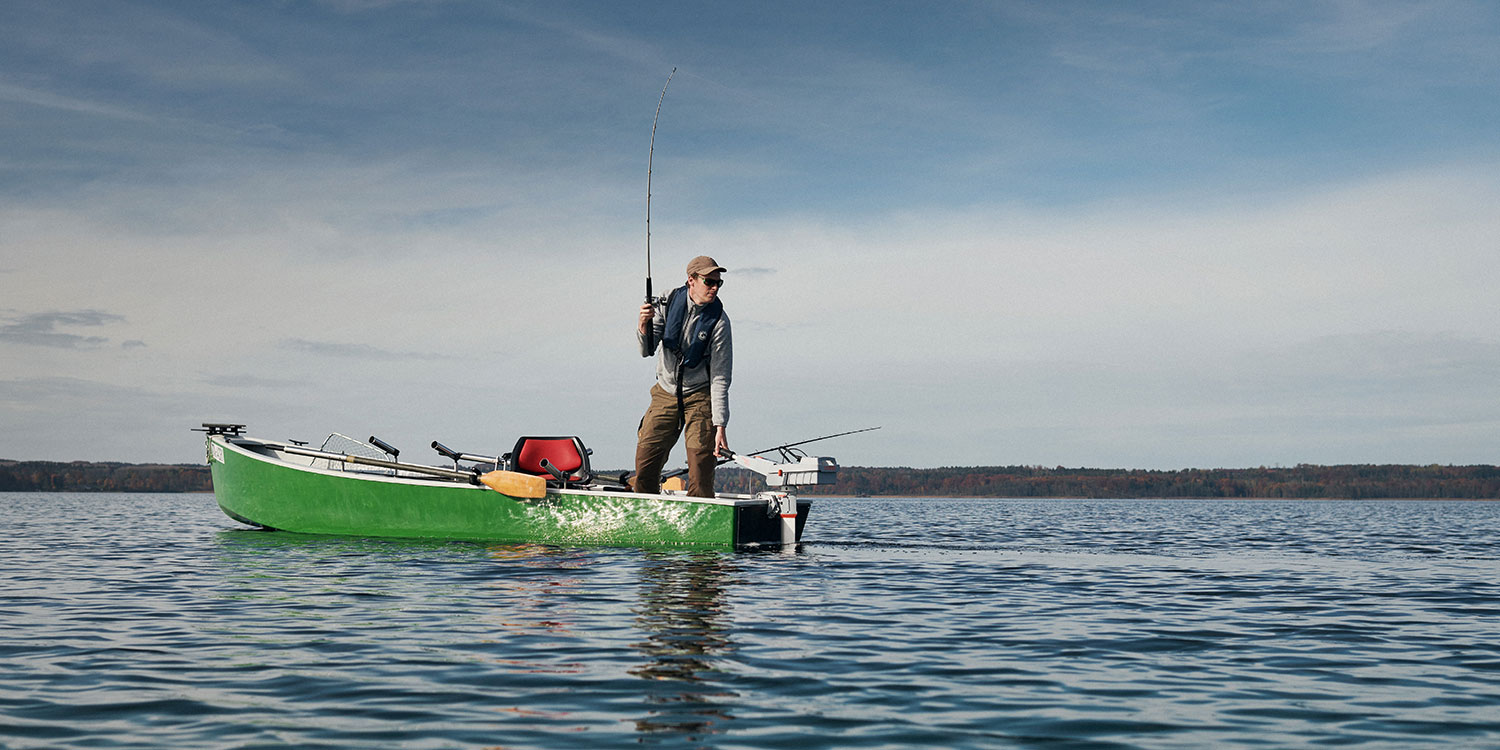 Travel have an integrated battery and a built-in on-board computer with GPS that displays the remaining range and charging status. Credit: Christian Brecheis
Creeks, streams, backwaters, and rivers
Fishing in low, skinny waters and searching for areas where water changes direction is excellent for targeting bass, trout, carp, and many other types of fish. Traveling along the upper reaches of freshwater creeks and rivers requires a lightweight and agile boat to maneuver through narrow channels. Some of the best small boats in the 15-20 foot range include small jet boats, kayaks, canoes, skiffs, and Jon boats.
The Ultralight Outboard is an ideal power choice for anglers looking to find a big catch using a lightweight boat. The ultralight outboard is the lightest Torqeedo electric outboard in our range, weighing only 8.8 kg (incl. battery). Ultralight outboards are specially designed not to make any noise underwater, meaning that anglers have stealth on their side when trying to catch a big one.
The Ultralight comes with lots of power (1-3HPeq) and can cover a range up to 100 km, and it's quick and easy to mount onto fishing kayaks.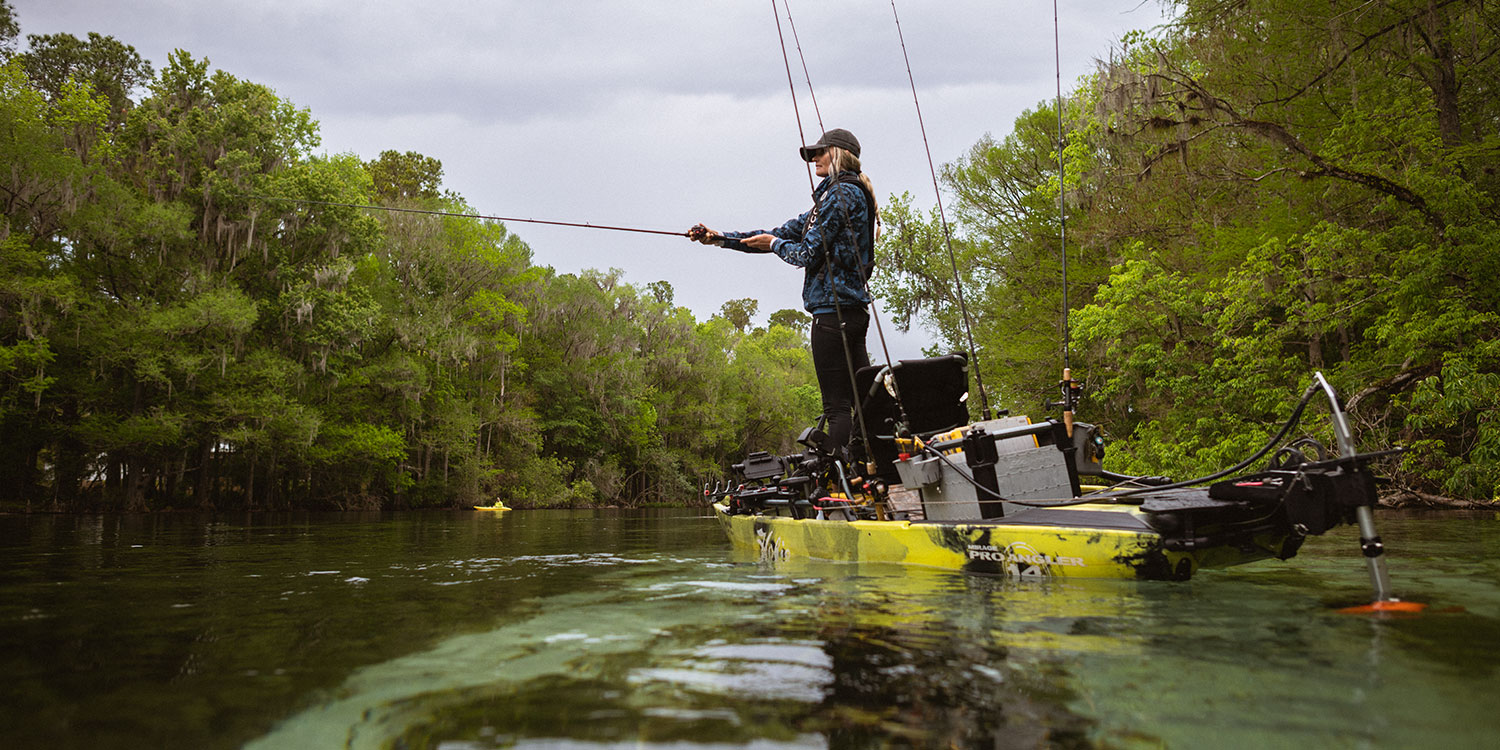 The Ultralight has plenty of power and a range of up to 100 km. Credit: Christian Brecheis
If you fish in areas with less than 5 feet of water, the mount allows the motor to kick up automatically toward the stern of the kayak when it encounters an underwater obstacle, thus minimizing damage. The weedless propeller v10/p1100 (standard for Ultralight 1103, optional for Ultralight 403) prevents tangling with underwater plants.
Angling in Saltwater
Saltwater fishing boats are either designed for inshore use or offshore use. Bay boats, center consoles, sportfish yachts, cruisers, day cruisers, and cuddy cabins are popular boats for saltwater fishing. Boats of this size would be best suited to an electric motor from Torqeedo's Deep Blue electric outboard series. The Deep Blue 50 motor powers motorboats with 80 HPeq and delivers extraordinary performance.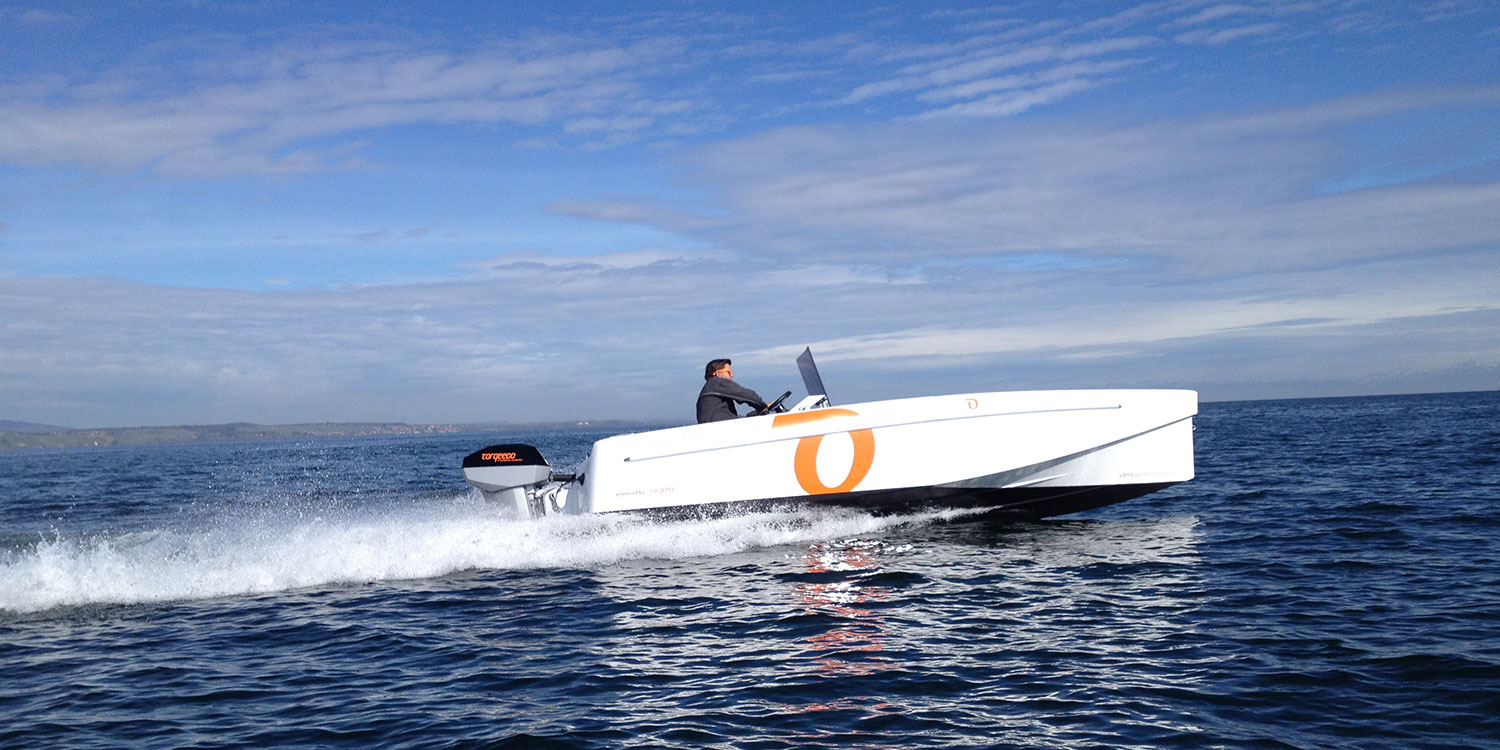 The Deep Blue 50 R with Deep Blue 40 kWh battery
Vessels intended for offshore use are typically used for game fishing and, therefore, must have seaworthy capabilities. Generally speaking, the larger a vessel is, the more seaworthy it is. For heavy displacement vessels, offshore anglers should consider the Deep Blue 100i, an inboard motor that provides roughly 135 to 150 HPeq. Fast, planing offshore fishing boats require a tremendous amount of power and will be best served by a Deep Blue Hybrid system.
Motors from the Deep Blue series come with everything you need to go electric, including one or more Deep Blue 40 kWh batteries, cables, chargers, throttles and displays.
Electric propulsion: Points to remember
Choosing the right power system for a new boat can be challenging, and you'll have to make many choices relating to the initial cost, fuel efficiency, maintenance costs, and reliability. But regardless of what type of power system you pick, remember to consider these crucial factors:
Electric motors have very few moving parts and generally have a significantly longer lifespan than gasoline engines.

You don't have to worry about fuel prices, since electricity prices are lower and much more stable.

Fishing electric can help you gain or maintain access to the best fishing spots. You won't disturb nature or neighbors with your ultra-quiet, efficient and emission-free fishing boat.

An electric drive system requires far less maintenance than comparable drive systems using fossil fuel.

It's wise to opt for the most powerful engine possible, even if you don't need the extra speed.
More information:
Find high-resolution pictures at the: › Torqeedo Dropbox
Find the main catalogue 2022 here: › Main Catalogue 2022
Related Torqeedo Products
Choosing the right electric outboard for your fishing boat
10 JUNE 2022 • 10 MIN READING TIME