Management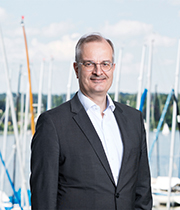 Dr Ralf Plieninger
Managing Director

Ralf is guiding Torqeedo's technological market leadership and product growth as managing director since 2012. With a wealth of experience from managing development, supply chain and manufacturing processes in the technology sector, he is responsible for all technical areas at Torqeedo, ranging from product management, research & development, and procurement to quality and production. Ralf also oversees Torqeedo's operational structures and processes and their continuous optimisation.
Ralf held several senior management positions before joining Torqeedo. At Q-Cells, a global leader in the solar industry, he led central corporate divisions in several different functions spanning planning, supply chain management, engineering and procurement. Ralf also worked in various positions at Infineon Technologies, Europe's second-largest semiconductor manufacturer.
Ralf graduated with a degree in physics from the University of Stuttgart and gained a PhD from the Max Planck Institute for Solid State Research.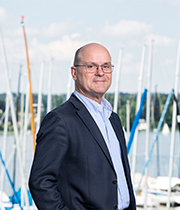 Dr Michael Rummel
Managing Director

Dr. Michael Rummel joined Torqeedo as a managing director in November 2019 and is responsible for finance, reporting, and business performance, with a focus on improving profitability. He is also in charge of sales, service, marketing, human resources, information technology, and the international subsidiaries.
Michael came to Torqeedo from Leoni Bordnetz-Systeme GmbH, a global supplier of wires, cables and wiring systems, as well as related development services. At Leoni, Michael was CFO and in charge of finance, controlling and program management. Before joining Leoni, Michael spent 35 years in various managerial functions in the automotive industry, the majority of which was spent at Daimler Group. He holds a degree in Law and Banking.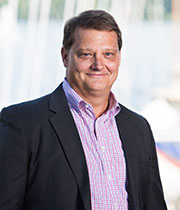 Steve Trkla
President Torqeedo Inc.

Steve is President of Torqeedo Inc., a wholly owned subsidiary of Torqeedo GmbH located in Crystal Lake, Illinois.
Steve has been responsible for launching Torqeedo products on the North American market, from Travel to Deep Blue. His wide-ranging experience in sales and marketing in the high-tech sector and his excellent feel for trends in the nautical industry have reaped great success for Torqeedo in the USA and Canada. Besides leading the US team and acquiring new customers, Steve has ensured Torqeedo's constant presence in the media in North America and helped us achieve a strong market presence within a short period. Steve is a high-tech product sales manager to the core. Before joining Torqeedo, he worked as sales director for a number of Silicon Valley start-ups, helping them achieve sales and growth. His understanding of IT products led him to Red Oak Marketing, a provider of online marketing strategies in the marine industry. And from there it was just one small step to Torqeedo.
Steve is a graduate of Macalester College in St. Paul (Minnesota) with a double degree in political science as well as law and social science.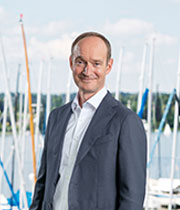 Tommi Salonen
Vice President – Sales

Tommi is responsible for Torqeedo's sales in Europe, Middle-East and Africa (EMEA) and Asia-Pacific (APAC) regions and leads the retail, project sales and inside sales teams. His teams are responsible for achieving Torqeedo's sales and growth targets by managing and developing sales and distribution channels, identifying new growth opportunities and ensuring a strong value proposition and support to Torqeedo customers.
Tommi joined Torqeedo in 2020, bringing over 20 years of international marine industry experience in various sales, marketing and business development roles. He previously worked at Bombardier Recreational Products (BRP) as the head of the marine propulsion business in EMEA. Before joining BRP, Tommi worked several years as sales director at Bella Boats, one of the leading boat manufacturers in Scandinavia, and boat equipment distributor Oy Maritim where he led the wholesale department.
Prior to joining the marine industry, Tommi worked in the international travel business. He studied financial management at the University of Tampere and management & strategy at the Helsinki School of Economics.

Frank Despineux
Vice President – Mechanical Development

With significant success and a wealth of experience in innovative technical solutions – from large drive units to small electrical machines – and the transfer of innovations into series production, Frank is another valuable asset in our management team. Frank has been responsible for all aspects of mechanical development, from planning and design to testing and production release since 2015.
Frank looks back on a variety of positions in technical product and innovation development. His first post with ZF Friedrichshafen laid the foundations for his expertise in drive engineering. He spent six years in his second position at MTU Friedrichshafen developing diesel engines for heavy vehicles before becoming project manager for the development and productionisation of high performance vehicles at Mercedes-AMG. After a number of successful production start-ups of AMG vehicles, Frank moved to Hilti, where he was responsible for preliminary development for electrical tools and accessories for a total of six years. Before joining Torqeedo, Frank was applications engineering manager at Klueber Lubrication, a leading manufacturer of lubricants.
Frank graduated from RWTH Aachen with a degree in mechanical engineering.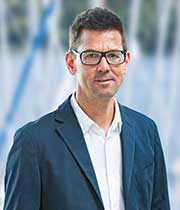 Oliver Glück
Vice President – Marketing

Oliver is responsible for Torqeedo's worldwide marketing and communication strategies. He leads the marketing, e-commerce and communications teams. His teams are responsible for designing, implementing and monitoring marketing campaigns and promotional events, maintaining and improving Torqeedo's brand awareness and online presence.
Oliver came to Torqeedo from his role as head of marketing communication and brand strategy for Hyundai Motor Europe. He was responsible for the development and implementation of Hyundai's pan-European strategy and campaigns, with a particular focus on digital transformation, content, brand and mass-marketing activities. Oliver gained experience in marketing electric mobility by launching the Hyundai Ioniq – the world's first vehicle offering three electrified powertrains.
Before joining Hyundai, Oliver held various management positions in the automotive industry and in marketing consulting. He holds the German equivalent to an MBA with focus on marketing, innovation management and advertising psychology from Ludwig-Maximilians-University in Munich.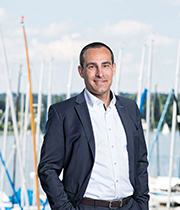 Jochen Czabke
Vice President – Quality

Jochen Czabke is responsible for the quality department at Torqeedo. His teams ensure that Torqeedo products perform at a high and consistent level of quality and standards compliance. The quality engineering team is in charge of the continuous improvement of Torqeedo products. This team performs quality tests at multiple stages of the product life, including pre-production, serial production and ongoing quality testing programs. The test stand engineering team develops and manages Torqeedo's end-of-line test stands, where each product is individually tested before leaving the factory. The quality compliance and regulatory affairs team makes sure that our products comply with international standards and rules, and manages certification projects with governments and regulatory agencies around the world.
Before joining Torqeedo, Jochen was a consultant in the automotive and marine industry for two Munich-based boutique consulting firms. International projects in the field of development, production and quality have given him a broad view across sectors. He also spent several years at Bavaria Yachts, one of the largest manufacturers of sailing yachts and powerboats in the world, in various roles. His final position at Bavaria was product manager for sailing yachts.
As a young adult, Jochen acquired an engineering degree in wood technology (Dipl. Ing. (Fh)) from the University of Applied Sciences in Rosenheim. He later achieved a Master's of Science degree at Oregon State University with a focus on production management and strategic marketing.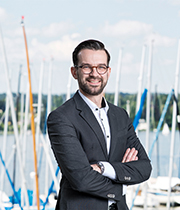 Thomas Wiedemann
Vice President – Program Management

The program management department at Torqeedo is led by Thomas Wiedemann. His team is responsible for managing development and large-change projects to achieve the specified goals and benefits for the company, while keeping a comprehensive view of the organization and its business. He is also responsible for the co-design and implementation of the product development roadmap, making sure all decisions regarding products and procedures are in alignment with Torqeedo's overall strategic plan.
Thomas came to Torqeedo from BMW AG, where he started his career as a specialist in engine calibration. He later worked as an expert in powertrain strategy, focusing on the management of electric and combustion powertrain projects, including emissions strategy. Thomas was then promoted to head of emissions, where he was responsible for drivetrain development in compliance with emissions legislation for petrol drive systems worldwide.
Thomas holds a Dipl.-Ing. TU Munich in Mechanical Engineering, with a focus on thermo- and fluid dynamics and automotive engineering.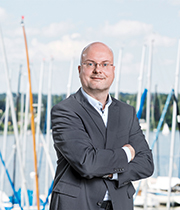 Dirk Eikemeier
Vice President – Electronics and Software Development

Dirk leads the electronics and software development team at Torqeedo. Coding of software can account for more than 30% of the development work for today's electric propulsion systems, ensuring all components are efficient and safe to operate. Dirk's team also develops the data networks that allow system components and batteries to seamlessly work together to estimate range and runtime, communicate status messages, integrate sensor data, and deliver a delightful user experience.
Dirk joined Torqeedo in 2019 as team leader for low-voltage electronics development and was promoted to vice president of electronics and software development in 2020. He came to Torqeedo from Knorr Bremse where he served as director of electronics control engineering for braking systems for freight, passenger and high-speed trains. In his previous role at MAN Energy Solutions SE, Dirk led the development of control units for marine propulsion systems and power plants.
Dirk holds a Dipl. in computer science from TU Clausthal with a focus on modern microelectronics, intelligent networking and functional safety.