When a port or harbour buys a new workboat, it looks at three characteristics: performance, safety, and durability. In the South of France, La Ciotat Shipyard's new workboat has all these attributes, plus it is sustainable. Their Naviwatt Zenpro RIB is powered by a Deep Blue electric outboard motor.
Most seaborne journeys begin and end at a port or harbour. The constant boat traffic makes one problem particularly evident: the environmental impact of vessels with combustion engines is enormous. Air pollution levels inside ports often exceed statutory thresholds, while exhaust and oil residues shimmer on the water. Boats like the Naviwatt ZenPro 580 could make a pivotal contribution to changing this situation.
According to the manufacturer, Naviwatt, the ZenPro 580 is optimised for operation in ports or harbours, where workboats with combustion engines contribute heavily to air and water pollution. These vessels often perform power-intensive tasks such as towing larger boats and are equipped with powerful engines. Because they often operate non-stop, they consume a considerable amount of energy and have a high carbon footprint. Until a few years ago, electric boat drives didn't have enough power or range to perform a full day's harbour tasks.
Emission-free power for power-intensive work
The Naviwatt ZenPro 580 now proves that a different solution is possible. The fully electric Torqeedo Deep Blue 50 R drive system has enough power to perform all routine harbour tasks. The maximum output of 50 kW corresponds to around 80 HP, and the top speed is 50 km/h.
"The working conditions on the ZenPro 580 are unattainable for gasoline-powered boats," says Jean-Charles Santoni from the La Ciotat Shipyard. "It's a real joy not to have to listen to the noise of an internal combustion engine all the time." The fact that the Deep Blue 50 R's electric motor has exceptionally high torque also makes Santoni's job easier: "This enables us to help super-yachts manoeuvre."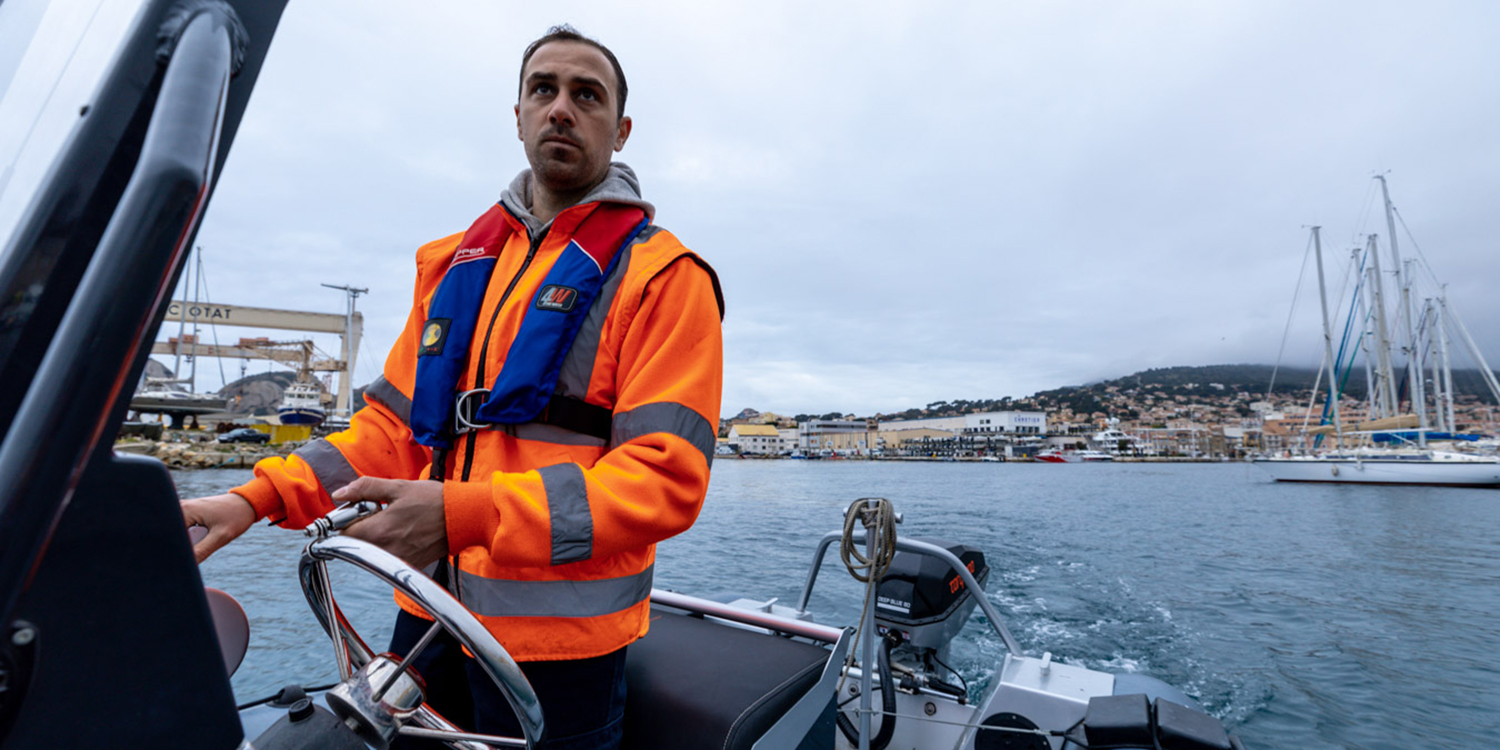 Jean-Charles Santoni from the La Ciotat Shipyard enjoys his time behind the wheel of the NaviWatt ZenPro 580. © Emeric Jezequel Studio
Sophisticated drive system offers maximum functionality
During the low season in winter, the boat operates for about two hours a day – in the summer months it runs all day long. "We charge the battery once or twice a week," says Santoni. The ZenPro is equipped with a long-life Deep Blue 40 kWh battery which uses BMW i technology. La Ciotat charges the boat overnight with a standard 230-volt socket. The Naviwatt ZenPro 580 was designed for heavy-duty use with a light and hard-wearing aluminium hull and Hypalon tubes, a material that is highly resistant to UV radiation. The sophisticated Torqeedo drive system's high-tech displays and intuitive controls make day-to-day operation easy, adding to the ZenPro's overall functionality.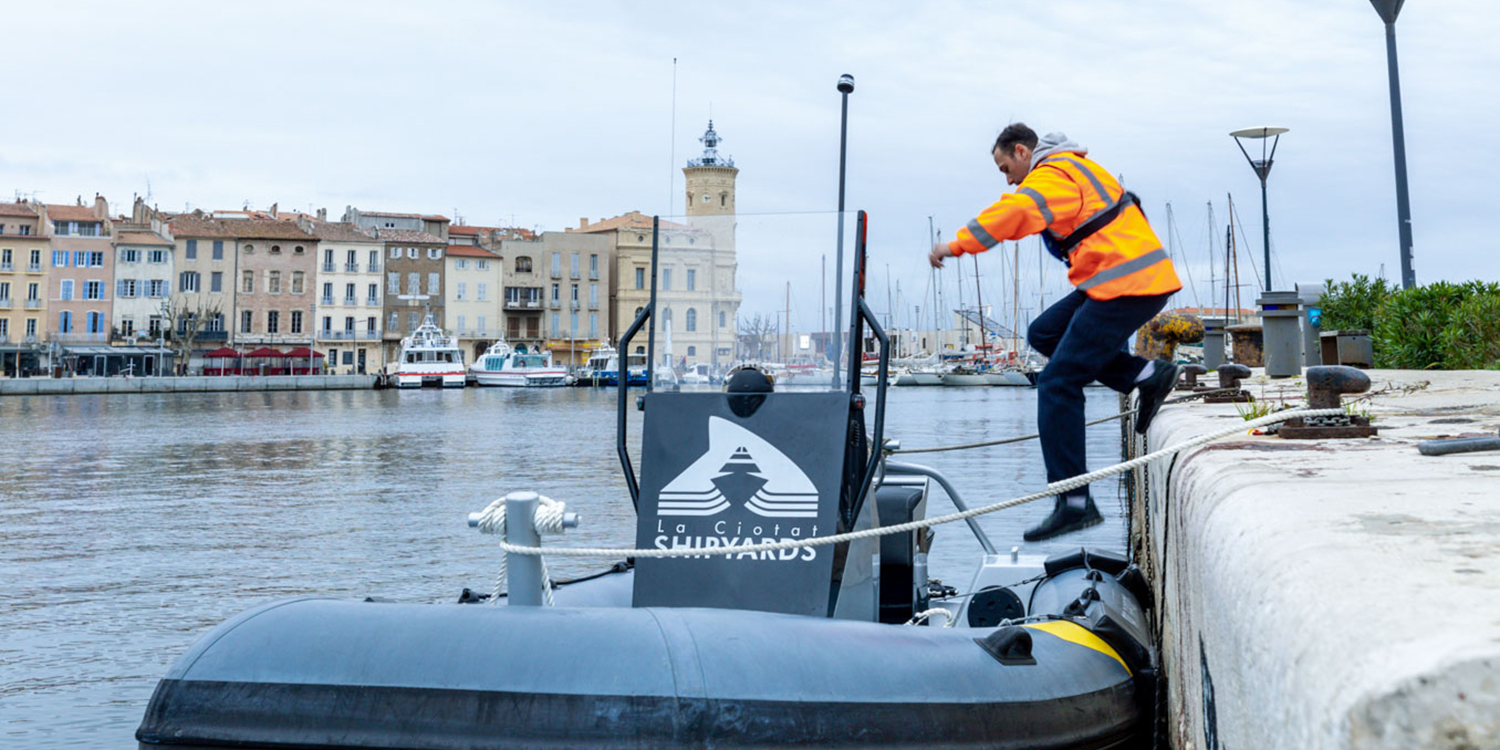 During the summer months, the working boat operates all day long – and can be charged overnight. © Emeric Jezequel Studio
As harbours and the businesses which operate there transition to fully electric workboats, local air and water quality should improve. "If you compare the emissions caused by a single car with those of a boat, the latter are much higher," says Dr Christoph Ballin, CEO and co-founder of Torqeedo. The fact is that a small, five horsepower outboard motor emits the same amount of air pollution as 38.5 cars driving on the highway. For large engines on workboats, the math is even worse. Thanks to Deep Blue, professional users now have the opportunity to do their daily harbour tasks in a cleaner, healthier, and more climate-friendly way.
More information:
Find high-resolution pictures at the: › Torqeedo Dropbox
Find the main catalogue 2020 here: › Catalogue 2020
Relevante Torqeedo Produkte
6 MAY 2020 • 5 MIN READING TIME
Commercial
Motorboats
Tech
People