The new TimeSquare 20 catamaran with Cruise 10.0 is designed for relaxing days on the water.
It's the most important modernist maxim: "Form follows function". But, it is unlikely to produce anything more than a weary smile from many designers who believe it to be their second nature. However, this simple, yet ingenious, principle can still be applied to great effect in electro-mobility on water. "My guess would be that 80-90% of all e-boots currently on the market are conventional motorboats that were retrospectively electrified," says Florian Helmberger, Sales and Marketing Manager at the Austrian boatyard Frauscher. What would happen if designers of electric boats rethought everything?
The end result of that approach is Frauscher's latest model: the TimeSquare 20, an elegant 8.30-meter-long and 2.50-meter-wide catamaran offering 20 m2 of space for sharing relaxation. The boat is powered by two Torqeedo Cruise 10.0 motors that are cleverly integrated into the twin-hulled design. Incidentally, this is the first-ever twin-hulled boat in the nearly 100 years of Frauscher's history – and the selected hull shape was certainly no coincidence. "To begin with, we asked ourselves what the most efficient hull shape was," Harry Miesbauer says, a naval architect at Frauscher. "In consultation with our experts it quickly became clear that nothing could be more efficient than a catamaran in view of the intended size and speed of the boat." Why? The twin-hulled design reduces the underwater hull area, which in turn lowers frictional drag. As a result, the power the two Torqeedo Cruise motors deliver can quickly and quietly accelerate the boat to a top speed of 26 km/h. If travelling at a more moderate speed of 10 km/h, the TimeSquare 20 has an impressive range of 110 km when equipped with four Power 48-5000 batteries. The e-catamaran has a similar top speed and range to the considerably more powerful Frauscher 740 Mirage Air but consumes much less energy in the process.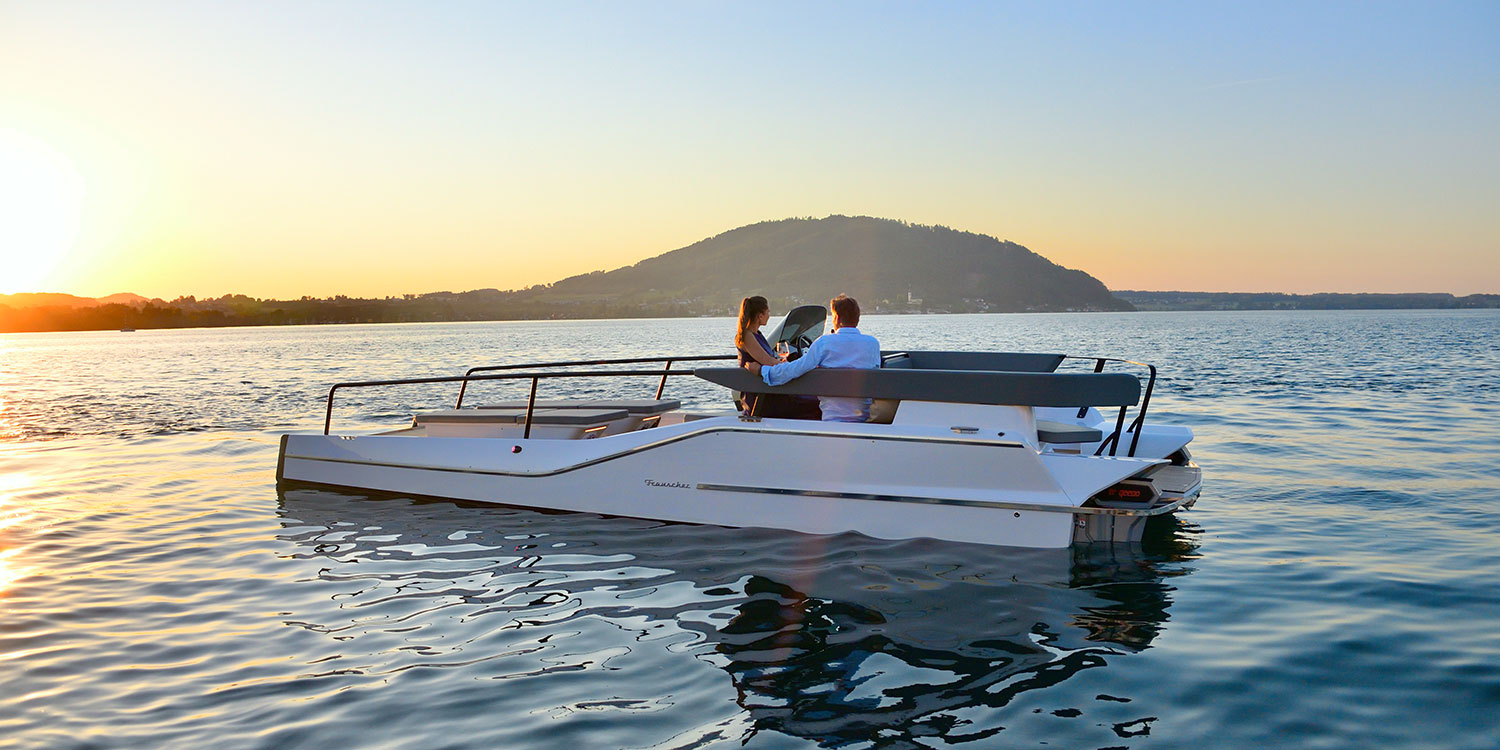 Sun loungers in the front section of the catamaran – ideal for relaxing on the water. (Credit: Frauscher Boats)
"Nowadays, it is easy to pack an extra 50 horsepower into a combustion-engine boat to offset any disadvantage in weight terms," Miesbauer points out. "And most customers won't even notice the related increase in fuel consumption." In an electric-powered boat it is not that straightforward because to raise propulsive power you need to install bigger batteries, which in turn increases the weight and space required. "And that is why optimization, really squeezing out the last few tenths of speed and efficiency, is much more important in an electric-powered boat," Miesbauer says. Efficiency is part of the function and the boat's design should reflect it accordingly.
But it wasn't just performance that influenced the design of the TimeSquare 20. "We took a very careful look at our e-boat customers' usage behavior," says Florian Helmberger. What they learned is that these boats are mainly used as private bathing islands. "That's why it's so important to have living space," Florian explains. The TimeSquare 20 offers just that, and the available space is intelligently divided up into different zones: a front section with large and luxurious sun loungers for passengers to relax on, and a rear section with additional seating and a table everyone can cozily sit around. With the TimeSquare 20, as always with Frauscher boats, it is the eye for detail, intelligent solutions and clear lines that make this boatyard's designs so special. A high-end audio system, integrated fridge, and smartly stowed awning, for example, perfectly equip the TimeSquare 20 for a hot summer day on the water. Coincidence? By no means. After all, it is the catamaran's twin hulls that make such a spacious platform possible.
Frauscher invested a great deal of time, money, and effort into developing the TimeSquare 20. The project took four years, almost twice as long as for other boats. Thomas Gerzer, development manager at Frauscher, and his team specifically built a prototype they tested on the water for a whole summer and undertook several modifications. "Normally we don't do that but because this hull shape was new to us, we wanted to test it very thoroughly," Gerzer explains. The Torqeedo team was involved right from the start. "Since we were in on the project from the concept phase onwards, the TimeSquare 20 is one of the first series-production boats to be equipped with the new TorqLink system," says Phillip Goethe, Torqeedo's project sales director. The advantage for the customer is "a system from the charger to the throttle that comes from a single source and is thus extremely user-friendly".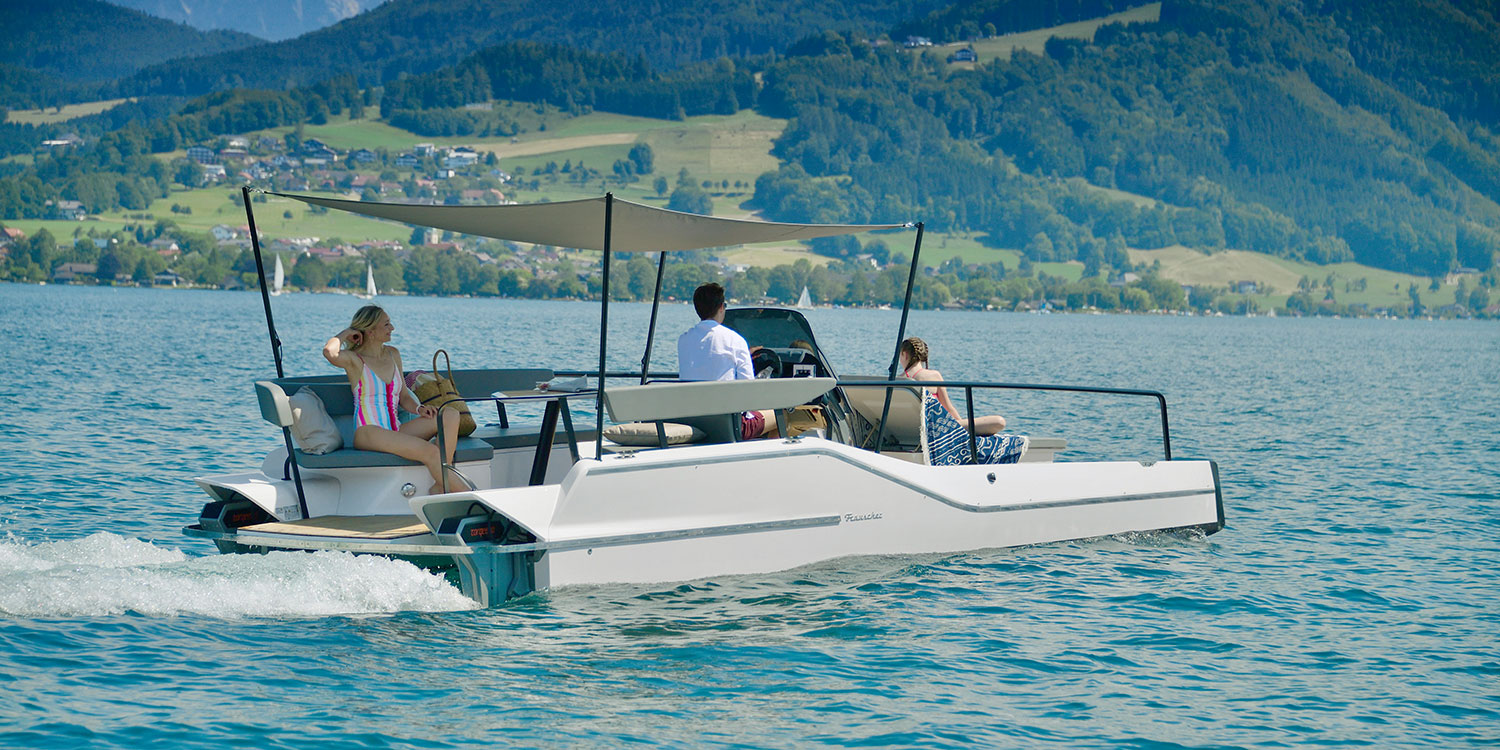 Anything but a normal e-boat; Frauscher wants to win over new target groups with the TimeSquare20. (Credit: Frauscher Boats)
The TimeSquare 20 is far from being a risk-free project for Frauscher. "We have long-standing customers who were critical of this design in the first moment," says Florian Helmberger. But at the same time, the TimeSquare 20 has aroused a great deal of curiosity. "I cannot remember a product launch that has generated so much interest," Helmberger adds. "We've been overwhelmed by the number of enquiries." He believes there are two reasons for this: "A few years back, the market for e-boats was still very limited. They were mostly relevant for customers because combustion engines were banned on their lake or were otherwise restricted." But this is changing. "We're suddenly getting enquiries for e-boats from America, Italy or Switzerland, countries where you're normally allowed to use a combustion engine," Helmberger says. But a more important factor for him is the design of the TimeSquare 20 – thinking electric right from the start and thus designing a boat that would not have been possible with a combustion engine. "What the TimeSquare says to you from far off is 'I'm not a conventional boat, I'm something special," Helmberger points out. And Torqeedo's Phillip Goethe fully agrees: "The TimeSquare is purpose-built for electric power – that's what makes it so interesting."
More information:
Find high-resolution pictures at the: › Torqeedo Dropbox
More information about Frauscher Boats: › Frauscher Boats
Find the main catalogue 2021 here: › Catalogue 2021
Find the commercial catalogue 2021 here: › Commercial Catalogue 2021
Relevant Torqeedo Products
Relaxation fair and square
21 JULY 2021 • 8 MIN READING TIME
Motorboats
Tech
Press Releases