The Dutch boatyard Saffier Yachts has won the prestigious European Yacht of the Year award - twice in a row. Dennis Hennevanger, the second-generation owner, talks about what's behind this monumental achievement – and why the future of sailing is electric.
Is sustainability a big topic for you guys at Saffier Yachts?
Absolutely. We've always been at the forefront of new ideas and technology. Thirteen years ago, we started to use artificial teak decks on our boats because we didn't want to be responsible for cutting down any more big trees. Teak trees need hundreds of years to grow, and ancient forests are the lungs of our planet. In my opinion, our sustainable solution is even better than the old ones in many respects: more durable, tougher, more sustainable.
The award-winning Saffier Se 33 Life is available with electric propulsion or a diesel engine, while the Se 27 Leisure, which won in 2021, is exclusively available with electric propulsion. When did you start using electric mobility?
We started to experiment with the technology about ten years ago. Too early, as we know now. At that time, most electric sail drives were made by nerdy engineers who didn't relate to the customer. You really had to understand the technology a bit to be able to use it. But most customers just want to push a button, use the engine for an hour or two, switch it off, get back to the jetty, and recharge the batteries. We always saw Torqeedo as the main brand and when they came out with the Cruise Fixed Pod, an electric motor attached directly to the hull, that was the moment we'd been waiting for.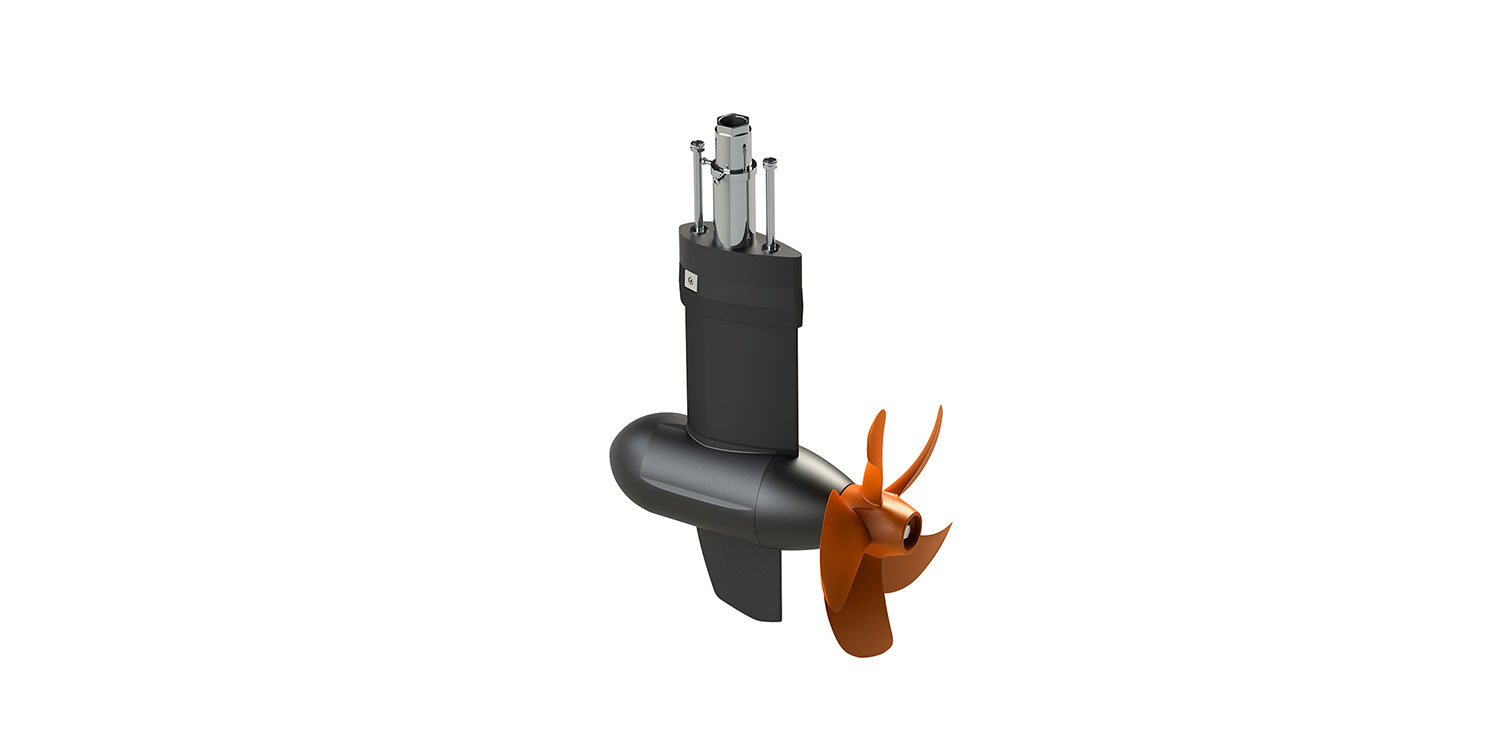 The new Cruise Pod – quiet, environmentally friendly, lightweight and space-saving below deck.
What makes a day on the water perfect for you?
Stability, sea worthiness and safety – regardless of whether you've got strong winds or no wind at all. We really design our boats so you can spend a great day on the water with family and friends. That's why our daysailers have large cockpits that easily accommodate up to nine people. And they are really easy to sail, so you don't need a crew to operate the boat. And speed? Also very important. Our motto is fast, fun and safe.
How do you do research and development?
First of all, we carefully listen to our customers' feedback – in as detailed a way as possible. Some years ago, a customer didn't like the height of the seat back on the deck, so we adapted the design in the next boats and got lots of compliments from different customers afterwards.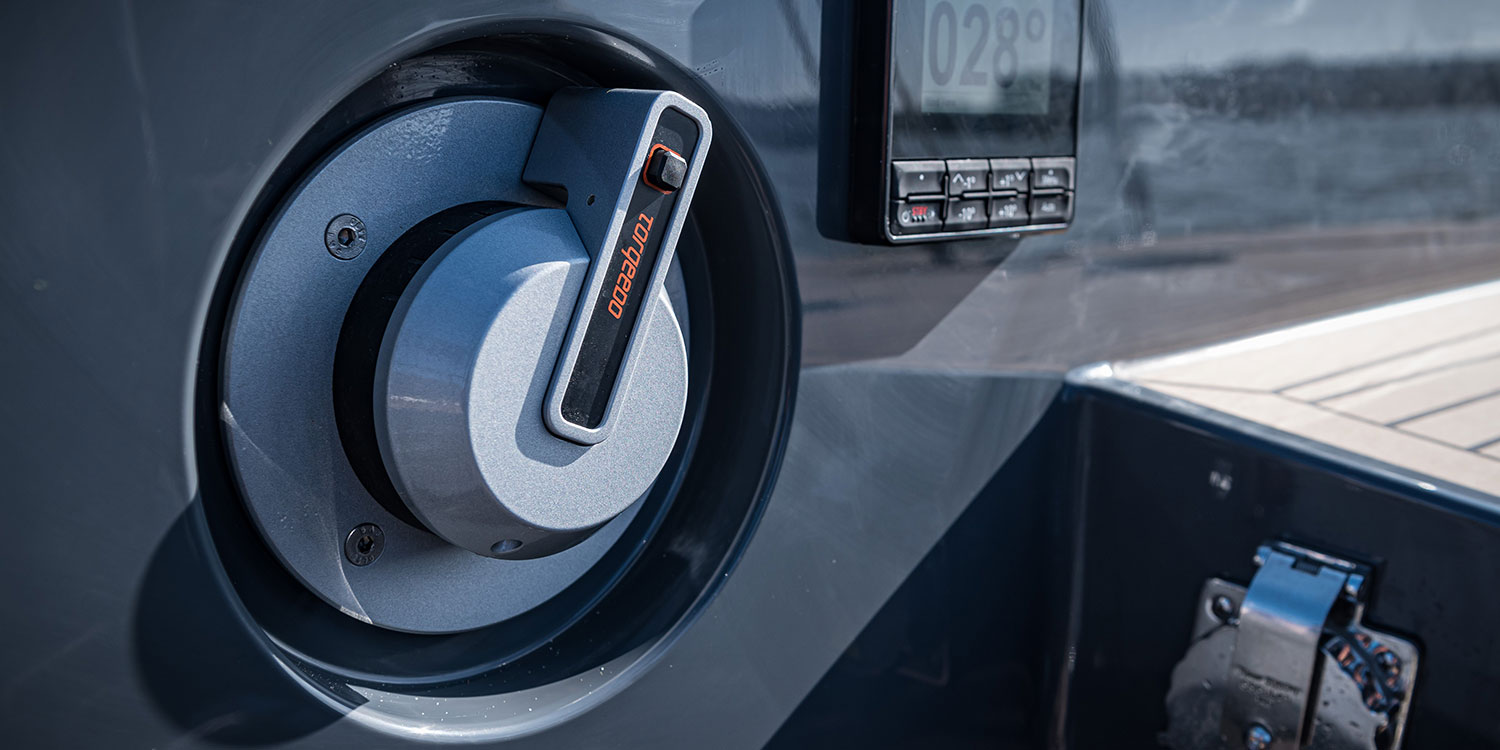 The Torqeedo control panels are seamlessly integrated into the sleek design Saffier Yachts is well known for.
How does your design process work?
Basically, my brother and I ask ourselves: What would we love? We sail every day, we use our boats and other boats, and so, if we're feeling we should be going in a certain direction, the market usually feels the same way. Our next question: What is the use case? Are we building a boat for a lake or an ocean? Right now, for example, we're designing a new boat that will come with a Torqeedo electric motor just like the Se 27. But since a lot of customers who like to leave their boat on a buoy instead of a jetty asked us about charging solutions, we'll put solar panels on the boat – with jetty power as an alternative. So our challenge is to design the solar panels so they become one with the boat and that sunlight works from all angles – and everything still looks good. It's a different way of thinking.
Intriguing … when will this new boat be available?
It will be launched in Düsseldorf at the Boot fair in 2023. So stay tuned. We already have 20 or so orders, without having released specifics about length, etc.
What are the design implications of electric propulsion from naval architecture to interiors?
The electric motors are so light! I mean, a 1,850 kg boat sheds 150 kg when you get rid of the heavy diesel engine and fuel tanks. The lighter a boat, the faster you can go. That's a big benefit. And inside the boat you suddenly have much more space because our electric motor is smaller than a diesel and sits underneath the boat, not inside the cabin.
What do you do with all the newly available space?
Well, it's the perfect spot for a fridge to cool a nice Sauvignon Blanc (laughs). Seriously, the diesel engine used to be behind the staircase to the cockpit, so it really was a very good place to put the fridge. And that's what we did.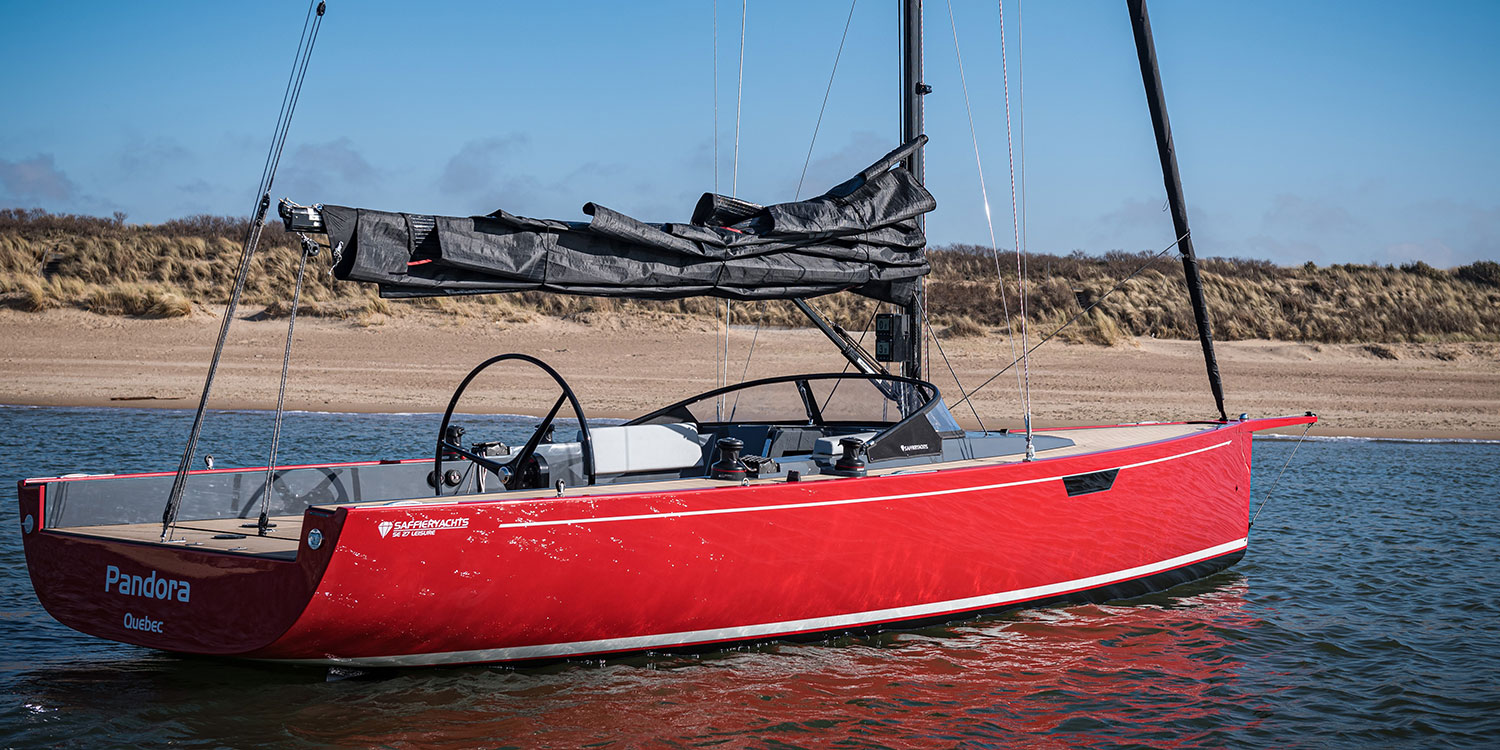 In 2023, Saffier will launch a day sailer that can also recharge at the buoy via solar panels.
How do you collaborate with Torqeedo engineers?
You know, our company sells about 150 boats a year – all over the world. So, it's very important for us to work with globally known companies. We think Torqeedo is the biggest and best brand in electric propulsion. When we design a boat, these guys help us a lot technically – we exchange ideas, and so on. And when a design or technical solution doesn't work as planned, these guys don't back down. They come all the way from Munich to sort out whatever issue we've had. It's a good relationship, the way it should be.
How will sailing change in the next couple of years?
I think the pandemic really changed the status and image of sailing. During the lockdowns, many people realized that the biggest freedom you can get today is on the water. And because of all the sustainable and user-friendly innovations in recent years – electric motors, new materials, electrical winches – the sport is much more accessible than it used to be. The sailing community is growing at the moment, and that's a good thing. Because there's nothing more sustainable than checking the wind and setting sail.
More information:
Find high-resolution pictures at the: › Torqeedo Dropbox
Find the main catalogue 2022 here: › Main Catalogue 2022
Related Torqeedo Products
The European Yacht of the Year Award goes again to: Saffier
20 MAY 2022 • 4 MIN READING TIME