Deep Blue 100 kW on display for the first time at the festival
Visitors to this year's Cannes Yachting Festival will be able to test various electric and hybrid boats, plus view the Deep Blue 100 kW inboard drives, on display for the first time at the festival.
The whisper-quiet Deep Blue100i 2500 was designed and constructed to power fast planing motorboats. The motor of choice for exhilarating acceleration – its reliable, low-maintenance, direct-drive design delivers extraordinary performance at its full power range, with up to 2,700 rpm and a torque of 424 Nm.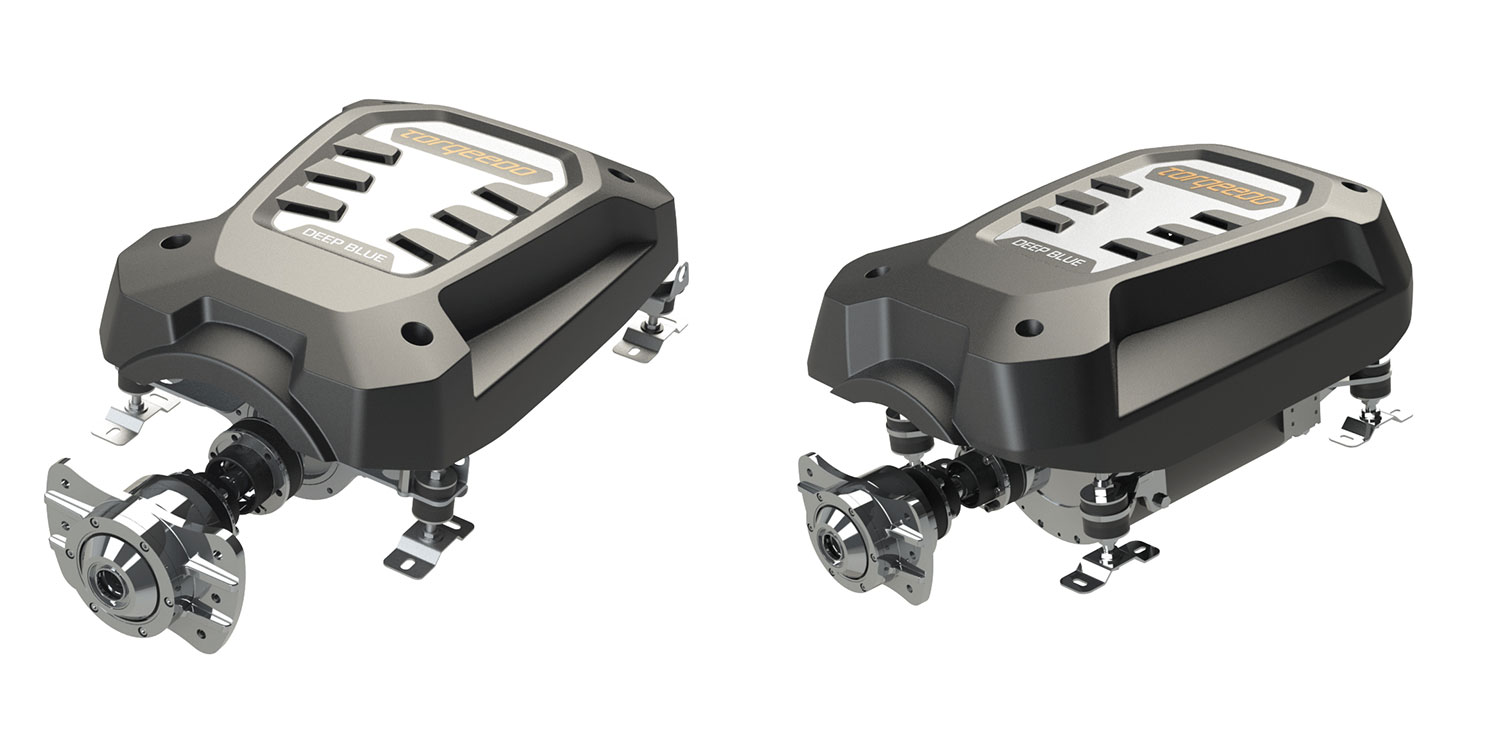 The Deep Blue 100 kW inboard drive is available at either 2,700 rpm or 900 rpm
The heavy-duty Deep Blue 100i 900 is suitable for yachts up to 120 feet long, displacement boats and commercial vessels. This robust direct-drive motor delivers the low rotational speeds (900 rpm) necessary to efficiently power displacement hulls with a torque of 1060 Nm.
"From large yachts to tenders and sailboats, Torqeedo continues to drive e-mobility on the water. Cannes is the perfect venue for exploring the available options, whether you're purchasing a new boat or considering a refit," said Tommi Salonen, senior vice president sales for Torqeedo GmbH. The Torqeedo stand at PALAIS046 will also have the full lineup of Torqeedo products on display, including the Deep Blue 50 saildrive and motors for cruisers, workboats, tenders, dinghies and daysailers.
The Frauscher Mirage 740 Air with Deep Blue System Credit: Christian Brecheis
Torqeedo's Deep Blue 100i powers Frauscher Boats' emission-free Mirage 740 Air which will be on display for the first time at Cannes. An almost 8-metre daycruiser, the 740 Mirage Air is an elegant centre console capable of transforming in seconds from a bathing platform and sundeck to luxurious lounge space. With two different motor and battery options, it can offer a maximum range of 110 km (68 miles) at cruising speed, giving you a whole day at sea with no worries and no need for refuelling. Visitors can find the Mirage 740 Air at Frauscher's stand PALAIS111.
Nimbus Boats chose Deep Blue 50i to drive their all-electric 305 Drophead, also on display at Cannes at Quai Max Laubeuf 030 and 337. The 10-meter weekend cruiser features Nimbus' ultra-efficient Smart Speed concept hull and a stylistically pure Scandinavian design. The 305 has two very comfortable cabins; the "owners cabin" and a side cabin, sharing the head and shower.
Zodiac will display their electric RIB lineup at CYF22. The eOPEN models are powered by Cruise motors and Power batteries. The 3.4-meter eOPEN has a ten-hour range at 5 knots and serves as the perfect tender or exploration platform for a zero-impact day on the water.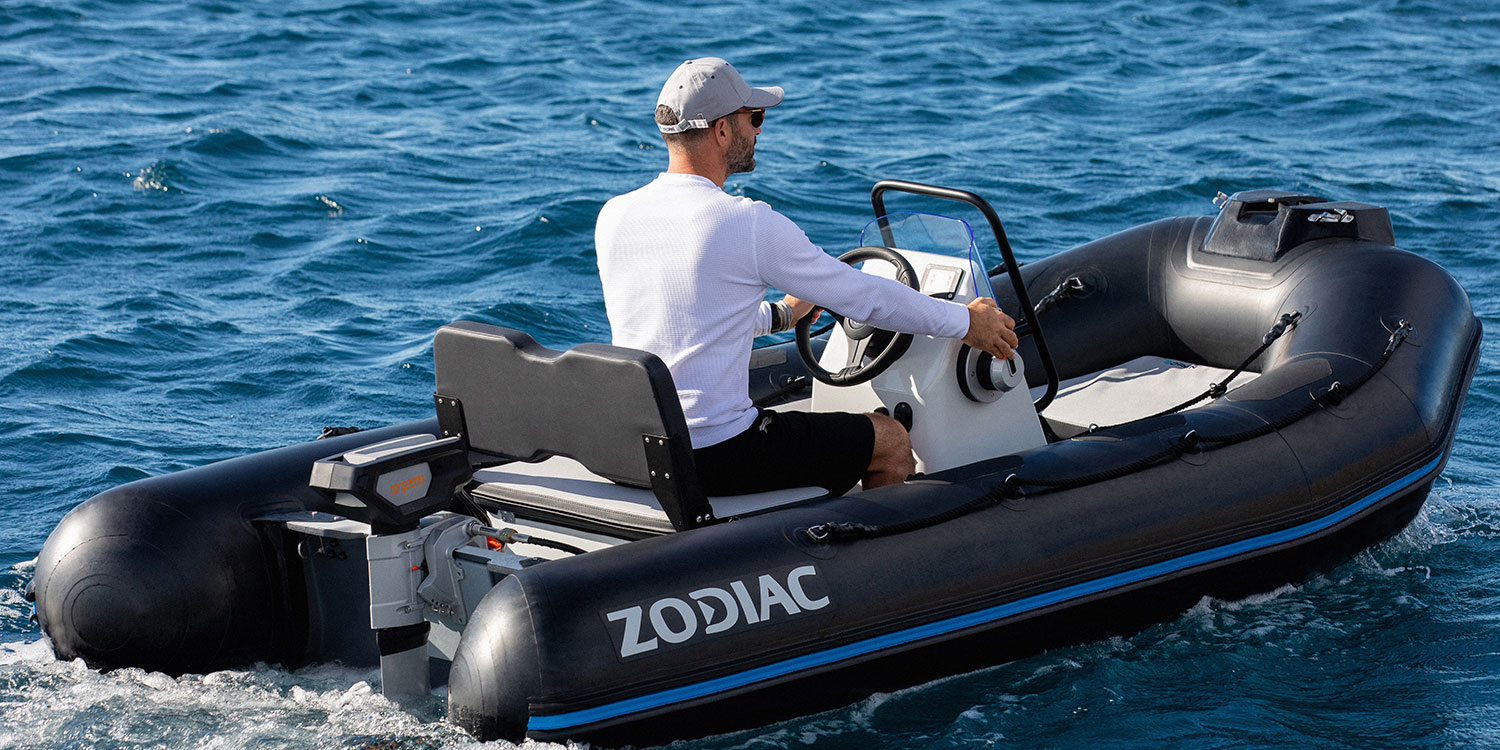 Zodiac's eOPEN models are powered by cruise motors and power batteries Credit: Thomas Deregnieaux Photography
Also make sure to visit PAN048 to view the Orphie 29, an ultra-efficient trimaran with plenty of space for everyone to enjoy. Built for Deep Blue 100% electric propulsion, the Orphie 29 delivers a pleasant cruising speed of 8-12 knots. In addition, the ability to reach 17-20 knots in a short period of time makes the boat fun and very reassuring in heavy seas.
Whisper-Yachts is a range of solar-electric motor-yachts from 40 ft to 60ft which combines autonomy (unlimited at 5-6kn), performance (top speed of 18kn) and luxury outfitting. Naval architecture and design were done by the renowned studio Berret-Racoupeau Yacht Design with propulsion by Torqeedo. An immersive virtual tour of the solar-electric Whisper 50 can be viewed at stand QML195.
More information:
Find high-resolution pictures at the: › Torqeedo Dropbox
Find the main catalogue 2022 here: › Main Catalogue 2022
Find the professional catalogue 2022 here: › Professional Catalogue 2022
Related Torqeedo Products
Cannes Yachting Festival 2022
5 SEPTEMBER 2022 • 5 MIN READING TIME