The 9-meter Cöllni is the first electric-powered workboat in the Port of Hamburg. Among the many container and cruise ships, it represents a low-emission future. After all, inland shipping in the port city is to be completely electric-powered by 2030. How about a test drive?
On a crane towering above the quay, seagulls are screeching as if to say: "Look at Cöllni! Come here! Come here!" It's eight o'clock in the morning and the von Cölln shipyard in the Finkenwerder district of Hamburg is bustling with activity: sanding machines are sending sparks flying, and there is a slight smell of paint in the air. "We're currently getting Hamburg's Elbe ferries ready for the summer season," says Jörg von Cölln, the shipyard owner who employs a staff of ten. This is important because ferries are a key component in Hamburg's public transport network.
In a port city like Hamburg, water has always shaped everyday life and economic activity. Here, the mobility revolution is taking place not only on the roads, but also on the Elbe river, the canals, and the inland waterways. A small, green tugboat moored at the shipyard's jetty is to drive this transformation of the Port of Hamburg. Cöllni 1929 is the city's first all-electric workboat. Where before a diesel engine used to produce rattling noises and emit exhaust fumes, the Torqeedo Deep Blue 100i electric high-voltage system now quietly hums along.
A local solution to a global problem
Global shipping is responsible for 3-6% of global CO2 emissions, a figure comparable to the aviation sector and rising. Besides climate protection aspects, ship's diesels also impact the air quality in cities like Hamburg, a port metropolis with a population of 1.8 million. The German nature conservation organization NABU has shown that the exhaust fumes of large ships contain between 250.000 and 400.000 pollutant particles per 1 cm3 of air (2,500 is considered an acceptable concentration).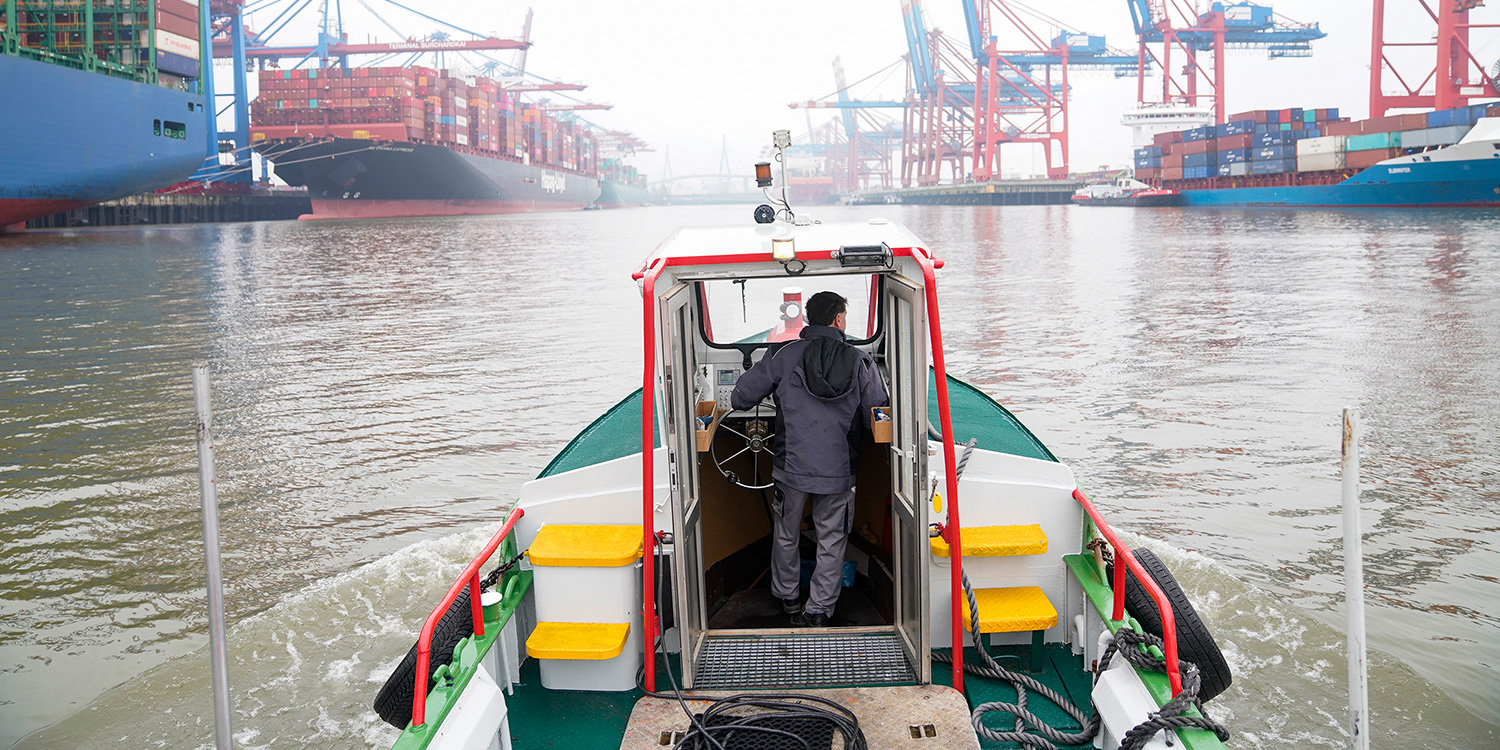 Large ships pollute Hamburg's air and the global climate - the E-workboat shows that performance is possible without emissions.
By launching its Climate Plan 2022, the northern German city has committed to a strategy to reduce climate and air pollution from cruise and container ships, ferries, tugboats, and excursion steamers. The electrification of inland shipping is expected to make a decisive contribution to reducing CO2 emissions and to shifting traffic from road to rail. All 27 Elbe ferries, which carry around 10 million passengers a year, are still diesel-powered. Of the 18 launches that carry tourists across the Alster, just two have a electric propulsion system. There is still a lot to do.
Cöllni is a mooring boat that works in tandem with other workboats to help huge container ships or cruise liners dock at the quay. The task requires plenty of power and great maneuverability – which Torqeedo Deep Blue reliably supplies. In the future, the boat, which is 9.15 meters long and 3.22 meters wide, will be operating on nearby Lake Alster, tugging passenger ferries, transporting tools and materials, or repairing bridges and jetties from the water.
"The future of the port," wrote a newspaper about the Cöllni and its Deep Blue electric propulsion system.
The fact that Cöllni can do all that without generating CO2 emissions and engine noise is a major step forward. The city's best-selling newspaper already described the small boat as the "e-future of Alster shipping and the port." What's more, a police boat powered by a Torqeedo electric motor recently joined Cöllni on Hamburg's waterways. The city has decreed that Alster shipping should be completely emission-free by 2030. A first step has now been taken.
A tradition of innovation
In his dungarees and dark-blue-and-white striped fisherman's shirt, Jörg von Cölln is a true Hamburg original. He is the eighth generation to run the family-owned Finkenwerder shipyard, which was founded back in 1767, many decades before the invention of the first steamship or diesel engine. But Jörg von Cölln doesn't cling to the past; he's leading his company into the future by proving to everyone that even an old "iron hog" – a heavy workboat – can be powered by battery and clean energy. The conversion from diesel to electric motor was "quite unspectacular," says Jörg, and he means that as a compliment. "The Torqeedo engineer and our guys at the shipyard worked together really well." Besides, the converted boat is much lighter and consumes less energy. "The project shows that existing workboat fleets can be converted to electric drives without any problems," points out Matthias Schubert, Torqeedo's Commercial Sales Director. "What we learned from this refitting job will help speed up this process."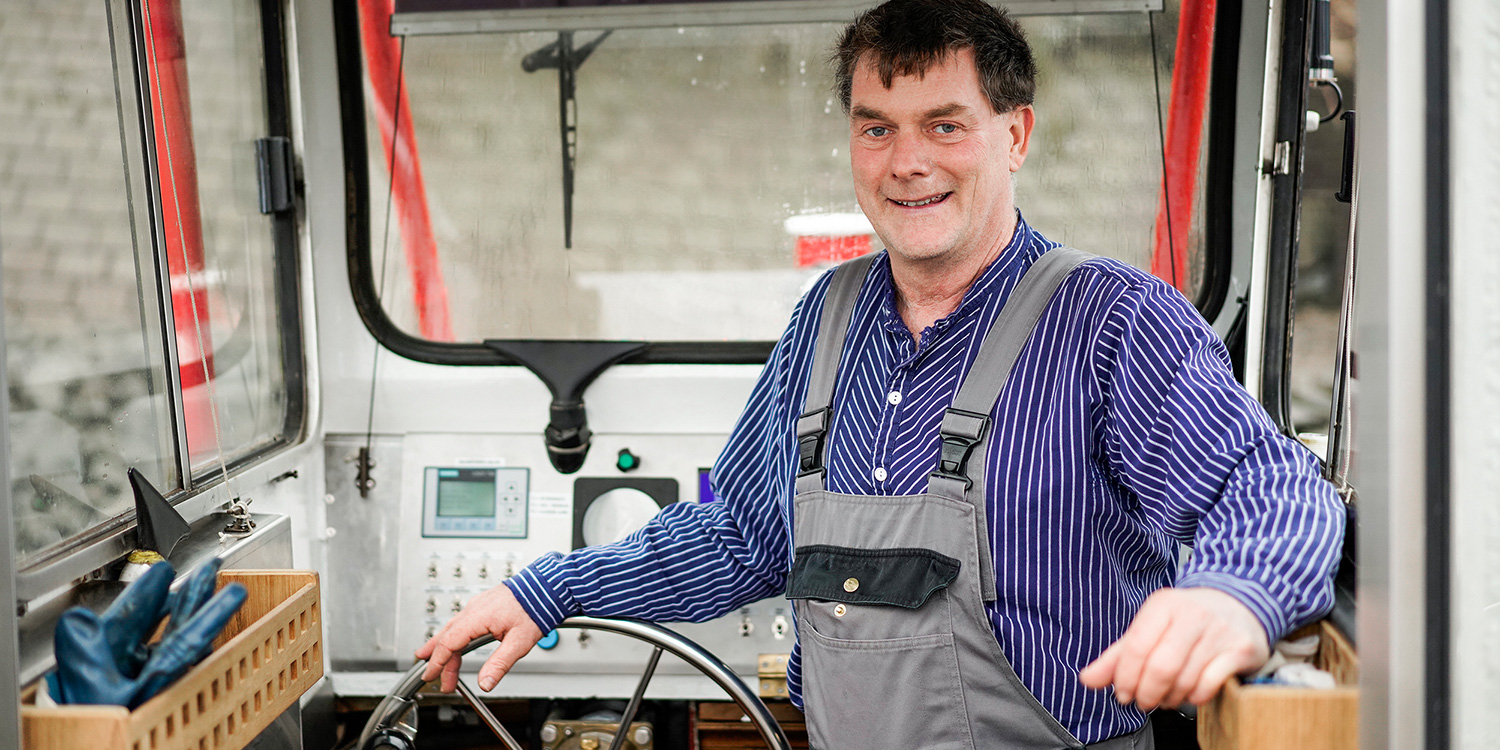 Jörg von Cölln is the eighth generation of his family to operate a shipyard in Hamburg - and receives many requests from companies that want to test the e-workboat.
In the Port of Hamburg, Cöllni is acting as a workhorse and an ambassador for the future. "Many representatives from other companies have been here and taken a test drive," Jörg says. "There's a lot going on in this sector, not least because plenty of people are waiting for government subsidies." Those who come to find out more include ferry companies, shipyards, and the specialist barge operators that maintain bridges and gas pipelines. Hamburg Lines Men (HLM), Germany's largest mooring company that services seagoing vessels of all sizes, also wants to take Cöllni for a test drive. The decarbonized age is coming fast – and no one wants to be left behind.
Invisible superpowers
At first sight, Cöllni – with its green iron hull, small cabin, and towing equipment on deck – looks like any other tugboat in the Port of Hamburg. But switching on the engine doesn't produce the familiar roar and clouds of smoke from diesel engines. Instead, Cöllni glides almost noiselessly up Finkenwerder Köhlfleet, the silence broken only by the slight gurgle of the engine's propeller.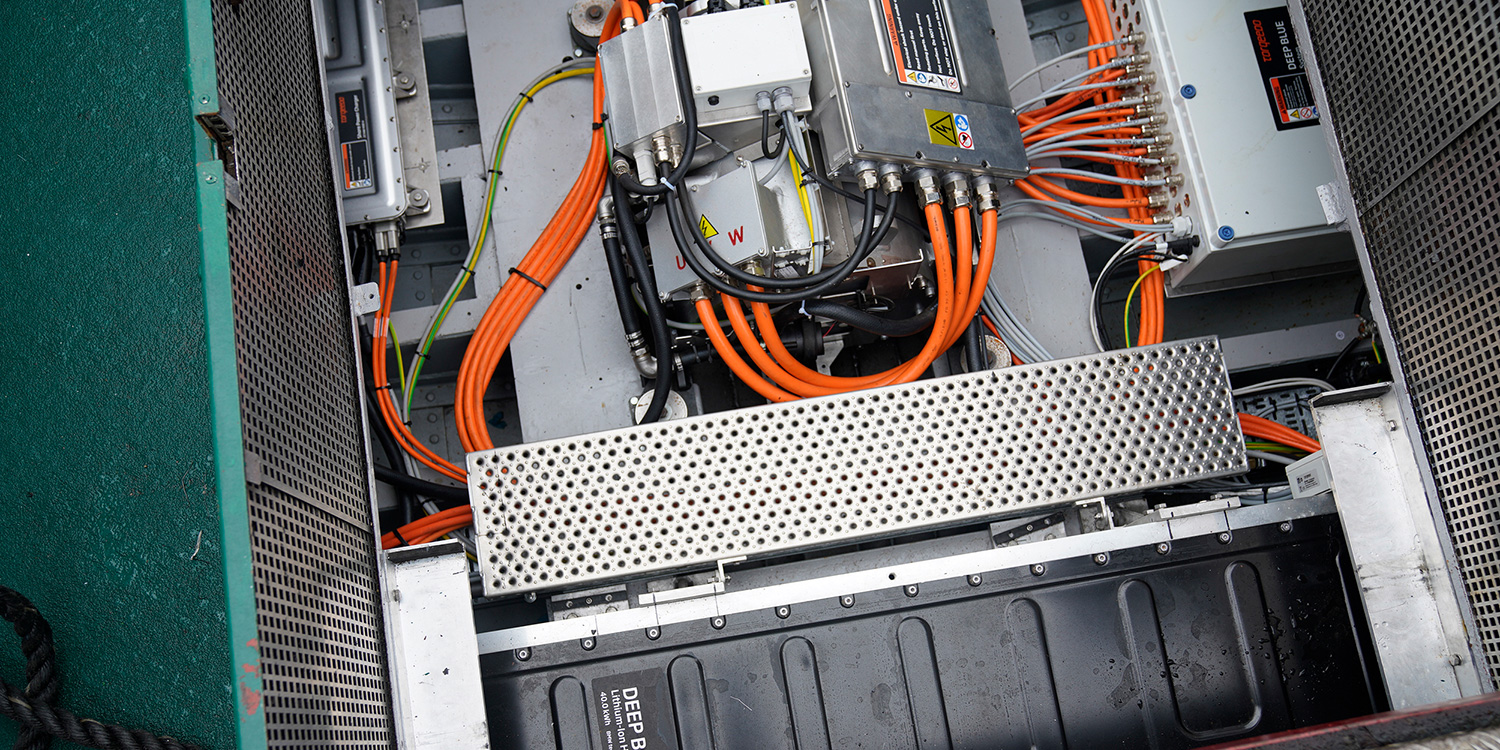 Where once the ship's diesel engine rattled and smoked, a Torqeedo Deep Blue electric motor now operates – quietly and without emissions.
The 57-year-old shipyard owner maneuvers Cöllni past the tank harbor with its large tanks and pipelines – but there's nothing she needs there. "I've been pleasantly surprised by this hog," Jörg says. He quickly got used to the on-board computer that displays the battery charge level. And the service has also been convincing. "Torqeedo is a one-stop shop for battery and motor. And you can always get someone on the phone. That's what makes it fun!" On the Elbe, which flows into the North Sea some 100 km downstream from Hamburg, the battery's running time depends on the tide. On a fully loaded trip against the current, the workboat can slog for two hours. On the still waters of the Alster, where Cöllni will soon be permanently deployed, the speed limit is only 8 km/h, anyway, and the power will be easily enough for a day's work of tugging ferries and repairing docks from the water.
Right in the middle of things
Jörg von Cölln steers the boat between two huge container ships. Maneuverability, he says, has improved significantly by switching to electric power: "You can switch from top to slow speed much faster, and the motor responds at the push of a button. If you haven't experienced it yourself, it's hard to imagine." He briefly demonstrates the turbo start – and Cöllni sets off at full steam, but without emitting any steam at all. Hold tight! Who's actually used to such power with no noise? "The silent, emission-free drive protects people, animals, and the environment all at the same time," says Torqeedo's Matthias Schubert. He sees its application mainly in urban environments and sensitive areas, for example in inner-city canals and environmental zones in heavily populated cities like Amsterdam, Hamburg and Copenhagen.
When Cöllni docks at its home wharf, the seagulls are screeching again, this time as if to welcome us back. Other than that, you don't hear a thing.
More information:
Find high-resolution pictures at the: › Torqeedo Dropbox
Find out more about the new approach: › THE FUTURE IS ORANGE
Find the main catalogue 2023 here: › Catalogue 2023
Related Torqeedo Products
Hamburg's FIRST green "IRON HOG"
20 APRIL 2023 • 9 MIN READING TIME