More and more metropolises are turning to electromobility to reduce environmental pollution and better meet the challenges of a modern city – on roads and water. A world tour of three urban projects Torqeedo motors are powering into the future.
1. Berlin: Clean air downtown
The boat: Oranje Nassau, 19 meters

The motor: Deep Blue 100i

The quote: "You can hear the water, the waves, and even the birds." André Siebach, managing director, Berlin Wasser Taxis

A few years ago, the Berlin Senate discovered that the air quality along the inner-city banks of the River Spree had pollutant particle levels up to 15 times higher than the legal limit set by the World Health Organization (WHO). According to WHO, ultrafine particles are primarily responsible for respiratory and cardiovascular diseases. The German capital is interlaced by a 200-km network of rivers and canals, and boats and ships are responsible for about ten per cent of soot particle emissions from transportation sources – equivalent to the emissions of 120,000 cars. However, this is about to change.
In 2022, the Oranje Nassau was the pioneering canal boat of its kind in the city's transition from diesel to electric propulsion. It now ferries hundreds of people daily through the city center between Museum Island, Chancellery, and Tiergarten. This 19-meter-long vessel is powered by a Torqeedo Deep Blue electric motor and three lithium-ion batteries with a combined storage capacity of 120 kWh. "After all, our boats travel fixed routes and therefore do need much propulsion energy," explains André Siebach, the managing director of Berlin Water Taxi. He is convinced that electric drives are the future of his industry. By converting the Oranje Nassau, he wanted to demonstrate that "it's possible!"
There are 140 tour boats and ferries plying Berlin's canals. Switching to electric drives will not only enhance air quality and the ferry company's profitability but also improve the lives of the crew, passengers, and the city's residents. As Stephanie Merkel, a skipper, recalls, "In the past, it was filthy work, and my head would throb after work because of all the noise." Now, when she gently pushes the Torqeedo's grey speed controller forward, the acceleration is felt instantly, yet the engine continues to hum softly, and the air stays fresh and clean.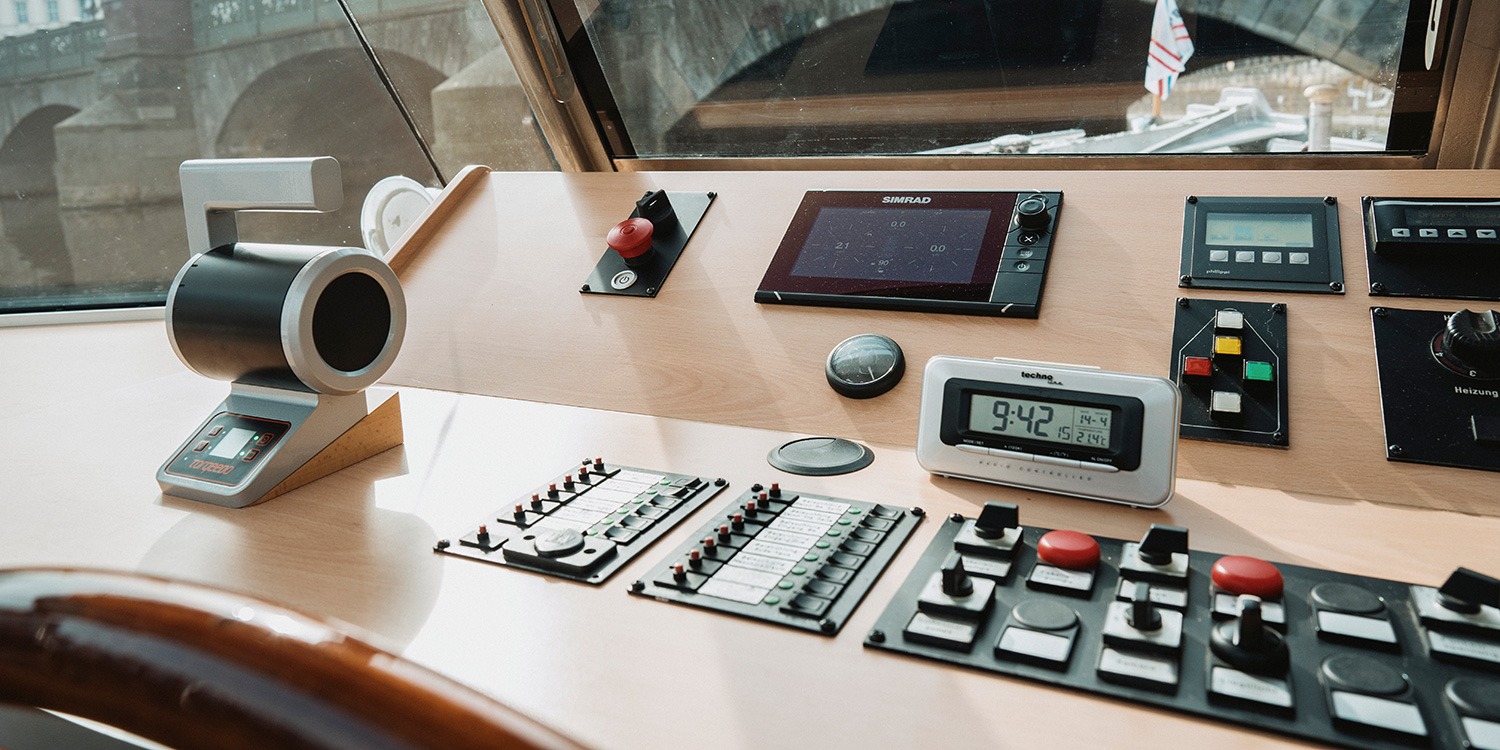 The control room of the traditional tour boat Oranje Nassau with a Torqeedo digital interface and throttle.
2. Amsterdam: Smart boats on canals
The boat: Roboat prototype

The motor: Cruise 6.0 FP

The quote: "Autonomous electric boats could be a dynamic element of urban architecture – a boat, a stage, or a bridge."

Largely built in the 17th century, Amsterdam's city center is not equipped to handle the challenges of a modern city with around 900,000 residents and up to 20 million tourists annually. Tour buses and heavy garbage trucks get stuck in the old town's narrow streets, causing traffic jams and emitting exhaust gases. The historical canals may complicate traffic, but they could also offer a solution.
In an open-air laboratory of the Amsterdam Institute for Advanced Metropolitan Solutions (AMS), an autonomous boat equipped with two Torqeedo Cruise motors has been developed in recent years. The Roboat could be used for Amsterdam's waste disposal on water or even be part of a traffic transformation.
Electric mobility and autonomous vehicles are a perfect fit. Torqeedo's sophisticated energy management system and the electric motor are easily and efficiently integrated with autonomous driving systems, which also rely on advanced sensors and control systems.
"When you consider a city's waterways, a new urban infrastructure emerges," says AMS research director Carlo Ratti, a renowned architect and professor at the Massachusetts Institute of Technology (MIT). For him, waterways are the perfect arena for autonomous vehicles because there is less traffic and lower speeds than on land. Roboat can transport garbage or goods – what canals were used for in the 17th century – and ferry people from A to B. Other cities such as Venice, Dubai, and Stockholm are also interested in Roboat, Ratti says. The boats operate individually but can also connect through a lateral locking mechanism. "You can also see Roboat as a floating pixel," says Ratti. "As a dynamic element of urban architecture with which you can build a bridge or a floating stage." Perhaps autonomous boats will be navigating our canals before autonomous cars hit the streets. One thing is certain: From 2025, only electric boats will be allowed on Amsterdam's waterways.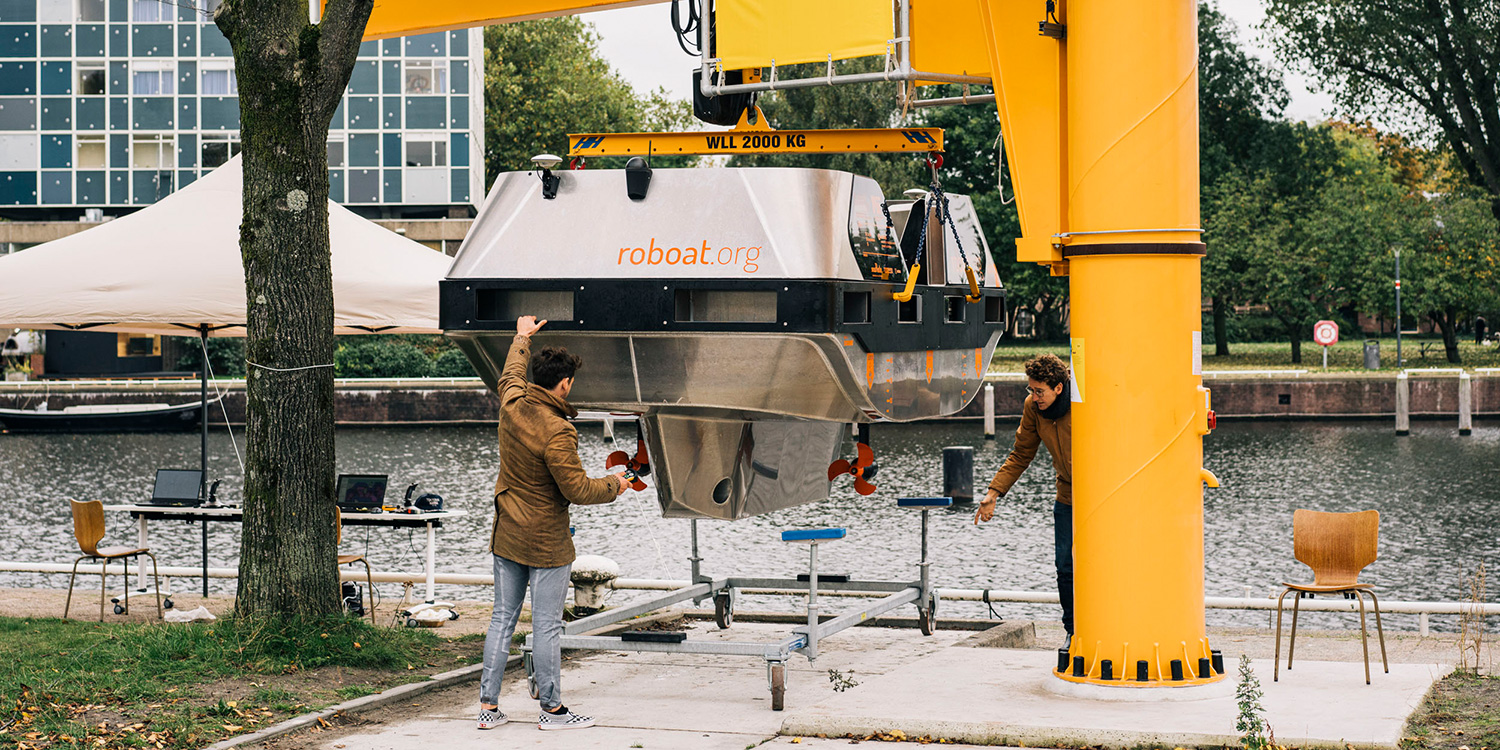 The prototype of the autonomous Roboat is powered by twin Torqeedo Cruise motors.
3. Bangkok: Traffic turnround for megacities
The boat: Khlong Phadung Krung Kasem ferry

The motor: Cruise 10.0 outboard

The quote: "These electric ferries are brand-new and very quiet. And they usually run on time." Rawisuda Khaodee, frequent passenger

Bangkok is one of the busiest and most polluted cities in the world. Countless cars, tuk-tuks, and motorcycle taxis jostle for street space daily. The average Bangkok resident spends more than 64 hours a year in traffic jams. To make the metropolis more sustainable and livable, the Bangkok Metropolitan Administration has launched an ambitious program to electrify urban transportation. By 2035, 30 per cent of the transportation system is expected to be electric.
One of the key projects commenced in the spring of 2021 was an electric ferry service on the city's numerous canals, establishing a link between the mighty Chao Phraya River and one of the city's central railway stations. The 16-meter-long fiberglass boats, powered by two Torqeedo Cruise electric motors with 10 kW output each, are emission-free and accommodate up to 30 passengers. Solar panels on the roof collect energy for lights and other onboard loads.
In the coming years, more electric ferries will be deployed in Bangkok, a city of 1,100 canals with a total length of over 2,500 km, and a pioneering role in the Asian market.
For commuters, the journey to work has become a welcome respite, a moment to enjoy inner peace. After all, electric passenger ships are quiet and vibration-free, and the best part is that there are no red lights and no traffic jams on the water.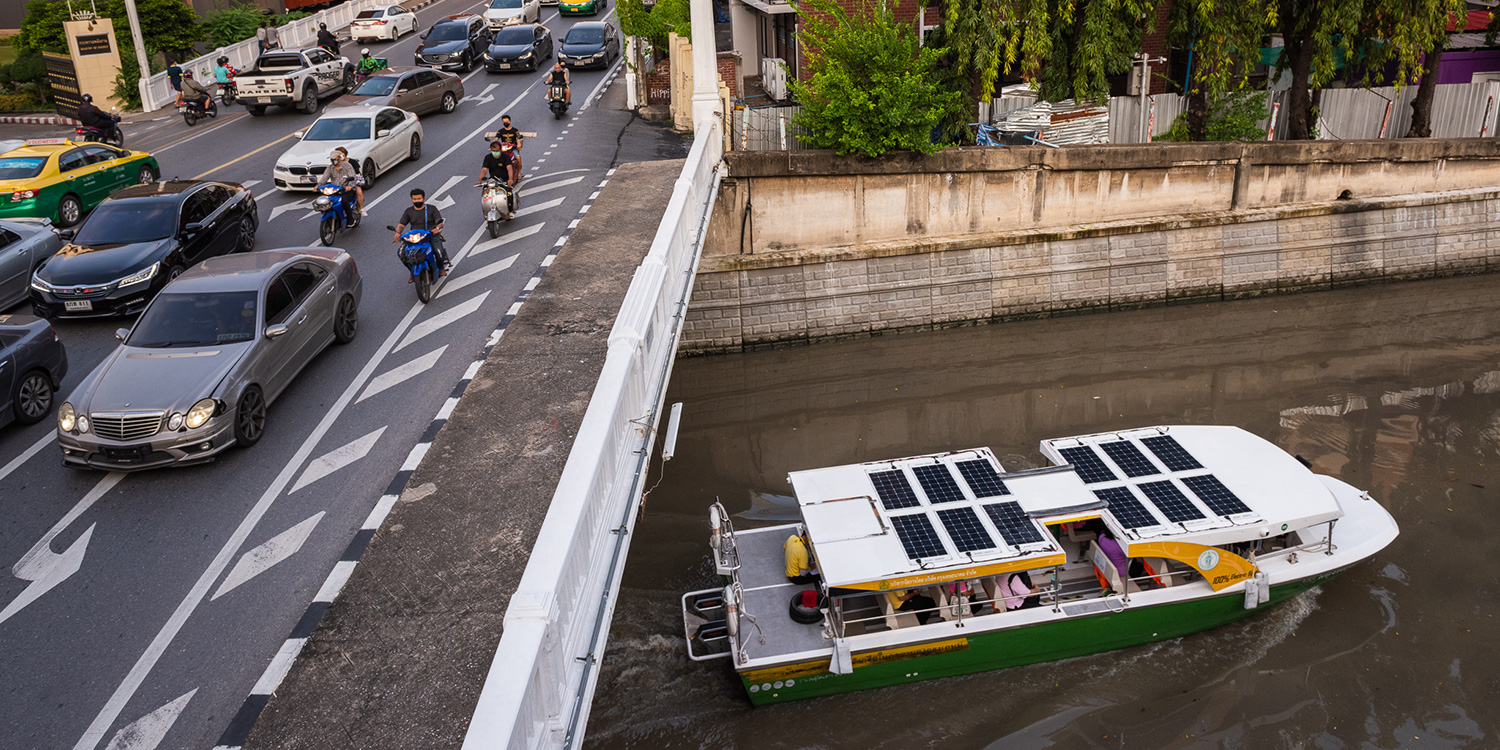 The average resident of Bangkok is stuck in traffic for more than 60 hours per year. The electric-powered ferry almost always runs on time.
More information:
Find high-resolution pictures at the: › Torqeedo Dropbox
Find the main catalogue 2023 here: › Catalogue 2023
Related Torqeedo Products
1 SEPTEMBER 2023 • 9 MIN READING TIME