As the marine industry gathers for one of the first in-person, in-water boat shows since 2019, Torqeedo is pleased to announce new partnerships resulting in a wide variety of electric and hybrid boats on display.
"A more sustainable marine industry is on its way – thanks to Torqeedo's boatbuilder partners around the world," said Dr Ralf Plieninger, Torqeedo's managing director. Two new sailing yachts with Deep Blue Hybrid systems will be on display in the sailing area at Port Canto: the Ocean Explorer 72 and the Excess 15. Aboard the Excess 15 with Deep Blue Hybrid, owners will enjoy all onboard luxuries without the noise and fumes of a running generator in good sailing weather. The Deep Blue configuration consists of twin Deep Blue 50 kW electric saildrives in cooperation with ZF, two Deep Blue high-capacity lithium-ion BMW i3 batteries, and a full energy management system for harvesting green energy and charging the boat's batteries while underway.
"With the new Deep Blue 50 saildrive as installed in the Excess 15, Torqeedo has again pushed the envelope and renewed our focus on building highly customisable, fully integrated propulsion and energy management systems for luxury sailing yachts," said Plieninger. The Deep Blue 50 saildrive, will also be on display in Torqeedo's booth at Palais028.
The Ocean Explorer 72 boasts Deep Blue's flagship bluewater sailing configuration: a Torqeedo Deep Blue Hybrid electric propulsion and energy management system with twin Deep Blue 100i electric motors and four state-of-the-art Deep Blue batteries. While at sea, the yacht generates its own green, renewable energy through 4 kW solar panels and hydrogeneration, with two back up gensets.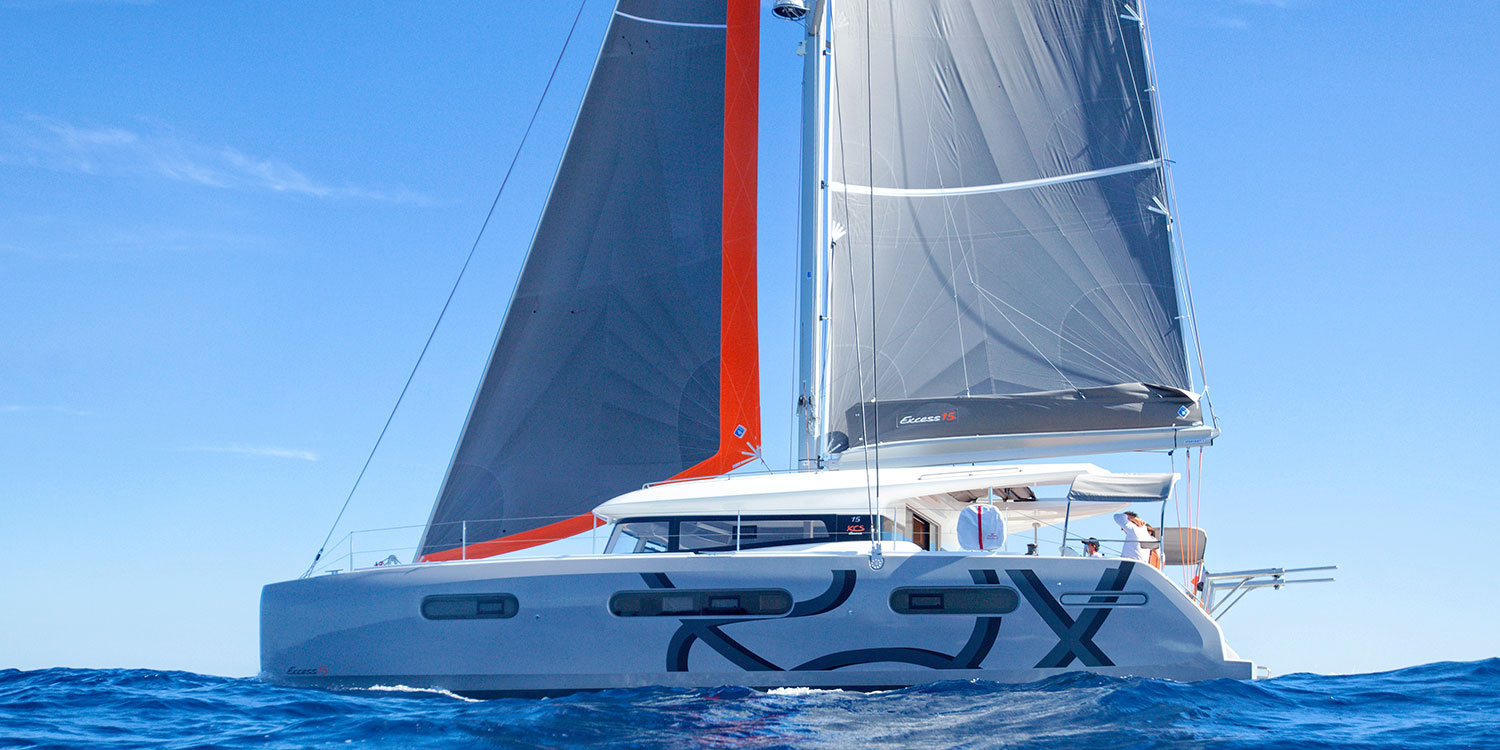 Excess introduces at the Cannes Yachting Festival the first hybrid Excess 15 equipped with Torqeedo's flagship Deep Blue Hybrid system. Credit: Excess
Zodiac launched a brand-new line of electric RIBs, dubbed eOPEN. As the first complete range of 100% electric boats after the eJET in 2017, these new models are powered by Cruise motors and Power batteries. They are a real technological achievement and mark a new era of cooperation for both Torqeedo and Zodiac.
Naviwatt will also have a ZenPro 580 RIB on display at Cannes, powered by a Deep Blue 50 outboard and suitable for a wide variety of uses from yacht tender to workboat. Or, check out the Iguana Yachts amphibious boat, which uses Deep Blue batteries to power its innovative track system.
If a safe, relaxing day with family and friends on your own 'private island' sounds intriguing, make sure to stop by to see Frauscher's new TimeSquare 20 at Palais111 and the Orphie 29 at PAN037. These two boats were custom-built for electric propulsion and have plenty of range for a full day of adventuring. The TimeSquare 20 – a twin-hulled electric boat – is packed with innovation and striking design. Whether cruising or at anchor, the TimeSquare 20 is incredibly stable and efficient in the water and offers an extremely generous seating and sunbathing area – perfect for a day on the lake.
Venturing offshore? The Orphie 29 is an ultra-efficient trimaran with plenty of space for everyone to enjoy. Built for Deep Blue 100% electric propulsion, the Orphie 29 delivers a pleasant cruising speed of 8-12 knots. In addition, the ability to reach 17-20 knots in a short period of time makes the boat fun and very reassuring in heavy seas.
There will be an informal open house in the Torqeedo booth, Palais028, from 10 am to 12 pm on Thursday, 9 September. Torqeedo's technical experts and management team will be on hand to discuss the innovations on display at Cannes. Refreshments will be served.
More information:
Find high-resolution pictures at the: › Torqeedo Dropbox
More information about the Cannes Yachting Festival: › Website Cannes Yachting Festival
Find the main catalogue 2021 here: › Catalogue 2021
Find the commercial catalogue 2021 here: › Commercial Catalogue 2021
Relevant Torqeedo Products
High-tech new electric and hybrid boats on display at Cannes Yachting Festival
10 SEPTEMBER 2021 • 5 MIN READING TIME