The tradition-rich North German Regatta Club in Hamburg is hosting two inclusive sailing events. Torqeedo is supporting the regattas with electric motors for coach and workboats.
The beep of the wristwatch speeds up. Then comes a longer tone. Coach Ulf Gerlach raises a flag in his hand, and four small sailboats glide almost parallel toward the starting line between two buoys. Now the training regatta can begin like it does every week. Nothing is at stake – and yet everything.
With a second glance, you notice that the crews of these four boats are sitting differently from the other sailors tacking across Lake Alster in the centre of Hamburg, Germany. Positioned one behind the other, they look directly across the bow from white bucket seats. These four Far East S\V14 boats are taking part in an inclusion training session run by the tradition-rich North German Regatta Club (NRV). These training sessions have been held once a week on the urban lake since the summer of 2020. With the help of all kinds of innovations, these high-tech boats enable people with physical challenges to enjoy their time on the water safely and comfortably – and test who is the fastest.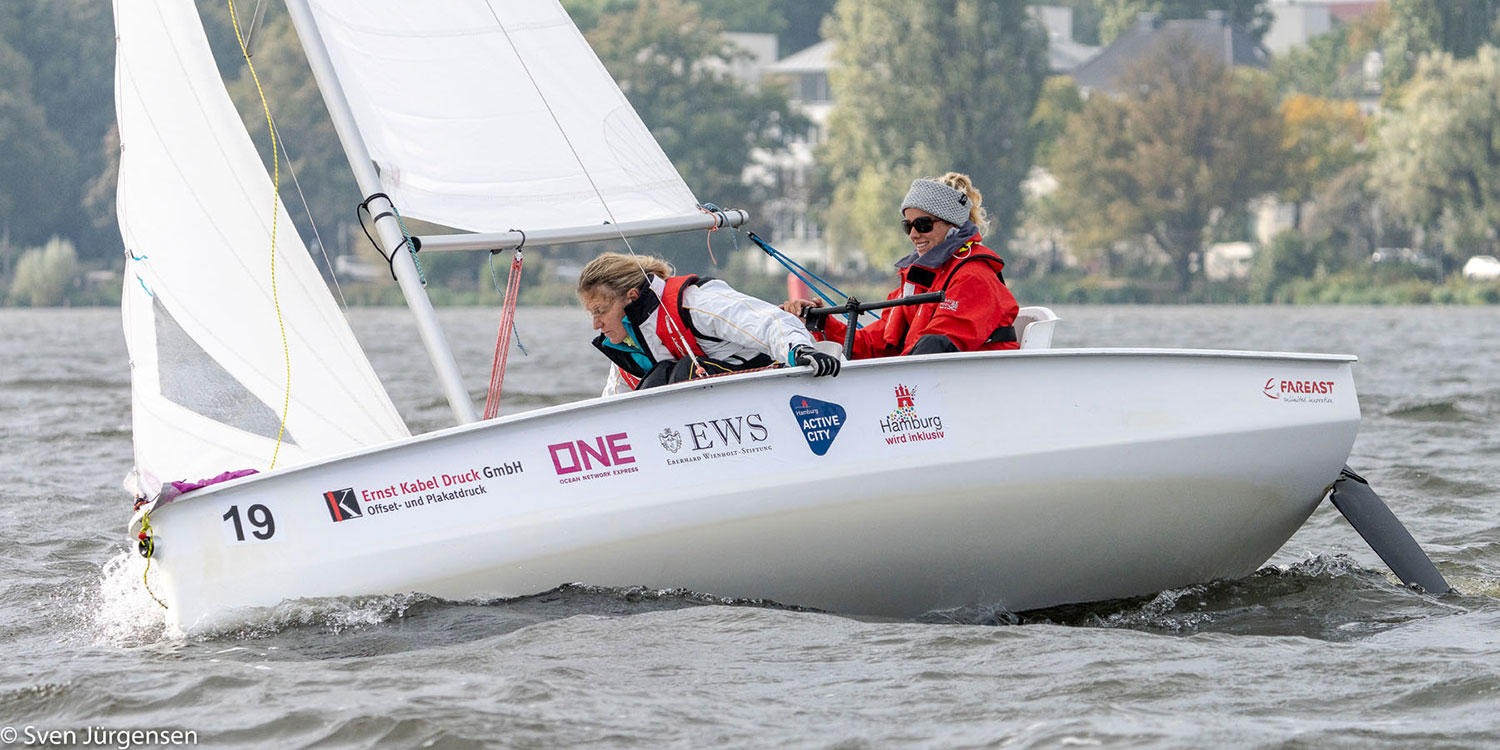 "Ready to tack!" A two-woman crew on the barrier-free Far East S/V14. Credit: Sven Jürgensen
As the wind picks up, the difference becomes more apparent. Whereas sailors on conventional sailboats would compensate for heeling by shifting their weight, Susanne Krause turns a switch on the Far East S\V14. With a whirring sound, the two bucket seats tilt to one side. She uses an apparatus shaped like a bicycle handlebar to steer the boat instead of a tiller. Her sailing friend Katharina Menge sits in front of her and handles the sail. On land, Krause is in a wheelchair; Menge isn't. But that doesn't matter on board. The commands sound just like they do on all dinghies: "Get the jib tight", "Ready to tack", "Re". "The main thing is that the manoeuvres are well-timed," Krause says.
Upcoming highlights of the season
Together with the other sailors in the NRV Inclusion Team, Krause and Menge are training for two major events this year: The Helgahard Cup Inklusion on August 20-22 and the Inclusion World Championship for Sailing on August 25-29, both taking place on the Alster in front of the NRV Clubhouse. Torqeedo supports both regattas and the inclusion training by providing electric motors for the coaches' and referees' support boats.
The NRV is one of Europe's oldest sailing and regatta clubs. Numerous models and oil paintings of old sailing yachts can be seen in the clubhouse. The tradition-rich club is committed to advancing electric mobility on Lake Alster and the many canals of the its home city and to opening up the sport of sailing to more people – challenges that can both be overcome through technology and cultural openness. "Inclusion is a perfect fit for sailing," says Ulf Gerlach, the inclusion team coach. "It's always about different people working together on board." He follows his protégés from his coach boat on the Alster. The quiet electric drive means he can easily pass on instructions and tips to them.
"We are committed to helping people of all kinds move sustainably on the water," says Matthias Schubert, Torqeedo's commercial sales director. "The city of Hamburg is a great location because it has traditionally been open to diversity and innovation."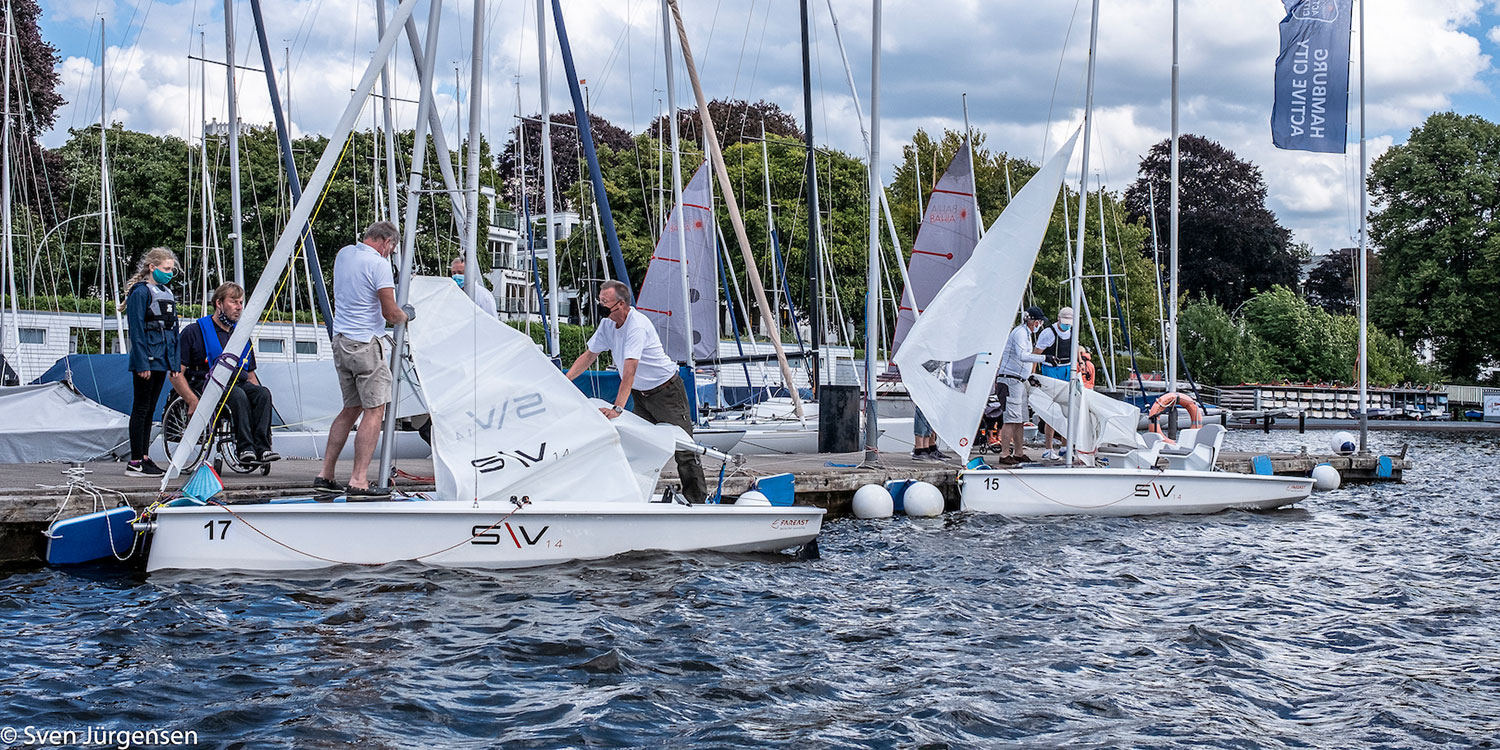 The next project is a barrier-free reconstruction of the NRV marina. Credit: Sven Jürgensen
NRV is bringing these principles on land as well: the marina will be barrier-free by the end of 2021. Currently, volunteers are still bringing up the boats and accessories for the inclusion training, as sailors with some physical challenges can only board when the boats are alongside the jetty. "I could just clamp the sails between my knees and transport them in my wheelchair – if they weren't in the basement, which you can only get to down the stairs," Menge says. Details like these are what the barrier-free renovation project will be all about, along with accessible showers and locker rooms, a more suitable surface on the walkways, and electronic door openers.
A network for change
Inclusion training is taking place in several Hamburg clubs. "Complete accessibility can only be achieved in a network," says Sven Jürgensen, the NRV's inclusion committee chairman. That's why an Inclusive Sailing Working Group was set up in Germany, with nine clubs so far participating – a mix of large and small, venerable and recently founded institutions. "This way, we complement each other – one club can offer a barrier-free jetty, while another works on activities for blind people."
Tobias Doberstein had already tried a few sports in a wheelchair when he came to sailing through a trial course two years ago: "I liked it immediately on the water – you can feel even light waves. It can be peaceful one moment and exciting and wet the next."
In 2020, when the Helgahard Cup Inklusion was held for the first time, Doberstein and his partner Christiane Willim took part. "That was our very first regatta together, and I immediately slipped into the water," Doberstein says. Sitting next to him, Willim laughs out loud: "I was just able to grab you by the collar with one hand. The rest of you was already in the water." The boats have seat belts because in strong winds they can tilt quite a lot. "This year, I'll only go belted up," Doberstein says.
Step for step into the future
"The NRV and its partners are drawing attention to inclusion with lighthouse projects like the World Championship," says NRV inclusion officer Sven Jürgensen. Whenever he sees the inclusive teams on the water, for example at Kiel Week 2021 where a J/70 team of three visually impaired and two sighted sailors will compete and spend the night together at the campsite, he is impressed: "It's incredible what the sailors accomplish and how well they communicate. That's inclusion in action."
Events and the marina reconstruction work are only part of the plan, Sven says. It's not just about equality of access for disabled sailors, he adds, the hope is to get a much broader segment of society on board. That may mean the less well-off, for example, or people who have had little contact with sailing. The NRV has a "Swap ball for tiller" support program, which enables young people from Wilhelmsburg, an area where more people have an immigrant background, incomes are lower and unemployment is higher, to get to know the Alster for the first time in a trial sailing course.
In May 2022, this will all come together at the European Inclusion Sailing Week with workshops, sailing courses, regattas for various boat classes, children's and youth projects, as well as initial and advanced training programs. How long will it take for the sailing community to become more inclusive? "The NRV is ahead of other clubs in many respects. But we are all well-networked and more and more sailing clubs are contacting us," Susanne Krause says. "Inclusive sailing is growing. But major shifts like this don't happen overnight."
Electric mobility on the water – for everyone!
Torqeedo is committed to a world where we can enjoy life on lakes, rivers and seas without destroying the environment. The values of sustainability and openness guide us in all areas of life. That's why we work to make Torqeedo electric motors easy and intuitive to use for everyone.
At our headquarters in Bavaria we work closely with IWL to integrate people with disabilities into our production facilities. We are honored to support the inclusive NRV regattas with electric motors for the coaches' and referees' support boats.
Click here to read more: › Facebook
More information:
Find high-resolution pictures at the: › Torqeedo Dropbox
More information about the NRV: › Website NRV
Find the main catalogue 2021 here: › Catalogue 2021
Find the commercial catalogue 2021 here: › Commercial Catalogue 2021
Relevant Torqeedo Products
Torqeedo for inclusive sailing
19 AUGUST 2021 • 5 MIN READING TIME
Commercial
People
Motorboats
Sailboats
Big Picture