The new J/9 daysailer just introduced by the iconic sailboat company J/Boats incorporates many new features designed to set new standards for comfortable, easy and efficient sailing. One of them is a Torqeedo electric pod drive, which J/Boats offers as a factory-installed option on the new 28-footer.
"In recent years, we have seen growing interest in electric propulsion as a sustainable alternative to diesel inboards or gas outboards," said Jeff Johnstone, President, J/Boats. "Torqeedo's electric outboards have been popular as add-ons to our popular J/70 but this is the first time we've offered the Torqeedo electric pod as a standard propulsion option on new boats."
The electric drive option on the J/9 includes a Torqeedo Cruise pod drive with a dual-blade folding prop, powered by a Power 48-5000 lithium-ion battery with a 650W charger that can be plugged directly into dockside shore power. The Torqeedo package also includes a throttle and easy-to-read cockpit display that gives you battery status and projected cruising range at current speed, and a convenient mobile phone app that connects wirelessly to display all the data remotely.
Sustainable Sailing
"Electric just makes good sense when it comes to powering a daysailer like the new J/9," said Mary Jo Reinhart, Torqeedo director of OEM and retail sales. "The Torqeedo electric propulsion package is priced slightly lower than the inboard diesel option on the J/9 and is approximately 30% percent lighter in weight. It's also much simpler to install and maintain, with no fuel tank, no fuel lines or exhaust system. And of course, with electric, there are no fumes, no engine noise on deck and no more expensive visits to the fuel dock."
"After nearly two months of active demo use and trouble-free operations, we found the Torqeedo electric system to be quiet, reliable and easy to manage," said Johnstone. "In calm conditions the range is 20 miles at 5 knots and about 12 miles at 6 knots. We were pleased to see that even in a very light four knot breeze, having the mainsail hoisted and trimmed can add several miles to the cruising range."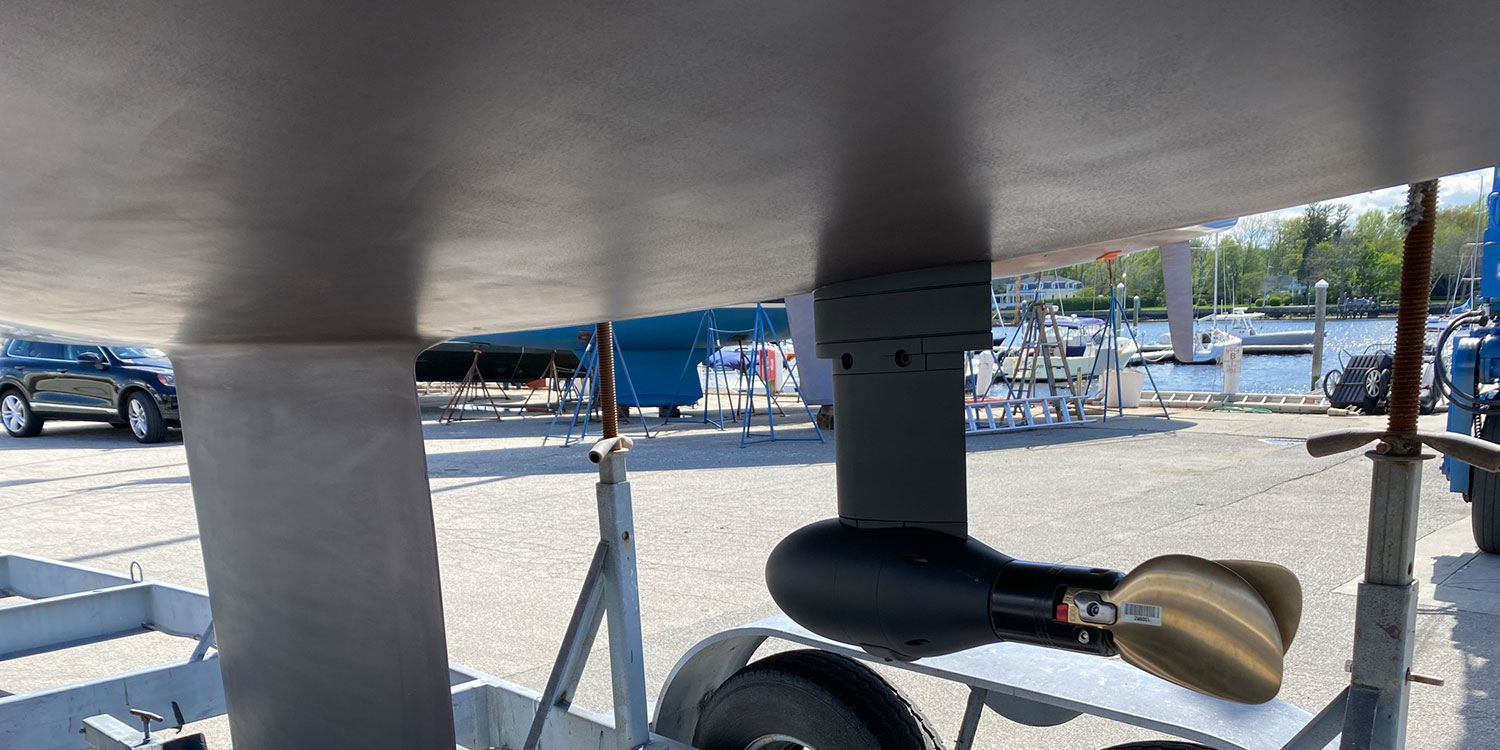 Fitted inconspicuously below water, the pod drives save space and are both lightweight and powerful.
"With the J/9 we set out to reimagine how to make sailing easier, more relaxing and more inclusive," said Johnstone. "This is a boat you can sail by yourself in just a few minutes or bring along the whole gang with plenty of room to spare. Escaping to the water and enjoying shared family adventure has never been more important, and the J/9 is the perfect platform."
Sailing to Success
The story of J/Boats is a classic entrepreneurial tale: With a $20,000 investment, and a speedy 24-foot sailboat that Rod Johnstone built in his garage, Rod and his brother Bob went into business. That was 1977. Now that boat, the J/24 is the most popular offshore keelboat in the world with over 5,500 built.
Today, there are 15,000+ J/Boats from 22-65' ranging in style from one-designs to racers, cruisers and daysailers, and the ubiquitous J sprit boats - J/Boats' innovation in 1992 for easy-to-use asymmetric spinnakers and retractable carbon bowsprits. J/Boats has been honored with more than 20 Sailing World/ Cruising World Boat-of-the-Year Awards, the SAIL Award for Industry Leadership; two American Sailboat Hall of Fame Designs; and five WORLD SAILING International One-Design keelboat classes (J/22, J/24, J/70, J/80 and J/111).
Second generation, family managed since 1988, J/Boats is headquartered in Newport, Rhode Island.
More information:
Find high-resolution pictures at the: › Torqeedo Dropbox
More information about J/Boats: › J/Boats
Relevant Torqeedo Products
J/Boats goes electric with Torqeedo pod drive
28 JULY 2021 • 5 MIN READING TIME
Sailboats
Tech
Press Releases