Transatlantic journey by sailboat
Plymouth, U.K. (August 14, 2019)
More than 3,000 miles and not a single drop of gasoline: That's the plan. On Wednesday afternoon, Team Malizia skippered by Pierre Casiraghi and Boris Herrmann left Plymouth to set sail for New York City. On board the high-tech racing yacht Malizia II is the 16-year-old Swedish climate activist Greta Thunberg. In order to avoid the extremely high carbon emissions resulting from air travel, she chose to make the two-week transatlantic journey via sailboat to attend the upcoming UN Climate Summits in New York and Chile.
Torqeedo, the world leader in electric boating, provided electric support vessels to help Team Malizia leave the dock and travel safely out of the harbor to avoid using the small onboard engine. Millions around the globe will follow Team Malizia on their westward journey – with their hearts and via social media.
Mission shows new ways are possible
Sailing across the Atlantic in August, against the prevailing winds, is an adventure. But the trip is also a powerful symbol, as the team will demonstrate it is indeed possible to switch to climate-neutral mobility. The challenge might still be substantial, but the technology exists and is maturing year for year. 
"Convincing governments and international institutions to enforce laws that will protect mankind and biodiversity is of the utmost importance for the future of humanity," says Pierre Casiraghi, founder of Team Malizia and co-skipper. "Team Malizia and I are proud to take Greta across the Atlantic in this challenging mode of transport. Unfortunately, sailing is still the only way to do so without fossil fuel emissions. Hopefully, this will change in the near future."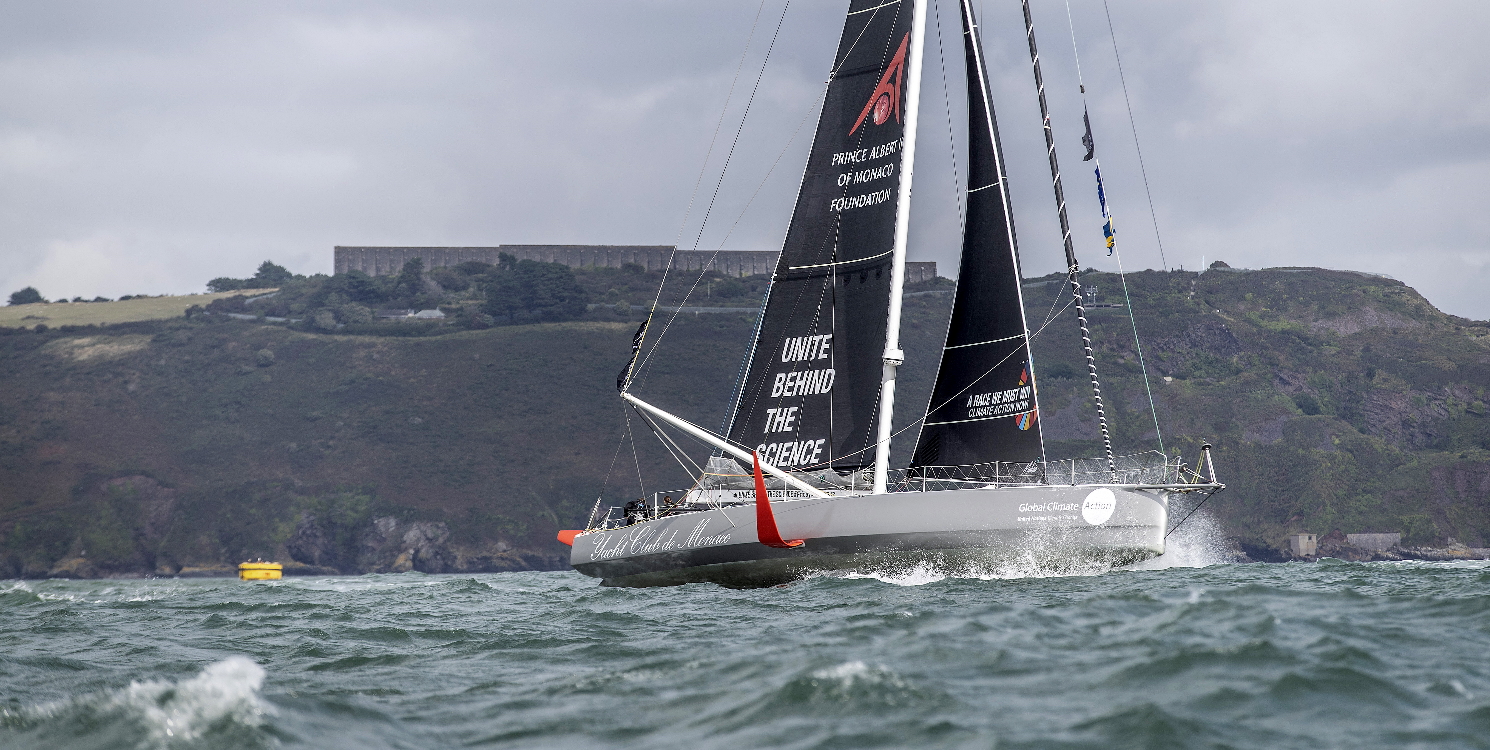 Air travel emissions driving climate change
As estimated by the non-profit Atmosfair, a round trip from the UK to New York by plane emits approximately 3.4 metric tons of CO2 per passenger into the atmosphere. According to Eurostat, that is almost 50% of the average annual carbon footprint per person in the EU (7.2 tons). While avoiding air travel is a powerful way to reduce carbon emissions, marine combustion engines also emit high levels of nitrogen oxides, sulfur oxides, and particulates. Driving a boat powered by a single 80-horsepower outboard for one hour emits pollution equivalent to more than 350 automobiles driving at highway speed for the same amount of time. 
Team Malizia is deeply involved in the fight against climate change, as their technological set-up shows. The high-tech foiling sailboat Malizia II is equipped with solar panels and underwater turbines to generate electricity during the journey, with the onboard engine only being used in an emergency. Torqeedo-powered electric boats assist Team Malizia with docking, towing, passenger transport, and the general harbor support typically provided by combustion-powered boats. There is a good reason: Switching to electric drives reduces CO2 emissions by up to 95% – depending on the vessel's usage pattern and the source of the electricity used for charging.
Technology already exists
"At Torqeedo we are working to change the way the world moves on water, making it cleaner, safer and more sustainable," says CEO and co-founder Dr. Christoph Ballin. "We strongly support Team Malizia and the work they do, and are thrilled to play a part in helping them complete their mission."
Each day, up to 2,500 planes fly across the Atlantic. Of course, not every one of the tens of thousands of airline passengers can sail across the ocean instead. But this zero-emission transatlantic crossing could help to change our perspective on when air travel really is necessary, and what options are technologically feasible. 
"Fighting the climate crisis requires us all to take a hard look at not only our individual choices, but also at the stands we choose to take as business leaders, as politicians, and as citizens," Dr. Ballin says. "We have the technology to build better, cleaner transportation, whether it's over land, in the air, or on the sea. It's time we did so." Fair winds, Team Malizia!
PR & Pictures
Find press releases and high-resolution pictures
at the: › Torqeedo Dropbox
Find the main catalogue 2019 here: › Catalogue 2019
Relevant Torqeedo Products
14 AUGUST 2019 • 4 MIN READING TIME