How visionary sailors in a tradition-steeped Hamburg regatta club have equipped their coaching boats with Torqeedo electric motors – and helped to trigger an e-mobility turnaround in one of Germany's biggest cities.
Fall 2020: Sven Jürgensen is seldom seen without his smartphone on the jetty of the North German Regatta Club (NRV). After all, there's plenty to do. The tradition-steeped Hamburg yachting club organizes the Helga Cup each October: In normal years, the competition is the largest women regatta in the world. This year, due to the pandemic, only 50 instead of nearly 90 crews are fighting for points and cups in J/70 sailing dinghies – a challenge also because of the stiff corona protection measures. Not long ago, Sven Jürgensen also co-initiated the "E-mobility on the Alster" initiative which aims to have internal combustion engines banned from the lake at the heart of Hamburg by 2030. But the 57 year old Jürgensen doesn't seem at all stressed out. First: He likes things to be on the move. Second: A place of peace and quiet is never far away.
At the NRV marina on the northern shore of the Outer Alster, Sven Jürgensen gets into an orange-and-grey rigid inflatable, releases the line and presses the accelerator forward. Almost silently, Pischel 1 glides across the lake. "The Alster is a unique place," Sven says. "We're right in the centre of the city but all the noise and crowds of people are incredibly far away." After a hectic working day, he likes to get out in the new electric-powered boat to enjoy how the light plays on the water and the contrast between modernist architecture and nature. He says to himself: "This is how it should always be." As a professional yachting photographer, Sven knows how noisy it can be on the water. "Yachting has a sustainable image but when the engines of a hundred motorboats are rattling away next to a hundred sailboats, you do begin to wonder if things could be different." So he started doing some research some time ago.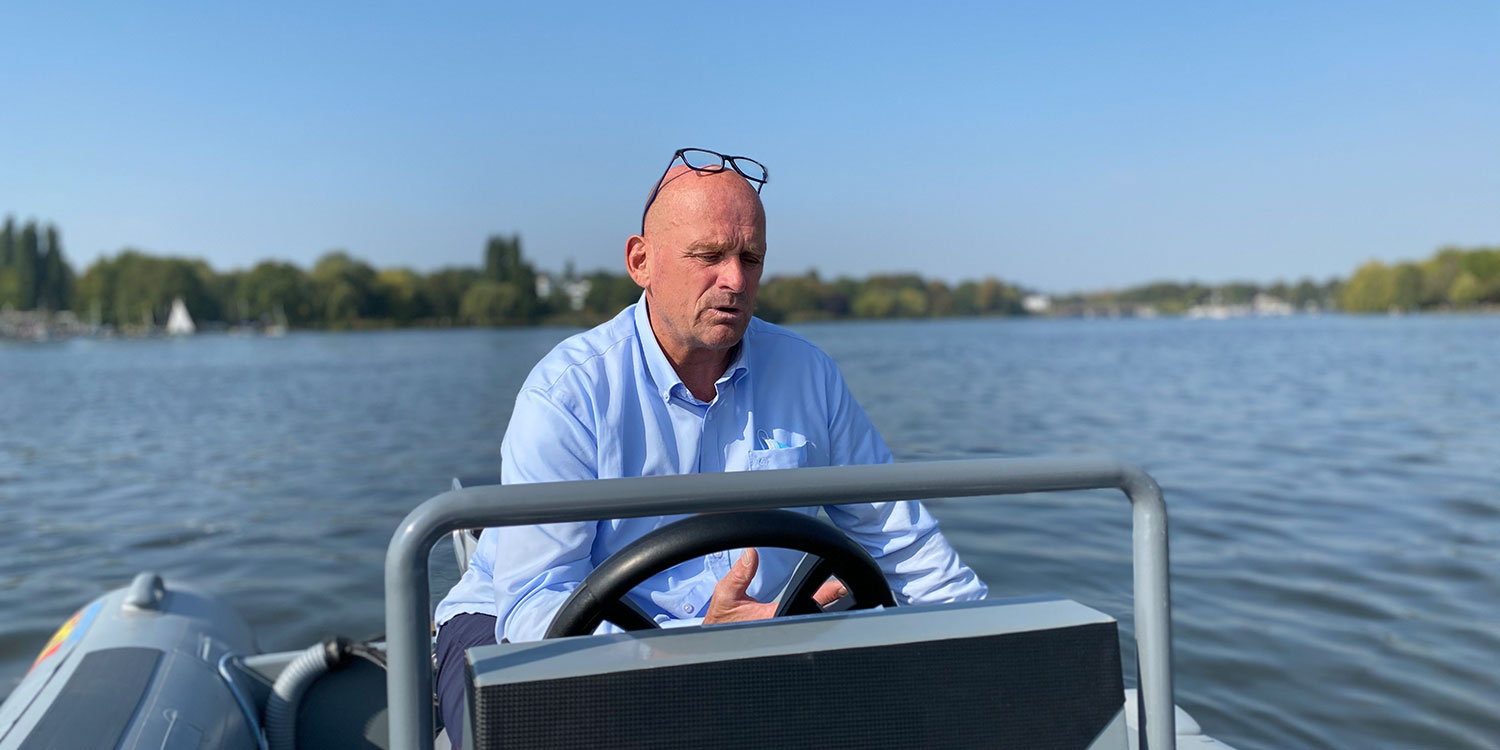 On an environment-friendly trip NRV's Sven Jürgensen presents the "E-mobility on the Alster" project.
From a private project to legislation
NRV currently operates four working and coaching boats. Two of them are already running with Torqeedo Cruise motors. "Their power and acceleration are more than enough," Sven says. He often sails on the North Sea and the Mediterranean but points out that "we don't have offshore conditions here in Hamburg – no swell." These electric boats were paid for from individual donations and subsidies from the City of Hamburg for a sailing inclusion project. Three months after they began operating, the feedback is positive. The yachting coach's instructions to his pupils are no longer drowned out by a loud engine. "We no longer need to drag gasoline canisters along the jetty, either," Sven adds. Besides, the 10 kW electric-powered boats can be easily operated by the pupils. "Not all of them have a sport boat license." Plug-and-play, as it were.
Now, the private environmental protection project has turned into something much bigger. Sven Jürgensen didn't just want to electrify the club's fleet. He wants to change everyday life on Lake Alster. He talked to representatives of 80 yachting clubs at Lake Alster, the water police, Hamburg civic authorities, local power companies, and transport authorities. How do sustainable, efficient changes come about? Not necessarily through top-down decisions but rather by getting all the stakeholders together and drawing up a draft concept. When the Hamburger Morgenpost, a local newspaper, heard about it, a "Green Alster" headline on their front page met with a tremendous response. Many of their readers thought a cleaner, quieter city-centre lake was a lovely idea. And then, there was no stopping the process. When a dream arrives, deeds must follow.
In summer 2020, the "E-mobility on the Alster" project was included as part of Hamburg's Climate Plan. By 2030, all vessels with internal combustion engines will be banned from sailing on the Alster – no working or coaching boats, no ferries, and not even the rescue service speedboats.
"A purely electric-powered fleet of vessels on the Alster will benefit Hamburg, the climate, and water sports," says Jens Kerstan, Hamburg's Environment Senator, during the presentation.
A design study will determine which vessels under which preconditions are to be re-equipped and what subsidies can be offered. "To be honest," Sven says, "we hoped for a more ambitious timeline." He hopes that yachting clubs that convert to electric power in 2021 will receive more money than those that don't take this step until 2029. As this project shows, the green mobility turnaround in a city like Hamburg is dependent on state subsidies and the right incentives.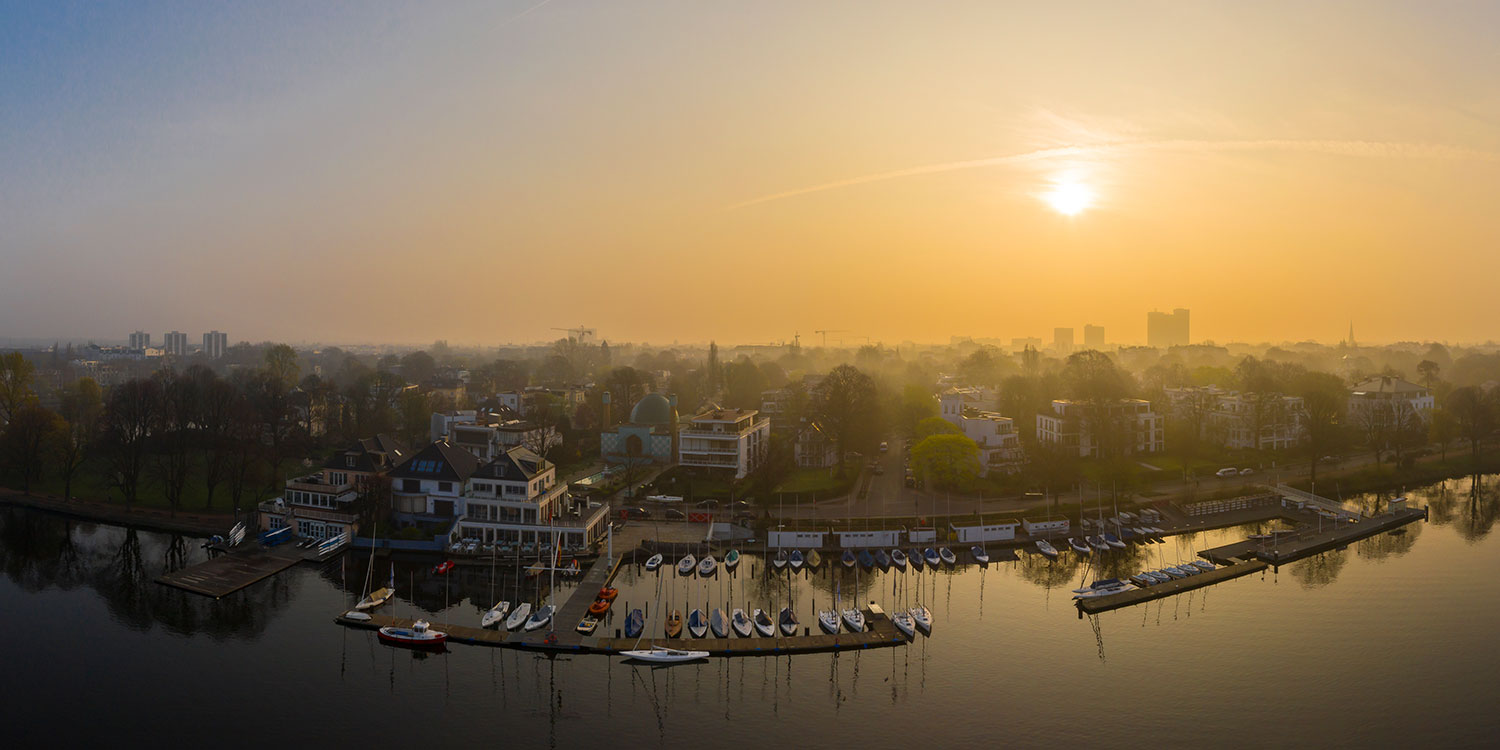 The North German Yachting Club harbor in the Uhlenhorst district of Hamburg. Credit: Sven Jürgensen
A lake as a sailing area and traffic crossing
Lake Alster is the green heart of Hamburg. It's 1,8 square kilometres of water where people go sailing on their lunch break, tourists in pedal boats enjoy the panorama of Hanseatic villas and Hamburg's cityscape, and locals travel on the traditional ferries or crisscross the lake in canoes or kayaks. Yet only about 10% of the vessels licensed to sail on the Alster are electric-powered. What's more, in the port city of Hamburg, water traffic is a significant cause of air pollution.
When sailing with someone like Sven Jürgensen, you realize what a friendly place the Alster is. He repeatedly slows down the speedy Pischel 1 to chat to a sailing colleague, greet the captain of an Alster ferry, or give some advice, with a twinkle in his eye, to two stand-up paddlers who have stopped at the NRV jetty to have their lunch. Then Sven powers up the boat and we move on. "We do hope that NRV will serve as a kind of role model in this respect."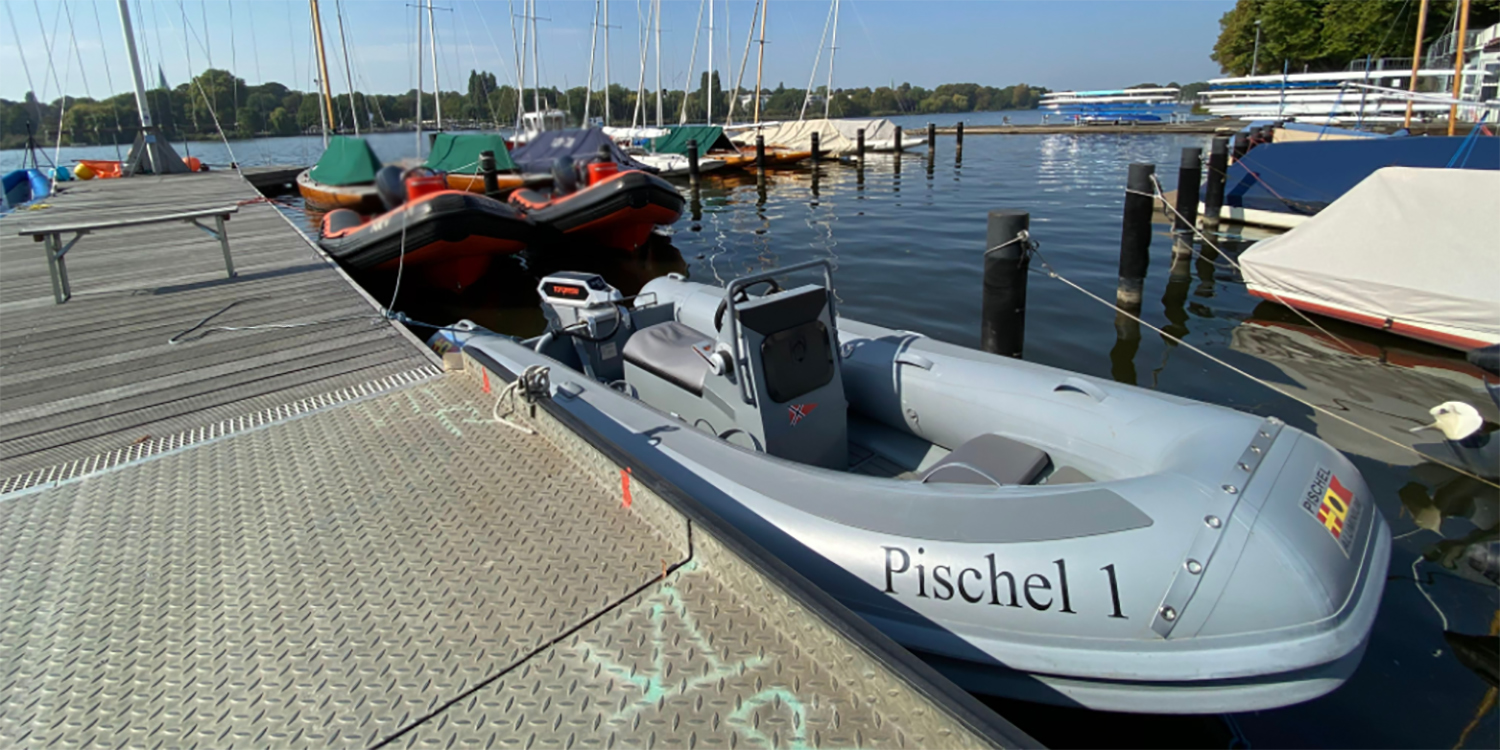 The Pischel 1 rigid inflatable with a 10 kW Torqeedo Cruise motor is used by NRV as a coaching boat.
The North German Yachting Club was founded in Hamburg in 1868. The sport of sailing reached Hamburg from England only a few years before. When you sit in the NRV saloon after a sailing trip and look out on the water, you can instantly sense the club's awe-inspiring history. Oil paintings of old sailing ships decorate the walls. Glass cabinets are full of huge, highly polished cups recalling numerous sporting successes, legendary regattas, and Olympic medals. Only this February, NRV's Laser yachtsman Philipp Buhl won the World Championship in this Olympic single-handed dinghy class. The NRV website includes an anecdote about how an NRW yachtsman "accidentally" beat Kaiser William II in a regatta in the early 20th century or Queen Elizabeth II donated a cup for an NRV regatta. But as a yachting club, NRV is looking to the future, not the past. They are currently constructing a barrier-free, inclusive marina that will enable people with impairments to enjoy sailing. The first sailboats equipped with a specially designed skipper's chair are already in the club's grounds. NRV recently made women sailing popular in Germany. Maybe their focus on sustainability and inclusion will continue the club's tradition of shaping sailing as a whole.
In Hamburg, the sirens of cruise liners and container ships boom out through the city centre. Elbe ferries are part and parcel of the local transport network. Plenty of people in this city intuitively understand the potential of e-mobility on the water for climate and environmental protection – to say nothing of a better quality of life in the city.
"Right now at NRV, we are concentrating on water sports on the Alster, the world's most beautiful sailing stadium," Sven says. But he also sees possibilities for installing powerful electric drives like the Torqeedo Deep Blue System in police boats or ferries. "When they invented railways, it wasn't like you immediately had a high-speed express train coming up the track," he says. "We firmly believe that there will always be more application areas for e-mobility."
After the 50-minute trip, Sven Jürgensen steers Pischel 1 back into the NRV marina and relates how he is frequently asked whether avoiding CO2 emissions on the Alster is really relevant if China continues building coal-fired power plants. "That's not how we think here," he says. "The real question is if we intend to wait until the government is forced to react by introducing bans or whether we address the problem proactively and help to shape the future."
Then he moors the boat, fastens the line, and looks at the control console: "Amazing! The battery still shows 96%."
More information:
Find high-resolution pictures at the: › Torqeedo Dropbox
Find the main catalogue 2020 here: › Catalogue 2020
Relevant Torqeedo Products
The green heart of the city
1 OCTOBER 2020 • 8 MIN READING TIME
Commercial
People
Big Picture