As the 2023 boating season begins, going electric is more energy- and cost-efficient than ever. Here's how to explore new shores, experience awe-inspiring moments, and move around sustainably in the process.
Just get going. Set sail. Explore new things. What human beings have desired for centuries is now easier than ever. A nearby lake or by the sea, a family vacation or a short weekend or after-work trip: why not kick-start your 2023 boating season and experience the benefits of cutting-edge electric motor technology with our Torqeedo Travel series – unforgettable adventures, peace and quiet on the water, exploring remote locations. A motorboat license? Not necessary! With our Travel motors you're completely independent – and move around emission-free with very little noise. This makes electric motors especially attractive not only for heavy-duty sailing boats or yachts but also for fun or occasional sailors and families.
Accelerating for a slower life
Tiny adventures help you slow down from everyday life with little or no effort – and are often found outside your front door. Why not go on a discovery boat trip with your friends, partner or kids? Our Travel 603 is just great for that. In only a few minutes you can attach it to a small boat or rigid hull dinghy (RIB). State-of-the-art technology, 2 HP, and just 15.5 kilograms (including the battery) – ideal for spontaneous adventures. A picnic on a lonely shore, a swim on a remote beach or simply in the middle of a reservoir – create your own unforgettable experiences. Thanks to the electric, emission-free drive, you can enjoy nature at your leisure while also avoiding air and water pollution. What's more, you can always keep an eye on your range thanks to the on-board computer or TorqTrac app. Want to learn more about the Travel 603? Click here.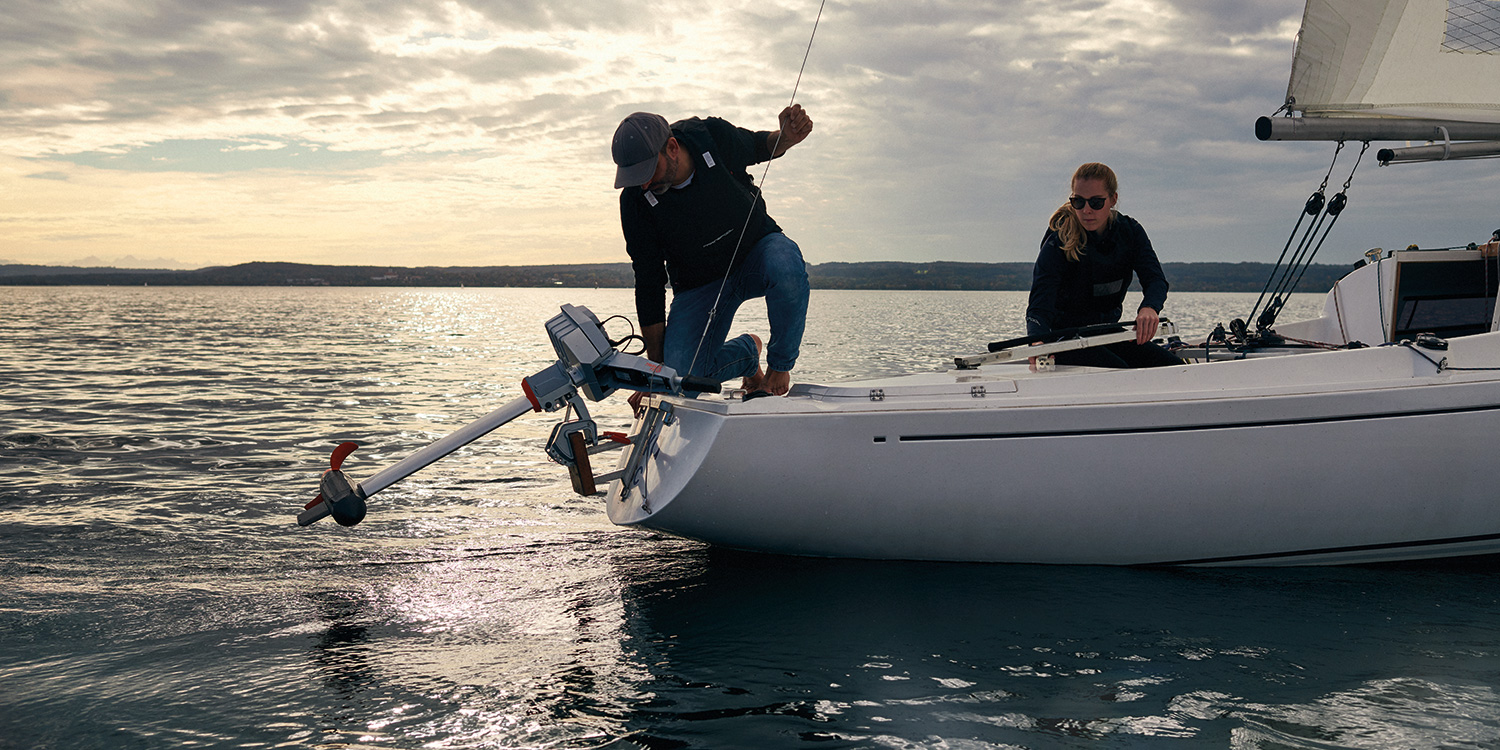 Out of the harbor in no time and with barely a sound: The Travel electric outboards are a perfect fit for smaller sailing boats.
A clean start to a new year
We've all been there before and know what a hassle it is to clean, install, and refill an old petrol engine on the first day back at the marina. And you've got to be really careful not to spill any fuel in the water. But this is a new year, the dawn of a new age, and our electric motors are more cost- and energy-efficient than ever before. Our 3 HP-equivalent Travel 1103 C its advantages are obvious. This lightweight motor can be attached to a boat in just a few steps and is ready for immediate use. It has a range of up to 74 kilometers when powering a small RIB at 2 knots. If you want to go faster or even further, it's no problem – with our spare batteries or solar charging solution. And just listen to … how quiet the electric drive is. You can simply concentrate on the moment instead of being distracted by a loud engine. For more advantages and technical features of the Travel 1103 C, click here.
The perfect complement to sailing
Leave the harbor silently, head out onto the water, hoist the sails: Electric-powered Travel motors are an excellent companion for all passionate sailors. No matter how long they have been stored below deck or in the boathouse, they start reliably at the push of a button and bring the boat out of the harbor or back after your trip in refined fashion.
If you're looking for even more power for boats over 1.5 tons, you'll will find it in our powerful Cruise series. These engines offer between 6 and 25 HP and it's not only their performance that's impressive; their design and numerous sophisticated features are, too.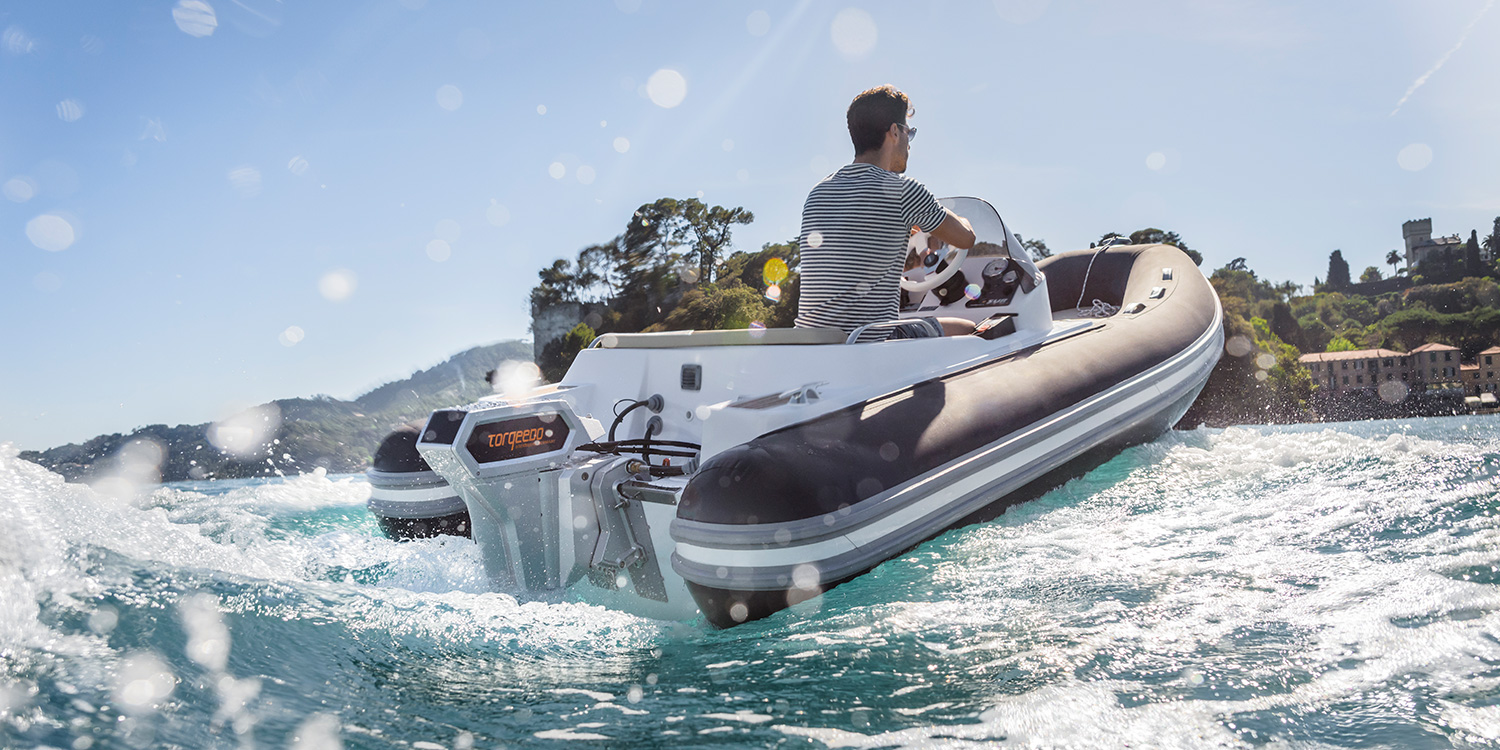 Where do you want to go today? The Torqeedo Cruise series comes with 6 to 25 HP – and a unique user experience.
Photo safaris in Canada – diving tours in West Papua
Exploration tours off the U.S. East Coast, daily fishing trips by fisherwomen in the mangrove swamps of Colombia, or diving tours from the eco-friendly MahaRaja diving center in West Papua, Indonesia: All over the world, our electric motors will empower you to reach very special places silently and without emissions, thus protecting precious ecosystems. You can find exciting reports and inspiration here. Stuart Lorne Letovsky, founder and chief tour guide of Algonquin Adventure Tours in Algonquin Provincial Park, Canada, is also convinced by these electric motors. Read here what the Travel 1103 C has to do with good photos of moose.
More information:
Find high-resolution pictures at the: › Torqeedo Dropbox
Find out more about the new approach: › THE FUTURE IS ORANGE
Find the main catalogue 2023 here: › Catalogue 2023
Related Torqeedo Products
25 MAY 2023 • 5 MIN READING TIME
Motorboats
Sailboats
People